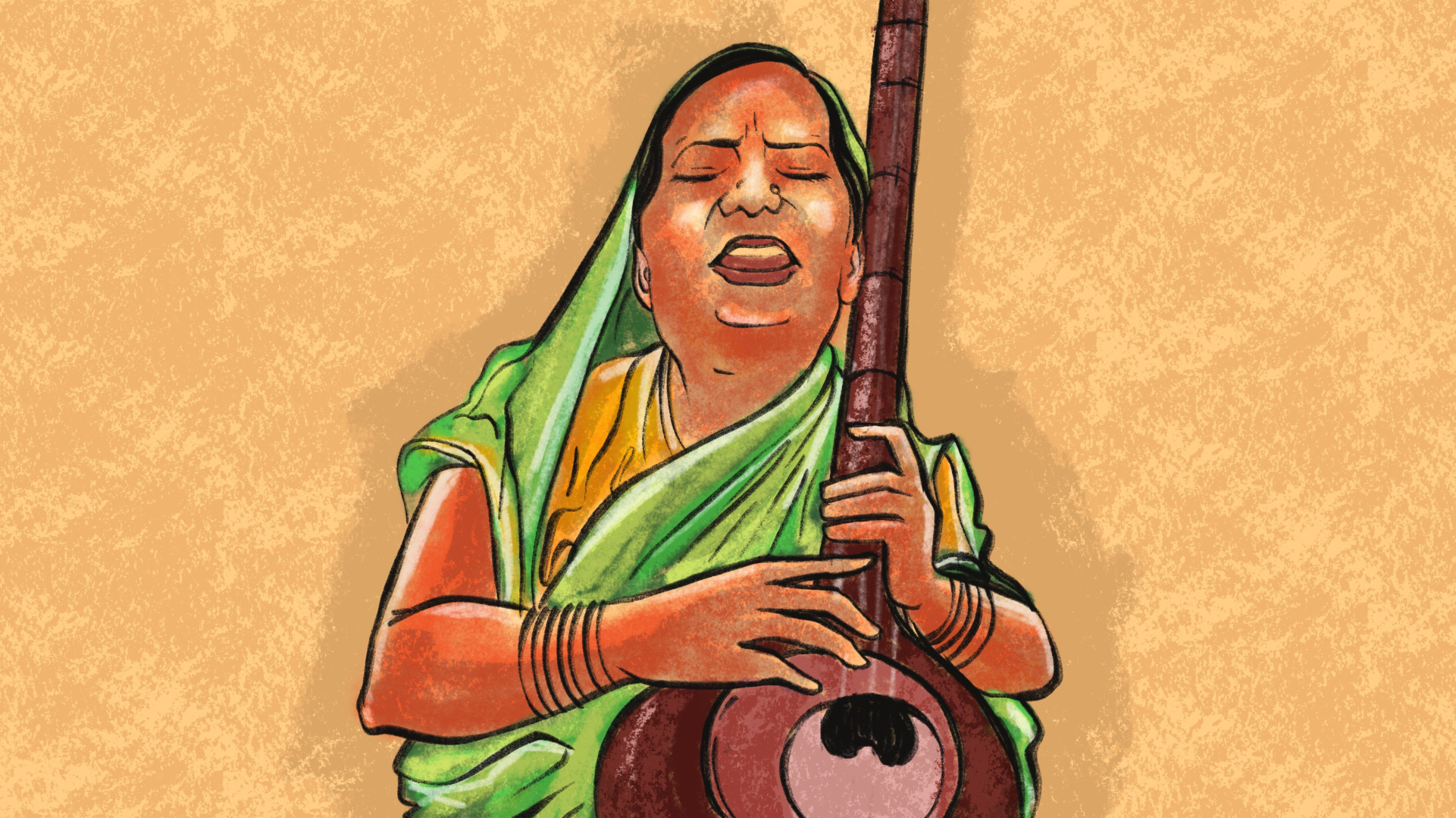 Kadubai Kharat | Image courtesy: Satwik Gade and Firstpost
Majhi aaji manhayachi
Ovi hee jatya warr,
Bhim banala sawali
Koti koti chya mathywar
(My grandmother used to sing
This couplet while working the stone grinder
Bhim has become a shelter
Over the heads of millions)
The lines above are from Majhi Aaji, a poem by Kiran Sonwane, whose most popular version in Maharashtra is the one sung by Aniruddha Vankar From the song it is apparent that when dalit women conceive of literature or music, they choose Ambedkar as their protagonist or hero. In their works, he is portrayed as no less than their emancipator.
Their portrayal of Ambedkar as a staunchly feminist ideal makes the role of dalit women in the Ambedkarite movement significant on two levels: first as active participants in the movement and then as producers of literary narratives, including the 'cradle songs' that are crooned to youngsters.
---
Also read | How Bhimrao Kardak and His Troupe Brought Ambedkar in Song
---
In Vidarbha—and I am sure in other regions of Maharashtra—the tradition of Bhim Palana, or Bhim's cradle songs, are an antithesis to the children's songs based on mythological themes. A Bhim Palana is written with the intent to educate children about figures such as Ambedkar, to create individuals and citizens who will uphold the notion of equality, liberty and fraternity in their social and personal life.
After Mahatma Phule's massive attack on the inhumane, unnatural and artificial caste system, which he did by opening the doors of education for girls across all castes, it was Babasaheb Ambedkar who went to great lengths to conceive of strategies to educate women, especially dalit women. Urmila Pawar and Meenakshi Moon have compiled the most significant book on dalit women's history of struggle and triumphs, We Also Made History. They say in the book:
"…the education of women and girls was an integral part of Ambedkar's vision of social emancipation for the dalits. Some of his speeches, made on occasions of historical importance for the struggle, are quoted extensively, notably the speech addressing women at the Mahaad satyagraha1 and the 1942 speech at the All-India Dalit Mahila Parishad held on 20th July 1942 in Nagpur.
"When women began to take active part in mass actions under his leadership, they first appealed to women to educate themselves and their sons and daughters. Further, some of them trained to be teachers, started schools, and managed hostels for dalit girls and so on.1"
From the moment he entered public life in 1927, Ambedkar's movement made education for women integral to its agenda. He nurtured the desire for education within the hearts of dalit women, using the Buddha's egalitarian teachings as a basis for his arguments. Inspired, barely-educated women and those who had never climbed up the stairs of a school started to write songs [that featured him] and sing them.
From the 1940s onwards, Parbatabai Meshram from Nagpur had worked for Ambedkar's movement. She wrote a few songs about how Ambedkar helped them feel confident and instilled the vision of a casteless society among them.
In one of her songs she says:
He gave up his life for the good of the people,
Thats why, bai, I am mad about Buddha.
Some say Buddha is Vishnu reborn,
But I ask you, bai, was Vishnu like the Buddha?
Did Brahma, Vishnu, Mahesh, ever behave like this?
That's why, bai, I am mad about Buddha.
In India, irrationality is propagated through the telling and retelling of mythological stories. All this is done in the name of religion, giving it a veneer of respectability that makes it very difficult to renounce. Yet, Ambedkar's movement replaced such illogic with the history of the Buddha and his egalitarian teachings. The result was an incredible increase in education among the mahar (now Buddhist) people, especially women.
Parbatabai Meshram wrote:
Let your self-respect awake,
Don't ask for charity.
Bhimdada told us this and left us:
Get ready to serve the people.
The sculptor of our lives said this and left.
Such songs do glorify or deify, they intend only to convey history and inculcate a sense of dignity among listener and singer alike. They envision a casteless future with equality, liberty and fraternity at its foundation.
Thus unfolded on India's literary scene of the time a unique phenomenon. A living human being became a vigorous and passionate symbol in literary expression, as Ambedkar became both symbol and subject in the creative imagination of dalit women's songs.
---
Also read | In Chokhamela's Bhakti, Past Transforms into Radical Present
---
The 'Ambedkari Jalsa' introduced by Bhimrao Kardak in the late 1920s had already planted Ambedkar's ideology into the musical tradition of the dalits. Dalit women further created the Bhim Palana genre, a result of their close association with the community's earlier musical traditions. They are proof, as Mark Abel, who describes himself as a Marxist musicologist who works on the aesthetics of music and its interface with history and politics, has pointed out in Is Music a Language?, "creative musical ideas do not emerge from a mystical process of inspiration, but are the result of a practical and mental engagement with existing musical culture, or musical language.'2
The Tamasha—which has a legacy of imposition by patriarchal elite-caste society on dalit women—is one of the most popular forms of entertainment in Maharashtra. Earlier, it was performed mostly by mahar and kolhati-caste dalit women. Ambedkar's conversion to Buddhism in 1956 offered Tamasha performers a new form of cultural expression. Mahar (Buddhist) women went through a colossal psychological transformation, turning their musical talent into songs that feature the Buddha and Ambedkar. These songs planted, from early childhood, visions of intellectual rigour and enlightenment within dalit families.
Bhim Palana songs mark the culmination of Dalit women's transition into intellectual life. At exactly this stage, the women were enacting was Friedrich Engels explains in Anti-Dühring, published in 1878: "Each mental image of the world system is and remains in actual fact limited, objectively by the historical conditions and subjectively by the physical and mental constitution of its originator."3
With Bhim Palana, Dalit women adopt the legacy of Theris, or Buddhist female monks who wrote poety known as Therigathas. Many Palanas from Vidarbha were based on popular Hindi movie tunes, but their lyrics have a completely different effect than entertainment.
For example, this Palana:
Mang na sarava bala pudh pudh raav
Matya pityach naav moth karav
Asa shikshan, asa shikshan ghyaw
Pardesh jav, pardesh jav
Molmajoori karun shikvin
Karin sambhal katkasarin
Kar vichar tu sodu nako shala
Bol tula kav hav.
(Oh Child! Don't step back, stand ahead
Bring prestige to the name of parents
So you study, such you must study
Go abroad, go abroad.
I'll toil hard and make you study
I will take care of you with frugality
What do you think—would you leave school?
Tell me what you want)
This Palana narrates Ambedkar's struggle for education abroad and inspires children to follow his footsteps. The emphasis on education is a manifestation of the cultural transformation among dalit women. It reflects their strong desire to get the younger generation into school and their own struggle to make it possible.
Their quest to rebuild their history through songs also resurrects the past and the struggles in Buddhist history. For example this song is about Amrapali, a disciple of the Buddha who belonged to a non-elite caste:
With undefiled mind
I do my duty by the Buddha's feet!
I am blessed-my life is blessed
By learning Sheel, Samadhi, Pradnya
I keep entire Dhamma intact
I follow the noble eight-fold path
I will practice all, through my acts
The mangroves of Amrapali
Lichhvis have known the mind
Impermanent is the body, so is wealth
Experiencing the wisdom of impermanence.
Even Buddhist history often omits the role of women in spreading its message, especially that of emancipation of women of all castes. [Read Ambedkar's The Buddha and His Dhamma.] But on those aware of Buddhist history the meaning of this poem will not be lost. It is inseparable from the history of social discourses on gender in a caste society.
---
Also read | Why Songs Are Sabotaged: Dalits and their Music
---
Amrapali, a dancer, had invited the Buddha and his sangha to offer them daana in the form of food. The Licchavi elite-caste rulers had also invited the Buddha. The Buddha had accepted Amrapali's invitation. Later, she became his disciple and pursued an intellectual life, which was denied to women of the time. This is the history the song excerpted above narrates.
Sushma Devi, one of the earlier singers of Bhim-Buddha songs, has immortalised Ramai, Ambedkar's first wife. In Majhya Bhimachya naavach, kunku kavil ramaan she narrates how hard Ramai worked at home, alone, when Ambedkar was away studying in Columbia and the London School of Economics. The newest singer in this tradition is Kadubai Kharat, whose Bhiman mai sonyan bharali oti and Tumhi khata tya bhakriwar babasahebanchi sahi hai rrr became a household number in Maharashtra days after it was launched.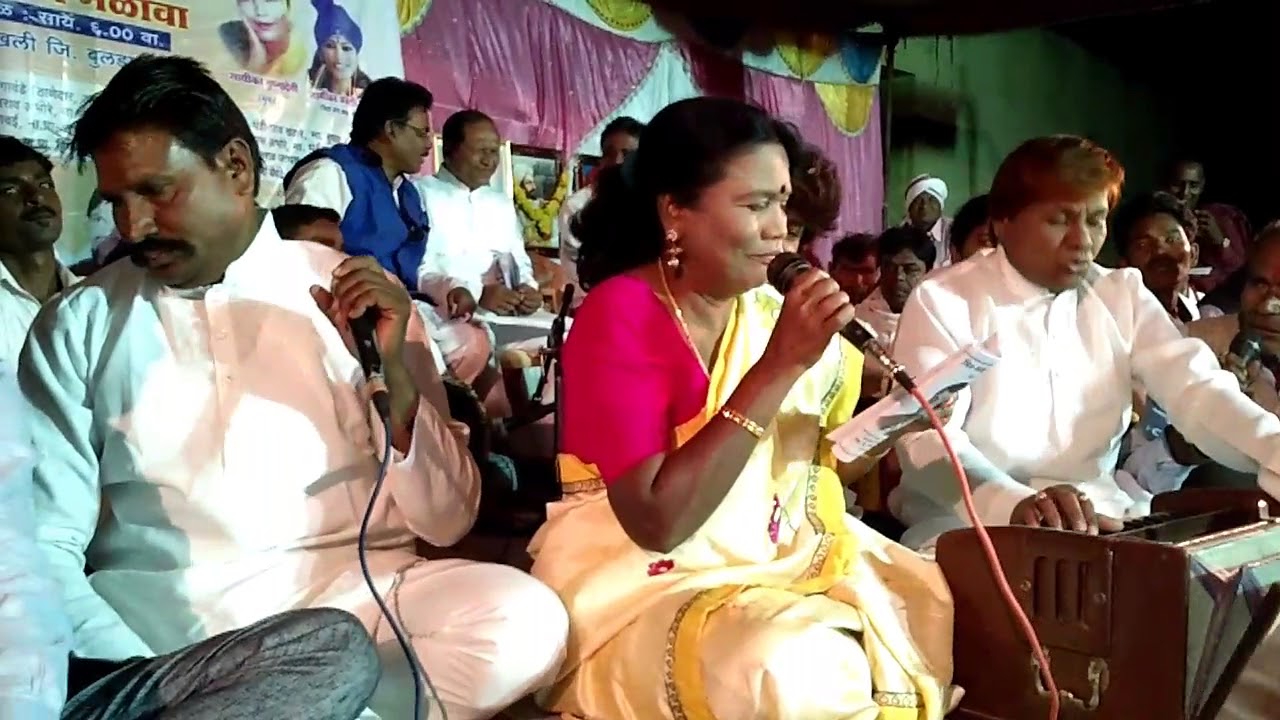 Kharat explains how Ambedkar made his way into her songs:
"My parents used to sing bhajans of Babasaheb. Once I went to a temple of Gopal-Krishna and upon my return, my father asked me where I had gone. I told him that I went to listen to sampradayik bhajan. He asked me to come close and said: 'Where is God? Our God is Babasaheb, because he has liberated millions of human beings; he has taught the lesson of humanity. Singing even a single song of Babasaheb is significant. Do not sing songs about anybody else; sing only of Babasaheb.'"4
Thus, in dalit women's songs, emotions stimulate intellectualism in order to annihilate caste from our minds. In them, melody is constructed through historical fact, and music is a medium to pursue a life of the mind, emancipating singers and listeners from social constructs.
Notes
1 We Also Made History, by Urmila Pawar and Meenakshi Moon, Zubaan, 2014
2 Is Music a Language? by Mark Abel, Brill.com, 2018
3 Anti-Dühring, by Friedrich Engels, People's Publishing House (P) Ltd. 2011
4 https://www.firstpost.com/long-reads/dalit-shahirs-of-maharashtra-kadubai-kharat-sings-of-ambedkar-in-bastis-5887441.html
All translations are by Yogesh Maitreya.
Disclaimer: The views expressed in this article are the writer's own, and do not necessarily represent the views of the Indian Writers' Forum.