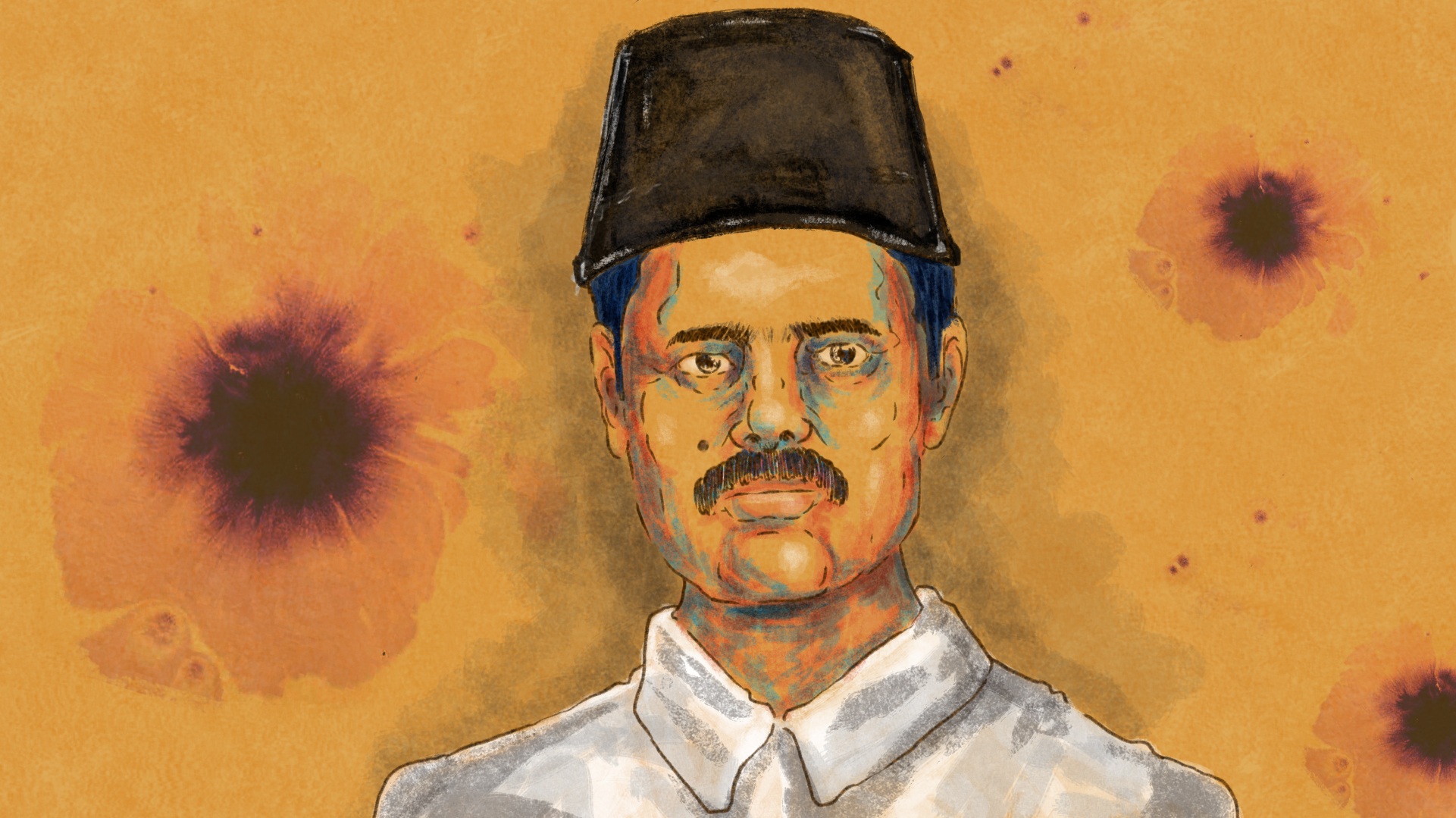 Bhimrao Kardak. Illustration by Satwik Gade | Image courtesy: Yogesh Maitreya
Like a volcano that erupts after centuries, Babasaheb Ambedkar entered the public sphere with the launch of his Mahad Satyagrah in 1927. Not fire and heat, but the liberating idea of justice and a relentless quest for annihilation of caste poured out of him. Only a few—just the highly-educated sections of the Untouchable communities—could really grasp Ambedkar's vision at the time. They respected his ideas and truly adored him, but his vision needed to be spread far and wide.
But Ambedkar's dalit brethren were largely unschooled. They could not read, nor write. A young man from Nashik realised the urgency of his mission. He understood the importance of amplifying Ambedkar's voice among the people, in their own language, in the form and content that would appeal to them. This young man, Bhimrao Kardak, pioneered the Ambedkari jalsa, which soon fixed Babasaheb Ambedkar in the popular imagination and the culture of the time.
Kardak, in his 1978 book, Ambedkari Jalse: Swarup Aani Karya, published by Abhinav Prakashan, explains what the jalsa is and how it began. "When Babasaheb's annihilation of caste movement started, all the illiterate men and women would come for his meetings, listen to his speeches with utmost concentration, in silence, and try to act according to his message. But they were unable to break free from their old habits, conditioned into them for years. They were clueless about satyagraha: 'How does it work?' they would wonder. What is 'conversion', they would ask. 'Do we need to go through circumcision?', and so on.
"At these meetings, people would only hear Babasaheb's speeches from start to finish… they were not going to listen to young boys like us. Hence, we have created a 'weapon' called jalsa. The government of Kolhapur had the jalsa scheme to spread the Satyashodhak movement in villages. Now we thought of spreading the message of param pujya Babasaheb to the untouchable community in the form of jalsa, so that it would appeal to them quickly while entertaining them. Whatever nectar of wisdom Babasaheb provided them from time to time, we narrated it in the language understood in villages, in their spoken dialects. Their curiosity and longing increased as a result. Babasaheb also watched us perform jalsa twice or thrice at Narayangaon, Kasarwadi in Dadar, and at the welfare ground in Naigaon. He had said, 'My ten meetings are equal to your one jalsa.1'"
---
Also read | Wamandada Kardak: Singing a Casteless Republic into Being
---
This is how with the inception of Ambedkari jalsa, a culture against caste emerged and developed among the then Untouchables. Through it, Babasaheb and his an anti-caste ideology became enduring to the popular imagination. Dadasaheb Pagare, Kardak's associate and a member of his troupe, recalls a curious incident that triggered the launch of Ambedkari jalsa.
In Swarup Aani Karya Kardak says, "…Keshavrao Gangurde took us to the restaurant for tea and snacks. At around ten in the night, we got off the train at Dadar and started to walk, with heavy feet. We stopped at an abandoned ground and thought seriously: So far, we had been to every pada, every mohalla, but nowhere has our preaching succeeded. Why? Then Gangurde said, 'Earlier, whenever there was a tamasha, thousands would gather to see it…' So we thought, people gather to see a tamasha performance, but do not attend a meeting that promotes thoughts… We should do something similar—but what? A tamasha? Chatt! Unanimously we decided on the jalsa, the kind that the government of Kolhapur was doing. This begot the Maharkicha Farce against baneful customs, and many other such performances."2
Tamasha, some critics and historians say, has exploitative elements to it from the point of view of gender and caste; for only mahar or kolhati-caste women were made to engage in this occupation. Elite-caste feudal men made up the audience, often consuming the dance/performance with a barely-concealed sexual fancy. But tamasha had tremendous potential to attract the masses if done differently, and Bhimrao Kardak, Dadasaheb Pagare and their associates caught on to this possibility. Thus emerged the Nashik Jilha Yuvak Sangh (NJYS), the first formal jalsa troupe, which borrowed elements of form from the tamasha and inserted the content of Ambedkar's thoughts into it.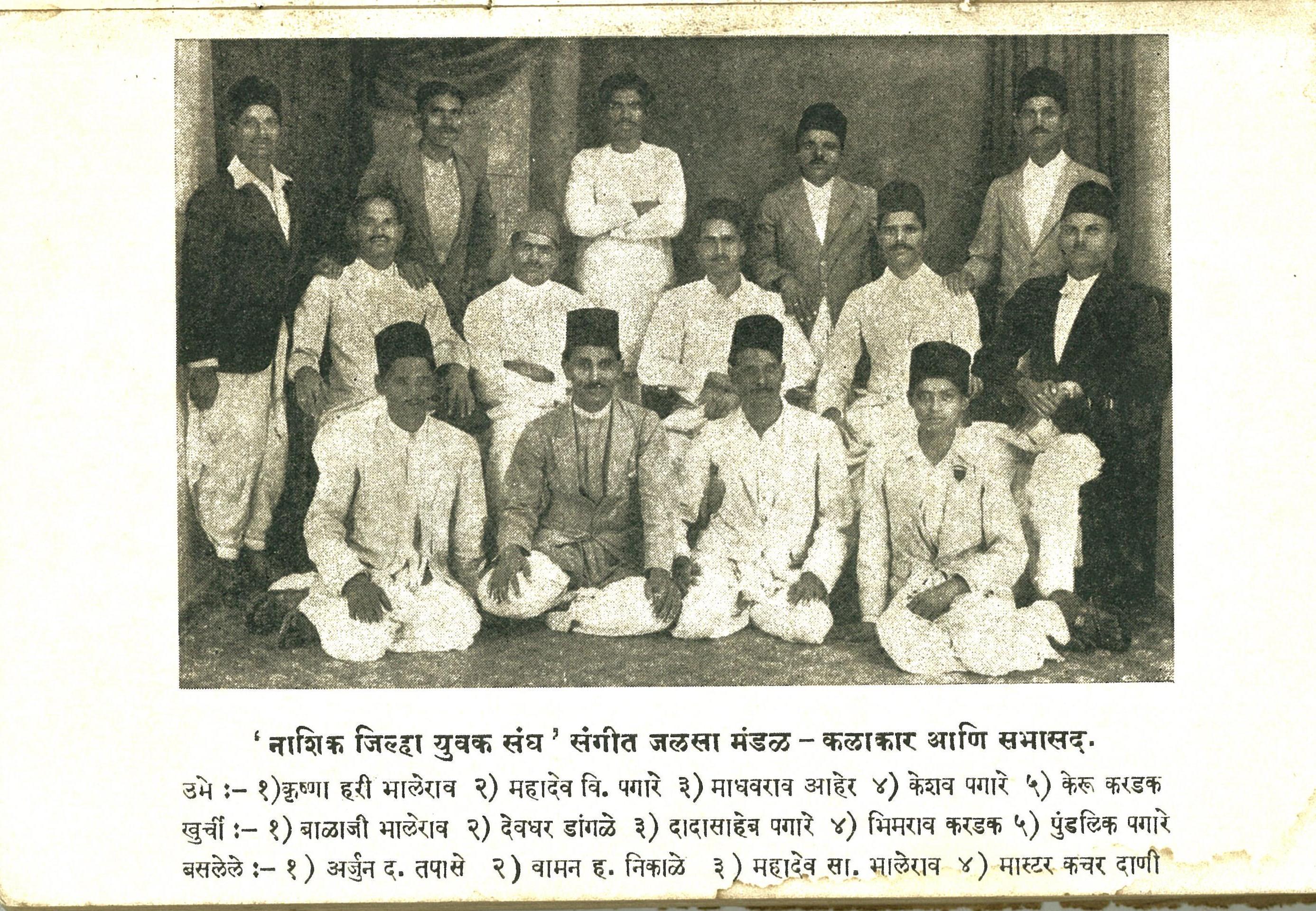 Nashik Jilha Yuvak Sangh. Bhimrao Kardak (In the middle row, sitting on chair, second from the right) | Image courtesy: Yogesh Maitreya
Thus was laid the first brick, and after it many genres of musical performance came into eminence whose ideological location was in Ambedkar and his anti-caste movement—Bheem Geete, Ambedkari Shahiri, Vidrohi Jalsa and so on. Tamasha, until then, had been a highly popular cultural act among people, especially in the villages. All that needed to be done was to circulate Ambedkar's thoughts in and through them.
Once this was done, the exploitative content of the tamasha was also replaced by anti-caste ideas. Producing and performing Ambedkari jalsa in the popular cultural form was risky and challenging. Yet, the NJYS was propelled by its need to develop Babasahab's thoughts and ideology among members of the society. Their effort turned out be the reason for the birth of a new consciousness.
---
Also read | Why Songs Are Sabotaged: Dalits and their Music
---
In twenty years of public appearances, the jalsa also challenged European formulations about the functioning of pop culture, especially Theodor Adorno's ideas that the mass cultural industry has a twofold character, the overt or conscious and the hidden or unconscious.
Pauline Johnson says in her book Marxist Aesthetics: The foundations within everyday life for an emancipated consciousness, published in 1984 by Routledge: "This twofold structure is, Adorno maintains, also apparent in modern popular music. While its ideological message is not rendered in a purely conceptual mode, the totalising construction of pop music is, nevertheless, effective in promoting an ideology which adapts the individual to the rule of the norm. Popular music is obliged to attempt to fulfil two different requirements. The popular work must, on the one hand, be familiar to its audiences and, on the other hand, have the appearance of distinctiveness."3
At the time, audiences were not particularly familiar with the content of Ambedkari shahiri. Nor had it ever been performed in the popular tamasha form. Jalsa fused the popular tamasha form with the revolutionary content of Ambedkar's ideas. It was created with an intention to promote an anti-caste ideology and it was largely shaped by Ambedkar's pragmatic strategies: his philosophical roots in the legacy of the Buddha, the poet-saint Kabir and anti-caste reformer Mahatma Jyotirao Phule.
Also, the music of Ambedkari jalsa went on to break the notion of music as a medium of entertainment. It introduced to people the revolutionary potential of music and its creative ability to destroy the hegemonic imagination constructed in popular culture. In India, this construction takes place in, and is shaped by, the dominant caste-class society. A parallel could be the emergence of rap in the United States—though much later—when American Blacks innovatively invented the form.
Kardak and his troupe's Ambedkari jalsa was also significant because it made the ideological element of music overt for the first time. When sung with vigour, passion and zeal, it helps immediately imagine a society based on egalitarian values.
As I have written elsewhere, "Post-1930, as Babasaheb Ambedkar's movement accelerated in the political and social domains, the Ambedkari jalsa became a musically-rendered manifestation of its cultural assertion… It did not only bust the myths that had been imposed on the masses in the name of religion, but also presented a vision of a casteless society—one that is based on equality, liberty and fraternity."
---
Also read | In Chokhamela's Bhakti, Past Transforms into Radical Present
---
Kardak contributed to the anti-caste movement until 1953, through songs, farces, powadas etc. He also wrote nine books, including a short autobiography. Some were never published and the others are out of print. Nonetheless, his contribution to disseminating Ambedkar's message through music is unparalleled.
Kardak's songs, and those of his troupe, their writings and performances, gave the Ambedkari movement a means of proliferation. Almost nine decades later, Ambedkar shows up in songs from Punjab to Tamil Nadu. When a Bheem Geet or anti-caste song is played out loud in public or when a shahir sings passionately against exploitation anywhere in the nation, much is owed to Kardak and his associates and their imagination of what music can and ought to be and do. Together, they made Ambedkar a part of the musical consciousness that is popular among the people till today in its own unique way.
---
Notes:
1 Ambedkari Jalse: Swarup Aani Karya, Bhimrao Kardak, 1978, Abhinav Prakashan.
2 Ambedkari Jalse: Swarup Aani Karya, Bhimrao Kardak, 1978, Abhinav Prakashan.
3 Marxism Aesthetics: The foundations within everyday life for an emancipated consciousness, Pauline Johnson, 1984, Routledge
---
All translations are by Yogesh Maitreya.
Disclaimer: The views expressed in this article are the writer's own, and do not necessarily represent the views of the Indian Writers' Forum.