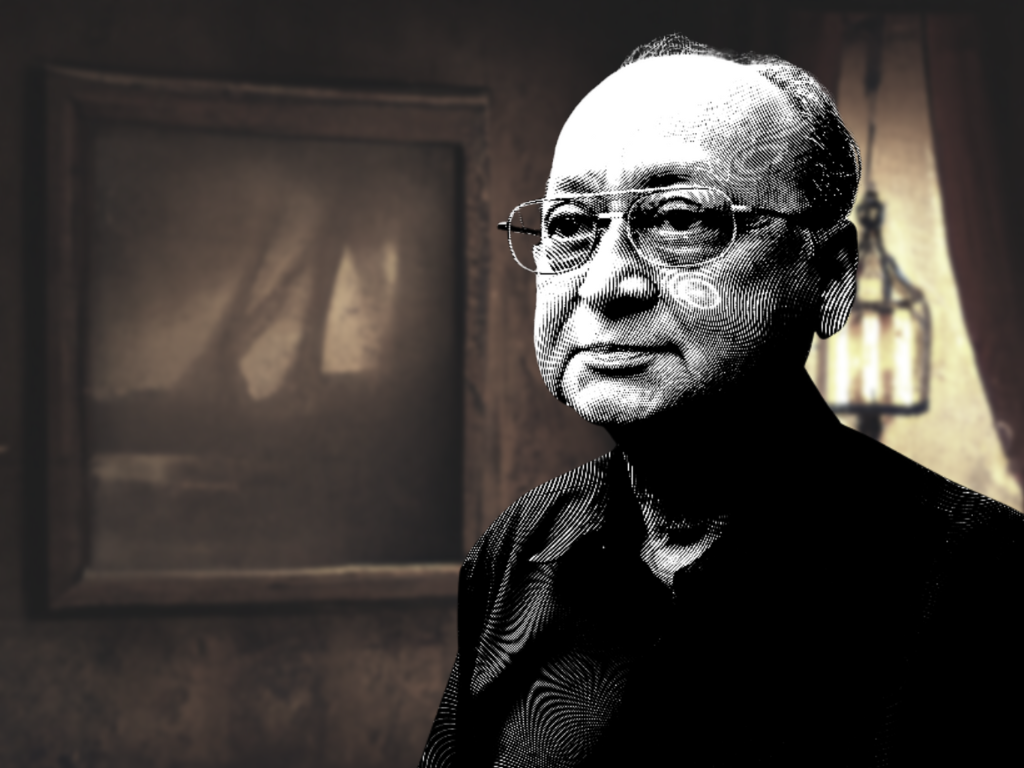 With the passing of Jayanta Mahapatra, a doyen of Indian English Poetry, at 95, an era has quietly slipped into the annals of history. As I write this, the pall of gloom, shock, and disbelief of not having the colossus around still lingers. Jayanta no doubt played a long innings at the margins of Indian English Poetry. He wrote and published poetry in English and Odia for as long as he could pick up his pen. Even as he was ailing, he insisted on having his proofs and papers by his hospital bed to ensure that Chandrabhaga 20, a literary journal he has been editing since 1979, gets released in time. His last book, a selection of Odia poems entitled "Jhanji", was released while he was in the hospital — just weeks before he died.
Jayanta was way too prolific a poet for his age. A teacher of Physics, Jayanta taught in various colleges of Odisha. He started writing late in life but produced a significant body of work and won accolades worldwide by getting published in internationally reputed journals like Poetry (Chicago), Critical Quarterly, and many others. Initially, he was chided by his intolerant peers as 'Physicist-Poet'. His earliest works got bad reviews, but he continued undaunted and subsequently got published more in the 'West' than in India. He steadfastly kept himself away from the so-called literary centres and led a quiet, lonely, placid life in his ancient town of Cuttack, which he preferred to call 'a small rural place'.
Jayanta was a man of his 'roots'. The whole aesthetics of his poetry drew sustenance from the milieu he was rooted in. It is no surprise that he dedicated his long poem 'Relationship' for which he won the Sahitya Akademi award in 1981 for the first time in the category of Indian English poetry, to "Orissa, where my roots lie, where lies my past, and where lies my beginning and my end".
Jayanta used language not just as an 'expression' but also as an 'outrage' to hammer the stones of silence to make them speak of ancient myths, legends and traditions of his land. Thus, people, rivers, mango blossoms, rice fields, deep forests, rains, and village deities breathe through the words and images of his poetry. Ever alert to the sensorial realities surrounding him, poetry, for Jayanta, was like "holding a moment of truth".
In his poetry, Jayanta portrays and inhabits a dark, gloomy world of melancholy where a poet like him has no other way but to sit lonely and helpless with his grief and sadness. This stoicism helped him remain grounded and engage creatively with the contemporary at a deeper level, bereft of any illusion. A keen sense of empathy marks his poems, a missionary zeal to record the subtlest form of human vulnerability. Travelling through the textbooks and classrooms, the luminescence of his poems spread across generations of poetry lovers. One wonders if it is ever possible to have another poem like 'Hunger' in any language by any other poet!
Poem after poem, his images' surreal anatomy and intensity thwart straightforward meaning and simple explanations. Jayanta treated 'mystery' as a prime component in poetry, without which poetry is rendered soulless. The deeply tragic loneliness of a woman is also an oft-repeated image in his poetry. In his poem 'Indian Summer', one of the most anthologised poems, he says: "The good wife/ lies in my bed/ throughout the long afternoon, / dreaming still, unexhausted/ by the deep roar of funeral pyres."
Jayanta's poetry is much more than just fine choreography of words. Reading him one feels as if he is exploring the invisible edges and unseeable dimensions of things in the chaotic landscape of thoughts. One tends to feel he doesn't 'see' things but rather gets haunted by them. His poetry has all it takes to create an aesthetic ambience to proclaim a profound realisation: "All the poetry there is in the world/ appear to rise out of the ashes. / The ash sits between us and / puts its arms across our shoulders." 
As the reader moves through the sweeping body of his poetry, his literary trajectory spanning over half a century, he finds himself confronted with Jayanta's weird, grim and private world, an absurd poetic landscape dotted with recurring images of shadow, darkness, door, rain, bone, light, death, gods, stones: "Beneath the bloodied walls of history/ nothing can happen more dreadful/ than stones turned to gods/ through prayers."           
Such images, stark and meditative, loom over his literary terrain. Though they appear bizarre and abstract on the surface, they symbolise some inner reality churned out from the dark depths of some invisible wound. Obscurity, a hallmark of Mahapatra's poetry, is due to a ceaseless tussle between the 'abstract' and 'concrete' running into each other, converging, confronting and colliding with each other much the same way as in the realm of quantum physics.
Being a brilliant physics teacher, he admits the influence the discipline of physics exerted on his poetry. It allowed him to see vibrations, pulsations, mysteries, uncertainties and movements inherent within the apparently 'dead' matter. He used to say, "For me, physics and poetry are not at odds with each other…they work towards the same direction, towards discovery, leading to achieving a sense of wonder."
Be it abstract or concrete, Jayanta's world remains much the same. Sitting on the heap of his defeated dreams like a typical fatalist and stoic Indian who accepts things he can't control, he says: "This is a man who talks of pain/ as though it belonged to him alone./ May be he had invented it himself/ and made a virtue of it."
He was such an intense poet who inspired a whole generation of poets and writers; he received almost all coveted awards of this land held chairs and residencies abroad. Despite this, he used to look at awards with a suspicious eye. By his admission, he didn't attend and receive the Sahitya Akademi award ceremony in New Delhi when he got it in 1981. He returned his Padmashree award in 2015, which he got in 2009, as a protest against the 'moral asymmetry' prevailing in society. He used to say that the excitement of getting even the biggest award doesn't last beyond the next morning, much like the wilted flowers got along with it. Sources close to him reveal that Jayanta used to give away all his award money to a secret charity.
Jayanta Mahapatra lived a full life on his terms. He was alone but not lonely because 'writing' was his constant company. He was loved and surrounded by those he mentored. Recently, when I texted him wishing him good health, he texted back: "Durga, I have been loved so much by you all. What more do I need? I am ready to leave this world with a smile on my lips. Don't forget that I am 95." His words were prophetic. Some weeks later, he quietly slipped into his own words, leaving the entire poetry community in great despair, shaken and shocked by the loss.