The digital space is witnessing the creation of a new, shareable and performative language of protest. Over the years, social media has been used extensively to organise and demand action, and digital art seems to be providing this with a visual vocabulary. Technology that gets better and more sophisticated by the day has only helped to make this a more spontaneous way for protest artists. In India, protests against CAA-NRC-NPR triggered a sudden and fascinating rise in digital/graphic resistance artists, especially on Instagram. They're fearless, and their art is hard-hitting and dynamic. As part of a new series, we spoke to a few of them to know what they thought of this emerging space.
In the first, second, and third features, Mukulika R spoke to BakeryPrasad (Siddhesh Gautam), Smish, and Rajdeep Atha respectively. This time, it's holycowmics (Poorva Goel).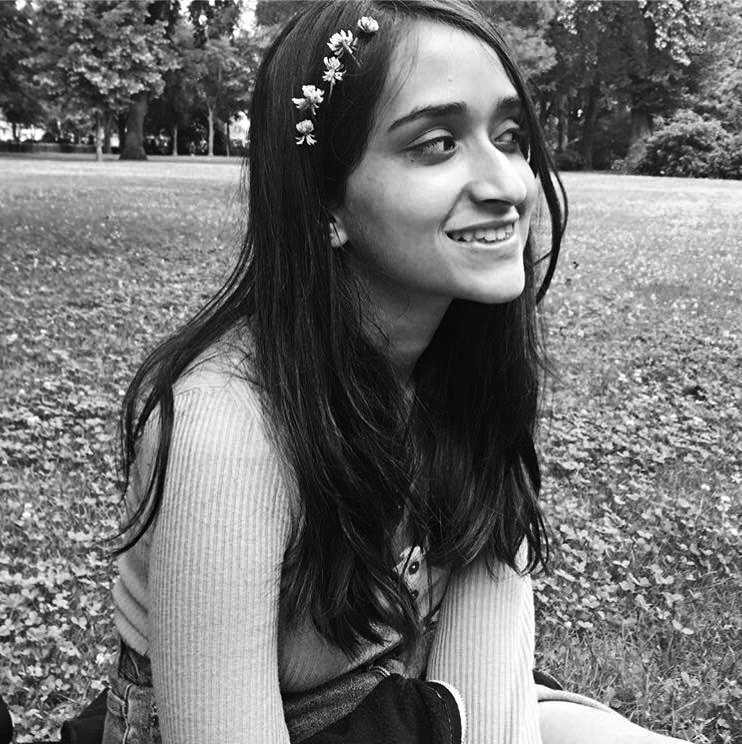 Mukulika R  (MR): Was your art always political? What was on your mind when you sat down to create your first political art?
Poorva: My earliest motivation to create such work was to observe and reflect on the irony in everyday life. Just sort of questioning everything around me. I remember that my first political work was on the beef ban. Back then I did not think of it as "political" per se, perhaps because it only felt natural to me to see politics as a part of every day and not separate from it.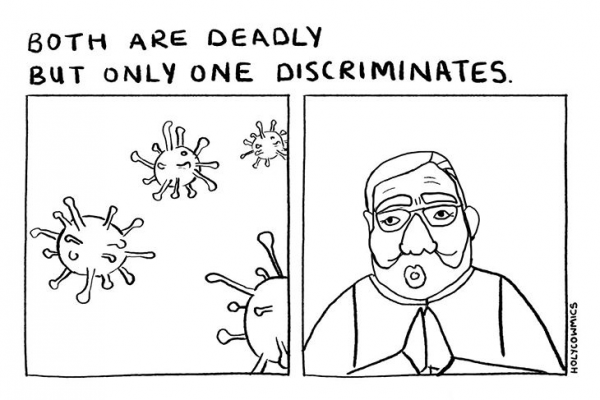 MR: Tell me about your colours and style. A majority of your work is line drawings, with minimal use of colour. What are the reasons behind this?
Poorva: This has been a crucial part of my everyday art practice. I started out with single-paneled, juxtapositions of minimalist and whimsical line drawings, with handwritten text. The bold text, often brief, too is a conscious visual choice. The drawings and the text support each other; there is no intended hierarchy in the relationship. I find humour to be a powerful tool that breaks barriers and allows one to laugh while holding a mirror to oneself.
For the past couple of years, I have been working on expanding my practice from single panels to long-form comics.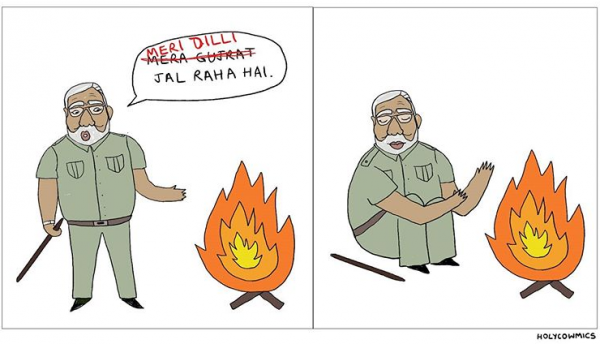 MR: There could be a lot of political material to work on considering the kind of dangerous situation the country is at the moment. Does it get overwhelming?
Poorva: Yes, I did feel the pressure to make a certain kind of work. I would often long to make work on other subjects and then I'd feel guilty for wanting that. I was in a real tizzy trying to cover every statement any politician made at the time. It was sobering to remind myself that my work can not and will not save the world. We make work for ourselves and not for a grander purpose. 
MR: Has the fear of repression affected you? How do you manage when it does?
Poorva: I do get the occasional "anti-national", "are you funded by congress", "How dare you mock the Supreme Lord" and the like, followed by a string of sexist slurs and empty threats. However, I have personally not felt afraid of repression as I am fairly unimportant.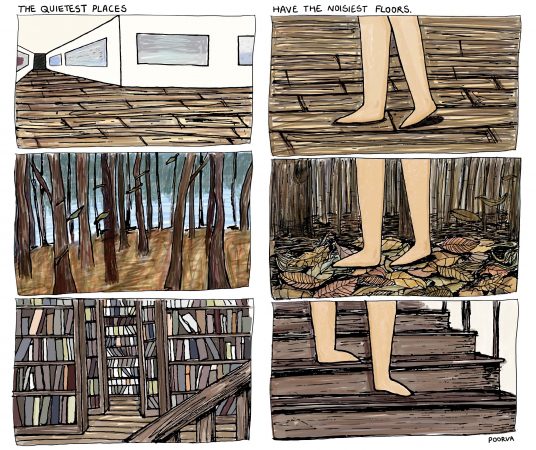 MR: We'd love it if you could pick one image that you hold close to your heart from your repertoire so far and tell us why it is so.
Poorva: It is very difficult for me to pick a favourite, but if I absolutely must then it is this one [above]. It's one of those passing thoughts that I often regret not having written down.
The illustrations have been published here with the artist's consent.