The digital space is witnessing the creation of a new, shareable and performative language of protest. Over the years, social media has been used extensively to organise and demand action, and digital art seems to be providing this with a visual vocabulary. Technology that gets better and more sophisticated by the day has only helped to make this a more spontaneous way for protest artists. In India, protests against CAA-NRC-NPR triggered a sudden and fascinating rise in digital/graphic resistance artists, especially on Instagram. They're fearless, and their art is hard-hitting and dynamic. As part of a new series, we spoke to a few of them to know what they thought of this emerging space.
In the first feature, Mukulika R spoke to BakeryPrasad (Siddhesh Gautam). This time, it's Smish who runs "Smish Designs".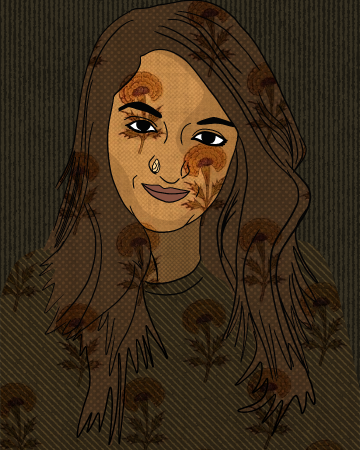 Mukulika R (MR): Digital resistance artists are almost creating a new, shareable language of protest on social media – with all of your work being followed and shared by many. In India, this saw a noticeable rise around the anti-CAA protests, when the work of digital artists was even carried on the streets. Why do you think this happened?
Smish: Art can channelise people's emotions and be their medium to express angst, anger, sadness and more visually. An image is a powerful tool to help put a point across without really having to explain oneself. Most of what is deemed too "radical" to be expressed due to the fear of the government is now being expressed through the language of art. People aren't scared to voice their dissent anymore and their most powerful tool is art.
View this post on Instagram
My biggest validation as a resistance artist has happened when people took my work to the streets to protest against the draconian CAA-NRC rule earlier this year. That, for me, is where art truly belongs — giving power to the voiceless while challenging the establishment. I believe protest art belongs to the public, not in galleries for only a few to experience. For resistance to be far-reaching, the artist's role is crucial in equipping the public with an impactful and meaningful mouthpiece.
MR: Talking about a language of protest, this language could again be restricted by the limitations of social media. Illustrators have opined that their work on social media needs to be of a certain kind. What's your take?
Smish: Personally, I depend on symbolism and familiar references to get the message across. My work has to be relatable to people, in order to first, understand it, and then, appreciate it. I try and derive from day-to-day objects that people on an average basis come across or use, and create a concept around those which clicks instantly with my audience. Apart from this, I keep my work as minimalist as I can, so there's less distraction and the artwork then tends to be more graphic and appealing to the masses, in my opinion. Since it's a really small canvas with an even smaller lifespan, I keep it simple, subtle and minimal.
View this post on Instagram
MR: Being part of the same society, social media too contains the misogyny and sexism that exist outside of it. Designers have spoken about the dearth of female digital artists. Firstly, has that made digital art's response to the women-specific issues lopsided or not touched upon enough? Secondly, as artists, how can those who are already there do to make it a better/inviting place for women who would like to join you all?
Smish: I do feel that collectively as artists, we need to address women's issues on social media a lot more. Mainstream feminism on Instagram still has a long way to go as it lacks to cover grave social issues concerning women. We, as artists, could touch upon the core issues women face in this country, such as female foeticide, child marriage, menstruation awareness, domestic violence towards women, safety issues, etc.
View this post on Instagram
I think all artists must support women illustrators/artists on Instagram by sharing their work as much as one can, buying artwork from them, and simply being a bit friendlier towards them, as social media can be quite a harrowing space for female artists especially. 
MR: When did you first take to political art? Who all have been your inspirations?
Smish: After the 2019 elections, something inside me snapped and I took to Instagram to express my dissent through art. I taught myself to illustrate in order to comment on the various issues I care about. It is relieving for me to express myself this way and immensely motivating to have found a support system of like-minded people online trying to make sense of the current scenario of the country.
I am really inspired by the likes of @bakeryprasad, @orijitzen, @sanitarypanels, @cartoonistsatish and @kruttika on Instagram — their fearlessness is what keeps me going to create more art everyday. Apart from Instagram illustrators, cultural icons like Kunal Kamra, Ramit Verma (@peeinghuman, Kroordarshan) and journalist Rana Ayyub also give me a lot of strength. Additionally, an art movement that really inspires me is the Russian Constructivist Movement.
View this post on Instagram
MR: There could be a lot of political material to work on considering the kind of situation the country is at the moment. Does it get overwhelming?
Smish: Yes, definitely so. However, I mostly rely on what I want to create as an individual and not so much on what my followers want me to create. I see myself taking up several burning topics each day while also trying to make people more aware about different issues using varied approaches. It does get overwhelming at times, as I'm always trying to be more and more aware about the socio-political situation in the country, but through this process, I've only grown as an individual massively.
Having around 40,000 followers means that I need to be more aware, responsible and cautious as to what I put out there. Sometimes it leaves no room for any personal artwork since I've been labelled as a political artist, but I do it anyway as an act of assertion of my own personality as a woman artist.
View this post on Instagram
MR: We'd love it if you could pick one image that you hold especially close to your heart from your entire repertoire so far and tell us why it is so.
Smish: I think the artwork that is very close to my heart is called "Weighing Us Down", that depicted the sheer "weight" of India's saffronisation on the country's common man and how the process is shaking the very core of our democratic values and belief systems. There was a heaviness I felt in my heart, which I wanted to express somehow through my work. I thought of using the three colours of the Indian flag, where the ever-spreading saffron colour is weighing a man down as he struggles to maintain its weight while standing on a diminishing green. My approach was to send across a message using one of the most iconic and well-known symbols (the national flag) to make it more relatable for a larger audience.
View this post on Instagram
It is by far the best work I've created, given how simple the design really was, and I think it speaks volumes through its imagery. It is also the most viral artwork that I've ever created. It resonated with the Indian public so much that it was even taken to the streets for some of the anti-CAA-NRC protests. I'm forever grateful that such a large audience connected with my work on a deeper level and made it one of the most crucial voices of an important movement in the country.
The illustrations have been published here with the artist's consent.