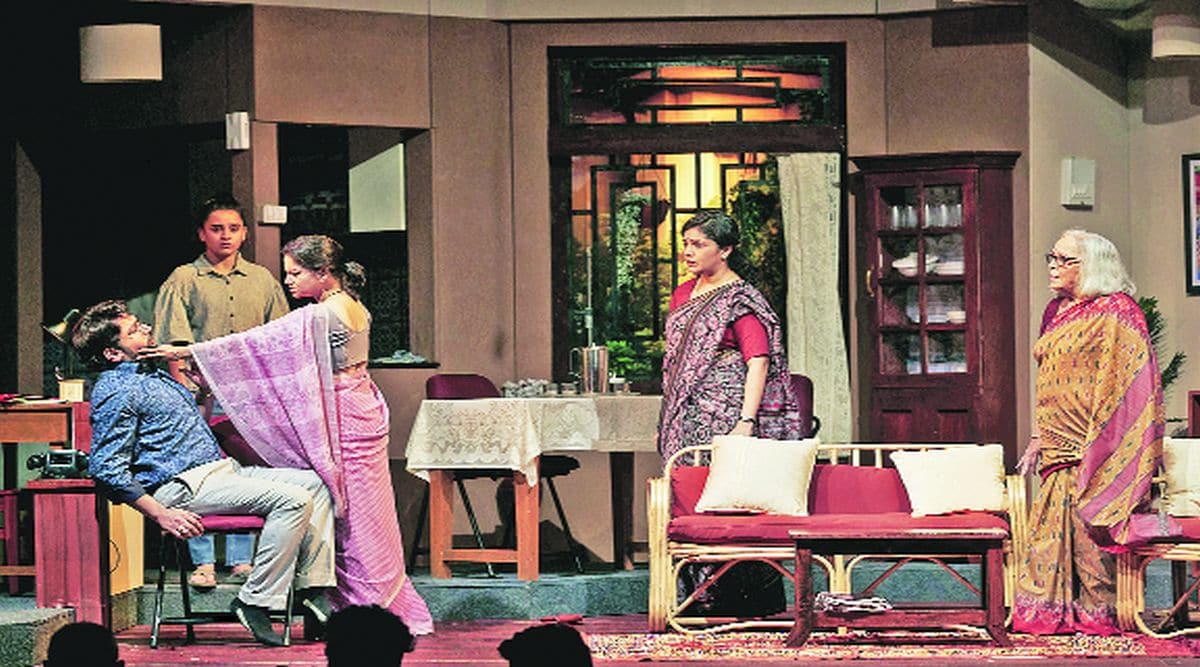 The history of literature and culture reaches us through various records. A record could be in the form of a note on someone's birth, an advertisement of the opening of a play, or a document announcing the closing down of a theatre group. In a different socio-political context, a record could also be a Facebook post of a social event or a minister's declaration of a new economic policy. A record — maintained in a register kept in the drama/theatre section in a library or an archive — could provide a fresh perspective on social history or highlight a scholarly argument already developed by a researcher.
A recent Facebook post by the prolific theatre director Chandrakant Kulkarni drew my attention. Known for directing a number of brilliant plays of Mahesh Elkunchwar, Prashant Dalvi, Ajit Dalvi Shyam Manohar and other Marathi playwrights, Kulkarni's Facebook post titled "14 March 1988 to 14 March 2023" triggered my interest in his dynamic journey from Aurangabad, then a small town, to the big city of Bombay/Mumbai. It was not just a journey but also a shift from amateur play-making to professional theatre practice. Thus, the spread of theatre through migration. 
Staging a play is as important as writing it as it provides a different understanding of society and culture by engaging with space and the audience. Creating and presenting a performance offers a fresh perspective to the artists and society as it reaches out to different places and contexts through the productions. Both artists and audiences enrich each other in the process. One gets to hear many diverse sounds and their echoes, which offer a newer perspective of society. 
The link between migration and staging has been seen in Maharashtra since the 19th century. Eminent historian Sumit Guha called the migration from villages and small towns to cities a vital phenomenon. The colonial government's education and employment policies during the 19th century also contributed to migration and theatre.  
For example, we can look at the career and plays of Vishnudas Bhave. His forefathers came from Kokan and settled in Sangli, the erstwhile princely state in western Maharashtra. Later, pushing for the professional theatre model in the 19th century, Bhave took his plays to perform in front of a cosmopolitan audience in Bombay City.  The scholar S N Banhatti mapped Bhave's journey from Sangli to Bombay in the 19th century. Bhave performed in small towns and cities to sustain himself and his group members. Vishnudas Bhave didn't move out of Sangli, his native place. But, Chandrakant Kulkarni did in the late 1980s. He and some of the group members of Jigisha in Aurangabad shifted to Bombay to make a career in theatre and film. 
Chandrakant Kulkarni's Facebook post enables theatre enthusiasts and researchers to look into how theatre emerged in Maharashtra through migration in the 1990s. 
Chandrakant Kulkarni, followed by Prashant Dalvi and other theatre artists, left Aurangabad for Mumbai on 14 March 1988. It is an event that holds great significance to me. Keeping an open heart, just like the city of Mumbai, these artists might have learned so many things and passed on different ideas to their colleagues and audiences in Bombay. Leaving behind their towns is as significant as being accepted in Mumbai. One shouldn't forget that the artists bring along the cultures, knowledge and treasures of theatrical language — knowingly or unknowingly — when they become part of the complex city culture. This, in turn, enriches the process, adding value to the place they come from and settle in. 
We often see young artists from smaller cities and towns performing in the cities. One should also acknowledge their roots in the 'small towns'. Their moving away from the small towns to the cities is not a linear process. We can't always look at the process from an evolutionary angle. Mahesh Elkunchwar, in his interview with Ashish Rajadhyaksha, said, "If it is getting inferred that the extent of the small-town vision is restricted and narrow, I would disagree. Life – I lived it so intensely – that came to me through reading has built my vision of life. And finally, it's my life-vision. It has been so because of what I have been, where I was brought up, and of my own past and legacy. That vision is of one person and that's me. I do not know if it can be generalized as the vision of the small town person."  
Though rooted in the small-town culture, Kulkarni, Dalvi and others in the Jigisha group are neither nostalgic about their roots nor romantic about the big-city life. They have faced struggles throughout. Kulkarni's account of the 1991 play, Charchaughi, produced by Lata Narvekar and premiered in Balgandharv in Pune, noted in the Facebook post, highlights this. 
Prashant Dalvi, the playwright of "Charchaughi", writes in a piece published in Daily Loksatta on January 11, 2015: "…We realized it gradually. One can say that the play ("Charchaughi") is about four women or forty. But how can we say that we met them suddenly! Its seeds were sown in Stree, the one-act play I had written when I was in college in Aurangabad. The experience of performing almost a hundred shows of the play with a team of twelve artists has contributed to the making of "Charchaughi". Our play, "Stree" in Aurangabad and "Mulgi Zaali Ho (directed by Jyoti Mhapsekar), being performed in Mumbai at the same time in the 1990s, was not a 'coincidence'.  They were products of the same time period." Thus Mahesh Elkunchwar and Prashant Dalvi create their works within the collective spaces they belong to. Their works can't be trapped into the polarised understanding of village and city and, experimental and commercial, 
Further, Dalvi writes, "It is not necessary to make any compromises or appease someone, neither we need to change our own track of work. All we need is to transfer our 'space of experiences' through writing. For this, focusing on certain issues or problems in the play won't suffice. The problem or issue has to be translated effectively in a dramatic statement." 
Time and again, artists across the world move out of their comfort zones. Some of them are migrants all the time. It's an opportunity for them to learn and unlearn. We may feel connected to Chandrakant Kulkarni, Ajit, Prashant Dalvi, and their Jigisha theatre group. We look up to them. When I was studying, they often visited Kolhapur to perform or talk in a seminar. One of their friends had his in-laws' house in Kolhapur. More than once, I heard them speak about their play-making and the challenges while performing theatre in Mumbai. Being a migrant, I could understand the courage, compromises and negotiations they would have had to make while moving from a cosy small town to Mumbai, the bigger city! Kulkarni-Dalvi and others must have had new learnings while getting through this. At the same time, the people crammed in the metropolis and adjusting themselves might have heard different voices and learned newer ideas from the small-towners and villagers. Watching Chandrakant Kulkarni and others' plays — who have been experimenting with different dramatic forms — is to witness contemporary India's evolving societies and cultures. Cutting across Indira Gandhi, Rajiv Gandhi, Sam Pitroda, Harshad Mehta, computer revolution — local and global — and experimental and commercial theatre movements, we can see the changing metrics of agriculture, non-agriculture — cooperative movements — conflicts around lands in villages that have directly or indirectly touched them and our lives too. 
Now, the questions to seek more reflections are: What kind of theatre has emerged in response to the dynamics of migration? How did the writers and artists respond to the legacies of their own linguistic and artistic practices after settling in the metropolitan city of Mumbai? Do they see their hometown in dichotomous relation to the city? Or do they create their drama at the convergence of both?