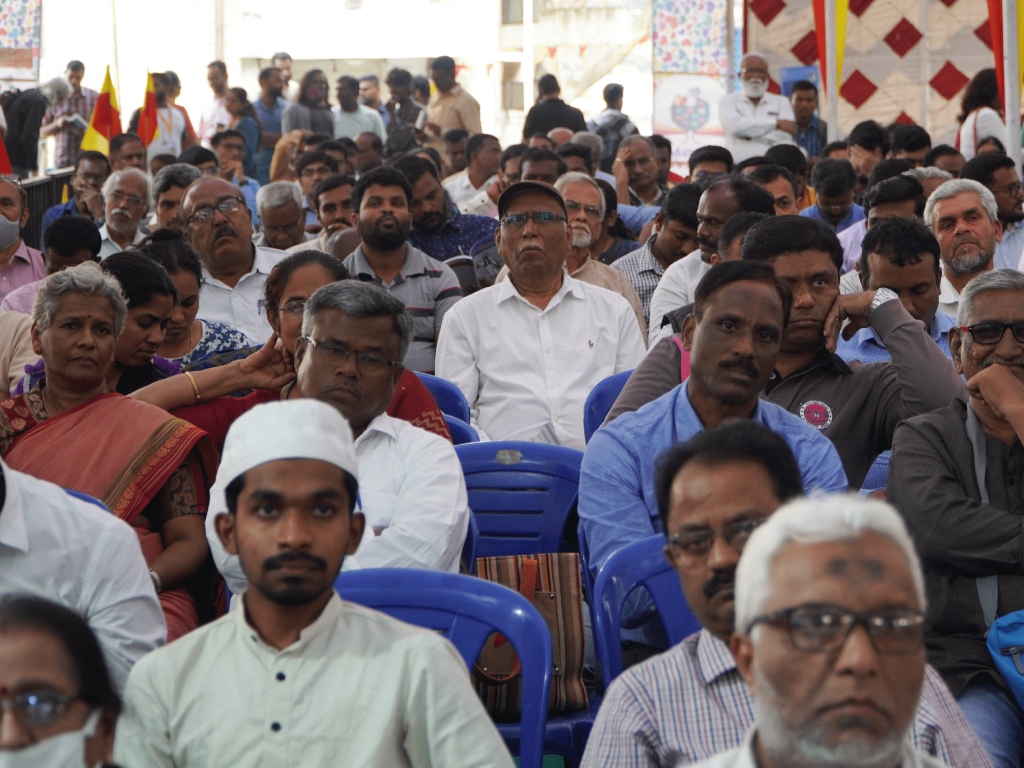 Bengaluru: A Jana Sahitya Sammelana (People's Literary Conference) was held in Bengaluru on January 8, 2023, as a people's response to the exclusion of Muslims and women from the Kannada Sahitya Sammelana organised in Haveri by the Kannada Sahitya Parishat. The program in Haveri was held from January 6 to January 8. The Kannada Sahitya Sammelana was conceived by the state government with the objective of nurturing the growth of the Kannada language and literature. 
Readers and writers across Karnataka expressed their displeasure online at the lack of diversity at the Kannada Sahitya Sammelana. This prompted a group of activists and writers to organise a more inclusive event. Banu Mushtaq and Dr Mudnakudu Chinnaswamy were the chief guests presiding over the Jana Sahitya Sammelana in Bengaluru. 
Addressing the gathering, Chinnaswamy said, "Tamil, Kannada, Telugu, and Odia are classical languages older than Hindi. Socially, economically, culturally, and in literature, having taken the lead, Dravidian people are now facing the imposition of Hindi; this will serve a deadly blow to us." 
He also spoke about an attempted erasure of Mohandas Karamchand Gandhi. He said, "The Sangh Parivar treasures the Hindu caste system. That's why the condemnation of Gandhi started a long time ago. They are attempting to replace him with Savarkar. Even the detractors of Gandhi ji cannot deny his stand against communalism and untouchability. He once said at a conference that as Krishna protected the Pandavas, he would protect the Muslims. This is the reason for their (RSS) strong hatred against him. Gandhi's estrangement is a loss for Indian pluralism."     
 The conference was put together by members of various organisations like Samudaya, Democratic Youth Federation of India, AIDWA, Dalita Sangharsha Samiti, Ondu Ede (a transgender association), Journalist Study Centre, and many others. Actor-politician Prakash Raj and transgender activist Dr Akkai Padmashali were also invited as guests and speakers at the conference. The Jana Sammelana was held at the Alumni Hall of the University of Visvesvaraya College of Engineering (UVCE).
Conference of Resistance
'Pratirodha Sammelana', which translates to 'conference of resistance', was a recurring theme heard on stage. Through poetry, the conference rendered the spirit of resistance into a verb. In fact, this was best articulated by Chand Pasha, a poet. 
Read an excerpt and an unofficial translation of his Kannada poem, 'Puncturewala', which he recited during the poetry session here.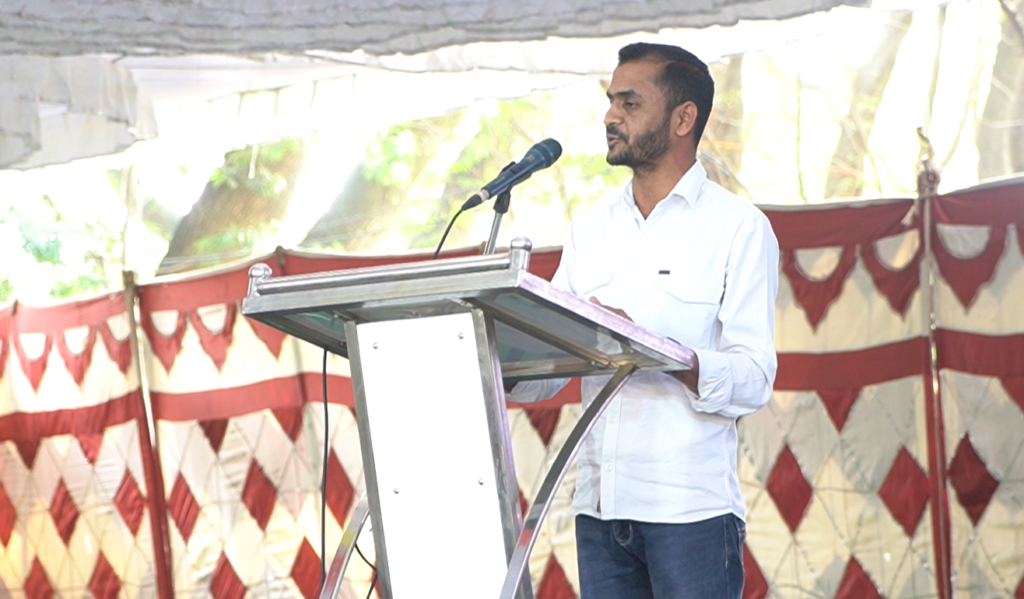 Exclusion of Muslims
DYFI state president Muneer Katipalla arguably delivered the most enduring address at the literary conference. Addressing the gathering, he spoke about the systemic exclusion of Muslims from every sphere of public life. He said, "A few days ago, social activist and religious leader Naushad Haji died in a road accident in Dakshina Kannada. Even the centrist newspapers did not report on the tens of thousands of people who gathered for the funeral. They only wrote two lines about the accident. This community is a target for the fascists. Secular parties don't want to be seen supporting them because they fear they will lose votes." 
Haji continued, "When I wrote that Muslims have become untouchables today, some Dalit leaders asked me to be careful with the use of that word. I know it's difficult to experience what Dalits are subjected to, but how do we express the pain being felt by the Muslim community? They are now excluded from every sphere. We are outside Parliament and assemblies; outside the news media, outside the public sector as well as the private sector. We are not able to rent houses. Has any important writer written a novel with a Muslim as the chief protagonist? A few literary figures from the Beary Muslim community have written stories about Muslims. But I haven't found any such writing in Kannada literature. We can forget about cinematic portrayal altogether. In Kerala, there was a famous film called Ustad Hotel. It was a nice film. When it got remade into Kannada, it was called Gowdru Hotel. Maybe they thought the film would not make money if it remained a Muslim story. In this way, the pain, the experiences and the thoughts of Muslims have been excluded from public consciousness."
Diversity and Fervour
The day-long event had several speakers who touched upon topics like food politics, the representation of Tipu Sultan, the decline of Kannada literature, and plural literary traditions. However, the format was restricted to speeches and lectures rather than round tables. Agni Shreedhar, a writer and journalist raised provocative slogans about 'dravida nadu'. He is also the President of an organisation called Rashtriya Dravida Sangha (RDS). The organisation will officially launch on January 12. 
A journalist, T Gururaj, who works with the 'Hello Mysore' newspaper, launched his book at the Jana Sammelana. His book is titled 'Namma Tipu – Vadanti mathu satya sangati' (our Tipu – rumour and truth). 
Political cartoons were also exhibited featuring artists like Dinesh Kukkujadka, Satish Acharya, P Mohammad and Rumi Harish, among others.
Seema, 40, who holds a PhD in English Literature, spoke to NewsClick about her experience at the conference. She said, "The speakers and even the resource persons are well-read and scholarly. Due to time constraints, they kept their speeches short and I felt the audience missed out on their knowledge. But I learnt a lot. I was impressed by the talk on Christian Missionaries and their influence on Kannada language. I was also touched by the speech of Muneer (Katipalla). I realised that I hadn't read many stories about Muslims. We are all lost on Whatsapp, Facebook and quick headlines. Due to this program, I learnt about the plural traditions of this region,"
Last week, the President of the Kannada Sahitya Parishat, Mahesh Joshi, made a statement when questioned about the opposition to the Haveri event. He alleged that renowned Kannada academic Purushothama Bilimalle had requested him to give the Haveri pandal contract to a Muslim trader (known to him). And when he declined to do so, Bilimalle opted against attending the program in Haveri and set up a parallel conference in Bengaluru. This allegation was mocked by many, including poet Chand Pasha. 
Speaking to NewsClick, Pasha said, "Purushothama Bilimalle has been a senior academic at the Jawaharlal Nehru University (JNU). Why would he run after such a person for a pandal contract? Such an allegation is embarrassing and blasphemous coming from the Sahitya Parishat. So, I added a line in my poem that we don't make empty allegations and speeches, we are working class people putting up pandals and fixing punctures."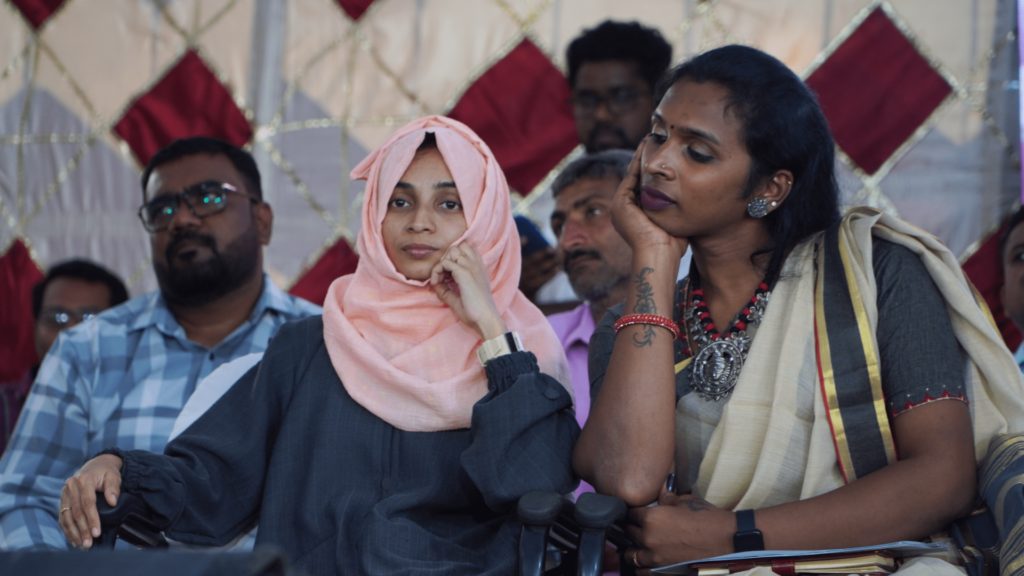 During lunch hour, two speakers – Ranganatha Kantanakunte and Pallavi Idoor – spoke about food politics. Since lunch was being served close to the stage, the audience had an opportunity to listen to the program while feasting on succulent fish curry and kebabs. There was a poetry session after lunch which was well received by the audience. The poets included Chand Pasha, Siraj Bisaralli, Prakash Manteda, Fatima Raliya, Hazira Khanum, Praveen MB and Sanghamitra. Two transgender poets – Chandni and Panchami – also recited their poems called 'Sisanatu' and 'Nee Yaru'. 
Several book stalls dedicated to Kannada literature were set up around the venue. Samudaya, a cultural organisation, staged a play on workers' rights in association with CITU. The 17th All India CITU conference will also be held in Bengaluru on January 18. Over the next few days, in the run up to the event, the play will be staged across the city.