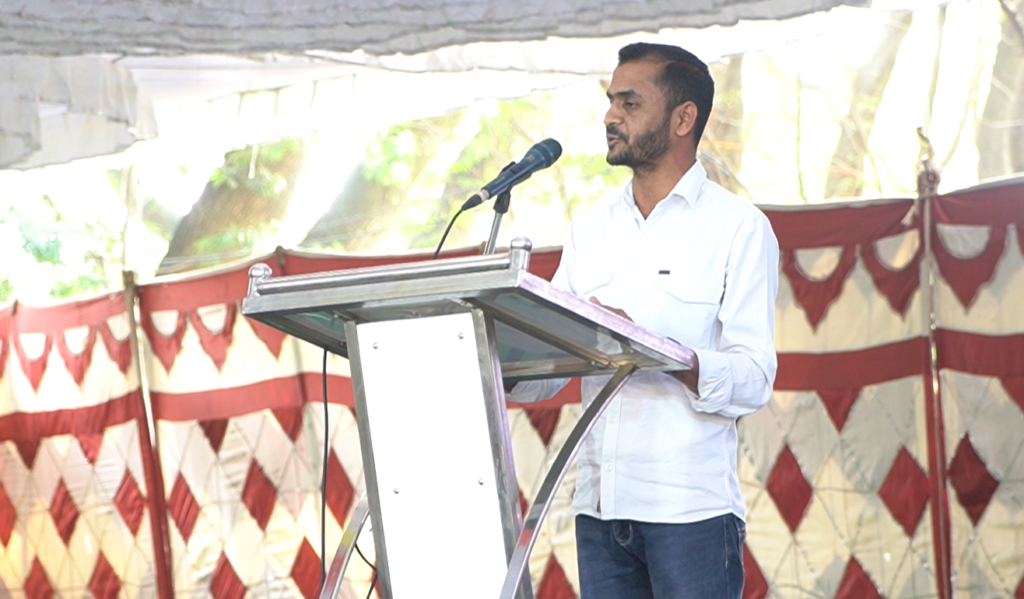 A Jana Sahitya Sammelana was held in Bengaluru on January 8, 2023, to protest against the exclusion of Muslims and women from the Kannada Sahitya Sammelana organised in Haveri by the Kannada Sahitya Parishat. The program in Haveri was conducted from January 6-8.
In response to the exclusionary conference in Haveri, students, poets, novelists and lovers of the Kannada language and literature came together for a conference of resistance in Bengaluru. Several poets left an enduring impression on the audience during the poetry session- not least, poet Chand Pasha from Gulbarga. Here is an unofficial translation of his Kannada poem, puncturewala. The original title is 'Puncture hakoru'.
Put your ear to the ground and listen.
Listen to my song of mourning,
When the nation was wounded, 
my ajja, the Hakeem, gently rubbed a soothing balm,
But he is wounded, still.
The discarded cloth of the tiranga,
He held against his chest, 
When he saw the guns celebrating the death of the Mahatma,
It broke his chest. 
With tears flowing,
The pain of the land, 
He held it in his hand.
In pain, he offered the namaz.
In fear of spear and Trishul,
he died in his mother's womb.
I know
I know you will tear down my ajja's tomb.
Doesn't it have a gumbaz to identify it?
When Sita was pushed into the fire, 
when shoorpanaka's nose was chopped,
When the dung was thrown on Savitribai,
My mother, Fatima, had tears in her eyes,
I still remember.
I breathe the letters taught to me,
by the mother of letters,
Tear open my chest, you may not find any letters,
But you will find the flower of humanity.
You will crush that flower,
I know you will crush that flower,
Aren't you the ones that killed and ate little Asifa?
My people never lived like slaves,
My people never licked any boots, 
nor wrote letters for mercy, 
Never accepted defeat, 
And won the battle of life.
Without making empty speeches,
We lived a life of labour,
putting pandals, fixing punctures,
dressed in faded clothes,
My documents are in the palm of bade Sahab
Find it if you can.
The following is an excerpt from an interview with 29-year-old Chand Pasha,
Nikhil Cariappa (NC): How did you develop a love for Kannada literature?
Chand Pasha (CP): I started writing verses when I was in 7th standard. I am from Gulbarga. When I was in PUC, I met MR Kamala ma'am. She was a well-known poet and Kannada lecturer. She inspired me to write. I was studying commerce, but I opted for a B.A. program when I reached the undergraduate level. I began to study Kannada literature to improve my understanding. Then I joined Bangalore University for my M.A. I met many important writers like Nataraj Huliyar and Basavaraj Kalgudi. Meeting these teachers helped me learn about different kinds of literature. Every year, I feel my style and understanding keep changing. 
NC: What is the change that you see?
CP: When I read my older poems, I felt they had nothing unique about them. I feel that somebody has already written these verses in the past. I feel the desire to write something new. 
NC: When did you write 'puncture hakoru'?
CP: I wrote it in the context of the National Register of Citizens (NRC). During the CAA-NRC protests, I called it 'nanna dakhale' (my documents). Muneer Katipalla had written a poem about Muslim exclusion, so I was careful to ensure that my poem didn't inadvertently borrow his verses. Then, someone (MP Tejasvi Surya) commented why anyone should listen to people who are repairing punctures. I wanted to own those insults and say that we are indeed working-class people who also fix punctures. Then, last week, Mahesh Joshi (President of the Kannada Sahitya Parishat) made laughable and blasphemous allegations about academic Purushothama Bilimalle. He said that the Jana Sahitya Sammelana was organised because Joshi did not grant the Haveri pandal contract to a Muslim trader (known to Bilimalle). Purushothama Bilimalle has been a senior academic at JNU. Why would he run after such a person for a pandal contract? So I added a verse that we don't make empty speeches; we are working-class people putting up pandals and fixing punctures.
NC: Who is bade Sahab? Is that a reference to God?
CP: Not at all. I am an atheist. Bade Sahab is not any particular person. He is a symbol of an elderly Muslim man who can be generally found in faded clothes. If you go to any shop where he works, you can find him wearing a topi. He can be identified by his hands, also. It may be greasy from working on motor vehicles. Bade Sahab is a worker.
NC: What are you working on now?
CP: I am a PhD student at Bangalore University. I am currently researching the poetry of Gopalakrishna Adiga. I am trying to analyse his poems through the theories put forth by Michel Foucault, Edward Said, Derrida, Noam Chomsky, and Antonio Gramsci.
NC: Who are the young writers that you admire?
CP: I like NK Hanumanthaiah, a young and gifted writer who is no more. I also like Wilson Kateel and Arif Raja.