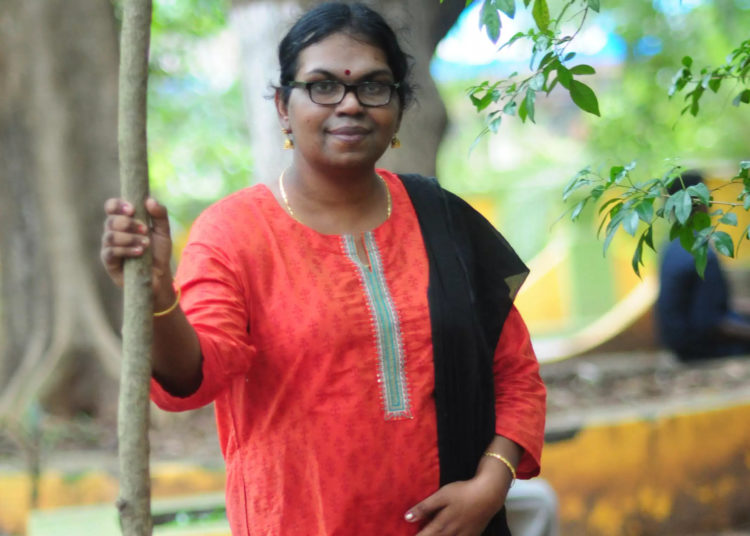 The most exciting thing that has been happening in Indian poetry in the last few decades is the emergence of poets from the so-far marginalised sections of our society like women, ethnic and religious minorities, Dalits, adivasis and more recently LGBT people who had so far been destined to sequestration or invisibility. The latest awakening in this series is that of the transgender writers who have come up with a totally fresh vision of the human world, earlier divided between men and women.  Vijayarajamallika, the first known transgender poet in Kerala, is a fine representative of this third perspective that transcends the conventional gender-binary whose first demand is the discovery of a new language to articulate this perspective. This is exactly what Vijayarajamallika is attempting to do in the poems collected in A Word to Mother.
The very first poem that opens the collection- 'Third Sex'- is a positive assertion of diversity that is the first victim of most of our discourses. In 'But' the dilemma that confronts the generous suitor who demands no dowry is, what is the use of marrying a woman without a vagina. We are not worried about the sex of the fish that we fry, roast or cook and eat with our rice, but 'even then,', the poet says, 'the orientation of our existence/ Like the head of cat fish,/ Pricks and wounds our throat. '('Birth & Death') These lines sum up the agony of the third sex: it is hard to accept it, but impossible to reject it. One has to find ways to reconcile oneself to this floating, amphibious, existence in a world packed with men and women with mostly defined sexual orientations. In 'Injuries' she brings in characters from Indian epics and makes a prayer for her children who may not be confined to conventional compartments but grow up to become compassionate human beings:
"I will name my children
Brihandala and Shikandini
Let the deadly wounds
Inflicted by language
Heal through them
Let them be human beings with virtue
Not shrinking to boxes
And not just be male and female"
In the 'Love Revolution' Vijaya speaks of the moment of her re-birth and the surprise it must have generated: "Scissors that cleaved my body/ Were bewildered /They saw you! /The You in me /Whom I knew more than myself in me". It was impossible for them to separate the woman and man in her- as impossible as separating the air and the fragrance in a bottle of perfume. They could only whisper, 'Let the revolution of love succeed'. The poem 'Urge' is a raw expression of desire where she yearns for a lover who could come inside her.
Vijaya contemplates her death and the events that would follow it in 'Human Daughter'. They would celebrate her for a while and then abandon her memory in the wilderness. What she wants is to be loved and cared for now, and not posthumously. She recalls how all revolutions, insurrections  nd enlightenments had bypassed the third gender- it was all for men or women. Hence the tragic last lines:
"I
The one forgotten
By the leaders of the renaissance
And flags
My name is Transgender
The Human daughter"
'Mind' is another poem of loneliness and anguish. It sums up the oppressive society's approach to the transgenders. "While you fled pouring acid on my face/ Charred me alive/ Crashed your car on me/ Shot me on my bosom/ Have you ever thought/ That I too had a mind/ And that it was full/ With the expectations of a family?" The onlookers and passengers stare at her swollen bosom, but hardly realise that there was a beating heart in between them craving love. Her silence was mistaken for consent while she was only expressing her concern. In 'Jalleby' she addresses her parents. She was weeping inside her male attire like a sweet in a bakery imprisoned in a jar. Her parents had brought her up, had read between the lines and known her by heart like a text and yet how could they smother the woman in her? Only the plant can know the pain of the crushed flower. "Boys crush the roses/ Even before it blooms/ And the girls /Pluck it to adorn themselves/ Alas! Who knows the pain of it?/ Other than the plant/ That bore it."
'Neither Boy nor Girl' is a lullaby for a transgender baby. "Not a son/ Not a daughter/ You are my dear rainbow/ Holding you close to my bosom/ Let me kiss your forehead/ Hundred kisses of gratification." Here is another beautiful poem about women who cannot bear children, titled 'Shades':
"Not all trees bear fruits
A few of them are made for shades
And even then, why
Demean and marginalize?"
The poem 'Hijada' again captures the agony of being frowned at and abused. The little transgender cleans the road, and asks the passengers on roads to give her some money; but they only sneer at her as they do not have the scale to measure her and do not think there can be in-betweens in numbers like stations in a train's passage. That girl also must have had desires to be a doctor , or a collector; but the society has been unkind to her and do not recognise the infinite variety of creation. In the poem 'Ardhanaree' the poet wonders why in a country that worships Ardhanareeshwara, the ardhanaree (half-woman) is spurned and loathed.
Several poems in the collection are addressed to the mother: some ask for understanding; some express love, some find mothers irreplaceable. Many other poems like 'Toilet', 'After Death' 'Oops' 'Fulfilment', 'New-born' etc are bare expressions of pain and desire and indignation against the discrimination the transgenders face. The poems on the whole expose the turbulent mind of the transgender people, with their passion, thirst for love, untold suffering, the unease of being molested even in childhood and demand for the third gender a specific location in the scheme of things designed only for men and women. They offer   an insight into the troubled psyche of the social outcasts and place on record their protest against a world cleanly divided into two with little place for the third. No wonder numbers crop up again and again in this series of agonised outbursts.
(Introduction to transgender poet Vijayarajamallika's selected poems in English translation)
Originally written as an introduction to 'A Word to Mother', Vijayarajamallika's first collection of poems in English translation.