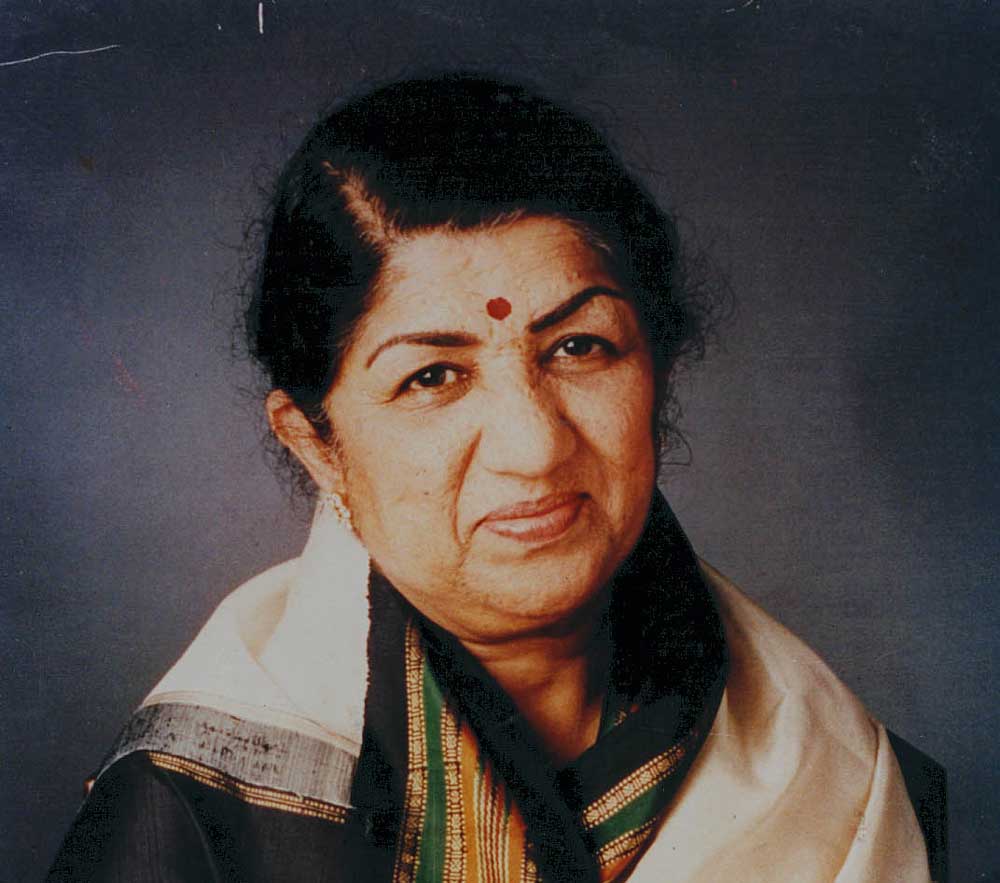 In keeping with the deep-rooted influence of music in Indian cinema, it's a given that when film legends pass away, along with remembering them, we also end up harking back to and humming the songs they sang or featured in, on the screen. But what about one of Indian cinema's most resounding playback voices of all times, memorialised for eternity as the Nightingale of India? Which songs to pick from the innumerable to her credit? "Mai ri" from Dastak (1996) or "Kuchh dil ne kaha" from Anupama (1966)? "Tu chanda main chandni" (Reshma Aur Shera, 1971) or "Raaton ke saaye ghane" (Annadata, 1972)? "Dil ki girah khol do" (Raat Aur Din, 1967) or "Khamosh sa afsana" (Libaas, unreleased)? "Ye sama" (Jab Jab Phool Khile, 1965) or "Rasm-e-ulfat ko nibhayein" (Dil Ki Raahein, 1973)? "Na, jiya laage na" (Anand, 1971) or "Unko ye shikayat hai" (Adalat, 1958)?
Lata was our shared legacy. She still is. And will always remain so.
Lata Mangeshkar, all by herself, has formed a dominant chunk of the collective soundtrack of our lives, music held in common by Indians, across several eras, spaces and regions. Her songs have been like the hand-me-downs that keep getting forwarded in the extended brood. Yet they never frayed and have remained fresh over several decades. No surprise then that an 80-year-old grandmother and her 18-year-old granddaughter could be caught humming the same Lata melody, together. Lata was our shared legacy. She still is. And will always remain so.
Whatever be your favourite songs from her phenomenal repertoire, the sheer impact of the best of them boils down to the signature mellifluous voice and crystal clear, limpid, almost transparent vocalisation. Like water in a gentle flow. Almost everyone in the country would be able to identify the voice wafting over the years on radios, transistors, music systems, in the cinema halls and now even online. Along with playback singer-actor Noor Jehan and classical vocalist MS Subbulakshmi, Lata formed a formidable triumvirate of the most well-known women singers from the subcontinent. Winner of several awards including the Padma Bhushan in 1969, Dadasaheb Phalke in 1989 and Padma Vibhushan in 1999, Lata was only the second vocalist, after Subbulakshmi to have received the Bharat Ratna, India's highest civilian honour, in 2007.
But there was more than just the sweet, lilting, dulcet notes. There was also the strong hold on the language, the right pronunciation and enunciation, for instance. It is said that Lata began taking Urdu lessons when actor and close friend Dilip Kumar disapproved of her Maharashtrian accent in Hindi/Urdu songs. That was her level of commitment to her calling.
Most of all, her singing was marked by an impeccable imbibing of the mood, an enviable ability to catch the emotive soul and texture of a song to perfection. It was often jokingly said that she would make the job of the actresses a lot easier by hitting the right emotional keys and scales in the song. Their acting just had to fill the remaining dots.
Eldest of four siblings, all into music themselves — Meena Khadikar, Asha Bhonsle, Usha Mangeshkar and Hridaynath Mangeshkar — Lata Mangeshkar was born in Indore in 1929. Their father Pandit Deenanath Mangeshkar was a musician of repute himself, from whom they received their early training. 
After his death, family friend Master Vinayak, who also happened to be the owner of the movie company, Navyug Chitrapat, took Lata under his wings to help further her career in music. Her first film song "Naachu yaa gade, Khelu saari mani haus bhaari" was for the Marathi movie Kiti Hasaal (1942) but it was eventually dropped in the final cut. 
On moving to Mumbai (then Bombay) in 1945, she started training in Hindustani classical music under Ustad Aman Ali Khan of Bhendibazaar Gharana whose other famous disciples included Manna Dey.
Composer Ghulam Haider was one of her earliest mentors in the film industry who made her sing "Dil mera toda, Mujhe kahin ka na chhoda" in Majboor (1948), often regarded as Lata's first major hit. In one of her interviews, she spoke of him as her "godfather", who had the confidence to fight for her when the industry had initially rejected her "thin voice". It was Khemchand Prakash's "Aayega aanewala" from Mahal (1949) that turned her into a household name and marked the first big stride in the road to unprecedented success. 
She created an esteemed space for herself in the music industry and reigned over it for over 75 years.
Lata never kept a record of her own songs, but what gives an idea of the enormous corpus is the fact that in Hindi films alone, she worked with possibly every major music director — Naushad, Shankar Jaikishan, Jaidev, Madan Mohan, Hemant Kumar, Salil Chowdhury, Khayyam, Laxikant-Pyarelal, the Burmans, AR Rahman — and even went on to collaborate with the children of composers she had created musical magic with earlier, like Rahul Dev Burman (son of Sachin Dev Burman), Rajesh Roshan (son of Roshan), Anu Malik (son of Sardar Malik) and Anand-Milind (sons of Chitragupt). 
She did playback for several generations of Hindi film heroines — from Madhubala and Meena Kumari to Rekha and Hema Malini, from Dimple Kapadia to Preity Zinta — and sang duets with male singers across all ages —Kishore Kumar and Mohammad Rafi to Sonu Nigam and Gurdas Mann. 
On 27 January 1963, in the aftermath of the Sino-Indian War of 1962, Lata sang the iconic C Ramchandra-Kavi Pradeep composition "Aye mere watan ke logo" in the presence of the then PM Jawaharlal Nehru. It is said to have brought him to tears and has since got etched in Indian musical history as the ultimate Hindi patriotic song of all times.
She was at the forefront in the evolution of Hindi playback singing and fought actively for the rights of the singers to a song.
92-year-old Lata's significance and legacy, however, go beyond the much-loved songs. She created an esteemed space for herself in the music industry and reigned over it for over 75 years. Her petite figure and essential simplicity created an aura of their own, ironically made her loom larger than life. In a world dominated by men, she was a diminutive force to reckon with. Beyond the divides of gender, she played a crucial role in giving a face to and making a star out of the "unseen" playback singers. She was at the forefront in the evolution of Hindi playback singing and fought actively for the rights of the singers to a song. Prized trivia has it that she was the inspiration behind Raj Kapoor's 1978 film Satyam Shivam Sundaram; he even wanted to cast her in the lead role. What didn't get as much prominence in her long career are her stints as an actor in the early years and as a music composer and film producer later. 
With the advancing age, the sweetness of the voice may have led to a shrillness and high pitch, but it could still hold a candle to the plethora of auto-tuned voices of today. There have been unseemly tales about sibling rivalry between her and the equally gifted sister Asha Bhonsle. There have been still more indecorous stories about the so-called smaller plants — Suman Kalyanpur, Mubarak Begum, Sudha Malhotra — that wilted in the shadow of the giant banyan tree that she grew into. But one can't quite overlook the fact that nobody had the same dedication to music as her. And no one was quite able to carry her (and Asha's) mantle forward as potently. A reason why, despite her last prominent songs being "Kitne ajeeb rishte" in Page 3 (2005) and "Luka chhuppi" in Rang De Basanti (2006), she continued to define and personify playback singing across generations of listeners with her appeal cutting right across the whole country and not just confined to the Hindi-Urdu-Marathi speaking belt. In fact, she sang in possibly all the Indian languages and some foreign ones as well.
In the later years she got more involved with non-film albums and sang an odd song in films like Dunno Y… Na Jaane Kyun (2010), Satrangee Parachute (2011) and Dunno Y 2 (2015) that proved to be as forgettable as the films themselves. 
Coming a full circle from "Aye mere watan ke logo", in 2019 Lata sang a poem — "Saugandh mujhe is mitti ki, main desh nahin mitne dunga", that PM Narendra Modi had recited in a rally in Churu, Rajasthan, hours after the Indian air strikes in Balakot, Pakistan. A tribute to the Indian jawans and the nation, it was posted on YouTube and tweeted by her. 
A private person, socialising on a few rare occasions, she loved diamonds and had an immense passion for cricket. There had been rumours aplenty about the close bond she shared with late Raj Singh Dungarpur, former cricketer, national selector and president of Board of Control for Cricket in India. However, both chose to remain quiet about the friendship and stayed single till the end. 
Lata has been a rare one of her generation to have taken to Twitter with ease and that too in a big way, describing herself there as "playback singer since 1942". Her last two tweets, on January 4, ironically, were to mark Pancham aka R.D. Burman's death anniversary and to mourn the passing away of social activist Sindhutai Sapkal.
One of the tallest representatives of the golden era in music and filmmaking, her demise is a sad pointer to the remorseless, relentless march of time that is snatching away the last few of our genuine legends. Ironically, it is also a reminder and an assurance that music will play on, nonetheless. With Lata Mangeshkar can there ever be a swan song?
Disclaimer: The views expressed in this article are the writer's own, and do not necessarily represent the views of the Indian Writers' Forum.