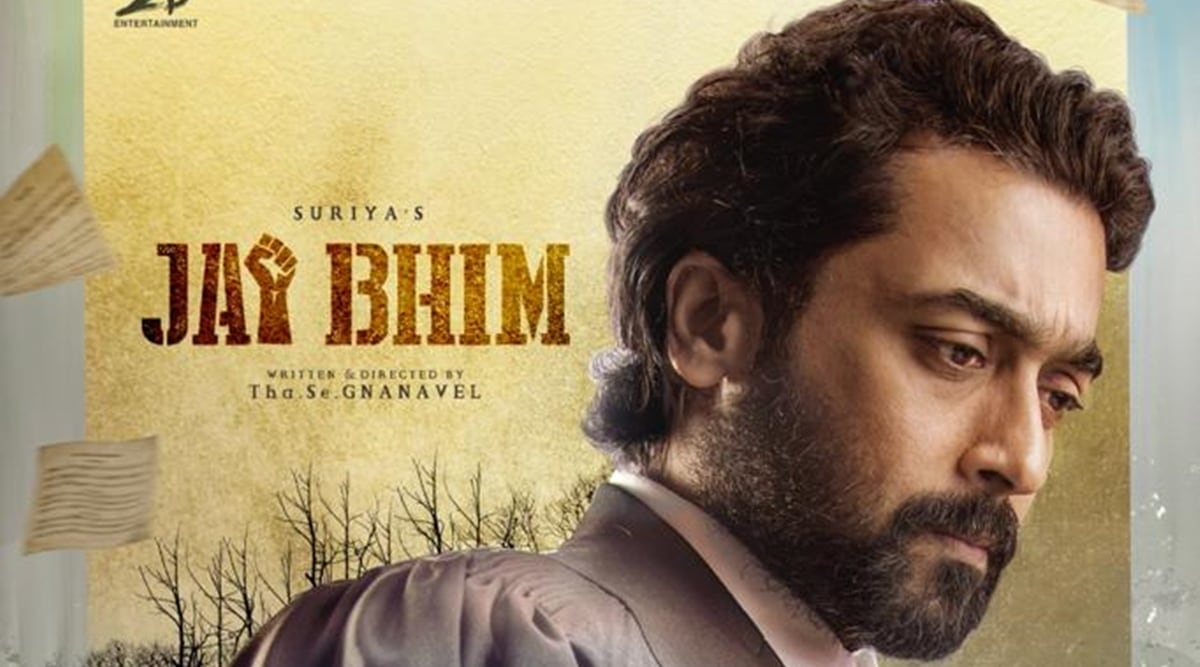 Jai Bhim, released in 2021, is a rare film based on the police atrocities against tribals, particularly the Irula (snake catchers) tribe.  Few films show the police atrocities as clearly as this one. Directed by T. J. Gnanavel, with Suriya playing the lead role of the lawyer Chandru and Lijomol Jose playing the wife of Rajakannu (Manikandan). The acting of all three is excellent. This is a true story based on the life of the lawyer Chandru who is now a retired judge.
The film begins with a scene of prisoners being let out of jail. As long as they are from the upper castes they are free but those from the lower castes and tribals are made to stand in line and taken back to jail. Money is exchanged.
Once the titles are over, we move to Konamalai village in Villupuram — a beautiful landscape and a young girl throwing some grain to the birds who eat it up. Then follows the scene where rats are caught. Rajakannu blows into a fire and smokes the rats out.  He asks his wife Senganni to blow harder. Finally they manage to catch several rats. But Senganni picks up a baby rat and frees it. When her husband asks why, she replies he is just a baby. She listens to a song on the radio. Her husband tells her to get on with her work but she says the song has his name in it. He then says the night will be special and the conversation continues to talk about making babies.
In the next scene we see them in an intimate scene. It is raining, the roof is leaking and the door of their house breaks open. They make love and a baby is made.
Soon after, the wife of someone high up in the village is hunting for her earrings and sees a snake. So Rajakannu is asked to come and rescue the snake. His wife gives him something to drink, I guess to protect him from the snake. He catches the snake and releases it in the forest. The jewellery is stolen and so the police decide it's Rajakannu. Actually there is another person called Ravi. He has stolen it but we don't know yet. The police storm into Senganni's hut and kick her and ask her where her husband is. She says he has gone to work in a brick kiln but does not know where. The policeman orders her into the van. She says she will come in the morning (no arrest warrant, no understanding of the need of a  woman police officer etc) but he insists and forces her into the van. Her daughter Illia keeps crying.
His brother, Irrutapan and nephew, Mosakutty are also arrested along with Irrutapan's wife.
Now starts the brutal police torture. They are all put in one cell and brutally hit.
Meanwhile the lawyer, Chandru leads a protest against police brutalities and then decides to jump over and attend a hearing. I love the way he jumps! The judge asks him why since he was leading the protest he decided to attend the hearing. Chandru answers that if he did not then the son would continue to languish in jail. At the end of the hearing not only is the son released but 7000 others are given bail.
Meanwhile Rajakannu leaves the brick kiln where he is working and goes out to buy some toys for his daughter Ilia. The police find him and put him in the van. There is a sad shot where the toy he bought is crushed under the wheel of the van.
The police have released Senganni and she is sitting outside when the police van with Rajakunnu enters and he is dragged and put into prison. It's a very moving scene. She keeps calling him " my dear". Now the torture begins. I must confess I had to turn my head away from the screen several times. He is hung with his feet and hands tied and beaten. He is put on a plank and beaten. The police officer Gurumurthy hits him with his feet. Chilli paste is applied on his wounds. (I remember when I was a kid we had a house in Tithal near Valsad and Dhiru, the son of Ragla (who looked after the property) was taken away and tortured. They beat the soles of his feet. They hit him over the ears. He went deaf after that. ) Thank God it's for adults. I don't think any child could bear to see this torture.
Meanwhile someone tells Senganni to consult a lawyer. Senganni meets Chandru and he tapes her. We of course are shown what happens. How Mossakutty is hung from his thumbs and beaten etc…
In a later scene Senganni says to the lawyer, Chandru that she has no money to pay him with. She tells him that Rajakannu has given her the marriage necklace so she values it and can't give it. So he tells her he is human. He asks her would she charge to save a life from a snake bite and she replies even if he were a policeman she would save his life but not take money. So she has answered his question.
In another very moving scene when Senganni and Rajakannu are both making bricks she makes him put his hand impression on a brick. He asks why and she says the first brick will be this. There follow very moving shots of him carrying her on his back, pressing her feet etc…
Chandru then asks for a CBI enquiry and then gets the case converted to a habeas corpus case in which witnesses are to be allowed. He quotes a judgement from the Kerala courts which allowed this. The prosecution lawyer says no but the judge agrees.
Now the film takes an interesting turn. It is discovered that Irutappan's employer has received a phone call from an STD booth Munnar. But the school teacher, Mynthra says that Irutappan is illiterate and cannot read so how would he dial?
On questioning the booth owner Chandru discovers that three policeman were there too. One of them impersonates Irutappan. On the way there Chandru sat on the floor of the train without any qualms and later buys the little girl Illia a pair of slippers. Very moving. There are several places where a bond is established between Chandru and the little girl Illia. He is tossing balls onto the wall checking things in his case often saying – negative. Then the ball disappears and the little girl hands it over to him. Another time she falls asleep over his shoulder. The mother is uncomfortable but the teacher says it's okay and he just puts his arm around the little girl.  At another point she writes her name on the slate and shows him. But the best is the last shot where she picks up the paper to read the news.
The police try to broker a deal with Senganni but she argues that though she may have the money, what answer would she give when those who gave her the money were her husband's killers? She refuses.
In the final scenes the CBI officer is called and he testifies. In his testimony he says that false cases were slapped on these three and that Rajakannu was killed in custody. As part of this the doctor who conducted the autopsy is asked by Chandru if being beaten on the chest could cause the fractured rib injury.   The doctor says yes but also if run over by a car. Then he talks about the chilli powder used to check if Rajakannu was alive or not. There was definitely chilli powder, and worse the tyre marks matched the police van's and the shoe marks exactly matched Gurumurthy's.
The court declares that the police have tortured and killed Rajakannu in custody.
After the court scene ends it begins to rain and then he goes out in search of  Senganni and the daughter. They are both sitting on the steps. And a beautiful song begins : Even in a rocky field there is moisture; even in a thorny jungle there are flowers; if you trust there will be another tomorrow; to hold you up there will be another soul; wherever you go the golden sky will be by you; there are no limits… come… Time is ours. And then she joins her hands in gratitude.
It is so rare that such a movie is made. I can just say it is re-assuring in a country like ours where caste and tribals are not even considered human. Even better is that we have lawyers like Chandru who fight for human right issues for no money.
Disclaimer: The views expressed in this article are the writer's own, and do not necessarily represent the views of the Indian Writers' Forum.