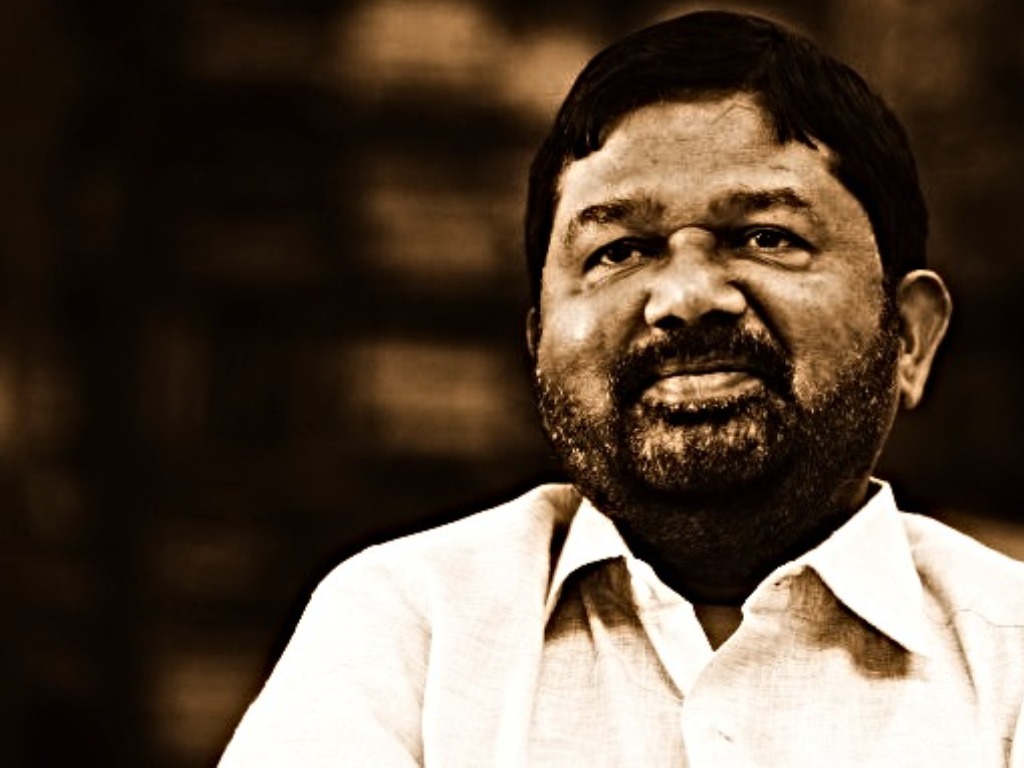 Incredible as it may sound, the dalit poet Siddalingaiah wrote his poems sitting on the gravestones of a cemetery in Srirampura, a thickly populated dalit colony, also notorious for its rowdies. In his characteristic mischievous style, he reminisces the pure air and the peace (not funerial at all!) he found there for his creativity. Probably some of the poems he wrote there not only inaugurated dalit poetry in Kannada but also shook the genteel brahminical somewhat prudish literary establishment with lines like: 
Bash them, kick them,
skin these bastards alive
('A Song', translated by Maitreyi Karnoor)
The Karnataka civil society had been thrown into a turmoil when Basavalingappa, an astute, intellectually gifted minister in Devraj Urs's cabinet made a comment that "From a dalit point-of-view, Kannada literature is cattle-feed." Among his supporters, roughed up by the defenders of Kannada Literature were P Lankesh and Siddalingaiah. The mob violence and the forced resignation of Basavalingappa made way, among other factors, to the establishment of Dalita Sangarsha Samiti. The founders were B Krishnappa, Devanoora Mahadeva and Siddalingaiah. A historical rarity, the DSS, a massive radical movement, was literally built on the songs written by Siddalingaiah, K B Siddaiah, M Nagaraju and K Ramaiah among others. Thousands of agitators would assemble to listen to and sing Siddalingaiah's song "Yesterday my People" and "Who Got Freedom in 1947" as prologue to the protests. It always reminds me of Pablo Neruda's reminiscences in his memoirs of reading out "I Was in Spain Recently" to workers in a tin sheet covered hall, their lips moving in unison with his reading. What was it in Siddalingaiah's poetry that touched hearts, angered men and women and prompted dalit communities to feel that his words were articulating the untold pain and humiliation on their behalf? 
In Tamil writer Bama's Sangathi, the dalit Patti (granny) says "do whatever you will, you can't stop our women from singing." Her words reveal the profound truth that the subalternised communities all over the world cannot be stopped from singing songs and telling tales. It's their language, the verbal skein of their unique life worlds and the cosmos to which they relate. Siddalingaiah was an heir to this great tradition. Of course, he was writing his songs and poems in a rich and complex literary tradition with a history of over twelve hundred years. Closer in time, Kuvempu had rebelled against the mainstream literary tradition by writing poems on "Manure," "The Yogi of the Plough" and "Karisidda."
Though inevitably Siddalingaiah's protest poems — liberally spiced with curse words — caught public attention, his first collection Hole Maadigara Haadu (Songs of the Untouchables, 1975) includes sensitively chiseled lyrics and poems with a thick texture of innovative metaphors. He also composed some of the most haunting love poems that draw on deep cultural memories as well as on images of pain and victimisation. His poems have travelled beyond the existing cultures of reading and are inseparable from their great renderings by singers like Janni and Pichahalli Srinivas. He created a new orality at a time when Navya (modernist poetry) had hegemonised the tightly structured symbolist poetry meant for the eye of the reader.
Yesterday
They came like a mountain
Did my people
Dark faces, silvery beards, smouldering eyes
Tearing day and night apart, kicking sleep goodbye 
('Thousands of Rivers', translated by M. Madhava Prasad)
His poetry is replete with images which bring with them a life world never before represented in institutionalised literature. "The door to the great Gowda's house is decorated with the festoon of our bones." "They killed the sun and hid the moon" "My people who carried the huge slabs on their shoulders." Though not as radical as Namdeo Dhasal of Gol Pita, Siddalingaiah shocks his readers with images of hidden violence. 
His autobiography 'Ooru Keri' translated by S R Ramakrishna, (A Word With You, World, Navayana, 2013) is an extraordinary autobiography. Full of humour and the joy of struggle, it is a deeply subversive text. It refuses to reduce dalit lives to mere misery and victimhood and celebrates the strategies of survival. It is also a narrativised cultural history of the turbulent decades which created modern Kannada consciousness. The late D R Nagaraj described its humour "as the rebellious laughter of the poor people". One could, with apologies to Ashis Nandy, describe it as a slum's eyes view of literature, politics and dalit struggle.
Siddalingaiah's tales about the subaltern deities and folk mother goddesses are in the carnivalesque tradition. These seemingly unpredictable, gossipy and chatty gods and goddesses in fact represent a dalit cosmos sustaining itself on beliefs of equality and justice, embodied in a language uncolonised by  the upper caste, brahminical categories of thought. One such tale told by Siddalingaiah and re-narrated by Devanoora Mahadeva is the last word on dalit culture's notion of equality:
In a village, folks decide to construct a temple for Mane Manchamma,  a mother goddess. When only the roof is left to be constructed, the goddess comes to life and tells them, "Stop, until everyone has a roof over his head, don't build a roof to this temple." Thus, you find the roofless temple of Mane Manchamma, the Goddess. 
Siddalingaiah was a raconteur and a conversationalist whose wit remains unmatched. His anecdotes can be told and retold endlessly because as he assures us in a poem "Liquor does not die", there is always time for a rollicking tale.
His voice is silenced now. But all his friends believe that they are beginning to hear loud laughter from the skies since last evening.