Here is the translation of a prescient short story on oxygen shortage, written in 2015 by Ambikasuthan Mangad, writer and professor. Originally published in Malayalam on the Mathrubhumi daily, it has been translated by Prasad Pannian. In 2020, the Kerala Sahitya Akademi published the translation in its quarterly journal, Malayalam Literary Survey (April-May).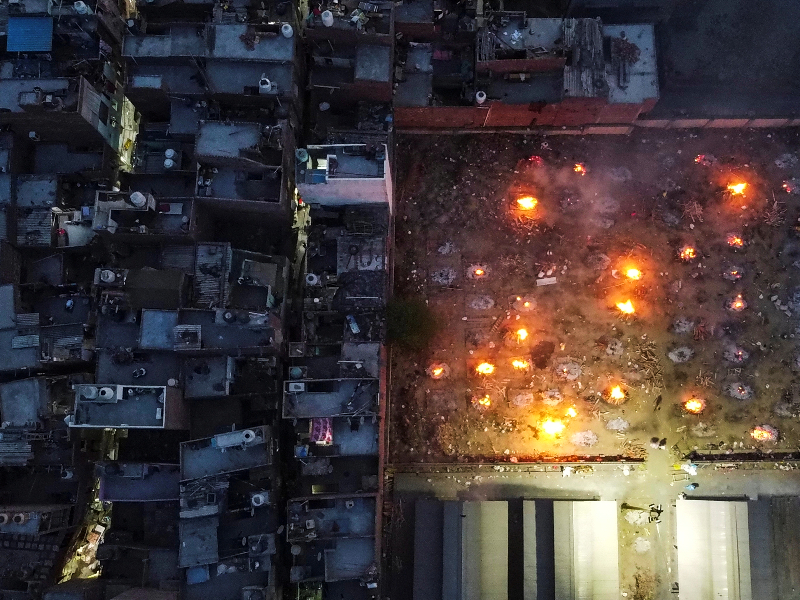 When the door bell rang, Aneesha rushed to the front and opened it. Seeing Varun's empty hands, she asked desperately, "didn't you get even a single kit?"
Arun nodded a dejected "no." An unbearable fear precipitated in his eyes. He walked in silently, lay flat and tired  on the couch without bothering about his shoes. Aneesha sat beside him and gently removed the shoes.
Attempting a natural voice, Varun queried: 
"Where are the kids?"
"Both are in the study and it's only four days for the exams."
Varun thought it better to speak out things.
"Aneesha, I wandered throughout the city. There is not even a single oxygen booth open anywhere. In many places, agitated crowds destroyed  the booths to snatch the oxygen kits. People are lying down on the roads near the booths. Breathing in the foul air, they are shaking and shivering like asthma patients.  Like half dead fishes on the shore… ho!"
After gulping down a thought, he added: "Aneesha, don't you be scared. Many people lying on the streets without getting oxygen. You know, there are two bodies lying just below our flat too. 
Aneesha looked shell shocked and frightened. 
This is an artificial scarcity, Aneesha. Some say we would get the kits in black markets. When the news about the scarcity was broadcast on the channels, rich people started piling up a lot of kits. Maybe the companies make this artificial scarcity in order to increase the price of the kit. All these crises began soon after the government removed the subsidy rates for the oxygen kits last week. Around seven thousand people died in the state yesterday. 
Aneesha was puzzled. "Wouldn't the government be answerable when innocent people die like this? The elections are also approaching."
Varun smiled quizzically; an unfamiliar smile: "Elections? Elections have  to be called 'ejections'. Every five years, people 'eject' the government, unable to bear them. It is absurd to call this process an election. If the government fails to give breathing air to the people, what right do they have to continue?"
Aneesha pulled herself closer to Varun. 
"Varun, I'm really scared."
"Aneesha, the kids shouldn't see our worries and tensions. It should not affect their studies. Do not allow the children to access channels and newspapers."
"How foolishly you talk? They will know everything. The entire world is on their laptops and mobiles. I only asked them to study well." 
"Oh, I forgot that. Did you give medicine to Dad and Mom?"
"Yes. Both of them had. Don't wake them up. Let them take a short afternoon nap."
"Didn't you put the regulator of the oxygen kit to the minimum when they are sleeping?"
Aneesha nodded "yes."
While taking off his shirt, Varun said, "everyone says kits will be available within a week. There is not enough oxygen left to sustain us till then. I am scared to death thinking about it."
"I put two kits in our wedding boxes. Kept it there for using it during an emergency."
Varun's eyes sparkled. "That was good. You did think intelligently. Still how long can we go like this?" I have other plans  in my mind…"
 Aneesha asked curiously, "what is that?"
Touching the mask on his face he said, "day after tomorrow, I shall remove this. Before sunrise. That is the only way out"
Aneesha shouted, "Varun, it is not you but me who will do it. The family needs you to bring up our kids and look after everything."
In the evening, Varun set out for the city but again came back with his empty bag late at  night. Aneesha too didn't expect that he would get any kits. 
When he was about to have their modest dinner, Varun asked, "has everyone eaten?"
"Yes. What do you think the time is? Only the two of us are left."
"Have the kids slept?" 
"Um…"
"Dad and Mom?" 
"They are lying down. Both of them asked about you several times."
Sitting before his dinner dish, Varun said, "I thought of several ways out of this problem Aneesha. Maybe tonight one of us has to die. That's the only way to survive for the next four to five days. So…"
"So?"
He put down the rice back to the bowl, and said without showing his embarrassment. 
"There are two old people here. You should now remove the mask of one of them."
Aneesha looked at him startled, and stared. 
"Whose?"
"I don't know. You could decide that."