A few years ago, as part of the Zubaan Oral Archives Project, independent researcher, writer and women's rights activist, Sahba Husain spoke with several other women activists about the women's movement in India, beginning with Brinda Karat, a leading political and women's rights activist.
In part one, Brinda talked about her childhood and her political journey. In this part, she talks about reading Marxist literature, being involved in the working class movement during her early days in Delhi and more.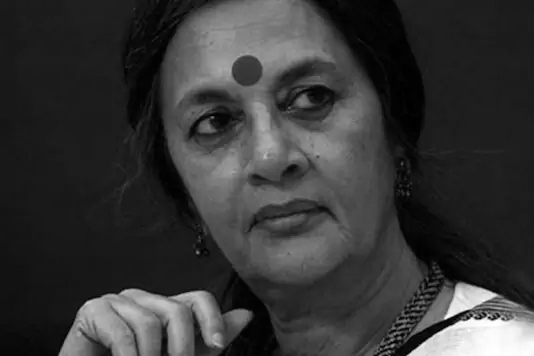 Sahba Husain: How has your reading of Marxism shaped your politics and political involvement?
Brinda Karat: Reading Marxist literature, returning to Calcutta — I remember the churning that was going on in my mind and how it was linked to social inequality and class inequality and that was really a motivating factor for me. I had given up my job and I was not planning to take another one and the biggest problem for me was — how am I going to get in touch with the Party, who is going to introduce me to the Party? It was then that my elder sister and I sat down and thought about it and then we remembered that we had, in our younger days a Bengali teacher who used to come and tutor us in Bengali language. So we contacted him and he came and we asked him to help. So he asked me, which party do you want to join, the CPI, CPI-M or do you want the more extreme Naxal Party? So I said, no, I only want the CPI-M and he said, let me see who I can introduce you to. So then he found a contact, a person who claimed to be working with the CITU in Calcutta. I was young and quite naïve, I must have been 22, and had lived a very protected life and then coming into this politics, I had no idea, no knowledge. At that time CPI-M was under solid attack, it was 1971 and the government had been dismissed and there was a huge mobilisation by the Congress and our comrades were being arrested and it was a time of great repression plus the clashes with the Naxals. So there was a lot of violence and it was difficult to find the right contact in the Party.
However, I later went and met Com BT Ranadive who asked me to write a piece and I wrote on the Black movement in the United States. So I started writing for the party weekly 'Peoples Democracy' but wasn't really happy. After 2-3 months I went back to the Bengal people and said that I wanted to be working outside and they said, if you want to work, you have to become a student again and join the student organisation, work there and then see if you really want to join politics because you have to know and understand what it is and then we can assess you just as you would know yourself whether you want to join the party. Actually, the problem was that my language was so poor, I did not know either Hindi or Bengali because we were brought up in such a difficult environment, I had no language in that sense because after my mother died there was no Bengali spoken in the house and then I went to Dehradun and there it was only English and no Hindi and my father spoke Punjabi but never in the house because there was no one to speak it with. So we were really brought up with only one language, but to learn Bengali language, I thought that I should go to Shanti Niketan for a year and I actually went there and met someone from the Party who said, my dear, if you want to get into politics, I don't think Shanti Niketan is the best for you, it's too peaceful here.
This having failed, I went and joined university in Calcutta as a casual student in History in MA. Then I joined the Bengal Students Federation and this was the time when we were really under attack, there was so much tension those days that when we left home in the morning we really didn't know if we'd get back in the evening. I made few good friends but work was not around gender issues although I did go to the Mahila Samiti conference at that time but again, I felt that I wasn't really interested in it. I am trying to look back to see what changed but at that time I was not at all attracted by it. So I worked with students and then came to Delhi in 1975. It was during Emergency — the Party headquarters had shut down in Calcutta so I shifted to Delhi. I wanted to work with the trade union and it wasn't possible in Bengal. One thing Com. P Sundaraya told me then was very significant — that for a single woman — and a young single woman — you need a Party secretary who is sympathetic to women and you need an area where you can work with a certain amount of support from the party. He said Delhi would be a good place, where Com Major Jaipal Singh was secretary but of course he was put behind bars by the time I came here. Then I met Com Surjeet Singh and he helped me to get in touch with our trade union comrades. I started working with them and now after 40 years in the Party I think that period in the trade union movement and working on class issues, being directly involved in factory related issues, it was a huge learning experience.
In those days there was something like a working class culture, there was an area where all the workers lived and worked together. It was a different world and I got so absorbed in it, I got so committed and drawn into their lives. If I didn't go to the mill gate in the morning I felt that there was really something missing in my life. It's like a nasha — you go there and hang around with the workers, have tea with them, do your trade union work and then through that, I started meeting women workers and wives of workers. And then I started going to some of the areas around there, including the handloom workers' area and I understood how women on the charkha worked and I got very drawn into that. And then I understood how wives of mill workers lived and the difference between them and the women workers and the burdens that they were carrying. I also learned about their militancy, something that I immediately connected with. In the meantime, CITU was also organising the working-women and I was the convener of the first working women's co-ordination committee in Delhi. We organised a convention of home-based women workers where Jan Natya Manch had performed their first play called 'Aurat' — this was in late 70s. Working with home based workers, stonebreakers, and construction workers — all of them women — that really opened up a different world of experience for me in the working class movement. 
In the meantime I met Prakash (Prakash Karat, general secretary CPI-M) and we decided to get married. We had earlier met in London and in Calcutta. Prakash had come into the Party from Tamil Nadu and was active in student politics in JNU – we married during the Emergency. It was quite an interesting ceremony at Vinadi's (Vina Majumdar) house. It was a Marxist wedding where we read out a solemn pledge. We had a few friends who attended — I did not have too many friends then, my family came.
This is a lightly edited extract from an interview that was part of the
Zubaan
Oral Archiving Project. Republished here with permission from the publisher.