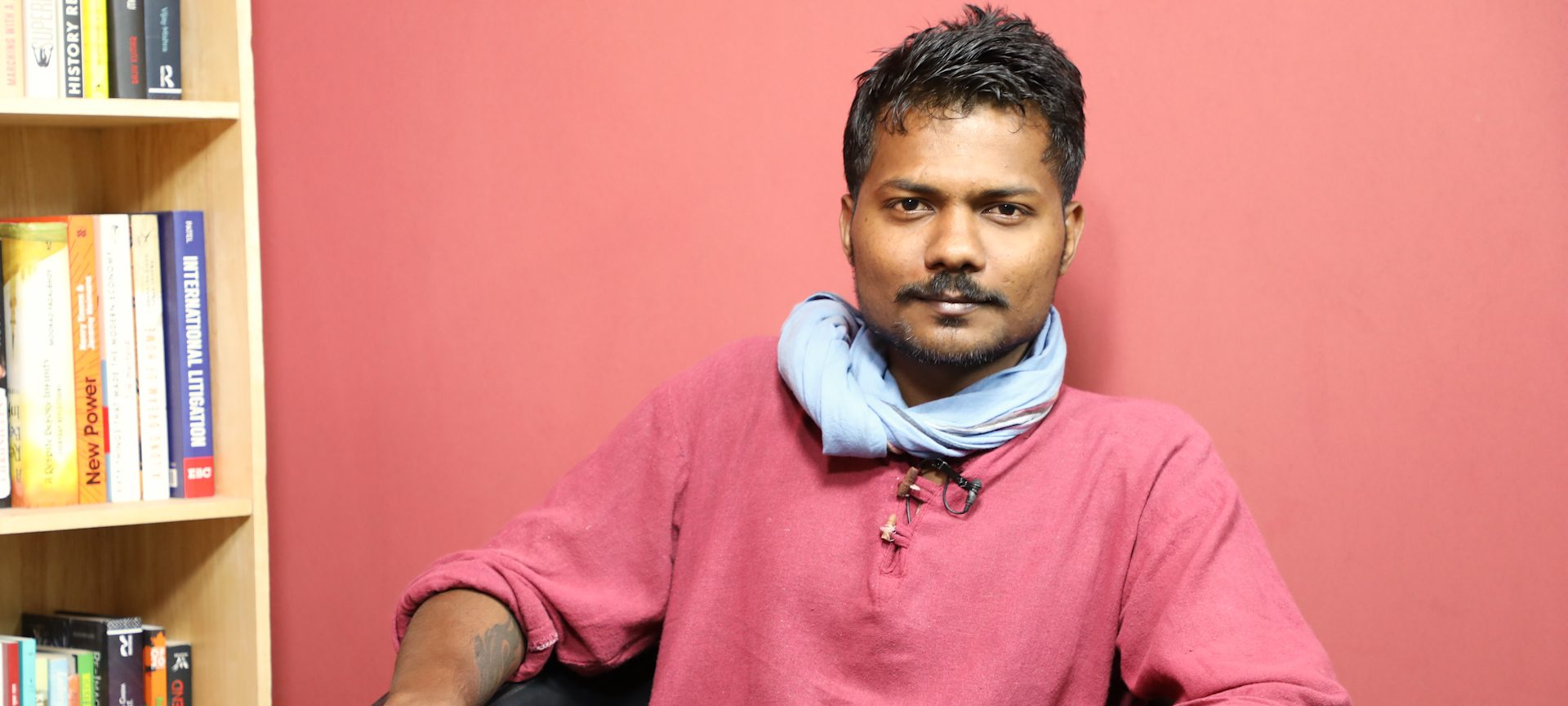 Prashant Kanojia will hopefully be a free man today. While thousands of social media users openly use platforms like Twitter and Facebook to issue rape and death threats to women and minorities, and create communal divisions, almost none are taken to task by the government authorities. Journalists and activists however, are sitting ducks, to be hunted for reporting, airing a political opinion, or even just reposting someone else's material. That retweets, or even book marking 'likes' is not an endorsement is overlooked.
Kanojia has now spent over two months in an Uttar Pradesh jail after he was arrested on August 18. An FIR was filed against him in Lucknow for allegedly "morphing" a social media post made by the member of an outfit called the Hindu Army, and then tweeting it. His wife Jagisha Arora, who had sustained the campaign for his release announced that finally, three months after the UP police arrested him from the couple's home in Delhi, he has been granted bail.
प्रशांत को हाई कोर्ट से जमानत मिल गई है. मेरा न्यायपालिका और बाबा साहेब के संविधान पर विश्वास रंग लाया. मैं सभी लोगों का शुक्रिया अदा करना चाहती हूं जो मेरी लड़ाई में मेरे साथी बने. सबको शुक्रिया.@PJkanojia लव यू pic.twitter.com/pDAj9vVnQC

— Jagisha Arora (@jagishaarora) October 21, 2020
Jagisha has been the strongest support for Prashant, who she often addresses as 'comrade', and has made sure his arrest was not forgotten and that he got support from civil society and the media fraternity. She shared her happiness too: "I felt that I haven't met you in two years… Love became my strength… I can't  wait to meet you… give you a hug… to tell you how much i missed you…"
मुझे ऐसा लगा मैं तुमसे दो साल से नहीं मिली. प्रशांत दो महीने दो साल की तरह गुजरे है. तुमसे मोहब्बत ही मेरी ताकत बनी. अब इंतेज़ार नहीं हो रहा तुमसे मिलने का. तुम्हें देखकर ही गले लगाना है फिर तुमसे कहना है कि तुम्हें इतना याद किया कि क्या कहूं? मैं तुमसे मिलने को तड़प रही हूं. pic.twitter.com/0I6yiK1RDe

— Jagisha Arora (@jagishaarora) October 21, 2020
Prashant Kanojia was not arrested for his reporting, nor for even sharing his own opinion that may have offended fragile political egos. He was arrested and put behind bars for allegedly sharing a "morphed" social media post made by a member of an outfit called the Hindu Army. The Lucknow bench of Allahabad High Court Wednesday granted bail to the freelance journalist. A bench of Justice A R Masoodi passed the order on the bail plea. Kanojia had pleaded that he was innocent and was implicated due to ulterior reasons.
The journalist has faced action by Uttar Pradesh Police even before this most recent arrest. He lives in Delhi, the last FIR was filed against him in The FIR against him was registered here at the Hazratganj Police Station on August 17 on the basis of a complaint by sub-inspector Dinesh Kumar Shukla. Reportedly, a Facebook post by Hindu Army's Sushil Tiwari was morphed, and was tweeted by Kanojia "with intention to malign" Tiwari's fame. The FIR stated: "On August 17, it was seen that Prashant Kanojia through his twitter handle (@Pjkanojia) had uploaded an indecent post related to Ram temple stating that it was done on orders of Tiwari." The post was uploaded to "malign Tiwari's image", said the sub-inspector in his complaint, adding that "such posts can disturb peace". The case against Kanojia was lodged under various sections of the Indian Penal Code (IPC) including section 420 and those of the Information Technology Act, stated a news report in Hindustan Times. During the last hearing, the High Court had granted four weeks' time to the state government to file its reply in the bail plea moved by the journalist.
UP Police's Prashant Kanojia Diary
August 2020:  Arrested by UP police for "some tweets".
At the time of his arrest, it was reported that the policeman said ' they have orders from 'above'.  His wife had told the media that when the UP police came to their house to arrest him, almost all the police personnel were "wearing civilian clothes, only one cop was in police uniform. They arrested Prashant and said, 'Tweet ka maamla hai.' When I asked them which tweet are they talking about, they said, 'Bohot tweet kiye hain tumney, upar sey orders aaye hain humein, follow toh karna padega'"  (Translation: It's about tweets, you have tweeted a lot, the orders have come from above, we have to follow them).
पत्रकार प्रशांत कनौजिया को यूपी पुलिस ने उनके दिल्ली वाले आवास से गिरफ्तार किया.

— Jagisha Arora (@jagishaarora) August 18, 2020
Prashant Kanojia, was booked for allegedly making objectionable remarks on social media against Prime Minister Narendra Modi and Uttar Pradesh Chief Minister Yogi Adityanath, reported The Times of India. Uttar Pradesh based Bharatiya Janata Party leader Shashank Shekhar Singh, son of SP MLC Ajit Singh, had complained to the Aashiana police, after which the cops registered a case against Kanojia. The FIR was registered on the charges of defamation, printing or engraving matter known to be defamatory, circulating mischievous comments and obscenity under the Information and Technology Act, said Beenu Singh, Assistant Commissioner of Police, Cantonment. TOI reported that Singh in his FIR stated, "On Sunday night, I was browsing tweets on coronavirus. Suddenly, I noticed the profile of one Prashant Kanojia. Kanojia had posted a photo of the prime minister and made a derogatory comment." In one tweet, Kanojia had allegedly posted a photo of the PM along with a derogatory statement and in another tweet, he had allegedly posted objectionable remarks against CM Adityanath.
June 2019 Arrested for allegedly posting 'objectionable remarks' against UP CM  
The Supreme Court ordered immediate release of journalist Prashant Kanojia, who was arrested for allegedly posting 'objectionable remarks' against Uttar Pradesh Chief Minister Adityanath on social media. He was the granted bail on the orders of the Supreme Court.  A vacation bench, comprising Justices Indira Banerjee and Ajay Rastogi, said Right to Liberty, a fundamental right, is non-negotiable, as it granted bail. The UP Government had submitted through Additional Solicitor General Vikramjit Banerjee that arrest was necessary "to send a message" that provocative tweets cannot be tolerated. However the Supreme Court stated: "Normally we don't entertain these types of petitions. But a person can't spend 11 days in jail."  The media fraternity had held protests against  Prashant Kanojia's arrest.