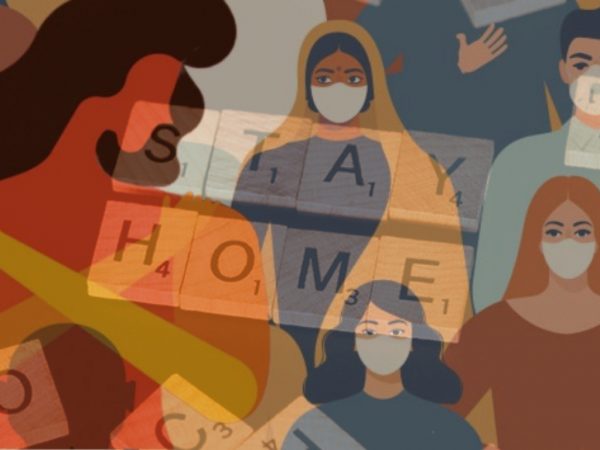 Home provides the backdrop for our lives. What this means is that home is more than a house, a physical structure or the capital value it represents. Home often means safety and security. Being-at-home, we say, to describe, not just domicile but a feeling that resides in us — of comfort, protection and a place we belong. Reflecting in Billy Joel's singing, "Home could be the Pennsylvania turnpike…Indiana's early morning dew..high up in the hills of California…Home is just another word for you." The phrase, "there's no place like home" travels beyond borders; it emphasises the same notion, that the place that is safest for each one of us is our own home.
In response to the COVID-19 outbreak, the Prime Minister announced a 21-day lockdown at short notice — beginning midnight of March 24. He urged citizens to remain at home and observe complete social distancing, adding that "This (lockdown) is to save India, save each citizen and save your family. Do not step outside your home. For 21 days, forget what is stepping outside. There is a Lakshman Rekha on your doorstep. Even one step outside your house will bring the coronavirus inside your home."
Home, a place recognised as a safety net globally that would help us fight the common enemy, is a space where "we are safe" from any harm that can befall on us. However, is the meaning of home universal across the nation and the world? What does home – this refuge, this sanctuary – mean for those in abusive relationships? What constitutes home?
The Ministry of Health and Family Welfare (MoHFW) identifies certain categories of people inside the home as it issues advisories and direction addressing the mental and physical wellbeing of individuals residing in these homes. They range from taking care of mental health of elderly during COVID-19 or COVID-19 & Pregnancy & Labour Management for pregnant women at home for children; or tips on taking care of mental health of children during COVID – 19 or releasing video carrying tips for parents and students coping with anxiety and stress during the lockdown or video for parents to learn how to connect with their children during the COVID-19 Lockdown. The categories of people identified are pregnant women, children [their parent(s)], elderly (grandparents) these categories not only leave out any other kinds of living arrangements from its imagination and documentation but also eschews from deliberating on a worldwide consequence of the lockdown i.e. domestic violence.
According to the National Crime Research Bureau (NCRB), a crime is recorded against a woman in India every 1.7 minutes and a woman is subjected to domestic violence every 4.4 minutes. It also topped the categories of violence against women according to the report. We have witnessed a sharp increase in reporting of violence and in other places we witness a sharp decline which skews the data available on violence against women, thus, impacting the planning of effective measures, determining causes and nature of violence and its effects on the household in the absence of any of kind data.
All over the world, several countries have taken cognisance of the undeniable spike in the cases of domestic violence against women and raised concerns through public addresses and advisories and support extended. The "Shadow Pandemic", as the UN Women term it, has been witnessed in countries such as Argentina, Germany, United States, China, France, Spain, UK and in India.  Several women's rights activists and civil society partners have flagged a rise in the number of domestic violence cases during the lockdown. In India, we are yet to receive any advisories for protection or on mental health of abused women and children at home facing violence through the lockdown by the Ministry of Health and Family Welfare which is issuing several such important advisories everyday relating to COVID-19, the lockdown and its effects on people.
The National Commission of Women, a government body that receives complaints of domestic violence from all parts of the country recorded more than twofold rise in gender-based violence during this ongoing lock down which led to NCW  to launch a WhatsApp number (7217735372) for distress calls. The NCW chief Rekha Sharma revealed that, "most of the complaints were received via email as people are scared of going to the police". However the Delhi Commission of Women chief Swati Maliwal met with Delhi Women and Child Development (DWCD) minister Rajendra Pal Gautam along with other department officials, to discuss the notice issued by the National Commission for Women (NCW) which reported a spike in domestic violence cases in Delhi.
The Lockdown also witnessed a decline in the number of calls especially those regarding issues of domestic violence. The DCW chief said that contrary to NCW reports, there has been a sharp decline in the number of domestic violence cases and distress calls on their 181 helpline number. The decline in complaints could be an outcome of the lockdown as well. Sharing the same space with the abusive family members throughout the day may prevent women from making calls in their presence besides having little or no means to get mobile recharges or arrange a handset to make a call.  However, DWCD minister Gautam ordered that more Protection Officers should be appointed under the Domestic Violence Act. In addition to the 181 helpline number, the DCW also launched a special WhatsApp Number +91- 9350181181 to register complaints regarding domestic violence.
Interestingly, according to census data, only 37% of households in India have one dwelling room, which makes an already inaccessible system further impossible to access especially during the lockdown. In such a case, complaining and reaching the relevant authorities seems nearly impossible. Women almost always feel unsafe while approaching the police, because if their partners are arrested, especially during a lockdown, they may face worse abuse once they are released, and in the interim, might face immediate financial problems and harassment at the hands of other family members. There is a need to strengthen our existing redressal and relief system that guarantees first responders offer adequate support in coping with traumatic experiences of domestic violence and other forms of violence and thereafter ensure a sustained and wholesome support system for affected women and children.
Additionally, the Delhi High Court directed the Centre and the AAP government to hold a top-level meeting to deliberate on measures to curb domestic violence and protect the victims during the coronavirus lockdown. The All India Council of Human Rights, Liberties and Social Justice (AICHLS), claimed in their petition that there were an increasing number of domestic violence incidents since the nation was put under lockdown and sought an urgent intervention by the court. The court heard the matter via video conferencing on April 18 2020, issued notice to the Centre, the Delhi government and the National and Delhi women commissions seeking their stand on the petition.
Delhi State Legal Services Authority (DSLSA) has collaborated with Mother Dairy booths, pharmacists and chemists throughout the national capital for information on victims of domestic violence and has also launched an app to deliver legal aid in addition to tying up with Anganwadi and ASHA workers.  There is little information on the effectiveness and outreach of these measures that are meant to improve access to free legal aid for victims unable to find help due to the restrictions imposed by the lockdown. Moreover, a larger question remains unaddressed — can measures such as counselling and mediation between members of the household and the complainant by experts and concerned authorities be an effective tool for the prevention of domestic violence? Thus, the re-imagination of "one-stop centers" (OSCs) in collaboration with state and district legal services authorities and grass-root level workers and several women's organisations may be useful to counter domestic violence. This however depends upon the nature of response received from survivors of domestic violence and intimate partner violence to such initiatives.
It is through times like these we witness grassroot women's organisations and communities extending solidarities as they play a crucial role in preventing and responding to crisis and offering the necessary support in various forms. Social media platforms were filled up with information of helpline numbers extending psychosocial support and online counselling using tools such as WhatsApp, SMS and finding other ways to reach women with little or no access to phone or internet.
Home, thus, has never been a safe space for most women in India. With an already increased number of domestic violence cases across India, lockdown was to only make it worse for survivors to be trapped in their abusive homes. The availability of information of protection officers to police stations, and grass-root level communities, neighbours and families is immensely crucial at this juncture to access women's rights to demand protection from the state and seek immediate relief. Moreover, the departments and ministries for women at the state and Center level must assume a leadership role for women in these difficult times and  deliver the desired relief that ensure necessary safeguards. The period of lockdown is indeed a testing time for the country and the world as it also holds up the mirror for the need to analyse larger structural issues. Establishing and extending solidarities and building stronger networks of community around us may seem challenging but the battles inside and outside the home cannot be fought in isolation.