Shishunala Sharif, the poet who resides in people's hearts
Translated by Shakira Jabeen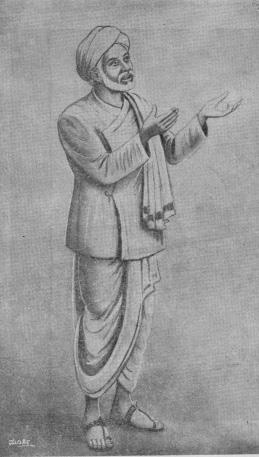 Around twenty five years ago, my work on Sufis took me to the Shishunala fair. Shishunala Sharif's "gadduge" is on an elevated mound in the midst of a field outside the village. People from nearby villages had come there in tractors and bullock carts with drums and string instruments along with utensils, groceries and firewood to cook. At one end of the fair sat a group of sadhus smoking chillum. Hundreds of groups sat in circles, singing. This is one of the several fairs in celebration of songs including Kaivara, Kadakola, Ambamata in Karnataka. One would need many nights to even listen to a single song from each of these groups. I have heard Sharif's "Bidiru Neenarigalladavalu" from many singers. Each rendering is different and mesmerising. However, Marappa Dasa has a special touch to his singing.
As I was wandering alone in the fair, someone asked if I had had my dinner. On my monosyllabic "no", he gently held my hand and steered me to the corner where his family had camped. I was given two Jawar rotis with dry chutney and a blob of curd.
Things haven't changed since then. To this day, one is greeted with a generous quantity of poetry, singing, mysticism and food at the fair in Shishunala.
Sharif (1819-1889) is one of the few unique mystics to come out of the Karnataka culture. He is a people's poet-philosopher. The mysticism that begins with Nijaguna shivayogi continues among talented poets like Madivalappa, Kaivara Narayana, Koodluru Basavalingappa and Sharif. He was well versed in the oral folk tradition as well as written words. He could bend the Kannada language to his poetic expression and play with its metrical nuances. Yet, Sharif's poetry is far from simple. His "Sorutihudu Maneya Malige", "Baride Baarisu Tamboori" and "Mohada Hendati" have been heard enough times to be committed to memory.
But what about the meaning that lies deep within them? Allama Prabhu and Sharif's poems interrogate issues that ancient poet Pampa and modern poet Gopalakrishna Adiga's poems did not — poetry that attempts to portray the "yogic" experience in embellished language holds nuances that are not easy to fathom.
Sharif is also a street poet. His deep sense of "folk" made the Dharwad regional folk culture manifest in his world of poetry. It is similar to Bendre's recreation of the agrarian culture in his poems and Kuvempu's recreation of the culture of western ghats in his writings. Sharif picked up frames from ordinary people's lives and transformed them into metaphors expressing mysticism. He watched in awe and disbelief when British took over the country. He turned the Western civilisation into poignant metaphors. He used contemporary language and details of life in poetry to infuse metaphysical meaning into it.
Some call Sharif a "Muslim" poet. There cannot be a more unsuitable term to describe him. While he did emerge from the religious background of Islam, he critiqued every organised religion.
He can't be referred to as a "sufi" either. He was a mystic poet — a "yogi" who came from the shakta background. The equation Sharif shared with his guru Govinda Bhatta is viewed as an instance of cultural amazement. But then, in the pantheon of guru-shishya tradition, the duo is not alone in evoking such amazement. Shairahatti Fakeeresh was Bijapur's Ameenuddin Chisti's shishya. Siddarooda Swami's student Kabirananda was Muslim too.
Siddarooda and Sharif were the most popular saints among their contemporaries. Plays and cinemas made on Sharif, the songs by Ashwath and Subbanna, might have played a role in popularising them. The Bhajan groups are also responsible for adding to Sharif's popularity. Just as a farmer scatters seeds in his field, Sharif was being planted far and wide.
In many houses of the Hubballi region, one can find a group photograph of a few 19th century saints — Siddarooda, Sharif, Garagada Madivalappa, Navilugunda Nagaglingappa, Kabirananda — seated together. This photograph portrays a tradition where the saints and poets who belonged to two philosophical schools — "avadoota" and "arooda" — could yet sit together. A poet who emerges out of such a tradition is bound to go beyond religious boundaries. There were and are spaces in India which dole out knowledge, experience, food and love. The need of the hour is to preserve these little but precious worlds.
Once I was in a village visiting my sister. The cool breeze of the night also brought the sound of a bhajan. Drawn by the melody, I walked up to the small Banashankari temple. About ten people sat there singing Sharif's compositions on the devi. The followers of the shakta sect lent movement to Sharif's transcendental poetry on devi through travelling.
Among the mystic poets of Karnataka, Nijaguna and Sharif are the two poets who enjoy this expansive spread of popularity. Ballads are sung about them. Whether it is Tipu Sultan, Sangolli Rayanna, Rani Chennamma or Shishunala Sharif, unless they were transformed into cultural icons in the minds of the community, they wouldn't become a topic for ballads. Ballads are for leaders who reside in people's hearts.
It was Sharif's bicentenary celebration last year. I was invited to Shishunala as a guest. A huge pandal that could accommodate five thousand people welcomed me. But there were hardly forty people in that pendal. My mind started to compare the fair I had attended and this celebration. It had rained well the previous night. The farmers were busy in their fields I guess. Their absence in the pandal was certainly not a show of disrespect to the poet. The fair is a part of their cultural calendar and they don't miss it. This program was a Government sponsored one. Tilling and sowing their land is as important to them as Sharif's songs. The "laukik" —the worldly — was as important as the "paramarthik" — the spiritual. People have nurtured Sharif in their hearts for centuries now. This certainly reflects the strength of Sharif's poetry. But it also reflects the cultural trait of a community that safeguards and preserves its poet.
Disclaimer: The views expressed in this article are the writer's own, and do not necessarily represent the views of the Indian Writers' Forum.