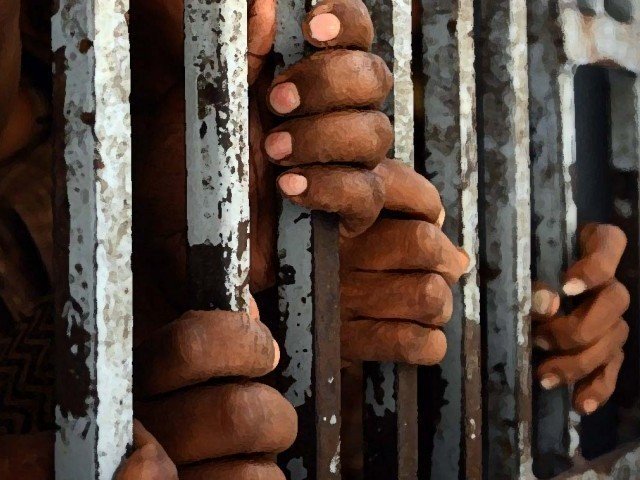 Bengaluru: It was only a matter of time before Covid-19 reached India's overcrowded prisons, currently running at 118% of capacity and reaching as high as 176.5% in Uttar Pradesh.
Five of 121 people imprisoned in Karnataka's southern Ramanagaram district jail for alleged involvement in violence in Padarayanapura in Bangalore have tested positive for Covid-19. In Madhya Pradesh's Indore Central Prison, 21 people were infected by a father and son arrested for allegedly attacking a police officer on lockdown enforcement duty.
A prison by design is a setting where an infection can spread rapidly since social distancing is next to impossible to implement and standards of hygiene are inadequate. Prisoners sleep in shared spaces in close quarters, eat and exercise together and use common toilet and bathing facilities.
Up to 13% of prison inmates are above the age of 50 years, according to National Crime Records Bureau data, and at a higher risk for severe illness from Covid-19. The spread of the virus within the confines of a prison jeopardises not only the lives of the prisoners but also prison staff, who are already overworked given the high vacancy rates in staffing in Indian prisons.
Medical facilities in prisons are dismal even in the best of times. As on 31 December 2018, the sanctioned strength of medical staff across 1,339 prisons in India was 3,220 but only 1,914 were appointed. Of these, only 647 are medical officers. There is one medical officer per 720 prisoners, on average across India. Only 4.3% of the money spent on prisoners is spent on medical expenses.
Prisons depend on government hospitals in the vicinity for major illnesses among prisoners.
During the current lockdown finding police escorts to take prisoners to hospitals, stay there and bring them back will be hard. Creating isolation wards in the already overcrowded prisons will pose a different set of challenges.
The Model Prison Manual 2016, which states are expected to use as a basis for their own prison manuals, provides for segregating and isolating infectious disease cases and for disinfecting infected clothing and bedding. An epidemic is listed as an emergency in the manual. In the event of an epidemic the infected prisoners and the persons attending to them are to be kept in a permanent segregation shed outside the prison walls. However, given the overcrowding of prisoners and understaffing of personnel in prisons, these provisions are going to be tough to implement.
The spread of Covid-19 in prisons should not come as a surprise. The Supreme Court in its order dated 23 March 2020 ordered all states to consider releasing some prisoners on parole or bail to reduce overcrowding in prisons. It also directed states to constitute high powered committees to decide on the matter.
The Maharashtra government submitted an affidavit to the Supreme Court seeking the release of over 5,000 prisoners on bail or medical furlough. A committee in Delhi has recommended the release on bail of undertrials accused of offences for which the maximum punishment is 10 years or less. Other states are creating similar guidelines for the release of undertrials.
These sudden moves to release undertrial prisoners are welcome but mask the deeper, systemic problem of undertrial detention in India. The directions of the Supreme Court and the various high-powered committees are tackling the stock problem and ignoring the flow problem.
Nearly 70% of the national prison population comprises undertrials who have not been convicted of a crime. This undertrial population is not static throughout the year. There is a constant churn in which lakhs of prisoners enter and leave prison. In 2018, although the number of undertrials  as on 31 December was 3,23,537, over the course of the year, 15,14,794 entered prison.
Any commitment to decongest prisons has to tackle the uncomfortable question of indiscriminate arrests by the police which are adding to the prison population even during the lockdown.
The response to the pandemic outside prisons has been swift and radical in its approach, with a nationwide lockdown and severe limitations on the movement of people and goods. The same urgency is not being replicated in the prison system.
Indiscriminate arrests are an issue of institutional culture in the police that persists despite various guidelines on arrest. The National Police Commission in its Third Report noted that around 60% of arrests are unnecessary or unjustified, and this accounts for 43.2% of expenditure on jails.
The Supreme Court has repeatedly stated that the police should not arrest a person only on the suspicion of their complicity in a crime. The police officer making the arrest should have a  reasonable justification for the arrest being necessary. These guidelines are being flouted across the country. To give an idea of the scale of arrests being made, 33,15,044 people were arrested for 43,84,601 Indian Penal Code crimes under investigation in 2018.
The Supreme Court has also repeatedly held that for those who are arrested, bail is the rule and jail the exception. Accused persons should be held in custody prior to their conviction only if their appearance cannot be secured through other means. Undertrial detention is justified only if the accused person is a flight risk, or if there is a possibility of them tampering with evidence or intimidating witnesses.
Yet, our police lock-ups and prisons continue to be a revolving door for such detention, a practice which does not seem to be ending even during this pandemic. Maintaining law and order has become synonymous with arrests and incarceration. Across Rajasthan, more than 10,000 people have been arrested for violating the lockdown. A small state like Assam has arrested 2,650 people for the same reason. One person in Manipur was arrested and detained for posting on Facebook and six others ended up in police custody for liking that post.
Even in the event that these people were kept in police custody for short durations, police lockups are also crowded spaces with dismal hygiene. This points to a deeper problem of the criminalisation of behaviours which can be tackled through other sanctions.
Are civil penalties like fines not sufficient for violations of lockdown orders?
Gautam Navlakha and Anand Tetlumbe, both over the age of 65 and hence at a higher risk of severe illness due to Covid-19 have been sent to prison. Is the public risk that these activists pose significant enough to expose them and the other prisoners to the risk of contracting Covid-19?  Is there a flight risk during a lockdown when public transport is not running and the movement of private vehicles is severely curtailed?
This pandemic has provided an opportunity to re-examine the routinisation of undertrial detention in India. Apart from crowding the prisons, undertrial detention also undermines the presumption of innocence. Detainees lose employment, contact with their families and face the stigma of jail time. Detention of undertrials should be treated as a last resort, only when  there is a reasonable suspicion of the person having committed the offence, and there is a reasonable suspicion of the person interfering with the course of justice pending the investigation.
Any attempt to prevent the spread of Covid-19 in prisons must tackle the inflow of undertrials apart from their release on bail. A failure of imagination combined with a business-as-usual attitude has prevented the justice system from exploring non-custodial alternatives to prevent people from entering prisons. The time has come to change that.