J & K: Things change, often to make situation worse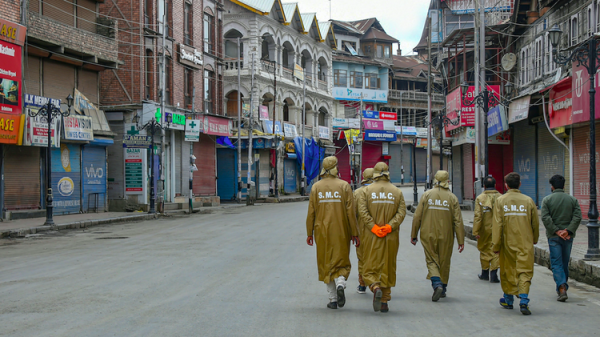 Jammu and Kashmir has been a "disturbed area" since 1990, which means that the degree of internal security threat was such that it needed bringing the Armed Forces of the Union, empowered with legal immunity, to set things right. This situation remains unchanged for over 30 years, for all the obfuscation over 'normalcy', 'near-normalcy' or 'nearly on the cusp kind of normalcy' and the area remains designated "disturbed". That is precisely what counts, as the rest is much rationalisation combined with pinning all the blame on Kashmiri Muslims and Pakistan. Since 2018, the state has been under central rule, removing even the fig leaf of a representative government, which means officials of Union Home Ministry and their appointees, neither representatives of the people nor accountable to people of J&K, run the show.
On August 5, 2019, the Indian Government abrogated Article 370 and 35A; reduced a special status state to a union territory, and imposed a complete lockdown, including a ban on communication and carried out arrests and detentions of more than 7,000 persons including at least 141 children. This lockdown lasted for nearly seven months. Just when it looked that curbs would be lifted, people of J&K were hit by another lockdown; this time, in the name of fighting COVID-19. So, the normalcy here is the routinisation of abnormal conditions, where the rule is that New Delhi takes all decisions unconcerned with what people of J&K have to say on the matter. It is as part of this cultivated habit that while Kashmiris were once again locked up, the government surreptitiously announced a domicile policy for the UT.
The new law allows a person who has worked in J&K for 15 years, a student who has studied for seven years and appeared for class X or XII examinations, or registered with Relief and Rehabilitation Commissioner. Children of central government officials, All India Services officers, officials of public sector undertakings, of autonomous bodies of the central government, of public sector banks as well as officials of statutory bodies, central university officials and those from recognised research institutes of central government who have served for 10 years will have the domicile.
The law had also opened up the Class I to III category of jobs for all-India applicants and reserved just Class IV and lower-level jobs for those having domicile. Then, the authorities let out that 84,000 vacant posts were to be filled. Within two days of the announcement, with criticism coming from all sides, the Home Ministry amended the law to reserve all the government jobs for those with domicile. And while the 'controlled media' welcomed this rapid amendment to stem the rising tide of opposition to the domicile law, what people forgot was that the definition of domicile opens floodgates for the new settlers as the first concrete step towards demographic transformation of J&K. So, the prime minister may have assuaged his government's own creation, Apni Party, to win a brownie point by seemingly getting the law amended. But his categorical claim that there was no policy of the government to change the demographic profile of Kashmir, can not be taken seriously. Because tens of thousands of non-domicile every year will move up to domicile status and in just 10-15 years, both regions, Kashmir as well as Jammu, will reflect this on the ground.
True, the Union Home Ministry is yet to come out with a new land policy aiming to protect the land from being acquired by 'outsiders', when land in overcrowded Kashmir is scarce. But the central government has also advertised and dangled the carrot of lucrative land prices so that the original inhabitants part from it. As a result, the two-pronged policy of generous rules to make it easier for anyone to acquire the domicile status and the absence of a clear cut policy which protects the land from slipping into the hands of outsiders (something not just Northeastern states but also Himachal Pradesh follows) pushes the policy towards a demographic change.
Look at the categories of people who are covered and to whom it applies and it becomes clear that hundreds of thousands of people have overnight become entitled to acquire the domicile status and once you have a domicile, acquiring land, cornering jobs and reducing over a period of say 10-15 years the Muslim majority character of the UT will enable the BJP-led government to change Jammu and Kashmir's demography for good.
While the impact would be immense in Kashmir, even Jammu will not remain unaffected and Dogras as an ethnic group, or Gujjar-Bakarwals, Kashmiri speaking residents of Chenab valley, Pahari Muslims and others, all stand to suffer.
What is clear is that just at a moment when people remain captive, the government exploited the COVID-19 shutdown, to push its incendiary and dangerous game plan for Kashmir. That even in the midst of a global pandemic the BJP-led government could not care less for the people of J&K is apparent. It appears from their conduct that for them, people of J&K are not citizens, but subjects as they were under the Dogra Hindu rule when Kashmiris lost all their rights over their land and were reduced to being an enslaved population. The resuscitation of glory of Dogra Hindu rule may persuade some Right-wing fanatics to believe that old times are returning where a Hindu ruler made merry while subjects suffered egregiously and where the ruler responded only when tragedy struck.
But today, even in Jammu, the majority of Dogras are not amused because it is evident to them that the reduction of J&K to a UT cannot be set right by phony gestures of Dogra history and pride, when they too stand to lose their land and jobs. It is worth remembering that not only Kashmiri Muslims in Jammu, but the lower caste Hindus and Dalits in Jammu were also its beneficiaries, thanks to the 1948-52 radical land reform. No one appreciates when their land comes under covetous eyes of the rich.
It is worth noting that in the Northeast, the very same BJP-led government practises expansion of 'inner-line-permit' regime (which does not allow a tourist, let alone a settler to enter without a permit). It has detained in the name of "illegal migrants" 19 lakh people in virtual hellholes, and assured the local communities not to feel threatened by outsiders, who in their eyes are only Muslims, whom the government would want to get rid of. In fact, in the Northeast, the government went out of its way to assure the ethnic communities of their control over their own land. But in J&K, the BJP-led government's policy aims at ensuring the weakening of the native population's ownership and possession over land and jobs, and is engaged in extending a helping hand to the outsiders, to come and settle here. One similarity in the Northeast and J&K today is that it's the poor among the Muslims and Hindus who suffer the most.
So, Kashmir will fare the worst with this new domicile law. The brazenness with which the BJP-led government has turned people into subjects of an "empire", where they enjoy no rights and only have to obey commands, compounds the pain for the people.
There could not have been a better example of this than the J&K administration's order to doctors, nurses and other health workers not to go public about the threat posed to their lives by inadequate supply of personal protective equipment (PPE), N95 masks, gloves, etc. J&K administration's attacks on medical and health workers is not a recent phenomenon, but was evident during the entirety of 30 years, sometimes more and sometimes less. But to threaten them now, when they are the ones who are on the frontline fighting the virus, exhibits their insensitivity and lack of empathy.
Look at this another way. When medical and health workers, who have faced for three decades one emergency situation after another, including natural calamities such as an earthquake and floods, protested or wrote about shortages and asked for resumption of 4G services to enable access to information about COVID-19, the administration went to elaborate at length how the slow 2G network is actually working perfectly well. I wonder if the authorities would have gotten away with such brazen misinformation if they spoke this untruth in Delhi or if it was soldiers protesting lack of weaponry?
Consider another thing. The same authorities who are so nervous for their bungling getting exposed also preach social distancing and those found violating are being warned of an FIR registered against them. But they show not an iota of concern for subjecting political and civil society activists or leaders to overcrowded jails of Uttar Pradesh and Delhi. Letting them return home free from detention so that they are spared social crowding inside jails ought to have received urgent attention. Because if they had indeed committed a crime, they would have been chargesheeted by now. The detention was an arbitrary exercise of powers on grounds of mere suspicion.
The tendency of J&K administration to be parsimonious with truth, cover its incompetence by threatening doctors and nurses, has a long history. This is a moment when COVID-19 follows no law and border and no man-made border can prevent the virus from travelling far and infecting anyone. To then maintain a 'frog in the well attitude' ignoring concerns and damning those who criticise is criminal. Because this virus can infect anyone due to man-made errors and parochial attitude and create 'hotspots' fairly fast.
Much of the post-abrogation period was grist to 'controlled media's' grizzly mill. Authorities were pleased that they were abusing and maligning political leaders of all hues, imagining it would be an easy ride to power for BJP. Now when the going became tough, the authorities have fallen back on a few of the very same politicians whom their friends in the media vilified, to lend gloss to their sinister plan. So, it is not out of any empathy for people, it is their fear over situations turning even more awkward for the authorities, because they know that they do not inspire any confidence among people.
In the recent ISIS attack in Kabul, which ISIS claimed to have carried out in the name of Kashmir, and the encounter in upper reaches of Kupwara in North Kashmir where five militants and five soldiers lost their lives [in what the Army says was hand-to-hand combat between members of an elite force (para are special forces) and militants], signals that situation can turn grim once again.
Indian officials' knee-jerk claim of blaming Pakistan for the Kabul attack on the Gurudwara and the allegation that they control ISIS is a line which is dangerous because it shows how hatred of Pakistan has clouded Indian officiladom's thinking. It reflects the bankruptcy of the officialdom in India, which does not believe in an enlightened sense of self-interest. If they had any, they would have long ago realised the futility of chasing 'windmills' and acquired a realistic understanding of reality, where instead of imposing a dogma-driven diktat, political parleys and dialogue with all are required.
So, even now if the authorities were to step back, it would make them realise that they are sowing seeds of a new upscaled conflict, even if COVID-19 is treated as an opportune time to fulfill their self-interest. And the BJP-led government pushes ahead with their own dogma-driven plans for Kashmir, which will not spare Jammu. So, "national" interest is just the pursuit of partisan goals of those ruling at a particular moment. 'National' does not encompass all citizens.
It is this which calls for democratic-minded people to take the courageous step to acknowledge their cognitive blindspot and look at India's mishandling of Kashmir by comprehending that counter-insurgency is a form of sub-conventional war. To believe that one can wish away war to arrive at a solution is to turn one's face away from the truth of India's miserable role in not democratically solving the Kashmir question. Today, it has been compounded many times over by a ruthless and unrepresentative administration, which is accountable to none, follows directives from New Delhi, and remains wedded to changing demography of Kashmir. That's a perfect recipe for disaster. Because when people fight to save their land too on top of the ignominy heaped on Kashmiris for 30 years, their conviction is that their very existence as a community is at stake because it is threatened by demographic change. Then, it creates grounds for military escalation.
The BJP-led government can boast of having an escalatory military response in place for Pakistan, but what they do not know is how to prevent the insurgency from acquiring an escalatory military response.
Why then not choose the democratic path through confidence-building measures such as releasing all detainees [outside or inside J&K], restore 4G to help the frontline defenders with the best and speediest communication, withdraw the domicile law and ensure the best PPEs, masks and gloves to the nurses, doctors, other staff members and volunteers. Valuable time was lost in locking down J&K since August 5, 2019. Kashmiris across the board are outraged. Even amongst the PM's supporters in Jammu, there is resentment for the way they have been treated.
Prime Minister Narendra Modi has demonstrated time and again that he can sway Indian public any way he chooses. So, it escapes me why he has not employed this to solve the Kashmir question democratically. Enlightened self-interest demands that we move away from military suppression which has outlived its objective. Decades of social engineering through politics of manipulation and machination too has proved to be a failure. So, why not opt for a democratic resolution? I have my preference as a citizen. But the PM has warned publicly that he brooks no interference where the Kashmir issue is concerned. So it's better for him to share with the Indian public what he considers a democratic resolution of the Kashmir question. That may break the actual logjam which exists in our understanding of the Kashmir question.