In recent weeks, the Muslim population of Uttar Pradesh has been the target of a sustained government campaign of brutality, arson, vandalism, communal abuse, illegal arrest, torture and murder. Amid Internet shutdowns and a stream of lies from the authorities, we cannot yet ascertain the full scale of the atrocities. Intermittent leaks of information, exposés, reports from citizens' groups and a steadily rising body count testify to rampant bigotry and the breakdown of responsible government.
The December 15 police assault on the Aligarh Muslim University was covered by us, here. See also the accompanying Newsclick report. A detachment of RAF troops had been posted at the university gates since December 9, the day CAB cleared the Lok Sabha. What's more, Section 144 (CrPC) was imposed on campus without informing the teachers or students. Why were these restrictive actions taken before any protests began? What do they indicate? The guilty conscience of the central and state administrations, knowing that an unjust law had been passed and there would be blowback? Or, was there a plan to pulverise Jamia and AMU regardless: in a celebratory binge of state violence after the enactment of the CAB? Was the government desperate to contain a potential conflict or keen to provoke one? What explains its lawless behaviour? Was it hoping for nationwide Islamophobic applause of the kind that greeted the lockdown of Kashmir and the stripping away of its constitutional status? Kavita Krishnan, back from visiting Muzaffarnagar and Meerut, spoke to Bahujan TV (January 5) of scenes in UP that reminded her of Kashmir — the way the police, PAC and RAF entered and ransacked homes, leaving nothing standing but the walls. Muslim families under attack were told by men in uniform that this was a foretaste of what was coming their way, because their property would soon be forfeit along with their citizenship. Watch the interview here.
What follows is a piecing-together of news stories from the past three weeks, between the attack on AMU and the spread of state terror across UP.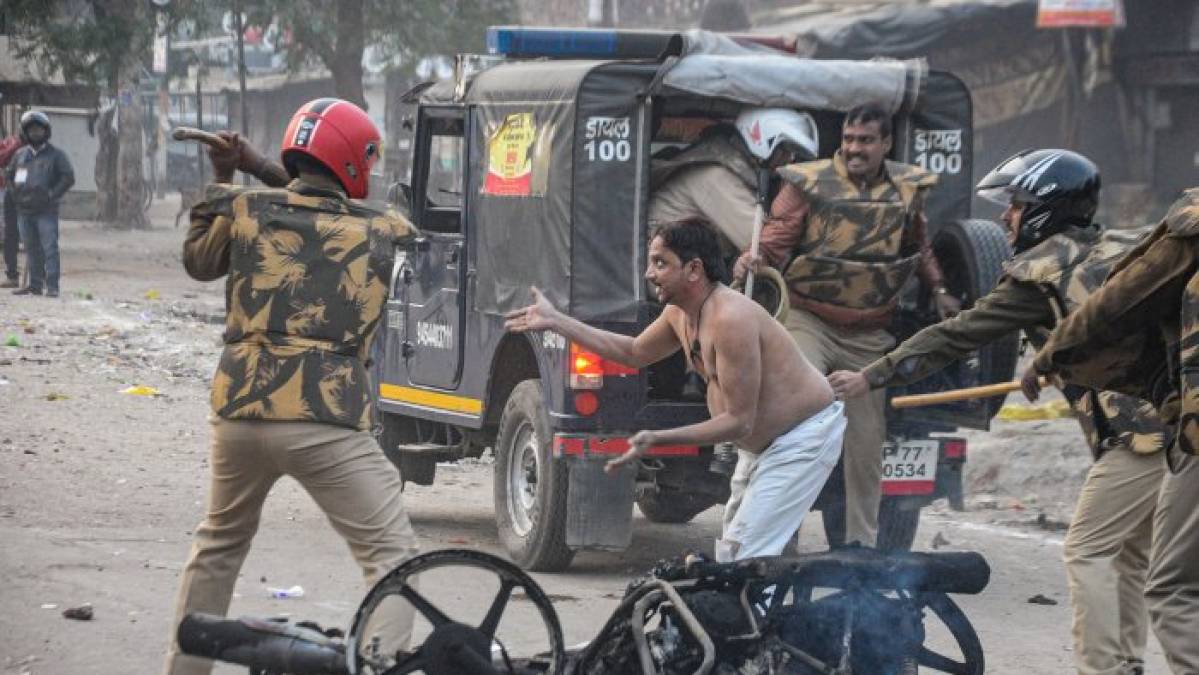 ● On December 19, Chief Minister Adityanath swore revenge ("badla") on the protestors of Lucknow and Sambhal. It was also the day public assembly was banned across the state, making even peaceful protests illegal. Immediately afterwards, the police began terrorising Muslims. This report on Newsclick (December 23) verifies the attack on a former civil servant and his wife at their home in Rampur. It cites a proliferation of disturbing videos and testimonies of atrocity, which were unauthenticated at the time. It also records the Adityanath government's decision to seal the property of people suspected of participating in demonstrations against the CAA, in Muzaffarnagar. And the arrest of the activist Sadaf Jafar. Each of these themes would recur, in an increasingly sinister fashion, in the events, reports and evidence that came to light in the following weeks.
● "They beat me. They mouthed the filthiest abuse that you won't be able to print. They did not give me food and water [….] Thanks to this BJP government, I know the extent to which a person can be dehumanised." So spoke Sadaf Jafar after her release on bail (January 7). Arrested the day Adityanath had made his speech about wanting revenge, Jafar spent the next three weeks in jail. Read Betwa Sharma's HuffPost article on Jafar's experiences — the physical and verbal abuse, the Whatsapp networks of hate that appear to have infected even doctors at hospitals — and her resolve to fight on. S.R. Darapuri, a retired police officer and critic of the BJP government, was also released on bail the same day. "I was in the police force for 32 years and I have never seen cruelty like this," he said.
● "The UP police were licensed to act out their hatred," says Harsh Mander in this Karwan e Mohabbat video (January 8). The video revisits developments in UP over the past three weeks, from the infamous episode of Meerut SP Akhilesh Narayan Singh telling Muslims to leave for Pakistan (December 20), to footage of police savagery from across the state, as home after home looks sacked after being stormed and vandalised by the police. "The police are the rioters now," says Mander. "The kind of leadership Shri Adityanath has provided to UP and the actions he is getting the police to undertake, these are crimes against humanity."
---
Also Read: Voices against the Citizenship (Amendment) Act – III
---
● More such stories are likely to emerge from at least fifteen districts of UP: Bijnor, Muzaffarnagar, Meerut, Ghaziabad, Aligarh, Bulandshahr, Sambhal, Rampur, Firozabad, Kanpur Nagar, Lucknow, Bahraich, Varanasi, Mau, and Gorakhpur. They will need to be documented and verified not by state institutions, as you would normally expect, but by citizens' groups. After all, this is an "abnormal" government, says Prof Apoorvanand here (snippets presented by Bahujan TV, January 8). He points out that so far public protest has taken the spontaneous form of demonstrations and is not yet a movement. The result is that the state gets to pick its battles, set the pace, decide how to act, and against whom, while the protests remain largely reactive in scope. Do we need to organise in order to challenge this? Does it call for a campaign of civil disobedience? "Shall we give the state a list, saying here are five thousand people who propose to disobey your rules? It will mean accepting the consequences that come our way."
● Aman Sethi (Huffpost, December 25) reports on the UP police's arrest and torture of at least five minors, aged 13 to 17, in Bijnor. Among the 100 Muslim men and children who were arrested on December 20 from the Nagina settlement of Bijnor, the number of minors may have been as high as 22. It is illegal for arrested minors to be held in a police lock-up, or be beaten. What these children describe, though, is far worse: prolonged torture. Read their accounts. Also on December 20, police had stormed the Sadat Hostel at Muzaffarnagar, where students and teachers were beaten, minors arrested and later tortured. The 68-year-old Maulana Asad Raza Hussaini, founder of the madrassa where the arrests were made, was honoured last August by Vice President Naidu, but on December 20, he was arrested along with his students. He confirmed reports of verbal and physical abuse by the police. When HuffPost reporter Akshay Deshmane asked the Muzaffarnagar SSP why the police had physically assaulted the madrasa students, he replied: "None of them was beaten up in police custody." The students, four of them minors who were released on January 3, and ten more against whom all charges were dropped, recall their time in custody rather differently from the police version. Read their accounts here.
---
Also Read: Voices against the Citizenship (Amendment) Act – II
---
● Gaslighting the public has been the UP police's preferred course in the face of questions. Kavita Krishnan, Yogendra Yadav and Riad Azam's fact-finding report on their visit to Meerut was published by Sabrang (December 28) and may be read here. It documents the death, among others, of the 20-year-old Asif, an e-rickshaw driver, who died of bullet wounds inflicted as he was on his way home. When the news of his death reached his family, at first they were not allowed to see his body, then forbidden to bury it in their locality, and were turned away by the police when they wanted to file an FIR. Instead, cases have been filed against the dead Asif, naming him as the "mastermind" of the violence that broke out in the city on December 20. He was one of six people killed that day alone, states the report.
According to NDTV, fifteen people had died of gunshot wounds in UP before the police accepted it had fired a single bullet into crowds. The death of Suleman, a 20-year-old civil services aspirant, brought the first admission of police firing (on December 24). On January 4, Sabrang reported on another NDTV story, this time concerning the bullet injuries sustained by police personnel. The claim that 57 policemen were shot yielded no names or other details upon enquiry with the authorities. Only the Muzaffarnagar SP, Satpal Antil, "showed a photograph of what appears to be a bullet wound". Read the report and try to square it with the phenomenal number of spent cartridges the police claim to have recovered from sites of public protest.
● Writing in The Hindu (January 6), Sumant Sen and Naresh Singaravelu report that 70 per cent of all the deaths that took place in CAA protests and police action were in UP alone, a long way ahead of second-placed Assam (20 per cent). In Scroll (December 27), Aarefa Johari and Nithya Subramanian cover the scale of civilian casualties in each of fifteen districts, along with reports of police personnel shouting "Jai Shri Ram" as they attacked students at Aligarh, of the brutal assault and arrest of theatre actor and director Deepak Kabir as he looked for his friends, of "baton wielding men" who joined the police in attacking a group of Muslim worshipers at their Friday prayer in Bijnor, of video footage from Nehtaur that shows "policemen dragging an elderly man to a van, firing from rifles and shouting 'Kill one or two of them.'" Find the report here.
---
Also Read: Voices against the Citizenship (Amendment) Act – I
---
● Adityanath has gone on the offensive to slap penalties on protestors, even on suspicion of damage to public property or participation in a protest. Is it because Muslims are the target of this measure? The Times of India (January 2) reports on the doubtful legality of such a course, comparing UP's loss in public property with the massive damage inflicted by the Patidar protests of Gujarat (August 2015) and the Jat agitation in Haryana (February 2016), both during BJP rule. In the second case, the state government gave an undertaking to the Punjab and Haryana high court that the damage (of Rs 1800–2000 crore) would be recovered from the perpetrators, but it was never done. Read the article here.
● Also pertinent here is The Indian Express reminder — from August 21, 2018 — of the Adityanath "hate speech case" of 2007. In January that year, he had visited Gorakhpur, flouting the district magistrate's orders, and made a fiery speech there in which he justified Hindu retaliatory violence against Muslims. He was arrested for disturbing the peace, and in the violence that promptly followed "several trains, buses, mosques and homes were burnt down. At least ten people lost their lives as well." A fortnight later, he was out free. That case, like several others against him, went nowhere after the BJP government was formed in UP, with him as its head. The latest case against him to be dismissed is that of the 1999 murder of head constable Satya Prakash Yadav, tossed out by a special court on July 17, 2019.
---