Bengali filmmaker Aparna Sen's latest, Ghawre Baire Aaj (2019), has been given an "A" certificate by the CBFC, saddening her somewhat. However, the growing adulation that is coming its way may manage to offer some comfort. Sen's very name raises expectations among her fans. A modern retelling of Tagore's 1916 classic Ghare Baire (Home and the World), her latest is a love story loosely based on the life of slain journalist Gauri Lankesh (1962-2017) and is "dedicated to her", in Sen's own words. Ghawre Baire Aaj has upcoming actors Tuhina Das, Jisshu Sengupta and Anirban Bhattacharya in the lead. 
In this interview with Shoma A Chatterji, Aparna Sen talks about the film, the relevance of the story in contemporary times and more.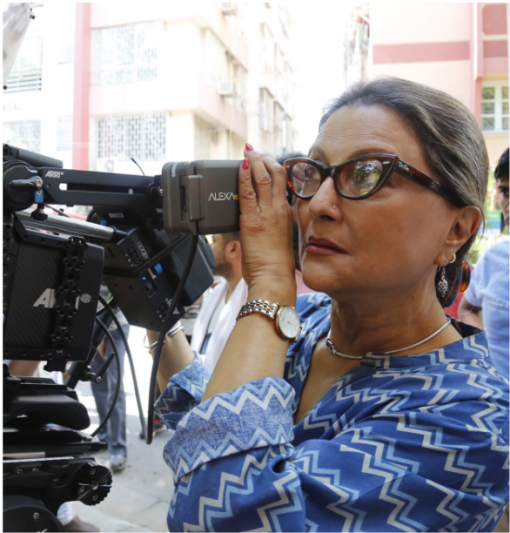 Shoma A Chatterji (SC): Ghawre Baire Aaj stands perfectly on its own without the Tagore reference. Then why did you hitch it to the Tagore novel published in 1916?
Aparna Sen (AS): I was extremely devastated by the killings of Gauri Lankesh, Kalburgi and others. So this, I felt, was a story that needed to be told.
It was the night of the news of Gauri Lankesh's murder. I went to bed shaken to the very core of my being. What is happening to my country, I wondered, where voices of reason and moderation are being silenced so brutally? I felt that since the time Tagore wrote Ghawre Baire, nothing has really changed! The novel served both as a frame of reference and as a link to this devastating flow of events even in an "independent" India.
SC: What was your objective in making this particular film?
AS: There is a spiritual link between the Tagore novel and the script that I built up. The original novel is very close to my heart, though I read it quite young. It has stayed with me all this while. The recent events of secularists and open-minded intellectuals being targeted by the Hindu-right point out that the situation had not changed from what happened in Tagore's original novel. We are talking about more than a 100 years ago. I was seeing things through the 2019 lens. Even though the characters have evolved and the present socio-economic context is different, the bottom line, I feel, has not changed.
SC: What story did Tagore tell?
AS: Tagore's Ghawre Baire is a triangular love story featuring three central characters, Nikhilesh, Bimala and Sandip, and set in the turbulent times of pre-independent India. It is about how the interpersonal relationships in the home are affected by what is happening in the outside world. My film, Ghawre Baire Aaj, is also about the same love story, but is set against the turbulent political scenario of present day India.
---
Also Read: Bengali Film Under Right Wing Attack for Using Names Ram and Sita
---
SC: What difficulties did you encounter while making of the film?
AS: The main problem lay in my summoning up the courage to make the film, as it deals with certain strong political issues drawn from situations as they exist today.
SC: You have placed Delhi as the centre stage of the drama. Why?
AS: Politics is very central to Delhi. Initially, I wished to place the story in Bengaluru, because my film is both inspired by and dedicated to Gauri Lankesh, who lived and died in that city. But we found this wonderful house in Delhi, where Nikhilesh and Brinda live, and I felt the candle light march that the script demanded was more suited to Delhi's ambience, with its India Gate, than to any other Indian city. For the Bastar shoot, we travelled to Bolpur and to some pockets of Purulia.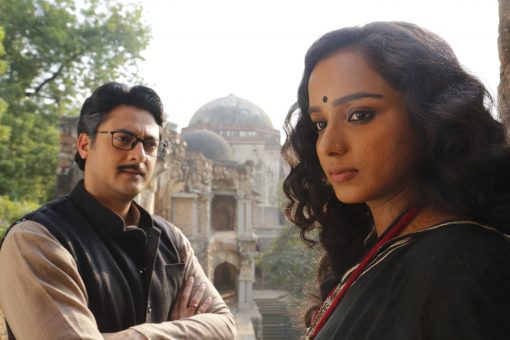 SC: Which genre would you want to place Ghawre Baire Aaj in? Would you call it a "political film"?
AS: I would prefer to place it within the genre of a "human drama" with a political backdrop. This adds to its dramatic dynamism. There is the triangular love story too, which creates and enhances the human drama, so I would leave it at that.
SC: Some critics say that the film's political content has almost overshadowed its emotional content. Would you agree?
AS: No, I wouldn't agree. The political content in my film is lesser than that of Tagore's text. His novel is much more "political" than my film. The three characters, Nikhilesh (Jisshu Sengupta), Brinda (Tuhina Das) and Sandip (Anirban Bhattacharya), blend the two areas of action and introspection and even the confrontation between Nikhilesh and Sandip is invested not only within their political differences, but also in their relationship with Brinda/Bimla.
SC: Brinda has four names. She comes in from the Bajoria Coal Mines as a little Dalit girl, when her name is "Bimla"; The Choudhurys change her name to "Brinda". Nikhilesh calls her "Binny" while Sandip calls her "Bee". Do you feel that this strips her of a single identity?
AS: I do not agree that the script strips her of an identity. These are the different phases of her life. The Choudhurys change her name to "Brinda", which is a part of her "Brahminisation" within the family, followed by her education, job and finally, marriage to the family's sole heir, Nikhilesh. He calls her "Binnie" – a sign of love. Sandy calls her "Bee", because in Tagore's novel, Sandy calls her "Mokhhirani", which means Queen Bee, and sweeps her off her feet.
---
Also Read: Sedition and FIRs charged against celebrities who wrote against mob lynching 
---
SC: You have kept a considerable age gap between Brinda and Nikhilesh. Why?
AS: Because she had to be very impressionable to fall in love with the first man she sees other than her husband Sandip. She imbibes the different phases of her life, and in my opinion, Tuhina surrendered herself to the script and the character to flesh out this difficult role.
Nikhilesh is liberal in his way of thinking, though Sandy calls him an "armchair socialist". He is one, until he gets involved in the Bastar project. The project is a demand by secular activists for a hospital to be built on a plot of land for adivasis, while the Hindu Right wants to build a temple on the same piece of land. Nikhilesh is a "welfare state" liberal and not an extreme liberal. Sandip is a suave, sophisticated, smooth-talking opportunist with political ambitions. His ambitions overshadow his life-long friendship with Nikhilesh, though in his student days, he used to be a Left-minded student activist. How the transition towards the Hindu Right came about is explained in the film.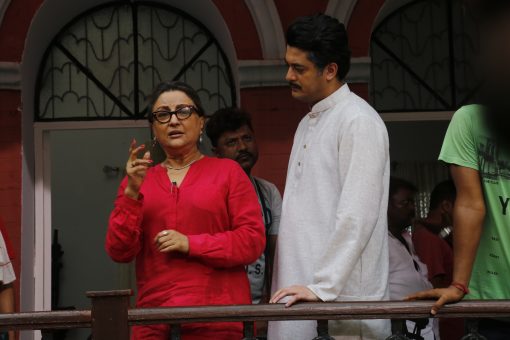 SC: Did you direct your cameraperson in the use of lighting and the choice between colour or black and white to reflect the film's strong political content?
AS: Soumik Halder knows his job and does not need much briefing. I did not consciously want the camera to function like a political instrument, except for marking out some of the flashback in black and white. I left the rest to him, such as when to use wide lens or when to close up on the lovers and so on. He has done a wonderful job.
SC: The music is striking, unusual and magical too. What was the brief to composer Neel Dutt?
AS: I did not give him any "briefs". We sat together and decided on the songs. For example, we were stuck on Tagore's "Ekla Cholo Re", because it happens to be a favourite among our politicians. We asked Srijato (Bandopadhyay) to translate it into Hindi, though there is already an official Hindi translation. The other songs used in the candle march towards the end are "We Shall Overcome" and the "Internationale", also in Hindi. For the theme song, we asked Ustad Rashid Khan to sing in Ramdasi Malhar, which blends into the inner and outer conflicts. I instructed Neel to use the same tunes as the theme music, but to change the instrument for different characters, so that they had their signature tunes. Sometimes, we hear a female voice joining in, sung by Arpita Chatterjee. I wanted the music to blend into the story and it has. There is another beautiful song composed by Vidyapati in Braja Bhasha, which is a love song.
SC: You have used real life characters with slightly different names, but are transparent. Why so?
AS: They are drawn from real life. The way they are shown in the film is true to their lives. Mahashweta Devi's name has been changed to "Shweta Devi" (played by Sohag Sen), who spent most of her life working and living with adivasis. Binayak Sen, the doctor who was imprisoned for his wonderful work, has been named "Binoy Sen" (Jagannath Guha). He is liberal-minded and even says that as he is a doctor, he does not differentiate between treating a victim or an accused.  In real life, Dr Binayak Sen is an activist committed and dedicated to community health and human rights. Dr Sen was arrested on false allegations of sedition on May 13 2007, joining dozens of other human rights activists in Indian jails who have been charged under repressive "Black Laws." He was extremely active in the Bastar-Dantewada forest area of Chhattisgarh. I just felt he had to be in my film. Nikhilesh, an investigative journalist, wishes to interview him and gets involved in the movement.
SC: You have turned Sandip into a "Jha", who is a professor settled in Patna. Why?
AS: I gave Sandip the family name "Jha" because I have realised that people like to go back to their roots after a point of time. So does Sandip, who knows Bengali like a native-speaker, but chooses later to settle down and teach in Patna. He has an extremist streak in him, whether it is during his younger Left-leaning days or his current support of the Hindu Right. He comes to Delhi to deliver a series of lectures at the Bharat Seva Mission. Instead of staying at the Mission's guest house, he chooses to live with the Choudhurys. He has an agenda which I would not like to reveal here.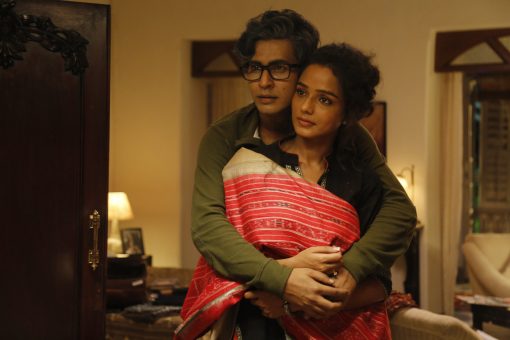 SC: The Choudhurys also have a Muslim maid, Shahnaz. Why?
AS: They are liberal and progressive and this applies to Nikhilesh's character in Tagore's novel and Satyajit Ray's 1984 version also. In Tagore's novel and in Ray's film, this open-minded secular trait was understated, but we are talking of 2019. It provides a broader rationale to Nikhilesh's character and his slow but steady involvement in activism.
SC: In the electrifying climax, you make Brinda act in a way that doesn't seem grounded in her characterisation up until then. Do you agree?
AS: I agree, but if you ask me, I really do not know why she acted the way she did. Sometimes, your characters begin to have a life of their own and go out of your grip. This is what happened in this case. I know this sounds absurd, but it is true.
SC: I believe that your films are drawn to what is good and humane. All your films, according to me, do not move away from this ideology. In your capacity as a director, have you ever had to move away from your ideological stance due to external reasons beyond your control?
AS: This is very true. I have never moved away from my ideology in any of my films. Though I want my films to be commercially successful, I do not want to do it at the cost of my ideology. Thanks to my producers, the need to move away from my ideological stance has never arisen.
---
All images courtesy: Shoma A Chatterji