Known as the "Bob Dylan of Naga folk music", "the father of the Naga folk blues" and more, 58-year old folk musician Rewben Mashangva from Manipur has devoted his entire life to Naga folk music. Clad in vibrant traditional outfits and sporting his signature Haokuirat hair (traditional Naga hairstyle), Mashangva has taken Naga folk music to stages across the world. In 2005, Rewben Mashangva was honoured with the title of "Guru" by the Government of India's Ministry of Culture for his contribution to folk music. As part of this, Mashangva has also been involved in reinventing traditional folk instruments of the Nagas, making his music a mellifluous blend of the western and the local.
Toko Anu of the Indian Cultural Forum spoke to this living legend of Naga folk music about his rise as an artist, love for Bob Dylan's music, reinventing the Tingtelia and more. 
Image Courtesy: Ministry of Culture
Rewben Mashangva was introduced to folk music at a very early age, when he would go around around his village, accompanying his carpenter father for work in Manipur. However, how he took an interest in western instruments is a story worth telling. Recalling his childhood, Mashangva told us, "Although the technique of the guitar was introduced to me by a friend in my youth, my curiosity about it began long before that. As a child, I used to secretly observe the older boys of a local "guitar club" in my village in Manipur. The members of the club had bought a piglet and raised it. As soon as the pig was ready to be butchered, they sold it and bought a guitar. Each member took turns to play the guitar attending to a clock".
---
Also read: Death of the "Indigenous": Views from the North East of India
---
Mashangva's first gig was in 1992, in the Ukhrul district of Manipur, at a meeting organised by the Naga Students Federation (NSF). Realising that he couldn't make music or sing in English, Mashangva invented his own style, by incorporating the lyrics of Bob Dylan's song "Trust Yourself" into Naga folk music. "I didn't know how to write in English, but wanted to perform something "western". So I stole the lyrics of Dylan's "Trust Yourself", asking a friend to translate it for me," he chuckles.
Naga Folk Music
When asked about how he would describe Naga folk music, Mashangva said with his signature wit, "Folk music is like rice beer — intoxicating yet nutritious for the soul! Similar to the alcohol consumed during local feasts here to facilitate the coming together of people, there is something about folk music that loosens our emotional rigidity, releases positive emotion and brings us closer to each other as a community. The essence of Naga folk music lies in soothing the soul. It opens up and reawakens our senses, providing intrinsic meaning to our existence as humans in the society".
Mashangva calls Naga folk music "Hao music". "Hao" in Thangkul, the dialect spoken by the Manipur's Thangkul Naga tribe, means "nation".
Transition from Bob Dylan to Naga folk music
Soon, Mashangva transitioned into singing Naga folk music from Bob Dylan alone. We asked him about the transition. He said, "I call myself a first generation student of Naga folk music. Although I specialize in Naga folk music, Bob Dylan's music has been my first love. Over the years, my own music has adapted to old Naga folk tunes along with heavy western influence.
I want to inspire younger artists of my land to take an interest in its folk culture, for else, our folk tradition too will die along with the death of the remaining folk singers, who are quite old and live in very remote areas of the region. Younger artists should go beyond simply excelling in playing western instruments. There are already millions who are experts in that. If you want to maintain distinction and uniqueness, play your own folk music!"
Reinventing the Tingtelia—the traditional Naga fiddle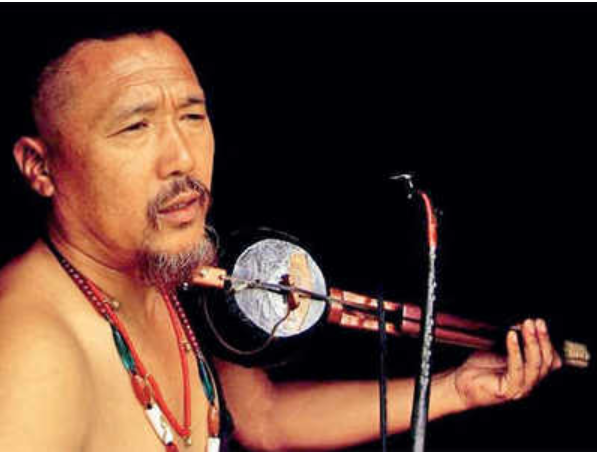 Image Courtesy: Mumbai Mirror
Guru plays Naga folk music like nobody else can. The folk mouth organ, Yangkahui (the four hole flute), Tingteilla (folk fiddle) and a rare cow bell for percussion blend well with western instruments like the guitar in Guru's music. He has reinvented the Tingtelia, a Naga folk fiddle, and is ready to get it patented. Guru plays the reinvented Tingtelia at concerts around the world.
---
Also read: Singing Opera in Khasi: The Shillong Chamber Choir
---
Speaking to us, he said, "The Tingtelia is very sensitive to weather and produces different sound variations in different environments and temperatures. Although it took me almost 7 years, I have finally reinvented it by modifying and polishing it to suit western tonal scales. Now one can tune it just like the guitar".
Researcher and Teacher
Apart from performing across the globe, Rewben Mashangva is also busy researching, attending seminars, teaching tribal folk music and guiding folk music scholars. He currently serves as the Director of the Naga Folk Music Academy and runs a private Naga folk museum in Ukhrul, Manipur.
"I want students to feel like the masters of their instruments, rather than servants. I teach my students to associate folk music with their identities. For that, I want them to interact with as many folk musicians as they can from the interior, remote villages of the North East. I want them to access authentic folk music and learn from them, for there lies the music closest to the roots of our community's identity".
---