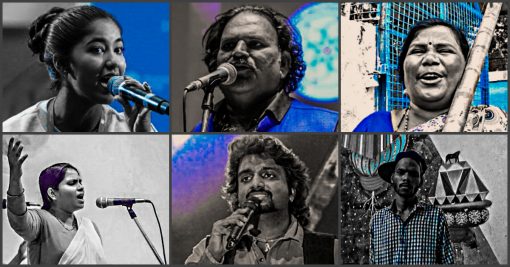 Brahmanchya ghari lihina [at the Brahmin's house you write and learn]
Kunbya ghari dana [at the tiller's house you thresh]
Mahara ghari gana [at the Mahar's (Dalits) house you sing]
(Marathi saying)
Although the Dalit movement of the 1970s is said to have created a space for social activism, it is largely seen as a literary movement. There has been academic and political "invisibility" of Dalit "cultural" forms of assertions, which remain "subsumed" under the category of the literary, writes Sharmila Rege. The social sciences in India have not paid much attention to understand the link between Dalit politics and culture.
One can see this link on contemporary Ambedkarite protest music by artists like Adarsh Shinde, Sambhaji Bhagat, Sheetal Sathe and Sachin Mali, Kadubai Kharat, Ginni Mahi, Sumit Samos and others. Their music is about B R Ambedkar's vision of a society of 'liberty, equality and fraternity'. One may still have doubts about their actual contribution in the dissemination of Ambedkar's politics and philosophy. How do they help in the formation of a 'counter public' to the largely elite academic space? How does Ambedkarite music fight existing cultural hegemony?
Ambedkar's assertion for the rights of the oppressed can be traced from the 1920s. This is visible in his organization of the Chavdar Tank Satyagraha in Maharashtra's Mahad and the Kalaram Temple Entry Movement against the denial of access to resources and space to Dalits. In addition to this was the burning of Manusmriti in protest against the centuries-long humiliation of Dalits and women as prescribed in the text. Apart from movements, Ambedkar also ran newspapers that spoke about the issues faced by Dalits at the time like Mooknayak (1920), Bahishkrut Bharat (1929), Janataa (1930) and Prabuddha Bharat.
Ambedkar's struggle for social equality through the annihilation of caste could be understood differently through different forms of expression. The Dalit Panthers Movement (1972) strengthened the movement through literary and political means. Similarly, from 1990, the caste question and Ambedkar's thought started to get the recognition they deserved, and have now become global phenomena. Ambedkarite protest music has contributed in numerous ways to spread awareness and generate consciousness about Dalit self-dignity. This genre of music has been successful in campaigning against caste in the country. Although untouchability and caste-based discrimination are prohibited as per the Constitution, caste is still a reality and a persistent issue which continues to produce inequality in different social institutions in multiple ways.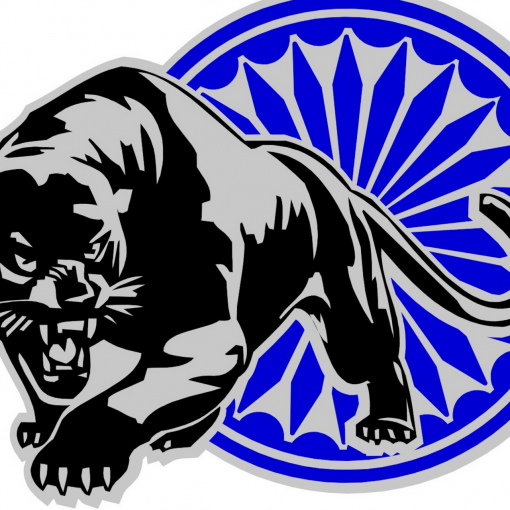 Sociologist Gail Omvedt in her book Dalits and the Democratic Revolution: Dr. Ambedkar and the Dalit Movement in Colonial India defines it as follows:
 "'Ambedkarism' is today a living force in India, much as Marxism is: it defines the ideology of the Dalit movement and, to a large extent, an even broader anti-caste movement… In fact, the development of Ambedkarism in India can be seen as the particular expression of a word-wide 'democratic revolution', indeed perhaps most consistent one possible in Indian conditions (certainly more consistent than a 'proletarian socialism' which ignored cultural-caste issues and accepted identities such as 'Harijan' and 'Hindu'), and one which has grown out of the experiences and situations of the most oppressed sections of the people"
He fought the British and as well as the Indian elites. His crucial role as the labor minister (Viceroy's Executive Council: 9th July 1942) and in the making of the Indian Constitution are unforgettable. He resigned from his position as Law Minister in Jawaharlal Nehru's assembly when the Hindu Code Bill was not passed. Mobilization of the socially oppressed based on Ambedkar's lessons and the advancement of his philosophy in post-Ambedkar times like today should be seen as a political movement called "Ambedkarism". The term Ambedkarism can be used for the mode of resistance of the oppressed for their socio-political liberation.
It should be noted that it is this inequality and caste-based discrimination in the Indian academic space that has given birth to the Dalit 'counter-public'. Ambedkarism is exercised by Ambedkarites through different media – one being music. Caste is occupational which works not only through the "division of labour" but through the "division of labourers" as Ambedkar argues in his speech Annihilation of Caste (1936). In the cultural context of caste, Brahmins hold power over knowledge whereas the "untouchables" (Dalits) take up jobs assigned by their caste.
As a post-Ambedkar phenomenon, Ambedkarite protest music has evolved from powadas'/shahiri, public bhajans to mass-produced cassettes and now stand at rap and pop songs. During Ambedkar's time through Shahiri, efforts were made to spread Ambedkar's struggle; however, the forms of discrimination has changed over a period of time and to tackle it one needs new strategies, new voices and new forms of resistance. The contemporary Dalit-Ambedkarite songs of protest along are developed as rap and pop-songs in visual media.
If we look at Anand Patwardhan's Jai Bhim Comrade (2012), it is primarily a documentary based on the continuity of caste-based violence, premised on the Ramabai Nagar killings of 1997, but uses Ambedkarite protest music as a subgenre. The music used in the documentary explains the social conditions of the marginalized and on the Ambedkarite-Marxist ideological fellowship.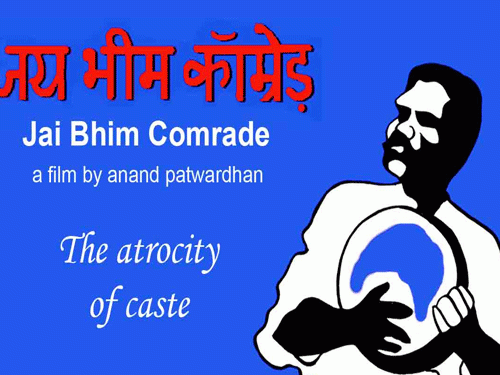 Ambedkarite protest music has also made its presence felt in the digital space. Cultural activist Sambhaji Bhagat runs a YouTube channel called the THE WAR BEAT and their first song, Blue Nation, is a fusion of rap and folk, with a combination of traditional and modern instruments. The song, a call to the "lovers of freedom" explains the significance "Jai Bhim", the popular Ambedkarite slogan, and that of the Dalits' fight for equal share everywhere.
The War Beat's second song, Dear Democracy was written by Sachin Mali and sung by Sheetal Sathe and others. Navayan Mahajalsa is another popular YouTube channel which seeks to speak to the public about "democratic spaces". Due to the ability of this genre of music to generate public opinion, it can be argued that such songs with the aid of visual media help Ambedkarite singers to organise for and form the Ambedkarite 'counter public'.
The Durban Conference (2001) on racism, racial discrimination, xenophobia and related intolerance was significant in how it sought to raise fists against caste discrimination at an international forum. In forming an alternative cultural discourse, these songs of protest help in organising the public. This phenomenon began in the 1990s when Dalit youth entered the country's elite academic institutions.
Their concerns have also been communicated through contemporary political formations like the Bahujan Mahasangh, Republican Party of India (RPI) and Bahujan Samaj Party (BSP). After Rohith Vemula's suicide at the University of Hyderabad in 2016, Ambedkarite music has taken a new turn. Journalist Rahi Gaikwad in her article "An Equal Music" quotes Tarannum Bauddh: "Ab tak jo hamare saath hua uska gum nahi/ Lekin ab jamane ko dikhana hai, hum kisi se kam nahi" (We are not sad about what happened to us so far/ But now we want to show the world, we are not less than anybody).
---
Read More
Cultural Politics Needed for Structural Change in Society: Sambhaji Bhagat
Sambhaji Bhagat: Taking the Indian Constitution to the People
Disclaimer: The views expressed in this article are the writer's own, and do not necessarily represent the views of the Indian Writers' Forum.