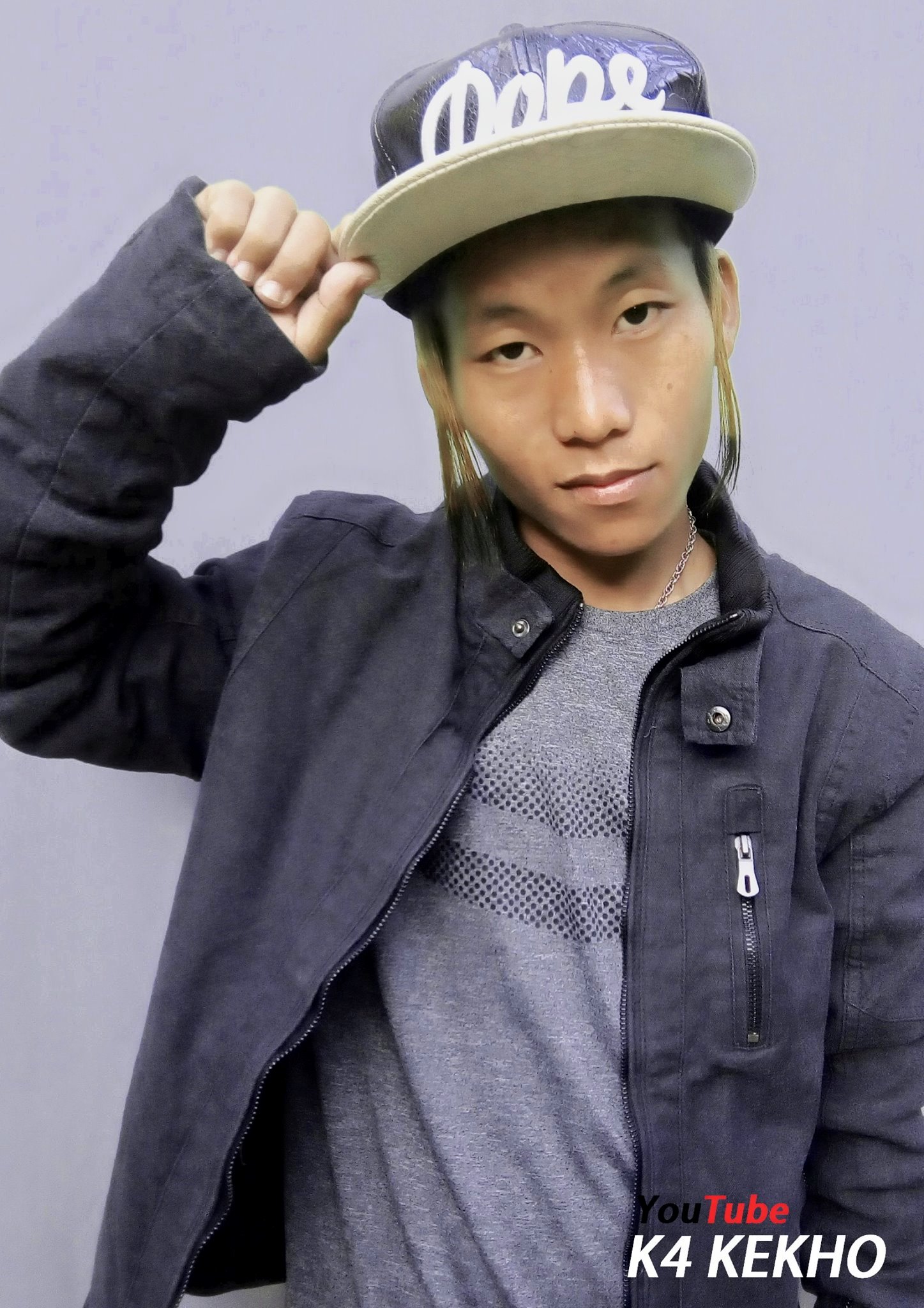 With more than 47K subscribers on YouTube (as of 2019), K4 Kekho, a rap artist from Arunachal Pradesh is making headlines in the music world. Winner of Arunachal's first "Rap Riot- 2015" and composer of the background music of the movie Orunasol Man, the young Arunachalee rapper has turned many heads with his forthright lyrics and outlandish presentation. His unconventional style of rapping and use of simple words and street language has made him a social media sensation.
Kekho Thianmkho, known by his stage name "K4 Kekho", was born to a traffic policeman and a homemaker in a small village of Lower Chinhan in Tirap district in the southeastern region of Arunachal Pradesh. Kekho is a self-taught artist. Music has been his passion since childhood. When he started as an amateur rapper, he realised that many of his friends and other people around him responded well to his compositions. Rappers like Eminem and ASAP Rocky are his inspiration.
Like most Arunachalee parents, his too wanted him to take up a government job. He was pressured to leave music. But his success and recognition changed his parent's mind and got him much support from them.
Shot on an ordinary mobile camera by his younger brother and edited with minimal equipment, he uploaded his first YouTube video "Education" a few years ago.  His songs, initially gained popularity via WhatsApp circulation in 2015, went on to be produced on videos under the banner of AGT production house. And then there was no looking back. His audience mainly includes youngsters from the Northeast Indian states.
The musician says money from his music is hard to come by, but the audience is quite supportive. He says: "Rap and Hip-Hop is just beginning in Arunachal. People here still prefer Bollywood songs, but I think it is the artist's responsibility to attract the audience ".
Rapping for a social cause
Kekho believes in the power of words. He says it cannot be compromised. His songs speak about the socio-political experiences of people from Northeast India. Kekho raps on subjects that have social relevance and issues he cares about.
"I Am An Indian"
His song "I Am An Indian" speaks about the racial discrimination faced by the people from the Northeast. The song has been viewed more than 783,700 times. It is sung in a semi-creolised dialect of Hindi, which is spoken in Arunachal Pradesh, with English subtitles. With intense lyrics on the racial discrimination faced by the Northeasterners because of their Mongoloid features and cultural stereotypes, this song has been loved and criticised due to its use of humourous punchlines on reality. The video is a witty recreation of the most common incidents of discrimination.. This video is dedicated to all the people from the Northeast.
"Save Arunachal"
"Save Arunachal" is a song dedicated to the three young people who died in police firing in Itanagar during the Permanent Resident Certificate (PRC) controversy in Arunachal Pradesh. These youths died protesting against the state government's decision to grant permanent residence certificate to the six non-indigenous communities. On his YouTube account, he wrote: "[The] death of 3 youths during the protest left me no choice but to finally come up with this rap song in one day. So please ignore the quality of the video or other technical errors. Message in the song is important,"
"Asli Reality"
"Asli Reality" (The True Reality) is about the socio-economic conditions in Arunachal Pradesh with special focus on Tirap district of Arunachal Pradesh. Tirap has been inflicted with insurgency and opium addiction for years. Destroying vast areas of forest and many lives, illegal poppy cultivation is a cause for concern for the residents of the area. Politicians, who came to power with the promise of bringing change, have done nothing. As corruption continues, the vicious cycle of poverty and drugs seem to be unending. His message to people through this song is to unite and fight to change the existing condition.
 "Struggling"
Kekho's song "Struggling" is about his initial struggle as a singer. With no financial and moral support from people around him, he sings about how he had to struggle to pursue his passion for rapping in Arunachal Pradesh. The Rap market in the state is narrow and the singers struggle for opportunity. However, he did not give up on his dreams and continued rapping. The song is a message to other young artists and singers to continue to fight for what they want and not give up.
In an interview with The Citizen, the conversation steered towards his height. "I'm not quite five feet tall. Around 4.8 or 4.9," A listener interrupts, "You may be small but your words are big". That is exactly what Kekho is. Kekho uses rap music as a powerful medium to raise his voice about the issues he truly cares for; making us believe in music as a form of resistance.
---
Read more:
"Therukural" – When the Streets Talk
"This is Snowlin, can you hear me?"
"Yarukkaghilum Bhayamaa" – Whom should I fear, asks T M Krishna
Disclaimer: The views expressed in this article are the writer's own, and do not necessarily represent the views of the Indian Writers' Forum.