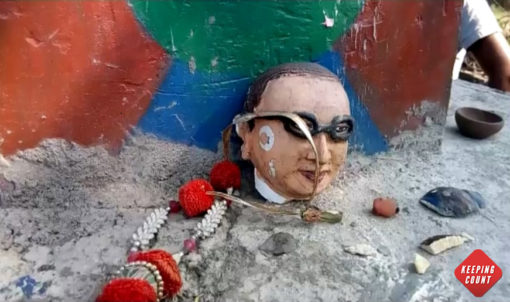 Original image courtesy: CounterCurrents
On May 25, 2019, two days after sweeping back to power, Prime Minister Modi made a speech at the Central Hall of Parliament.  He said, "We belong with those who voted for us and with those who consider us their enemy." He spoke of minorities living in fear, but claimed that this fear is an imaginary creation of vote-bank politics. In the video of the speech below he evoked the memory of Baba Saheb Ambedkar as the camera panned obligingly to the portrait of him hung in the historic hall. Modi said the new government must take it upon itself to win the faith of all minorities: "Sabka Vishwas".
May 18, Tiruchi, Tamil Nadu: Abdullah, a 32-year-old auto driver was beaten to death for trying to defend a female passenger from an inebriated harasser. The police are calling it a "drunken scuffle". Abdulah's wife, Tashmin, insists that he was not drunk and would never be so when driving.
Read: Muslim Auto Driver Lynched in TN's Trichy for Defending Woman Being Harassed
May 20, Baroda Taluk, Gujarat: A dalit couple were attacked by over 200 upper-caste men. His "offence"? Pravin Mackwana had made a Facebook post accusing the Gujarat statement of not allowing Dalits to marry in temples.
Read: Dalit couple attacked, thrashed by over 200 Upper caste men over Facebook post in Vadodara; case filed
May 22, Mumbai: Dr, Payal Tadvi a postgraduate student of gynaecology at the National Topiwala Medical College took her own life. She was hounded, bullied, called casteist slurs and denied essential training because she came from Tadvi Muslim Scheduled Tribe.
Read: Mumbai doctor's suicide: College confirms she was harassed over her caste, scolded hours before death
May 22, Seoni, Madhya Pradesh: Two muslim men, one woman beaten up on a suspicion of carrying beef. They were made to shout "Jai Shree Ram". Ram Sena leader Shubham Baghel is one of the accused.
Read: Three Muslims Beaten by Gau Rakshaks, Then Arrested in MP's Seoni Over Beef Rumour
May 22, Manekwada village, Gujarat: 17-year-old dalit, Rajesh Sondarva was hacked to death, by those accused of his father's murder. Nanjibhai Sondarva an RTI activist was killed a year ago, for looking into financial discrepancies for a road built to the village. Village sarpanch and several other accused men among the accused.
Read: A Year After RTI Activist Was Killed in Gujarat, Assailants Hack His Son to Death
May 25, Muzaffarnagar, Uttar Pradesh: A 14-year-old dalit girl was gang raped, murdered and her body burnt in a brick kiln. The accused have been booked under the Scheduled Castes and Scheduled Tribes Prevention of Atrocities Act. The girl's father alleges that the police and the administration are colluding to hush up the incident.
Read: Parents at hospital, 14-year-old Dalit girl gangraped, burnt to death in Muzaffarnagar
May 25, Sakchi, Jharkhand: Jeetrai Hansda, an adivasi professor arrested for a two-year-old Facebook post about his right to eat beef. The state is also ruled by BJP.
 Read:  Adivasi Professor Arrested For Facebook Post On Right To Eat Beef
May 26, Begusarai, Bihar:  Rajiv Yadav, stopped Mohd. Qasim on the road and asked him his name. On realizing he is muslim, he shot him and told him to go to Pakistan. Mr Qasim is injured, but survived. Begusarai is the constituency from which Girija Sinha, the BJP candidate, has won.
Read: Man shot at in Begusarai after he reveals his 'Muslim name'
May 26, Gurgaon, Haryana: A 25-year-old muslim man wearing a skull-cap was stopped by a gang of youth and forced to shout "Bharat Mata Ki Jai". He was then asked to shout "Jai Shree Ram". When he refused, he was beaten up.
Read: Gurugram: 4 men beat up Muslim youth for wearing skull cap, force him to chant Jai Shri Ram
May 26, Connaught Place, New Delhi: Well-known gynecologist, Dr. Arun Gadre from Pune was staying at the Young Men's Christian Association (YMCA), Jantar Mantar. He was in the city to deliver a lecture organised by the Indian Medical Association. A group of men stopped him near the Hanuman Temple in Connaught Place, where he'd gone for a walk. He was forced to shout "Jai Shree Ram".
Read: Eminent Pune doctor accosted by gang in New Delhi, asked his religion, forced to say 'Jai Shri Ram'
May 26, Singampalli village, Andhra Pradesh: Bikki Srinivas, a dalit man was chased, thrashed with sticks and murdered for stealing mangoes from the orchard of an upper-caste man. His body was taken to the local panchayat office and hanged from the ceiling.
Read: Dalit lynched for plucking mangoes and his body hung in Panchayat office
May 27, Banaras Hindu University, Varanasi: The incident occured in March, but came to light recently. Two dalit research scholars and one from the ST community were forced to clean the toilets by a professor from the Home Science Department. The matter is being probed.
Read:  Dalit Research Scholars 'Forced to Clean Toilet' by Professor at BHU
May 30, Rashtrapati Bhavan, New Delhi: Pratap Chandra Sarangi is the newly elected MP from Balasore, Odisha. He has gained huge popularity across the country for his "humble" background. Photos of the frail old man emerging from his bamboo hut, has turned him into a hero for BJP supporters. Sarangi was the head the Bajrang Dal in Odisha (1999) when Australian missionary Graham Staines and his two sons only 7and 11-years-old, were burnt alive in the vehicle they were asleep in. They were in Manoharpur in Odisha at the time. The Bajrang Dal has been linked to the murders. Sarangi has several other cases pending against him for rioting, arson and damage to government property among others. He was sworn in to thunderous applause at the country's seat of power. He will also hold two Minister of State portfolios in the new government.
Read:  NDA 2.0: Social Media 'Hero' Pratap Sarangi Faces Serious Criminal Cases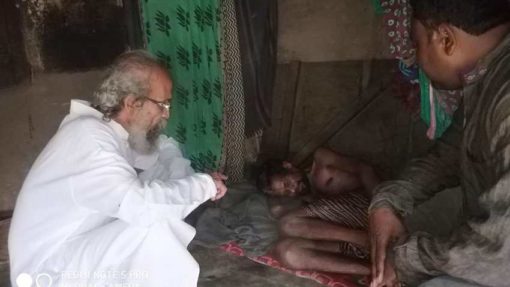 Pratap Chandra Sarangi|Image courtesy: ZeeBiz
The Indian Cultural Forum will do a regular round-up of how Modi's "New India" holds up to the promise of "Sabka Vishwas". This list is sourced from news reports and is by no means complete. Speaking of minority rights in one speech is not enough. It is not enough, when Hindutva forces have taken the lives of dalits, adivasis and Muslims in the last five years of the Modi government. When those forces threaten and intimidate them every day. When they rape and brutalise them.  We were not silent then. We refuse to be silent under Modi's second term as Prime Minister.
---