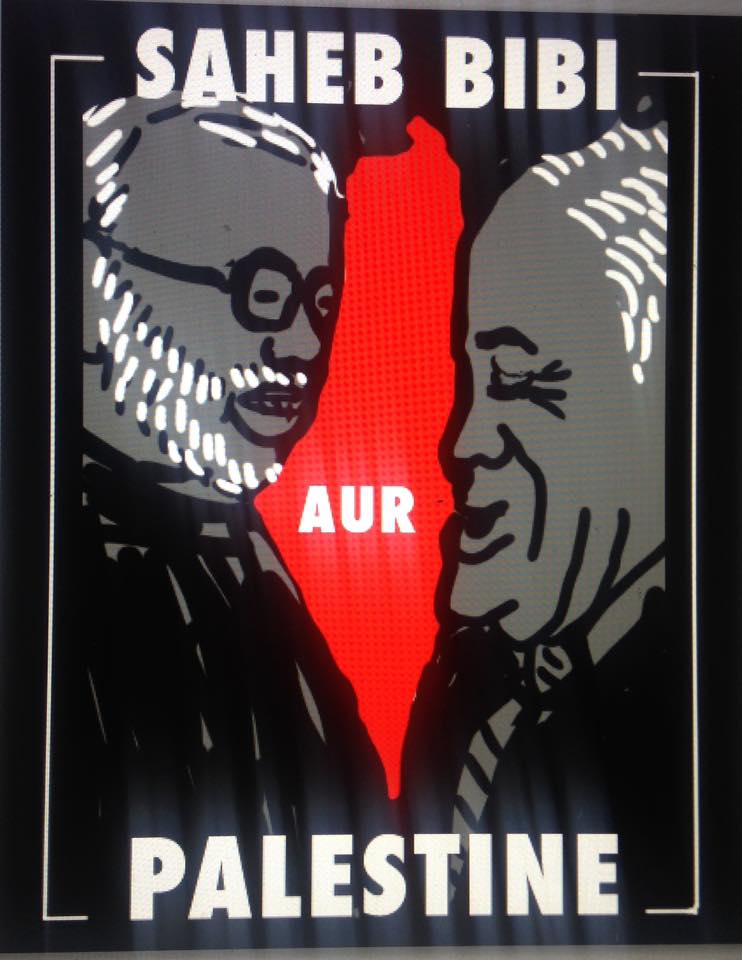 Image courtesy: Orijit Sen
We have the verdict of India's 17th General Elections with us, where the right-wing government led by the Bharatiya Janata Party has retained power and has done so with a greater majority than its victory in 2014. Terrifying as this moment is, it demands that we make sense of it, understand its roots and implications, and prepare to mount a fight against it. To begin with, right wing populism has been on a sharp rise across the world. From Jair Bolsonaro in Brazil, to Donald Trump in the US to Rodrigo Duterte in the Philippines- we are witnessing the deepening of majoritarianism with free market capitalism globally.
While the contexts and specificities of this rise of the right obviously differ, there are some strong linkages among them. I would focus on one that had already been an urgent concern in the last five years: the ties with Israel. With each passing year, Israel further entrenches its occupation, apartheid and settler-colonial regime over Palestinians. In April, Benjamin Netanyahu was re-elected as the Prime Minister of Israel, holding this position since 2009, and previously from 1996-99. Fearing that his popularity is waning, Netanyahu's recent election campaign included allying with the ultra-right-wing group, Otzma Yehudit, promises of annexing illegal settlements in the West Bank and pre-election attacks on Gaza.
In the recently concluded elections, Netanyahu's main opponent was the former chief of Israeli Occupying Forces, Benny Gantz, who launched his campaign with the call to send "parts of Gaza back to the Stone Age". He found support among left and liberal political quarters of Israel. The last year also saw close to 300 people being killed in Gaza, non-violent protesters demanding their fundamental right of refugees to return to their homes. The Israeli Knesset passed the Jewish nation-state law, conveying constitutional status to Israel's apartheid regime. For Palestinians, each Israeli government has been as brutal, vicious and built on impunity as the other.
For decades, Israel has been riding on the support and aid granted to it by Europe and the United States. Israel is held out as the bastion of imperialist control in the Arab region, and therefore the ready protection offered to it by Europe and the US in the face of mounting war crimes and violations of international law. But with the changing global order of right-wing populism, this too is changing. Israel's new-found friends are precisely the authoritarians listed above — Bolsonaro, Trump, Modi and Duterte. Israel sustains itself on ties of complicity — from military to trade. And the rise of right-wing governments has precisely bolstered these, at the cost of Palestinian human rights.
The previous Modi regime saw an unprecedented and brazen support for Israel — something that existed but at a lower scale and covertly until then. In July 2017, Modi became the first Prime Minister of India to visit Israel, Netanyahu visited India six months later. Under this regime trade relations between India and Israel grew remarkably, India's film industry was roped in for Israel's PR through a government to government agreement, and most crucially, India bought almost 50% of Israel's weapons exports in the period from 2013-2017. These weapons are sold by Israel as 'field-tested', for they have been used to kill and maim Palestinians- obviously the best way to sell weapons from Israel's perspective. These weapons are then used to crush political struggles in India. Along with its weapons, Israel also sells its methodology of asymmetrical violence and surveillance.
These ties are set to intensify in the second term of Modi government. Already, Netanyahu's has conveyed his best wishes to his "friend'"for his victory, joking about how he needs a coalition unlike Modi:
מזל טוב ידידי נרנדרה מודי! @narendramodi pic.twitter.com/72O2i0MtIa

— Benjamin Netanyahu (@netanyahu) May 23, 2019
Shortly before the elections in India, tensions flared between the India and Pakistan- both armed with nuclear power. Such a scenario would demand restraint, but true to its character, BJP leader and supporters went on an overdrive of warmongering. The bombs that India dropped in Balakot, Pakistan were of Israeli make. Amit Shah, the national president of the BJP valourised India's attack in Balakot in his election rallies, saying India was only after Israel and US in hitting targets in foreign soil. BJP's seduction for being like Israel is rooted in its Hindutva ideology, which is coterminous with Zionism in its supremacist zeal.
The cost of India becoming like Israel is to be paid by Palestinians, as each weapon bought from Israel entrenches their occupation; each time Indian government supports Israeli agrobusiness, which indebts and pulls our farmers into the trappings of corporate farming models, it legitimises the agents of Israel's settler colonialism; each time Bollywood ties up with Israel, or cultural and academic ties with Israel are fostered, the apartheid against Palestinians is whitewashed. Simultaneously, deepening ties with Israel, as they are bound to be under the BJP-led NDA government, take us more in the direction of being governed by a paranoid, anti-minority and warmongering state.
As we gather our strengths to mount a people's struggle against this regime, we have to do in intersectional alliances with people struggling against right wing regimes everywhere. It is not wise to be isolated in our movement when are oppressors are so united. The Palestinian Boycott, Divestment and Sanctions (BDS) movement calls upon us to end ties with Israel until it respects international law and Palestinian human rights. Our battles for democracy in the coming years will only be richer and stronger when we join the Palestinian call for BDS. Until 1992, Indians could not get a visa to travel to apartheid South Africa and Israel. However symbolic, this was a mark of abiding solidarity to Palestinians and South Africans fighting apartheid. And further, this was testimony to the unshakeable precedence of human rights over diplomatic relations. As we organise and dream anew, let's work towards this point, where justice, dignity and equality for everyone is the rallying cry.
---
Read more:
Israel's military occupation of Palestine and its ties with global south
Palestine: Freedom or a loaf of bread?
Modi-Bibi in Sabarmati: What the Media Won't Tell You about Gandhi's Views on Palestine and Israel
Saheb, Bibi aur Palestine? Bollywood Must Make it Clear if it Stands with Colonialism or with Freedom