Atamjit Singh is a renowned Punjabi playwright and director. In 2009, he won the Sahitya Akademi award for his play Tatti Tavi Da Sach. He returned the award in 2015 as a sign of protest against communal hatred and assault on writers and journalists.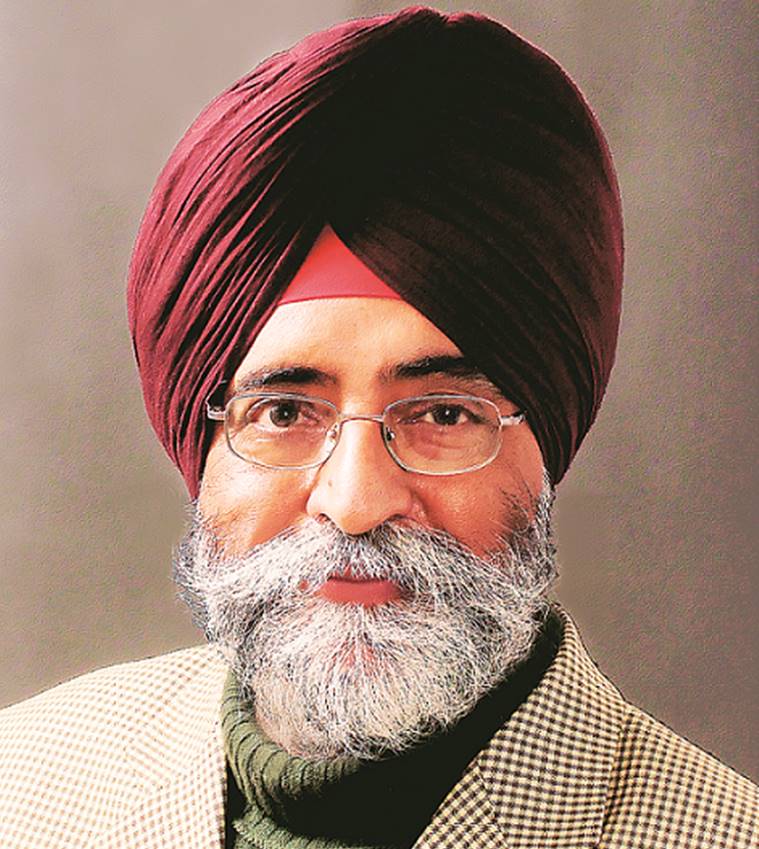 Image Courtesy:The Indian Express
In a fascist regime, power is generally centralised in or around one person, and such a rule unfailingly tries to convince us that it is in our best interest to be "taken care of". The fascist always elevates his own nation and people above others to establish a false sense of superiority. They try to establish the supposed supremacy of their race, heritage, history, or scriptures. They openly suppress opposition within the nation; any dissent or protest is met with crushing force. In a fascist regime, regressive nationalism takes centre-stage. It is a nationalism that is narrow in approach, propagating a parochial patriotism. The fascist always dictates, personally or through the party, — eventually killing the spirit of democracy. They use democracy as a rubber stamp. Unfortunately, we are becoming the victims of such a fascist regime that is trying to gather strength using a mix of new and conventional means. The Indian National Congress has also been decidedly fascist in the past. The Emergency, Operation Blue Star, and press censorship are some of the irrefutable instances of its fascist attitude. But today's situation is somewhat different. It has correctly been summed up by the well-known sculptor Anish Kapoor: 'India is being ruled by a Hindu Taliban.'
The present government and its associate organisations have mastered the art of dubbing anybody in the country 'anti-national'. When about 100 distinguished people, decided, individually, to return their national awards to protest against the cultural and communal intolerance of the establishment, they were described as part of a 'manufactured revolt', implying the influence of the Congress. But when this slander did not cut any ice, and the protest created international impact, they were labelled anti-nationals. This label is a useful weapon because it can easily be used to exploit public sentiment. Two ridiculous arguments were put forward at the time of the award return in 2015. The first was that the return of awards embarrassed the nation internationally. Actually, the movement created goodwill, in response to people of conscience raising their voices against injustice in a working democracy. The second reason presented for branding them anti-national was that by returning awards, they had insulted the State of India which had given the honour. This idea was disseminated from all possible platforms, and at the highest possible decibel level, to malign the awardees. But the fascists again failed, because the writers and artistes didn't throw away the awards. They simply returned them in a dignified manner and for a compassionate cause. They only wanted the killers of Kalburgi and those of Dabholkar and Pansare (and later Gauri Lankesh) to be arrested and punished. They were not an organised group at that time, and almost every awardee responded to his or her conscience. There was no campaign to create a group. Unlike the sympathisers and supporters of this government, none of the awardees spoke against the minorities or the majority, nor did any of them try to divide society on a religious, caste or regional basis. No author/artiste/filmmaker ever showed any sign of intolerance and none of them stooped to the level of online trolling that they had to face. This trolling was supported, if not sponsored, by the fascists.
Media is always managed by the fascists and it was done very skilfully. A number of channels began labelling the writers, film makers and painters as 'sickulars'. Gradually, the present government raised jingoism to a level where anybody speaking against the BJP Government became anti-national. The cacophony of this so-called 'anti-nationalism' paved the way for its cruel use against Muslims and Christians. If you eat beef you are anti-national. If you don't say 'Bharat Mata ki Jai', you are anti-national. The rulers openly declared that they will not pursue the Congress policy of Muslim appeasement, but the 'development of all' was practically absent. Instead, they continued trying to provoke Muslims in different ways. To keep their caste-Hindu vote bank intact, they gradually began equating Muslims with Pakistan. Thanks to their rants and contrary to reality, Muslims, anti-nationals and Pakistanis are established now as inter-changeable terms. Rabindranath Tagore had the last word on such a narrow nationalism in a 1908 letter to his friend, A M Bose: "Patriotism can't be our final spiritual shelter. I will not buy glass for the price of diamonds and I will never allow patriotism to triumph over humanity as long as I live."When Einstein equated nationalism with measles on the face of children, he was talking about a situation that is exactly equal to ours.
I believe that the so-called patriotism or nationalism of the present dispensation is just a veil on the face of fascism. It is just a veil with which they wish to fool the public and sweep the polls. It is time that we unveil them. It is time we reveal and see their real face by casting our votes wisely.
---
Read More:
"A slick and well-marketed time of tyranny"
As We Stand at the Gates of Democracy
The Invisible Threat
More than 200 Writers Appeal to Citizens
Note: This is a part in a series of articles from writers who are deeply uneasy about the future of the country. They are each an appeal to citizens – discussing what in their view, is at stake in this General Election.
Atamjit Singh is a playwright and theatre director. His plays include Panch Nad Ka Pani, Fish of the Kamloops, The Red Prophet, Main Tan Ek Sarangi Han, Rishtian Da Ki Rakhiye Naa and Tum Kab Laut Ke Ayoge. He has been awarded the Sangeet Natak Akademi and the National Sahitya Akademi. He returned the latter in protest in 2015.