Written by nine young authors and translated from Odia by Himansu S. Mohapatra and Paul St-Pierre, Basanti: Writing the New Woman is a landmark attempt at writing a new kind of novel in Odisha in the early decades of the twentieth century. The authors—Annada Shankar Ray, Baishnab Charan Das, Harihar Mahapatra, Kalindi Charan Panigrahi, Muralidhar Mahanti, Prativa Devi, Sarala Devi, Sarat Chandra Mukherjee, and Suprava Devi—belonged to the "Sabuja Age" in Odia literature, a short-lived, creative period of ten to fifteen years. Serialised in Utkala Sahitya between May 1924 and November 1926 and published as a book in 1931, with a revised version appearing in 1968, the collaborative novel traces the journey of a liberated woman who questions the socially ordained roles of women and argues for change, especially through education.
Himansu S. Mohapatra writes in the introduction to Basanti, "The novel was definitely a new undertaking. The newness existed at least at three levels. First, it was a product of a well-thought-out plan for collaborative writing. Second, it was a novel with a focus on women. Last, but not least, it was a novel of ideas."
The following is an excerpt from the book.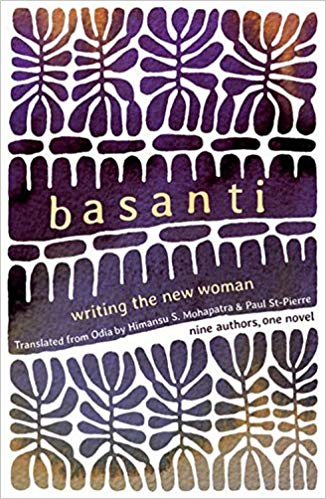 Nirmala's first meeting with Kalyani was quite the stuff that stories are made of. Balaram Babu's house was next door to where Kalyani lived. Kalyani's husband, Saroj Babu, was a man of refined taste—gardening was his favourite hobby. With his wife he had planted many kinds of flowering shrubs in the small plot in front of his house. Two or three strong and sturdy rose bushes kept the garden lively and bright with their rich yield of fresh blooms. Once, while she was taking a stroll with her husband in that small garden, Kalyani had noticed a beautiful face framed in a window of Balaram Babu's house, her eyes wistfully focused on a rose bush covered in flowers. Kalyani knew that Balaram Babu's wife was about to arrive and quickly understood that the beautiful face she had seen was hers. She wanted to go and speak to her, but Saroj Babu was experienced in the ways of the world. 'Look, don't go now,' he said. 'A married lady in a staunch Hindu family may not take it well. Let me first have a word with Balaram Babu.' Before Saroj Babu could speak to Balaram Babu, however, Kalyani was introduced to Nirmala by accident.
One hot afternoon Kalyani was standing on the veranda, tracing her fingers gently over the madhabilata plant that had wilted in the heat, when she heard a woman speaking in Balaram Babu's house. 'Go Champa, go. Get some flowers from the Babu's house. He won't say no if you ask. Especially since they're for the evening Satyanarayan puja. We're not seeking them for ourselves; it's for God that we're asking. Go right away. If you don't, it will be time for the babus to return home from the office and you won't be able to go' The speaker's voice was so melodious that kalyani let go of the creeper and started to listen. But the next moment a voice rang out. 'Which Babu's house, madam? Shall I fetch flowers from a Christian house? I'd rather die. What does it matter if we don't have flowers? Shall I get flowers from a Christian house for Satyanarayan puja?' Kalyani understood that Balaram Babu's wife was asking Champa to fetch flowers from her house, and she was curious how Balaram Babu's wife would reply to Champa's disparaging words. She pricked up her ears and heard Nirmala say, 'Shame on you, you're still caught up in such talk! You're supposed to get flowers from a gardern. What does it matter if they are from a Christian or a Muslim house? Do flowers ever get polluted? Does God give consideration to caste? Is God only our father and mother, and nothing for them? All right, don't get flowers if you don't want to, but don't talk against Christians. What would they think if they heard you?'
Kalyani was overwhelmed by what she heard. Her own people had told her that Hindu women from the rural areas were steeped in prejudice, that they shut their ears at the mention of 'Christians'. Not only were these women devoid of education, but the way they dressed and talked was also utterly in bad taste. But what she had just heard was a revelation. That kind of talk and attitude could not belong to any of these uncivilised and prejudiced village women. 'Does God give consideration to caste? Is God only our father and mother, and nothing for them?' It did not take Kalyani more than a moment to understand the generous nature of a woman who could talk like this despite having been brought up in the narrow and prejudice-ridden confines of a village. She was not unaware what villages in Utkala were like. She knew very well that the generosity that could lead someone to say that flowers meant for worship never got polluted was not to be found in even one of the learned elders of such societies. There indeed is bliss in a simple appreciation of another person's good qualities.
At Nirmala's words Kalyani felt a pleasure she never before experienced, and she instantly went over to speak to Nirmala, bringing with her a small basket of beautiful roses she herself had picked.
This conversation 20 years ago had gradually grown into an intimate friendship. Before her marriage Nirmala had carefully studied the kabyas 'Labanyabati', 'Baidehisa Bilasa', and 'Bidagdha Chintamani' under the tutelage of her maternal grandfather.1 She had thoroughly assimilated these poetic masterpieces, and Kalyani became an ardent follower of Nirmala and started to learn them during her leisure hours. For Nirmala's part, she accepted Kalyani as a teacher when she learned how qualified and generous she was. Under Kalyani's guidance Nirmala became a dedicated student of Utkala and Bangla literature and also began to learn how to sew, draw, and practice other arts. A deep bond developed between them because of their mutual regard for each other, their openness of mind, and not least because they were of the same age. In reality, Nirmala's knowledge of the world and her efficiency were in many ways the result of her friendship with Kalyani.
After that first conversation many things came to pass. Both took up the responsibilities of managing a house, saying farewell to the many amusements and pleasures of youth. Basanti and Suniti were born on the same day, and they too became friends with the passage of time. Like two malati creepers hit by a bolt of lightning, both Nirmala and Kalyani suffered the calamity of widowhood at the same time. Their ties of friendship never slackened in and through these events and disasters.
---
1. 'Labanyabati' and 'Baidehisa Bilasa' are the poetical works of the great eighteenth century Odia poet Upendra Bhanja. 'Bidagdha Chintamani' is by Abhimanyu Samanta Singhar.
Read More:
"But eventually, I did find a permanent place to rest, a home of bricks and mortar…"
Malathi Maithri: "To control my language would be the equivalent of killing myself"
"I had to wait for my lesson until the brahmin girls had finished and left."
This is an excerpt from Basanti: Writing the New Woman, a collaborative novel written by nine authors and translated from Odia by Himansu S. Mohapatra and Paul St-Pierre. First published as a book in 1931, the English translation was published in January this year by Oxford University Press. Republished here with permission from the publisher.