Written by Ajeet Cour, Weaving Water is an autobiographical account of the profound and powerful Punjabi author. The story is one of courage, hope and a sort of happiness, as she finds her eventual refuge in herself. Despite having a disciplinarian father, Cour recounts her growing up years in pre-Partition Lahore with fondness, followed by lost love, a bitter marriage, the loss of a child and more. The following are excerpts from the chapter "Part One: Walking on the Razor's Edge" of the book.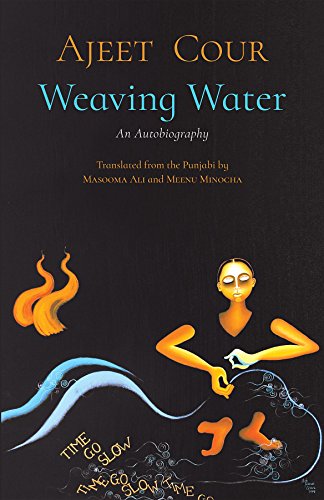 Cases of arson and rioting now started in Lahore too. All the things that we had heard from those evicted, homeless people, those tales of terror, which were just talk to us till then, and could only be imagined, all those horrible things had started happening in Lahore as well. Similar incidents were beginning to become a reality right in front of our eyes, and step by step were coming closer to us.
The whole night all of us, people from all the houses of Lahore, would either stand guard on the roads, in small groups, or would climb onto rooftops and try to guess which locality the blaze visible in the distance, was soaring from on this side, and from which on the other side.
'Shahji, that is Shahalmi from where the blaze is rising.' 'Sardar Sahib, a phone call has just come from Ravi Road that looting and pillaging is going on within the Bhaati
Darwaza. People are also being murdered.'
Just then a surge of slogans would come from the direction of Gawal Mandi, 'Nara-e-Takbeer…Allah-hu-Akbar!'
Everyone quaked with fear. We children would cower like wet chickens.
Then all of a sudden supportive slogans could be heard from the Gandhi Lane behind our house, answering calls from all directions, 'Jo Bole So Nihal, Sat Sri Akaal'…'Har Har Mahadev.'
And throughout the night, this flood of exhortations rising like a whirlwind from all sides would continue.
Daarji–Beeji would keep telling Jasbir and me to go downstairs and sleep. But on nights such as those, where does sleep just disappear, I don't know.
All night long there were blazing infernos all around. Sometimes from here, sometimes from there, suddenly flames would arise, leap towards the sky, as if they were in a conspiracy to burn the very firmament.
The sky would get burnt, all the stars would burn up like fireflies, and their charred remains would be wafted by the wind onto our roofs. This is what I imagined at that time. Then that night came, the night we saw from our rooftop, a man running frenziedly on the road, screaming, followed by a bloodthirsty crowd, ready to pounce on him and finish him off. And then, the sudden gleam of a knife in that darkness. A devastating scream. The man fell down on the ground. We could hear his shrieks of pain for some time. Then everything was quiet.
A quietness worse than a nightmarish silence. Everyone watching from their rooftops seemed to have turned into statues of ice.
Then Daarji spoke in a tone I had never heard before, 'We will leave in the morning.'
'Leave? Where to?' That was the question that hung in the silence around us.
***
Morning had to come. It came.
We saw a heap of intestines lying next to the dead man on the road, before the body was removed.
Beeji was making stuffed paranthas and placing them in a hot box.
Daarji said, 'We'll take only one trunk, just pack a couple of sets of clothes for us all. Take off your bangles and give them to Baiji. We will take only enough for the journey, these paranthas, one trunk, one earthen pot of water. And nothing else. We have to take the children out of here, that's all. People are being killed on the way for their belongings. So that's why nothing is to be taken with us. We just have to reach Shimla somehow.'
My aunt, my mother's sister, was in Shimla. She had already been informed on the phone.
So that's how we left Lahore and went to Shimla. Everyone was desperately trying to console themselves,
'This is madness. It's like a wind of insanity. It will stop within a few days. Then we will come back. Back to our homes.'
[…]
One day I was quietly reading a book when suddenly  a huge shadow fell on it. I looked up. Daarji was standing there. He was holding a Punjabi magazine in his hand. His eyes were blazing, and his cheeks were red with anger. He seemed incapable of finding the words needed to scold me. If whipping had still been practised, as was done in royal palaces in the time of kings, to teach arrogant servants a lesson by whipping them to the bone, then he wouldn't have needed to think twice.
He thrust the magazine towards me and asked, 'What is this?'
I was silent.
'What is this nonsense you have written? Considering yourself a great story-writer! What brazenness! Did we bring you into this world so that you could show us such a day? What have we done to deserve this disgrace?'
I was silent.
He was unable to decide what more to say to me and how to say it. So in a thundering voice he summoned Beeji, 'Jaswant Kaur!'
Beeji was right there, hiding behind the door.
First, both of them must have torn the story apart. Then both must have beaten their heads and lamented, God knows how much more this girl is going to trouble us. What is written in our destiny! 'Ask her, what she has written in this story, how did she know all this? And tomorrow, when everyone asks us the same question, how will we answer them? It's our image that will take a beating. Tell her this, I am warning her, if after today she ever dares to write a story, what will be the consequences! And if she wants to write, she has to first show it to me. I will read it first and then decide if it's worth being read by others or not. Now listen to me carefully. Tell her all this. Otherwise no more studies. I will lock her up in a room. This is the only punishment for such an insolent girl…' Daarji, standing one foot away from me, brandished the rolled-up magazine like a sword, ordering me through Beeji who stood in the doorway with tears in her eyes.
I wept without saying a word. Beeji glared at me as if to say, 'Heard all that?'
She said to Daarji, 'I have always said, what is the need of educating girls? We also learnt Punjabi from Gianiji at home. We are not dead because of that. We're still alive. And that Prakash, whom Bhaiyaji allowed to study up to tenth class, what comfort was she able to give? Did she become a Collector? Her husband went off with another woman…and she quietly took the poison given to her by her husband. What did she manage to do by becoming educated? She couldn't even make a statement to the police. Left a lifelong, relentless grief for those who gave birth to her. All your studies will remain completely unusable. Even an illiterate is regarded as efficient and competent if she settles into her new family. If she can't adapt herself, even the most educated ones remain sitting in their own homes. You just make her give up her studies.'
Normally Beeji rarely spoke at such length. But now it seemed she had got a good opportunity to do so. If a culprit is receiving a lashing, all the passersby pause to watch the show. This was my mother! Even though she had never taken me lovingly onto her lap, at least she had carried me in her womb for nine months. She had a right over me. With great difficulty she had got this opportunity to show a discerning wisdom. How could she let it go?
Daarji asked, 'When are the exams?'
'Next month,' I managed to say in a quaking voice. Daarji said to Beeji, 'Till her exams she will stay at home. She will not go anywhere outside at all. Kaka will take her with him for the papers and bring her back as well.'
Kaka, that is Jasbir, studied in DAV school then in the ninth or tenth class.
He was being appointed my bodyguard.
---
Read more:
"Civil society is an autonomous space from society and the state"
"Death for me would be a glorious deliverance rather than witnessing the destruction of India"
"We must talk about how we talk about rape"
These are excerpts from Weaving Water, written by Ajeet Cour and published by Speaking Tiger. Republished here with permission from the publisher.