The deepening alliance between India and Israel in the last five years of the Modi regime has seen an increase in economic, cultural and defence ties. Israel counts today's India as one of its strongest allies, and terms like "technological advancement" and "common enemy in terrorism" are often bandied about. At the core of this collaboration, though, is the ideological common ground between Hindutva and Zionism. Edited by Githa Hariharan, From India to Palestine: Essays in Solidarity details this relationship. In light of Israeli prime minister Netanyahu's recent visit to India, we are sharing again, the following excerpt from Sukumar Muralidharan's essay, "Parallel Trajectories: Zionism as Conquest, Hindutva as Exclusion" of the book, which was originally published on our site on 12 January, 2018.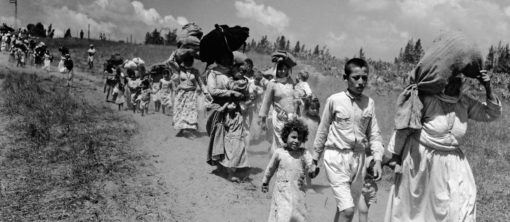 Palestinians during Al-Nakba, their mass expulsion to establish Israel | Image Courtesy: Medium
As Hindu nationalist ideology moves into its more extreme fringes, its inherent paradoxes stand out with similar starkness. Early pioneers of the ideology articulated these in the confident belief that minor doctrinal inconsistencies would be of no consequence in the mission of facing down a common enemy in Islam. As India under colonial rule lurched from the bitter aftermath of the collapse of the Khilafat agitation into an extended phase of communal estrangement, the notion of a country inhabited by two nations became widely accepted, crystallised especially in two political vehicles: the Hindu Mahasabha and the Rashtriya Swayamsevak Sangh (RSS). A text published in 1939 by M.S. Golwalkar, a year before he took over the leadership of the RSS, remains one of the most authoritative statements on Hindu nationalism, offering rich insights through its comments on contemporary world events into the ideological pantheon it drew sustenance from.
Golwalkar's statements lauding Nazi Germany for its virulent manifestation of "race pride", which led to the expulsion of the Jews despite the world recoiling in horror at the enormity of the deed, are widely cited. These offer eloquent testimony in themselves, but only tell the full story when juxtaposed with the observations on Zionism that the same text offers. Golwalkar identifies India as one among the early nations that afforded sanctuary to the Jews after their country passed into Roman tyranny. This was obviously a bond in his rather twisted historical imagination, which persisted into that moment in history when the greater dispersal of the Jews took place, with the "engines of destruction . . . under the name of Islam" being let loose in the land. Palestine, in Golwalkar's sense, suffered much like India did, losing its culture and traditions on account of the intrusions of Islam: "Palestine became Arab, a large number of Hebrews changed faith and culture and language and the Hebrew nation in Palestine died a natural death." But hope was not lost, since "the attempt at rehabilitating Palestine with its ancient population of the Jews is nothing more than an effort to reconstruct the broken edifice and revitalise the practically dead Hebrew National life."
Nationalism for Golwalkar was a compound of religion, culture and language, which he found lacking in Palestine. All three attributes, though, were on display among the Jews, who, unfortunately, lacked a territory. It was entirely appropriate then, that "in order to confer their lost Nationality upon the exiled Jews, the British with the help of the League of Nations, began to rehabilitate the old Hebrew country, Palestine, with its long lost children." "The Jews," said Golwalkar, "had maintained their race, religion, culture and language: all they wanted was their natural territory to complete their Nationality.
Golwalkar's attitude towards India's Muslims is well-known and recorded. They could either adopt the Hindu religion and all its customs, learn to glory in its heritage, or live on sufferance, "wholly subordinated… claiming nothing, deserving no privileges, far less any preferential treatment – not even citizen's rights". India did not quite take that path, though Guruji, as he is referred to in RSS circles, should be credited with a remarkably accurate forecast of how life for the Palestinians would be after the Zionist takeover of their land.
---
Read More:
Netanyahu Scheduled to Visit India Again: Gearing Up for Elections with a Dose of Zionism?
Inside The Battle of Algiers: Memoir of A Woman Freedom Fighter
Palestine: Freedom or a loaf of bread?​