Urdu poetry rules the cultural and emotional landscape of India and it was in the great, ancient city of Delhi that Urdu grew to become one of the world's most beautiful languages. During the eighteenth and nineteenth centuries, Delhi became the kingdom of Urdu poetry, producing some of the greatest, most popular poets of all time. They wrote about the pleasure and pain of love, about the splendour of God and the villainy of preachers, about the seductions of wine, and about Delhi, their beloved home.
Saif Mahmood's Beloved Delhi: A Mughal City and her Greatest Poets documents the life and work of the finest classical Urdu poets—Sauda, Dard, Mir, Ghalib, Momin, Zafar, Zauq and Daagh—and through them, paints a compelling portrait of Mughal Delhi. The following are some excerpts from the book.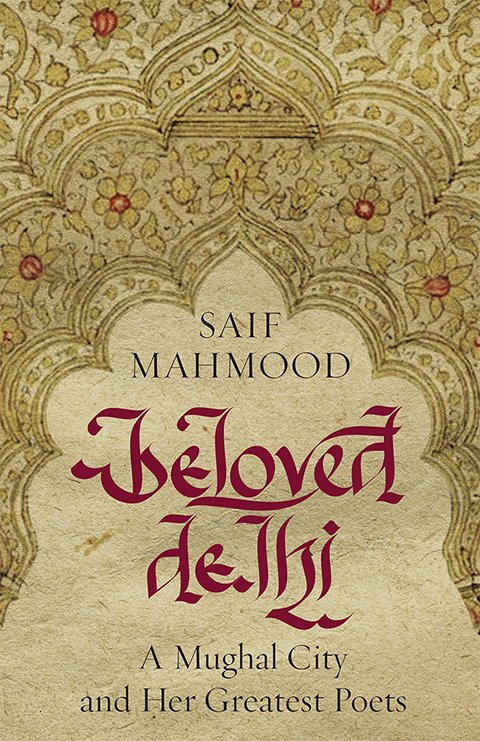 Dilli Jo Ek Shehr Tha
Tazkira Dehli-e-marhoom ka ae dost na chhed Na
suna jaayega hum se ye fasaana hargiz
(Don't talk to me of Late Lamented Delhi, my friend I
don't have the heart to hear this story.)
—Altaf Husain Hali
'Delhi gives me permission to be obnoxious'—This was the reply I got from a Pakistani friend when I asked her why she insisted on living in the city even though her Indian husband did not want to. Delhi's charms are unpredictable. The chaotic streets, the unruly traffic and polluted air, the aggressive inhabitants and their hurried life, the tolerance for the obnoxious—all of these constitute an integral part of this phenomenal city. In beauty resides horror, and vice versa.
Inextricably intertwined with Delhi's complicated present is her violent history—a history of invasions and assaults, even massacres. It has been 'late lamented' many times through the centuries, yet it lives. Each time it was razed to the ground, it came back to life with startling vivacity. Nothing dies in Delhi, the ghosts of its past lives roam the streets or bide their time in half-ruined buildings, and they rise up to speak in a thousand stories that are still told about the city.
Struggling to breathe under the angry modern façade of the megalopolis is another one, timeworn and easily missed, that teems with art, heritage and poetry. It is the Delhi of Mir and Ghalib, the Delhi of the fabled Seven Cities, all of which have risen and fallen and risen again, or been changed beyond recognition over time. Delhi's indestructible spirit has haunted writers and poets for generations; some of them have written out of love, others in awe and yet others out of bewilderment. In the eighteenth century, Mir said:
Dil-o-Dilli donon agar hain kharaab
P'a kuchh lutf is ujde ghar mein bhi hain
(My heart and my Delhi may both be in ruins There
are still some delights in this ravaged home.)
In the middle of the twentieth century, Percival Spear compared Delhi with Rome:
Delhi can point to a history as chequered and more ancient than the 'eternal' city of Rome; it was a famous capital before the days of Alexander, and it has survived all the vicissitudes of time and fortune to become one of the youngest and certainly the most magnificent of recent imperial cities. For it has undergone transformations as numerous as the incarnations of the God Vishnu; if it has frequently changed its site, its character and even its name, it has preserved through all a continuous thread of existence…Like most ancient cities it has succumbed to the magic of the number seven, but as the plain of Delhi is too flat for even the most exuberant imagination to discover seven hills on which the city can rest, historians have played with the idea of seven consecutive cities. The 'seven cities' of Delhi are in fact no more accurate description of Delhi history than the seven hills ascribed to many other places.1
And at the beginning of the new millennium, Rukmini Bhaya Nair wrote (in her essay 'City of Walls, City of Gates'):
There are many etymologies that have been offered for Delhi, but perhaps one of the most appealing is the philosopher Ramachandra Gandhi's suggestion that its name could derive from the words 'dehri' or 'dehli', both meaning 'threshold'—a permanent point of entry and departure but forever resistant to any stamp of permanence…
The city Delhi most resembles…is Athens—with its monumental, crumbling history strewn all around, its ramshackle, seething present.2
In this 'seething present', Delhi is bigger, more sprawling than it has ever been. Officially called the National Capital Territory of Delhi, it is the third largest city of India in terms of size—covering an area of approximately 1500 square kilometres—and the second largest in terms of population—home to more than 25 million people. And in the heart of this mega city, in the north east of its central district, lies Purani Dilli, Old Delhi, where the tale of its glory and ruin and haphazard regeneration is best perceived. It is this 'walled city' of narrow, crowded and cacophonous alleys—where it is impossible to walk a few paces or even stand still without touching, literally, at least ten other human beings—that this book is about. Or rather, about a few great men of verse who internalized the spirit of this remarkable patch of the Earth so deeply that they were Dilli, and Dilli was them.
And together, Purani Dilli and its iconic poets tell a 300-year-old story; the story of one of the most evocative languages ever known to humankind: Urdu.
[…]
Mirza Mohammad Rafi Sauda
Sauda's biting satire remains unparalleled. The mid-nineteenth-century Shahjahanabad, it is said, reverberated with instances of his razor-sharp wit and people would be careful not to get on his wrong side. Sauda would often use ingenious invective. Once a young poet, anxious to meet him, was brought to his house in Kabuli Darwaaza by a friend. The youngster recited some of his couplets and expressed his desire to enrol as a pupil of Sauda's. After listening to him for a while, Sauda asked him what takhallus he had chosen for himself. The young man replied, 'Ummeedvaar'. The word 'ummeed' in Urdu means 'hope' and, consequently, the word 'ummeedvaar' means 'one with hope'. However, in another connotation, the word ummeed is also used to denote pregnancy and an expectant lady could be referred to as being 'ummeed se', or 'one with hope'. On hearing the eager young man's takhallus, Sauda grinned and mumbled:
Hai faiz se kisi ke shajar unka baar-daar Iss
vaaste kya hai takhallus 'ummeedvaar'?
(His tree will bear fruit with the triumph of another, Is
this why his takhallus is 'ummeedvaar'?)
Embarrassed, the young man immediately decided to look not only for another takhallus but also for another ustaad.
Sauda was also famed for his quick-temper. Wherever he would go, a man-servant would follow him carrying pen, ink and paper. If he was unhappy with someone, he would immediately compose a satirical verse making that person the object of his anger. One of his favourite targets was a gentleman called Mir Zaahik, father of Sauda's contemporary and well-known poet Mir Hasan, who, like Sauda, had also migrated to Awadh. Once Sauda and another poet, Sikandar, were visiting Prince Mirza Sulaiman Shikoh, son of Emperor Shah Alam at the Qila-e-Moalla in Delhi when Mir Zaahik arrived. The Prince, well-aware of Sauda's dislike for Zaahik, turned to Sauda and asked if he would like to recite something for the guest. Sauda replied that he had not composed anything but Sikandar had, and then recited the following verse:
Ya rab tu meri sun le, ye kehta hai Sikandar Zaahik ke
uda deve kisi ban mein qalandar Ghar us ke tawallud
ho agar bachcha-e-bandar Galiyon mein nachaata
phirey vo Bangley ke andar Roti toh kama khaaye kisi
taur mucchandar
(O Almighty, listen to my pleas, says Sikandar
Let a magician make Zaahik lose his senses in a forest
And should then a baby monkey be born to him
He can make it dance in the streets of Bangla [Faizabad]—
At least the moustached fellow will earn his bread.)
It was a nasty, crude comment, and on hearing it, Zaahik pounced upon Sikandar. While others tried to separate the two, Sauda stood in a corner grinning.3 According to Islam and Russell, 'Sauda enjoyed all and more of the licence that is still granted to the modern political cartoonist, who may ridicule the personal appearance and habits of his target, though these have nothing to do with the point of his cartoon.'4
[…]
Khwaja Mir Dard
The mushairas that Dard organized at his family home, next to his monastery, were proof of his stature as a poet—participating poets included greats like Mir Taqi Mir. The mushairas were also proof of his refusal to subjugate poetry to any sombre or austere notion of mysticism— among those who attended the mushairas was the young poet Ghulam Hamdani Mushafi, a sensualist in life as in much of his poetry. Mushafi also tried his hand at humour:
Baal apne barhaate hain kis vaaste deewaane
Kya sheher-e-mohabbat mein hajjaam nahin hota?
(Why on earth do these crazy lovers grow their hair? Is
there no barber in the city of love?)
Dard also acted as ustaad, or teacher, to a large number of young poets, including Qayam Chandpuri, to whom this illustrious couplet is attributed:
Ahl-e-masjid ne jo kaafir mujhe samjha toh kya
Saakin-e-daiyr toh jaane hain musalmaan mujh ko
(If mosque-goers consider me an infidel, so be it
People in the temple consider me a Muslim.)
In the next century, Allama Iqbal would express the dilemma of many Indian Muslims using the same allegory:
Zaahid-e-tang nazar ne mujhe kaafir jaana
Aur kaafir ye samajhta hai ki musalmaan hoon mai'n
(The narrow-minded devout considers me an infidel
And the infidel thinks I am a Muslim.5)
Dard himself had no patience with the zealot or the puritan. In his verses, he derides the clerics who usurp Islam by forcing conformist practices down the throats of followers and outlawing those who do not fall in line with their version of Islam. In one of his most oft-quoted couplets, in an unparalleled example of courage and audacity, Dard takes on the mullah for arbitrarily judging people only by their overt conduct. Admonishing the shaikh for ridiculing his liquor-soaked clothes, he declares that his clothes are so pure that if he squeezes the liquor out of them, even angels would rush to cleanse themselves in it:
Tar-daamani pe shaikh hamaari na jaaiyo
Daaman nichod dein toh farishte wuzu karein
(Don't be deceived by my sodden clothes, O Shaikh
If I squeeze them, angels will cleanse themselves [in the wine].)
---
1. Percival Spear, Delhi, A Historical Sketch, in Narayani Gupta (ed), The Delhi Omnibus, OUP, Delhi, 2002, p.1.
2. Khushwant Singh (ed), City Improbable: Writings on Delhi, Penguin India, Delhi, 2001, pp. 266-286.
3. Ibid.
4. Ibid.
5. Some scholars have disputed the authorship of this couplet.
---
Read more:
"Love makes better city-people of us all"
The Birth of an Empress
"Hum wahan hain jahan se humko bhi kuch hamari khabar nahi aati"
This is an excerpt from Beloved Delhi: A Mughal City and Her Greatest Poets written by Saif Mahmood and published by Speaking Tiger. Republished here with permission from the publisher.