A City Happens in Love is the English translation of Ravish Kumar's Hindi bestseller Ishq Mein Shahar Hona. The book has been translated by Delhi based poet and translator Akhil Katyal and is a tribute to the modern Indian city, its capaciousness, and to the power of love. Through this collection of LaPrek or short stories on love, the celebrated journalist and writer brings alive the love, longing and heartbreak which flourish in the city's spaces. And even as lovers find the niches they need, the city itself shapes their relationships. The following are some of the stories from the book.
A World City-like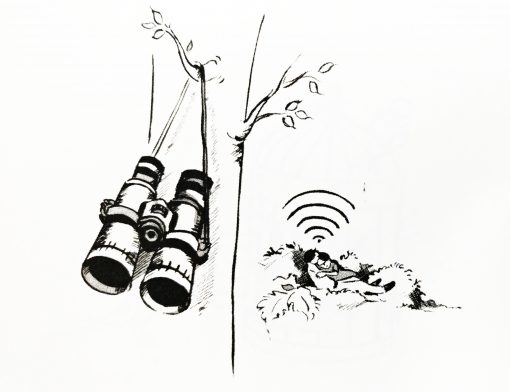 The rustling in the bushes in Nehru Park scared them both. From that clamp of leaves someone with throbbing eyes was eating them up. Only two kinds of people try to find secluded places in Delhi — those who wish to love each other and those who wish to see people loving each other. In their nervousness, they got up so quickly that there was a stir in the nearby bushes as well. The lovers thought the police had come. He remembered what she said — what kind of a city is this? Always chasing the body!
To be
To be Together
Again and Again…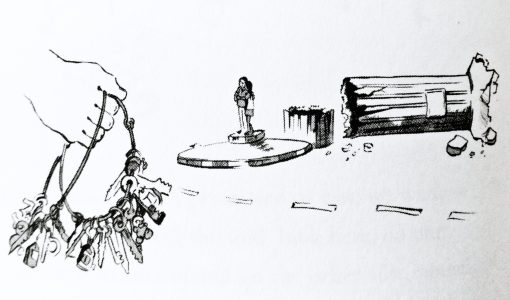 The elevated metro tracks of the Sector-18 market became their umbrella. She stood for ages behind those giant pillars. With the pretext of saving the bike from rain, they were saving each other from the eyes of the world. The parking attendant's dead stare from behind the pillar across from them broke their seclusion. Now they could hear the clamour of the metro passing above. The horns tore through into their ears. It had been difficult to find this one corner, and now these stares had turned it into a street crossing.
A Little Like Yours,
A Little Like Mine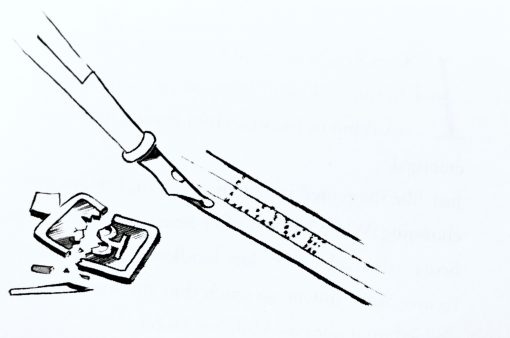 What a nice poem — Sabse khatarnaak hota hai, hamare sapnon ka mar jaana… (The most dangerous is the dying of our dreams) While drinking beer at Pebble Street in Friends Colony, she popped the question — why is Hindi poetry not popular? She started praising Vikram Seth and Chetan Bhagat to the skies. Why don't you write in English?
I know it but not that well.
Come on. You can write. If you'd written that Paash line in English, you'd have gotten the Booker by now. She wasn't really damning him or anything but he started damning himself.
Khap, Somewhere Around Us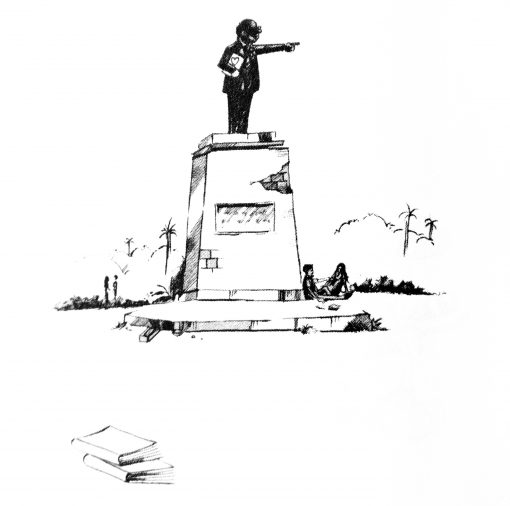 Why is this guy in the blue coat standing with that book clutched to his chest? To remain lost in such questions during their precious moments of love was her habit. That was why he remained quiet. He let his fingers lose themselves in her hair. His increasingly restless breathing began to encounter everything Ambedkar used to say about creating a world without caste — just you wait, that very book is going to bring us together forever.
These two eyes, they can see so much, no? Yes, a lot.
In Lakshmanpur Bathe too, a pair of eyes is seeing everything. For a long time now, they've been keeping count of all those who see them once but never again.
Uff, your mind, no, it's become a Facebook status.
Here's me trying to see Delhi through your eyes and you're…
Yes, and I'm busy moving aside bed-sheets, reading brand names of mattresses…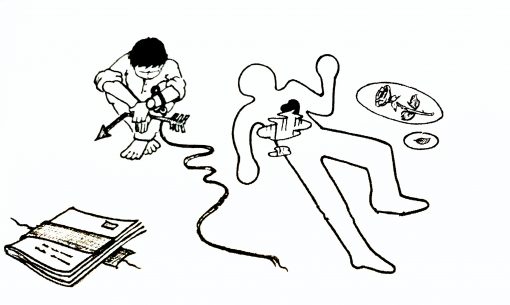 […]
The Rajkumar of Raja Garden began writing a letter. Not to his Mistress of Malviya Nagar but to the city Chief of Police — it's an appeal to his lordship that he must postpone loving in this city.
The horsemen of Raisina Hill, just to spoil the image of the lovers, have dumped Mobil Oil under every tree. The lovers, returning home late in the evening, have started being identified by the Mobil. As soon as this news hit the airwaves, a perfect storm hit the world of the lovers. The Vizier made his move and landed up in Bareilly. A statement was made from there that everyone should stick to their work.
The Mistress of Malviya Nagar had been picked up from the Big Boss set and dumped in the hospital. It had been a good day for the Chief of Police. Without a case ever being registered, the Romeos had confessed.
Not to keep going, but to break it off…
Give It All You've Got, Life!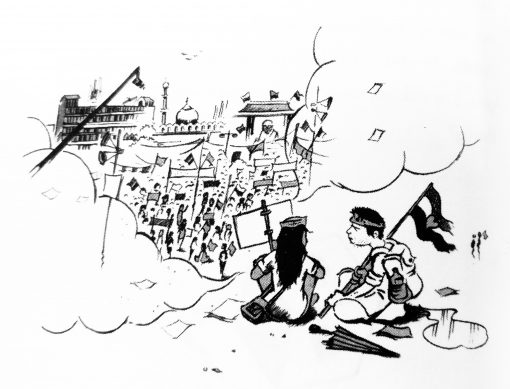 The conversation was over. To call it incomplete was only an excuse.
You know, the dust that rises after these rallies raises no fear of a storm.
You're right. As soon as this dust clears, you and I, like these flyers strewn around, will be tossed this way and that.
So where will we meet now? Will you say or should I find out…
Do that, but if it's a ground like this Ramleela, that would be great.
Why? Yaar, I like politics during our breaks.
What I mean is, are we in love or in politics?
We're nowhere.
Then?
We're in Delhi, darling. What difference does it make where we meet!
---
Ravish Kumar, acclaimed writer, journalist and social commentator, is Senior Executive Editor with NDTV India. His other books include The Free Voice: On Democracy, Culture and the Nation and Dekhte Rahiye.
Akhil Katyal is a poet and translator based in Delhi. His seond book of poems, How Many Countries Does the Indus Cross, won the Editor's Choice Award granted by The Great Indian Poetry Collective and is forthcoming with them. He is currently writing his first novel.
Vikram Nayak is a nationally and internationally awarded artist, cartoonist and well-known filmmaker.
This is an excerpt from
A City Happens in Love,
written by Ravish Kumar and translated in English by Akhil Katyal with illustrations by Vikram Nayak. The book was first published in Hindi as
Ishq Mein Shahar Hona
in 2015 by Rajkamal Prakashan and in English by Speaking Tiger in 2018. Republished here with permission from the publisher.
Illustrations©Vikram Nayak.