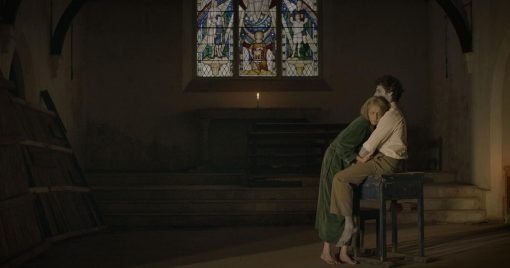 Does all art need to entertain or educate? What if a film refuses to do either?
Jonaki is one such film. It will leave you unsatiated, dissatisfied, and even confused about what exactly happened. But if you're looking to piece the plot together, then Jonaki is not a film for you.
Premised on a paradox that is part-dream-part-waking, part-oscillatory-part linear, Jonaki denies the respite of an emotional, sensory experience or even an intellectual response to the viewer.
The film is fashioned with extravagant visuals and objects that infuse nostalgia of a glorious time. It has a pace of its own and is neither leisurely like natural-time (pigeons) nor hurried like man-made time (origami birds). As the images conjure before the viewers, we become aware of the unbearable lightness of being.
While everyone in the film is shown to be ageing and undergoing change brought in by time and seasons, Jonaki, the grandmother remains static and unchanging. Her presence, complemented by an almost ghost-like eerie-silence, alludes to the inevitability of death. Perhaps this is how the young filmmaker remembered his grandmother. After all, Aditya Vikram Sengupta created Jonaki as an ode to her.
Aesthetically, however, the film is an ode to Bengali cinema. The grey-blue tinted colour palettes, records playing Rabindra Sangeet, and the tastefully designed palatial bhadralok bungalows remind one of the feudal Bengal Renaissance of the nineteenth century, recreated here as in Sengupta's first film, Labour of Love.
The window-like-frames with long shadows inclined at an angle reminds one of Kumar Shahani's cinema of the 1980s (particularly Kasba), which along with veterans like Ritwik Ghatak and Mani Kaul, could possibly be inspirations for the film's cinematic grammar. As one audience member comically, but also rightly pointed out, "Chidiya ud rahi hai toh, udti hi chali jaa rahi hai, udti hi chali jaa rahi hai (If a bird is flying, it keeps on flying and flying)".
Unlike conventional films that use sound as a way of affirming the image on screen, Jonaki uses sound to create the world anew —there are sounds of birds that precede scenes of pigeons, we hear footsteps while Jonaki lays asleep on screen. The sounds in the film thus add another layer of sophistication in the director's filmmaking.
Through the smouldering imagery of fire and water and through glances and silences unto themselves like a lovers's cocoon, actor Jim Sarbh (Jonaki's lover) and Lalitha Chhaterjee (Jonaki) communicate in a language of their own. As Argentine filmmaker Lucrecia Martel said, "One does not go to cinema to learn about the future. Cinema like falling in love is an experience. You fall in love slowly, and then all at once." Jonaki offers that experience to its audience.
Jonaki won the India Gold Silver Gateway Award at the 20th Jio MAMI film festival this year.
Watch the trailer of the film here.
---