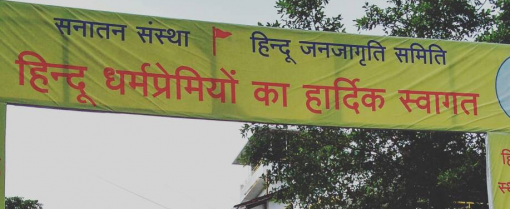 Dakshinayan Abhiyan hosted a three-day event in Margao, Goa from the 18 November. The event was joined by writers, poets, academicians, activists and artists from 11 states of the country. Representing the diversity of India, the stage was shared by all to exalt freedom of speech, oppose absolutism, and promote democracy. To mark their presence in the cultural capital of Goa and to assert their right to freedom of expression, a silent march was organised from Ravindra Bhawan to Lohia Maidan. The movement was led by Hamid Dabholkar, Megha Pansare and Lingappa Kalburgi, the families of the martyrs of free speech. The movement has been working against caste discrimination, attacks on intellectuals and rationalism. It has created a platform for various progressive movements (Leftists, women's group, peasants) to unite.
Reacting to the event, in a recent press release, the Hindu right-wing organisation, Sanathan Sanstha, which has its headquarters in Goa, has called Dakshinayan's meet anti-Hindu, according to a report in The Times of India.
Sansthan Sanstha (a right-wing Hindu group) claims to be working for the advancement of spiritual enlightenment using a scientific approach. The Sanstha organises 'Hindu-Awakening' conferences, publishes various books ranging from self-care, dangers of 'Love-Jihad' and warnings of conversions.
The Sanstha, in its pursuit of its ideology, has not shied from various unlawful activities. In 2011, two persons owing allegiance to Sanathan Sanstha, Ramesh Gadkari and Vikram Bhave were sentenced to ten years rigorous imprisonment for their involvement in Thane blast. However, they were released on bail in 2013. NIA has issued a red corner notice against Rudra Patil and Sandeep Arolkar alias Kulkarni (members of Sanstha) who were arrested in the Goa blast in 2009 but have been absconding.
The Sanstha have also been in the limelight for high-profile murders of intellectuals. Special Investigation Team has arrested Sameer Gaikwad (Sanstha member) for the murder of Govind Pansare in 2015. It is also suspected the Sanstha may have a hand in the murder of Kannada scholar M.M Kalburgi. In 2016, Virendrasinh Tawade was arrested by Central Bureau of Investigation for his involvement in the murder of Narendra Dhabolkar. Tawade was a member of Hindu Janagruti Samiti which is an off-shoot of Sanathan Sanstha. The Sanstha has been under investigation by the Special Investigation Team for its alleged involvement in the Gauri Lankesh's murder in 2017.
In 2016, Maharashtra Police's Special Investigation Team seized 20 boxes of restricted drugs from the Sanstha while probing the murder of Govind Pansare. The drugs were used to control the followers in the ashram. In a similar move, a PIL was filed in Bombay High Court to ban the Sanstha for its 'Ericksonian Hypnosis' used to make people to commit violent crimes. However, it has been refuted by rationalists like Narendra Dhabolkar.
Many have been demanding a ban on the Sanathan Sanstha terming it as a threat to security. The government of Maharashtra has listed it as a terrorist organisation. Since 2009, Goans have been demanding the ban on the Sanstha. Even a Goan BJP MLA Vishnu Wagh has demanded its ban. In a similar demand, Indian political parties such as Congress, National Congress Party (NCP), Aam Aadmi Party (AAP), Communist Party of India (CPI), and Communist Party of India-Marxist (CPI-M) have demanded its ban.
The Sanstha says any opposition to its work is to demean the Hindu culture. Acccording to the linguist Ganesh Devy, also one of the founders of Dakshinayan, the Sansthas  understanding of  'Hindu Culture' is very narrow. Sepaking to the Indian Cultural Forum, he said, "To be a Hindu, a person does not need a caste-certification from Sanathan Sanstha. The first Samelan of Dakshinayan had Rajmohan Gandhi as the chief guest. If any doubt about Gandhi, they better re-read Ishavasya Upanishad. The founder of Dakshinayan Sri Aurobindo Ghosh has done his PhD on The greatest Hindu thinkers of 20th century. These facts are not known to Sanathan Sanstha. Therefore, I don't take their view seriously."  Damodar Mauzo, who writes in Konkani, and, like Devy, is the recipient of the Sahitya Akademi award, also spoke at the event organised by Dakshinayan. Mauzo was recently given police protection after there were therats to his life, according to the police. The President of the Sahitya Akademi, Chandrasekhar Kambar, also condemned the threats to Mauzo in a recent press release. Speaking to the Indian Cultural Forum, Mauzo said that his religion (Hinduism) does not teach hatred towards others.
---