In one of the essays published in The Way I See It, Gauri Lankesh recounts how she narrated an editorial over the phone from jail. The English translation of the article by Bageshree S reads, "Conviviality in Jail", but what is more interesting is the subtitle: "Hate meets love, conversions are effected, a magazine deadline is met". Each of the clauses in the subtitle seem to highlight some of the values Lankesh stood for, values she passionately fought for: love, fight against Hindutva radicalism, especially in Karnataka, and finally her tool to fight for her beliefs – journalism.
In the article, we learn that Lankesh, along with other journalists and activists from Karnataka, had organised and participated in the Harmony Convention at Chikmagalur on 7 December, 2003.
The Bajrang Dal, in Karnataka, had organised Datta Jayanti, to reclaim the Sufi shrine of Baba Budangiri for the Hindu deity Dattatreya. The shrine is a place of worship for both Hindus and Muslims in Karnataka, but the Bajrang Dal intended to communalise the place, like the Babri Masjid in Ayodhya.
In response to Bajrang Dal's call, several organisations launched a parallel "Harmony Convention". The police apprehended the marchers and detained them in a Chikmagalur jail for two days. Reading Lankesh's account from the jail captures the carnivalesque turn of events: a few Bajrang Dal supporters too land up in the same jail, "[b]ut it looked like they were complete converts to the cause of social harmony after the two-day stay with us". She goes on to write, "All of us who spent time crammed up in one place were really perfect strangers, and yet bound by a strong sense of unity. Nothing untoward happened at any time."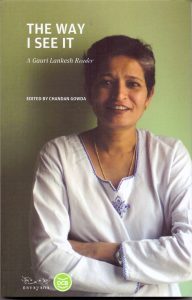 This feeling of oneness with the people and among the people is a connecting dot throughout the book. She is quite oblivious to any physical threat. Many obituaries written for Gauri Lankesh, after her brutal murder, have called her "fearless". But where does this fearlessness come from? Reading her essays, it seems that such a fearlessness comes from a shared sense of brotherhood and solidarity with the people she is surrounded by. She does not come across as a woman always parading her fearlessness, as much as the obituaries would like us to believe, but as a woman who puts her faith and trust in the people she is surrounded by. In Kannada, in an interview with the journalist M D Riti in March 2000, she tells her, "I am not afraid of physical attacks at all. I used to come home at 3 a.m. alone many nights until a fortnight ago."
Thus, when we remember Gauri Lankesh without seeing those who she is surrounded by, our act of remembering will always see her in isolation. But her writings show that she is surrounded by individuals and activists who foster an atmosphere of care. These people are at the centre of her activism and journalism.
On the occasion of the tenth anniversary of the Gauri Lankesh Patrike, for instance, she talks about the paper as if it's a toddler who has grown up. Consider her writing here:
When the weekly was reborn, my niece Esha was a seventeen-month-old baby. Now she is almost as tall as I. Dharam Singh was the Chief Minister at that time. Karnataka has seen four chief ministers since. The people of the state saw the BJP-JDS coalition, the terrible days of the BJP rule and have now brought the Siddaramaiah-led Congress government to power.
The personal is as important for her as the more public events in Karnataka's history: her niece Esha finds mention along with Siddaramaiah. But this compassion is not limited to her family. Here, she describes the people she was surrounded by in Chimagalur jail:
There were so many unforgettable events and people in those two days — a loyal Patrike reader who wept on seeing me struggle to write the column; the naughty boy who screamed 'Lara Datta ek hai' when we shouted the slogan 'Baba Datta ek hai'; the Muslim youth who quietly entered my more spacious cell at the crack of dawn to offer their prayers as I slept…
This is Gauri: her journalism in Kannada (which non-Kannadigas, like this writer, read in English translation) is compassionate, humorous, just as it is sharp political commentary.
In fact, her political commentary is often such that she can reach out to her Kannada readers in the clearest possible manner. In a more recent piece on demonetisation, published in Gauri Lankesh Parike, for instance, she cuts short her trenchant critique of fake news around the new currency notes, especially the false claim of new chip in the new notes, and, writes of arguing with passengers while taking the train to Hubballi:
Last week, when I boarded the train to Hubballi, all my fellow passengers were talking about the chip. Taken aback at their naivete, I said, "It's all a lie. There's no such chip in the note." Two middle-aged men, skeptical about me, said the news had appeared on TV. "Not everything that appears on TV is true," I said.
The narrative moves on, with her explanations, and eventually the men are convinced: "'Oh, we thought Modi was on to something big. Looks like he has just put his hands into our pockets,' one of the two men said, sighing."
The rest of of the article is a trenchant critique of demonetisation, filled with facts and figures, but the inclusion of a conversation at the beginning of the piece is probably done to grab the reader's attention. As the article goes on, she hopes to convince her readers with facts and arguments. But her readers arrive at these facts after they have just read of her successful attempt of convincing the two men whom she had met earlier on the train to Hubballi.
This characteristic of her writing is also something that Chandan Gowda, the editor of this reader, writes of in the "Introduction":
These writings show a variety of forms. Most frequently, they were logical elaborations in support of a view. Sometimes, a step by step refutation of a specious argument. On occasion, her op-eds reconstructed episodes with moral import, sometimes in a docu-fiction mode, sometimes in a folktale mode. And, an imagined conversation with someone, or an imagined letter, working as either satire or social commentary, can also be seen.
Adding on to Gowda's point, I would say that the other forms of storytelling (docu-fcition, folk tale) come out more in her writings in Kannada. Her journalism in English is a clear example of "logical elaborations". Stylistically, in fact, this is what separates her journalism in English with her journalism in Kannada. The two have different narrative strategies. This, too, is a point that the somewhat crudely nativist argument that speaks of her switch to Kannada as a ghar wapsi of sorts, misses.
As an editor, Gowda must be congratulated for including essays from people who constitute the world around her. It not only gives us a sense of her personality, but, and more importantly, it helps us see the events she writes of from another perspective. From Rahmat Tarikere's article, "A Wild Flower", translated by Bageshree S, we learn that demonetisation badly affected the financially. In K Phaniraj's essay, "Akka's Metamorphosis," we get to see a retelling of the Harmony Convention at Chikmagalur. When the Bajrang Dal openly declared that they would make Budangiri into another Ayodhya, the Bababudangiri Harmony Forum converged into the Karnataka Komu Souharda Vedika (KKSV), which was a broad front of people's organisations. Lankesh joined the KKSV. "Being a broad forum of people's organisations and willing individuals, KKSV had a flexible organisational structure. The flexibility suited Gauri, with her liberal's unease about getting shackled to any organisation," writes Phaniraj. The comment is accurate, and explains Lankesh's understanding of politics in two pithy lines.
Rajdeep Sardesai's excellent piece, "I never made it to Mangalore", too, is important, because it shows how she must have been perceived by journalists in Delhi. But, it actually tells us more. Sardesai recalls that he was invited by Lankesh to a convention of Muslim writers in Mangalore, in August 2017, but couldn't make it: "I promised her that I would confirm within a week. The week sadly, would never come." She was killed a few days later, and Sardesai explains that he came to know of her assassination as he walked into the studio filled with the news of Lankesh's death flashing on screen. He says he read the news headlines "in a state of shock" when the producer whispered, "Sir, let's go straight to the breaking news: journalist Gauri Lankesh has been shot dead." Sardesai then writes of the tragedy as if it is his own tragedy, and the tragedy of 24-hour television news journalists at large:
News journalists living in the whirl of 24-hour television where today's news is the next hour's history are inured to earthquake, flash floods, terror, disaster. Even so, when a news flash tells you that someone you know has been just shot dead, the mind freezes, the hands start to shake. We managed to finish the news show that evening amidst a rising sense of disbelief, sadness and, yes, anger.
Reading Sardesai's essay one can get better answers to why Lankesh might have left English journalism in Delhi to work for the weekly in Karnataka. All that Sardesai can do is ask a Karnataka BJP leader on the show if she had been murdered by the "right wing loonies". The piece is telling because Sardesai seems to write of his own sense of being trapped in the 24-hour news cycles, where he cannot make time to attend a writers' meet in Mangalore, and, instead, sees his friend and former colleague's face on the screen.
This is also what separates the two kinds of journalism, and the two kinds of ethos in journalism: one who is an "activist journalist" (Lankesh), and one who is a "journalist" per se (Sardesai). The former runs a weekly in Kannada with some clear agendas:
Communal harmony and peace should prevail in our land; casteism and corruption should be got rid of; democratic thinking and principled writing should shine forth; the voice of the oppressed, dalits, women should be heard: these are our aspirations.
Lankesh, and the Lankesh Patrike and Gauri Lankesh Patrike, believe that a journalist must and can take part in movements as activists. They must stand up for the values they write of in the quotation above, as both journalists and organisers.
Lankesh veered from being merely a journalist to an activist-journalist, a point K Phaniraj makes in another one of his excellent declaratives:
The year 2000 was when she was introduced to Karnataka as a journalist; by 2003, she was a journalist-activist, and, by 2015, she had become an activist-journalist.
The Reader is a testament to this journey of Gauri Lankesh. And, in this journey, she meets several people who walk alongside her. We meet her, and several others, who held hands along with her, had disagreements with her. We meet them in this book as well.
---