Ponneelan's Black Soil (Penguin Random House, 2023) was originally published in Tamil as Karisal. The book has now been translated into English by J Priyadarshini.
Black Soil is the story of Kannapan, a schoolteacher and his interactions with the local farmers who face injustices at the hands of the landowner.
It lays bare the atrocities faced by the farmers and the human cost of building a better tomorrow.
The following are excerpts from the book.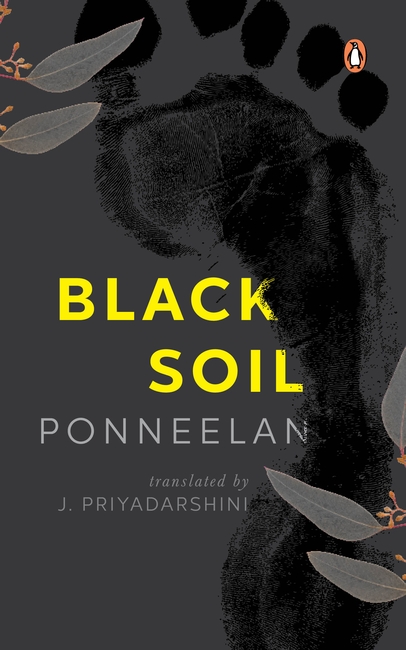 Perumalpuram had never known the scent of a city. It was situated deep inside Nellai district, to its remote north. A countryside at the edge of Ramanathapuram district, where people had to walk twelve miles to see a bus. The oldsters of the village enthusiastically shared fun stories of people arranging picnics with packed food and going in bullock carts just to see a bus. During election seasons, when the government pressurizes all its officers to show an increased number of schools and students, they make existing schools into two and open new schools in forlorn remote villages, turning the teachers into kidnappers of children. During the educational revolution of mid-day meals, when schools were converted into mere kanji-serving choultries, a school was constructed reluctantly at Perumalpuram by the village head even without the villagers noticing. Other than the school, the only other public institution in the village was the Panchayat office which sowed seeds for all internal disputes and village quarrels. The school was set inside the village and the Panchayat office was in the north street, in one of the houses that belonged to the Panchayat head, Sarkaraisamy.
Sarkaraisamy was a well-known figure in the area. He owned around four hundred acres. He could have removed all those nasty velikaruvai fence thorn bushes surrounding the fields in the poramboke land, but hadn't sensed the need so far. Cultivating the available land itself was a great deal for the villagers. Except Sarkaraisamy, all others worked for daily wages. A few of them owned small pieces of land, which ultimately failed to feed them even for four days. Just like a bald dotard grooming his scant locks of hair, they cultivated their lands. It was the landlord's fields that actually fed them. Even an ex-serviceman, who had fought in the Second World War and had lost a leg and received ten acres of land as compensation, had pledged a major part of his land to the landlord in order to educate his son.
Next to the landlord, the person who lived a slightly comfortable life in the village was Martyr Thavasilingam. The story behind his name tag was quite interesting. During the period when the whole country was actively fighting for independence, one day, Thavasilingam was riding to the market in his bullock cart. On the way, he spotted a police officer. In anxiety and fear, he fumbled and lost control of his cart. The cart slipped and he was arrested by the police with the others and was locked up in jail for 6 months. He was given 10 acres of poramboke land and a 'martyr' tag on release. People also forced him to get into politics. But he was afraid to do so and stayed away from politics. He folded his hands with respect and received the land gift, cultivated the land carefully, saved every penny and wisely lent money on interest and made himself comfortable. However, despite his comfortable life, he still worked for the landlord.
Perumalpuram Panchayat included three villages. One was Perumalpuram itself. Another was Kathalampatti, three miles away to the north, on the border of Ramanathapuram district; and the last was a small village next to Kathalampatti, called Karuvaipatti. The tough, dense velikaruvai bushes that spread like a forest in between the villages limited communication between Perumalpuram and Kathalampatti. It was said that long ago, this land was completely covered by humungous, spiky agave shrubs and that later they were destroyed and made into settlements by the British, who had come on horses and sprayed medicines to destroy the vegetation.
The Panchayat vice president belonged to Kathalampatti. But he had nothing to do with the Panchayat. No one was actually connected to the Panchayat. That was the plight of the Panchayat there. No law; no planning. No opposition; no elections. Whoever the landlord chose became a Panchayat member and the landlord himself was the eternal President. With this ritual of nominations, Panchayat rule ended there. The major election that happened once in five years was the only event that asserted the connection between the village and the government. The village munsif belonged to Kathalampatti. He could not take any interest in the matters of Perumalpuram. Ultimately, though Perumalpuram was considered as a part of the Indian Democratic Republic, it remained, like thousands of other villages similar to it, as an independent republic. This was a new experience for Kannappan.
[…]
Five members from Kathalampatti farmers' union arrived. They were simple farmers wearing vaettis and towels on their shoulders. Local farmers welcomed them cheerfully.
'Please come, all of you. How are you all?'
The guests also greeted them, their faces all smiles. Kannappan took them to the reading room. They all sat on the floor covered with sand.
'Haven't the others come yet?' one of them who was fair and lean, asked Kannappan. He was Kandasamy, the secretary of the Kathalampatti farmers' union.
'They'll come soon. We're waiting for them.' 'Has Muthayya come?'
'We have sent the cart to fetch him. It's almost time. How's your union functioning?'
'Four new members have joined. Otherwise, everything is as usual.'
'How about the villagers?'
One of them with bald head and long face answered, 'No one seems to cooperate. They are scared that forming a union and making demands will create unnecessary issues and that they may lose even that which they have. Policemen also come one or twice a week and make enquiries about the new members and generally threaten people, creating an atmosphere of fear.'
Another one with curly hair said, 'These people have been like slaves for generations. Even if we explain, they'll not understand right now. They're even arguing that without masters, the world cannot function. Look, fortunately for us, we've got at least one freshwater well in our village. And the water really tastes sweet like coconut milk. It's summer now and it has become the only source of fresh water for the whole village until next rain. So it's crowded all day and all night. But look at the injustice of it all—the hutment dwellers are not allowed to fetch water from that well. It is terrible to watch our women going around the village to reach the well and waiting with pots for the whole day. They get water only if the upper caste women give them some. Or else, we'd get nothing!
'The hutment dwellers then drilled a well for themselves. But the water was too salty. In our union, we discussed a solution to this issue. We asked the hutment dwellers to take water from the village well boldly and told them that we'd manage any consequences that might arise. But they all refused. They said they did not want to create trouble with the masters; nobody was dying without drawing water from the well, they said. Finally, we convinced a member of our union and made him fetch water from the well. It became a big issue. The villagers were furious. A village meeting was called. We did not give in. We warned them directly that anyone who dared to lay a finger on him will be finished off. But you know what? This stupid fellow got up in the village meet all of a sudden and said, "What I did was a grave mistake, Master! I will accept whatever you decide . . ." And we lost face. Who do we go and tell all this to?'
Kannappan said, 'Ayya! To bring about a change in people, we have to make them aware first. That's the most important thing. We have to become one of them and make them feel that we are all one. Only then they'll believe us. There is absolutely no question of our bringing them forward. That is wrong; it separates them from the others around them. It is like doing things for them out of pity. That is not the way. They have to join us. And stand with us through all the issues. That is the way it should be. We can't make anyone progress. They have to do it for themselves. Our behaviour must reassure them that everyone is equal. A man should be able to put his hand on your shoulder with no hesitation. That is enough. They will then progress on their own. See what will happen then. They will not give in, even if their heads are chopped off . . .'
Three carts stood in front of the reading room. They were full of people. A few of them were women. Two of them had babies in their arms.
The celebration of the foundation stone laying function turned out to be more successful than expected. A significant number of people, including women, coming from a village that was strictly scrutinized by the police most of the time, was indeed astonishing. The farmers considered it as a great success of the union.
Kovalu and Ramasamy came running.
'Muthayya has come. The cart has crossed the river.'
'Is that so? That's great! Go and inform the elders. Quick!' said Kannappan. Both of them ran outside.
Kannappan went home. Ponni was chatting with a group of women. As she was an expectant mother now, her face was emitting a golden glow.
'The guests are waiting there! What are you doing here, sitting and chatting? Get ready. Go receive the women who've come,' said Kannappan.
'Really? Have women also come?' Mariyamma exclaimed. 'Not very sure! They're wearing saris, though!' Kannappan mocked.
This is an excerpt from Ponneelan's Black Soil, Translated by J Priyadarshini and published by Penguin Random House. Republished here with permission from the publisher.