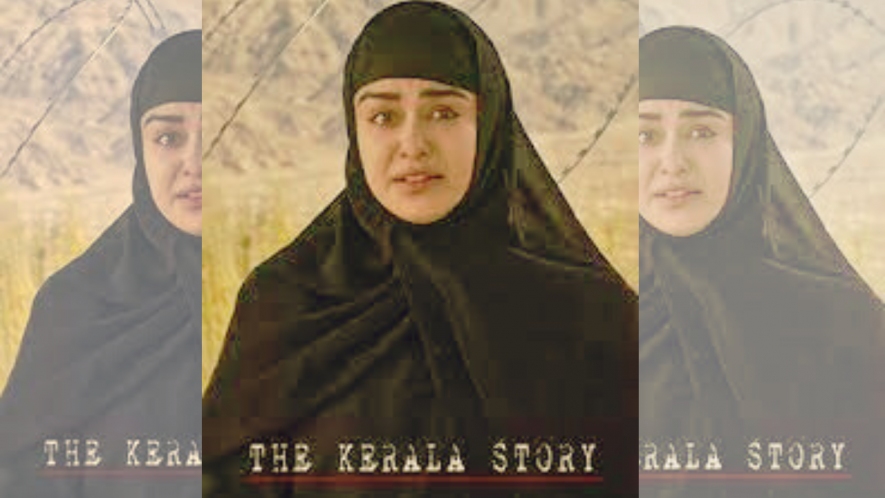 There is a lot of debate in the media about the recently released feature film 'The Kerala Story', which falsely claims that 32,000 women from Kerala were converted from Hinduism to Islam and are buried in Syria and Yemen. The 138-minute film weaponises every available shred of reality to explain why a handful of Indian Muslims joined the Islamic faith or why people embraced Islam. Kasargod and Malappuram in Kerala have been shown as dangerous recruitment places for Islamic faith. The word "Allah" appears in the ringtone of the film's main character, Asifa's phone, and it is depicted as if having a ringtone with the name of Allah is in itself a suspicious thing or a crime. The film is all about Islamophobia.
In contrast, the Safdar Hashmi Memorial Trust (SAHMAT) and Jansanskriti recently organised the screening of a film Innu Swantham Sreedharan (Yours Truly, Sreedharan), directed by Siddik Paravoor, at Jawahar Bhawan, New Delhi. Hundreds of people came to watch it. The film spreads the message of love and brotherhood. It revolves around three Hindu children who grew up in a Muslim family after their mother's untimely death. This article compares this with the misinformed The Kerala Story.
The 'Real Kerala Story'
While the debate over the fake The Kerala Story was raging, here is a beautiful feature film based on a real story from Malappuram of Zubeidaa and Abdul Aziz Haji, a Muslim couple from Kalikavu village of Neelambur in the Malappuram district of Kerala, who care for three children of their Hindu domestic help Chakki, without converting them.
Zubeidaa passed away in July 2019 due to kidney ailment, and two years later, her husband, Aziz Haji also passed away. This heart-warming tale of a family has now been brought to the silver screen by filmmaker Siddique Paravoor. Innu Swantham Sreedharan (Yours Truly, Sreedharan, is based on the youngest child, Sreedharan, and premiered on January 9 at Edapalli's Vanitha Theatre.
During an interview with the media, Paravoor shared how he first learned of this story in July 2019 when Sreedharan posted on Facebook about the unfortunate demise of his 'umma' (mother in Malayalam). The revelation sparked curiosity and doubts about how a Hindu individual could refer to his mother as 'umma.' In response, Sreedharan eloquently explained that his bond with his adoptive Muslim parents transcended religious labels. He emphasised that love and togetherness should prevail over religious divisions and that this heart-warming story of unity was the "true essence" of Kerala.
Sreedharan told the film's writer, "Umma and Uppa (mother and father) had three children, including Joshina, born a few years after we took refuge in their home. But we never felt that we are different or belong to any other religion. It is the only house that felt like it was my own house. I had also heard from elders that the umma used to breastfeed me and Jafar together."
Sreedharan's life story in his Facebook post was aimed to inform people that the story of love and togetherness is the "real story of Kerala". Such instances of communal harmony occur every day in the state.
Sreedharan once asked his Umma and Uppa why they did not convert him and his sisters to Islam. Hearing this, they became a little concerned. "She and Uppa asked me if anyone had said anything wrong to me. When I told them there was nothing like that, they explained that we should not let religion define anyone. He said that all religions preach the same thing, that is, to love and help people, and pointed out that human beings misinterpret religion or its teachings."
"Umma also taught us that it doesn't matter what one's religion is. My sisters and I used to go to the temple and apply sandalwood paste on our foreheads. It didn't matter to Umma. They just wanted us not to lie, steal or hurt others. And we also made it a point that we never do anything that would hurt her reputation," he said.
Sreedharan also knows that if Zubeidaa had not adopted him and his sisters, their lives would have been very different, especially considering their family's caste background. "We belong to the lower caste. When we were growing up, people expected us to be subservient to them. This was the culture of that time. But Uppa and Umma taught us against this and allowed us to live in a harmonious family. She told us that we should not bow down to anyone unnecessarily," he said.
Film director Siddiq remembers being taken aback when he heard Zubeidaa's heartwarming story after reaching her village. Everyone in her village, Kalikavu, knew and loved her. She spent her ancestral wealth not on herself but on helping the underprivileged community. Zubeidaa used to buy clothes and jewellery for him and his sisters. She had around 12 acres of land, which she donated to the needy people. She even took a loan to help the poor people. When she died, she was in debt of around Rs 28 lakh. Later his elder son repaid this loan.
Siddiq explains, "It was Aziz Haji himself who took the first shot of the camera. They were all happy that more and more people would now know about Zubeidaa and the philanthropist that she was. Unfortunately, Aziz Haji died a year later during the COVID-19 pandemic."
Director Siddique says, "People are inherently good. But sometimes, we need stories like these to remind us of their goodness. In this climate of hate and misinformation, Zubeidaa deserves to be remembered, and her story must be repeated."
The Fake Kerala Story
Contrary to the true spirit of Kerala, The Kerala Story perpetuates misinformation and unfounded propaganda against the Muslim community. This film has faced widespread condemnation, particularly in Kerala, for distorting facts and inflating figures to fuel anti-Muslim sentiments. Even senior advocate Harish Salve, representing the filmmaker in the ongoing Supreme Court hearing regarding the film's ban in West Bengal, acknowledged the lack of authentic data supporting the claim of 32,000 conversions. He admitted that the film was a fictionalised version of events and proposed adding a disclaimer to that effect. "There is no authentic data to back up the suggestion that the figure of conversions is 32,000 or any other established figure" & "the film represents the fictionalised version" of the issue shall be added.
The film's promotion by Prime Minister Narendra Modi and the granting of tax exemptions by the Bharatiya Janata Party (BJP)-led state governments raise concerns about the government's involvement in spreading divisive narratives. The dangerous aspect of this propaganda is that the Modi government and BJP-ruled state governments are involved in this kind of propaganda against the Muslim community.
However, Kerala is a shining example of peaceful coexistence among communities.
Several activists and media personnel have come forward to respond to the film's misinformation. YouTuber Dhruv Rathee elaborated that the picture of Kerala shown in the film is false and baseless. He explained by giving figures that even the National Investigation Agency (NIA) figures do not prove that Kerala is a prominent place of recruitment for Islam. According to the NIA, six women became part of the Islamic faith in Kerala, of which three were Muslims, and three have converted to Islam and out of these three, two were Christians and one Hindu. So, where has this alarming figure of 32,000 women joining the Muslim faith come from? This figure shows that the film is criminally against the Muslim community and Kerala, which is achieving growth in every aspect of public life.
Film actor John Abraham was asked by the media three years ago why Kerala is not 'Modi-fied'. Abraham replied that Kerala is a place where temples, mosques and churches are found at a distance of 10 meters, and people of all religions live together peacefully. Therefore, there is no hatred in the name of religion in Kerala.
Thousands of stories and anecdotes reflect the secular fabric of Kerala. No misinformation or campaign of hatred can tarnish the image of Kerala, built brick by brick by the people of Kerala through social, political and freedom struggle movements.
First published in
Newsclick
.
Disclaimer: The views expressed in this article are the writer's own, and do not necessarily represent the views of the Indian Writers' Forum.