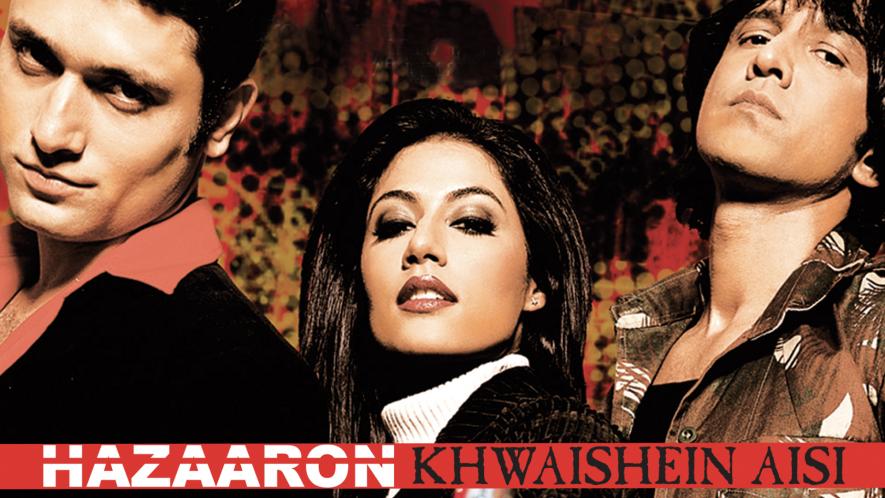 Director Sudhir Mishra's Hazaaron Khwaishein Aisi is a powerful and thought-provoking movie that explores India's turbulent political and social climate during the 1970s. The film tells the story of three young students from St Stephen's College—Siddharth (Kay Kay Menon), Geeta (Chitrangada Singh), and Vikram (Shiney Ahuja)—as they navigate their way through a period of change and upheaval, chiefly the period of Emergency. Twenty years after its release in 2003, it is not easy to guess how many took to careers in film-making because they watched this movie.
Siddharth is a passionate political activist willing to risk everything for his beliefs. Geeta is a strong and independent woman torn between her loyalty to Siddharth and her growing feelings for Vikram, a charming but selfish opportunist who uses his connections to get ahead. But what makes this film unique is its exploration of issues or themes, explicitly or implicitly, that are strongly political. Hazaaron Khwaishein Aisi addresses corruption, social inequality, human rights, and political activism—none unique to the drama in the film, but each character facing them in their own context.
What also makes Hazaaron Khwaishein Aisi political is that it challenges the status quo and advocates for political positions that may appear amorphous or obscure to us. For example, one of Hindi cinema's most memorable socio-political commentaries is in this film: A bad guy who has killed and hanged half-a-dozen people from lower castes tells his henchmen how disappointed he feels that bad guys beat up the hero in a film he watched. Neither overtly partisan nor seeking to persuade viewers to adopt a particular viewpoint, it is nuanced and complex, inviting viewers to think critically about issues and come to their conclusions.
The institutional supremacy this film commands results from the director's perspective of his work. Mishra said it is the best-crafted work of his career so far. To craft means to make carefully and skilfully, with attention to every aspect of the film-making process. It includes elements such as the script, direction, acting, cinematography, sound design, and editing. But it also encompasses the narrative structure, which can engage viewers and keep them invested in the story long after the period it is set in has passed.
Hazaaron's believable, realistic characters drive its plot forward, skilfully and confidently, driven by a director with a clear vision for its style and tone. The acting is nuanced and naturalistic, as performers fully embody their characters and bring them to life on screen. It is stunning to watch, with carefully composed shots that enhance its theme and mood, complemented by the rich sound design that immerses viewers in an enhanced emotional experience. Precisely and purposefully edited, its storyline moves with strong momentum. High craftsmanship and attention to detail, in which each element works with the other, has created a cohesive and powerful cinematic experience with few recent parallels. For instance, despite its earthy setting in Bihar, Hazaaron gets away with 90% of the dialogue in Indian English.
This film captures the political and social context of the seventies' student movement, the rise of Naxalism, the Emergency period and the State's crackdown, often aberrant and unpredictable, which tests individuals and families. Whether they disagree or agree, the audience is left awestruck by those who decide to continue struggling for their ideals come what may. The characters are all deeply flawed and complex, which is what makes them feel real and relatable.
The movie also reflects Mirza Ghalib's work, from whose composition comes the haunting title. Hazaaron speaks poignantly to the many desires and aspirations we hold in our hearts, even as we confront the realities and limitations of our lives. The poem begins, "Thousands of desires, my every desire is to die for." Ghalib suggests our multitudes of aspirations, each strong enough to feel worth sacrificing life for, and each unattainable for the same reason. Ghalib writes, "Many of my desires have been fulfilled, but they seem insufficient." Here is the human condition laid bare, us wanting and chasing after our desires have been fulfilled. The movie explores unfulfilled desires and the contradictions of human nature, encapsulated in the final line, "Ghalib, teray khwaab sey hai jangal mein bhi bahaar aayi—Ghalib, even in the wilderness, spring has arrived because of dreams of you."
The film is, ultimately, a hopeful note in a melancholic take on the reality of India—the India of lofty dreams, much achieved, and the lingering sense of loss of something vital along the way.
With talks of a sequel in the offing and the film freely available on YouTube, Hazaaron Khwaishein Aisi is a moving and thought-provoking commentary on political and social concerns. Its characters are complex and well-drawn, its performances are outstanding, and its message is relevant. It is a must-watch for anyone interested in Indian cinema or the history and politics of India, then or today.
First published in
Newsclick
.
Disclaimer: The views expressed in this article are the writer's own, and do not necessarily represent the views of the Indian Writers' Forum.