In 2015, students of the Film and Television Institute of India began a strike as a symbolic resistance against political appointees to its Governing Council. However, the strike expanded and became one of the most visible student agitations in India. The strike showed how cinema in India has historically exceeded its designated spaces and refused to be constrained by institutional pedagogy. 
John-Ghatak-Tarkovsky: Citizens, Filmmakers, Hackers (Tulika Books, 2023) tells the story of the events of 2015, including the threat to academic and creative freedoms on university campuses. The book discusses the impact of digitisation on governance, the public domain, and citizenship, and how it transformed student protest. The book also describes how filmmakers have become invisible hackers and how cinema has been redefined as low-resolution moving images.
The following are two excerpts from the book.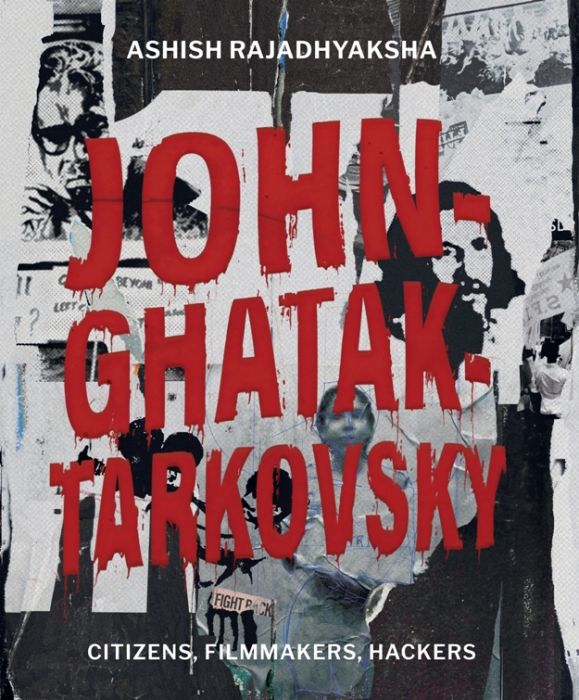 Cinema and the Campus
The 2016 'winter of discontent' started early, perhaps in late 2014 with Jadavpur University's hokkolorob agitation. Over the next sixteen months campus protests spread across India. Many began as local incidents that escalated into battles for academic autonomy.
Several went further into defending the physical autonomy of the perimeter. In almost all instances, whatever the original cause, the agitation took its essential political form the moment the police, or other self-appointed lawmakers, entered the campus – as they did at Jadavpur University on the night of 17 September 2014; at FTII on the night of 18 August 2015 and at Jawaharlal Nehru University (JNU) on 12 February 2016; and most vividly perhaps when para-military forces attacked the Jamia Millia Islamia and Aligarh Muslim University campuses on 16 December 2019.
In every instance, this was a direct attack as much on the physical space itself as on the academic freedom it stood for. Safety on the campus came to signify – and the police to directly threaten – the basic rights of life and liberty, in addition to those of free speech, unfettered thinking and equality before the law. As several historians speaking at JNU's famous Freedom Square in January 2016 asserted, it was the university that demonstrated, at that difficult moment, many of the basic associational rights of modernity, in a way the nation had apparently forgotten how to do. In October 2016, when the University Grants Commission (UGC) announced higher boundary walls, barbed wire, police presence on the campus, biometric attendance and the patrolling of student hostels, it escalated into a direct attack on citizenship itself – as would be graphically revealed in the protests against the Citizenship Amendment Act of 2019, and the arrest of several students from JNU and Jamia Millia Islamia, including the 'Pinjra Tod' activists of Delhi University, under the amended Unlawful Activities Prevention Act (UAPA).
Campus freedom in this time often came to be defined by the right to make and to show film. At the velivada created in Hyderabad Central University following the suicide of the Ambedkar Students' Association member Rohith Vemula in January 2016, this right lay alongside the right to debate, to make art, to think and to speak freely. Its privileged form was the documentary, as it mutated into numerous moving-image experiments, often livestreamed on dedicated YouTube channels enabled by the proliferation of recording devices across the campus. There were surveillance cameras and related digital security devices. There were various kinds of informal filmmaking to record what was happening – sometimes as a measure of self-defence, at other times to produce public evidence.
As the agitations took to the streets in processions and occupy movements, they also brought into India what has come to be known worldwide as the networked protest, and by a term originally coined in Argentina in December 2001 as horizontalidad or horizontalism. Seeking to overcome the traditional hierarchies of organized, leader-driven political action, the effort to create new democratic social spaces was enabled by new technologies permitting horizontal peer-to-peer circulation, authorless memes, and the rapid movement – or what the 2019 Hong Kong protesters described as 'being water' – of data, ideas and human action.
The history of student agitations in India from 2014, or when the Narendra Modi government's reign began, through to 2020, when the pandemic allowed a major crackdown on protesters, is still being written. When it is done, the FTII strike of 2015 will feature as both a central presence and a curious anomaly. It happened at a film school with a miniscule student population even by the standards of an average college, let alone a university, with no established student union, no hypervisible leadership, and, despite a long history of agitation, no real culture of political debate or dissent. The story can only be told in bold strokes as one of transition, of the state, of technology and the technologies of protest – and of the cinema.
[…]
COLLECTIVE ACTS AND LUMPEN STUDENTS
The Importance of Cinema
Inside the Glass House of Mumbai's Press Club, on the afternoon of 15 November 2015, Kundan Shah stands in a row along with other filmmakers. This presciently named addition to the venerated media venue sees metaphorical stones thrown daily at press conferences, news briefings, political and PR announcements, launches, reports, allegations and exposés, all in the service of (its motto) 'champion[ing] Objectivity. Boldness. Perspective'. 'Institutions. What are they, if not champions of a certain set of values?' its statement of purpose asks.
On this day, belying the routine of soggy wafers, samosa and tea in paper cups, there is unusual tension at the Press Club, for a rather different set of institutional values are about to be challenged.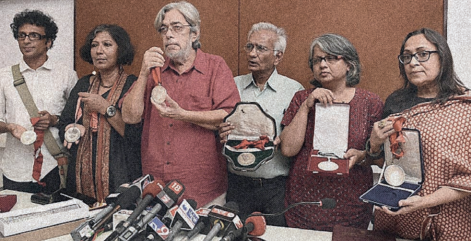 Twenty-four filmmakers, young and old, have convened to surrender awards received by them from the Indian state for cinematic excellence, protesting its response to the students' strike of 2015. Some are well-known names, while many others – editors, writers, cinematographers, composers, sound designers – aren't.
They are taking a risk here. Their actions, intended to challenge the Indian state, could have unpredictable, even dangerous consequences for their lives and futures. Some part of their complicated positions had been reported, some had been debunked and caricatured. None of this could exhaust either the questions or the complex emotions being relentlessly attached to their action of holding out their medals that day.
A booklet is circulated. Set to an animated graphic by Nalini Malani of a mutant gradually rising, standing up and mumbling before uttering the word 'freedom', it carries statements by the filmmakers who have gathered, letters and some additional texts. There are references to the killing of Govind Pansare and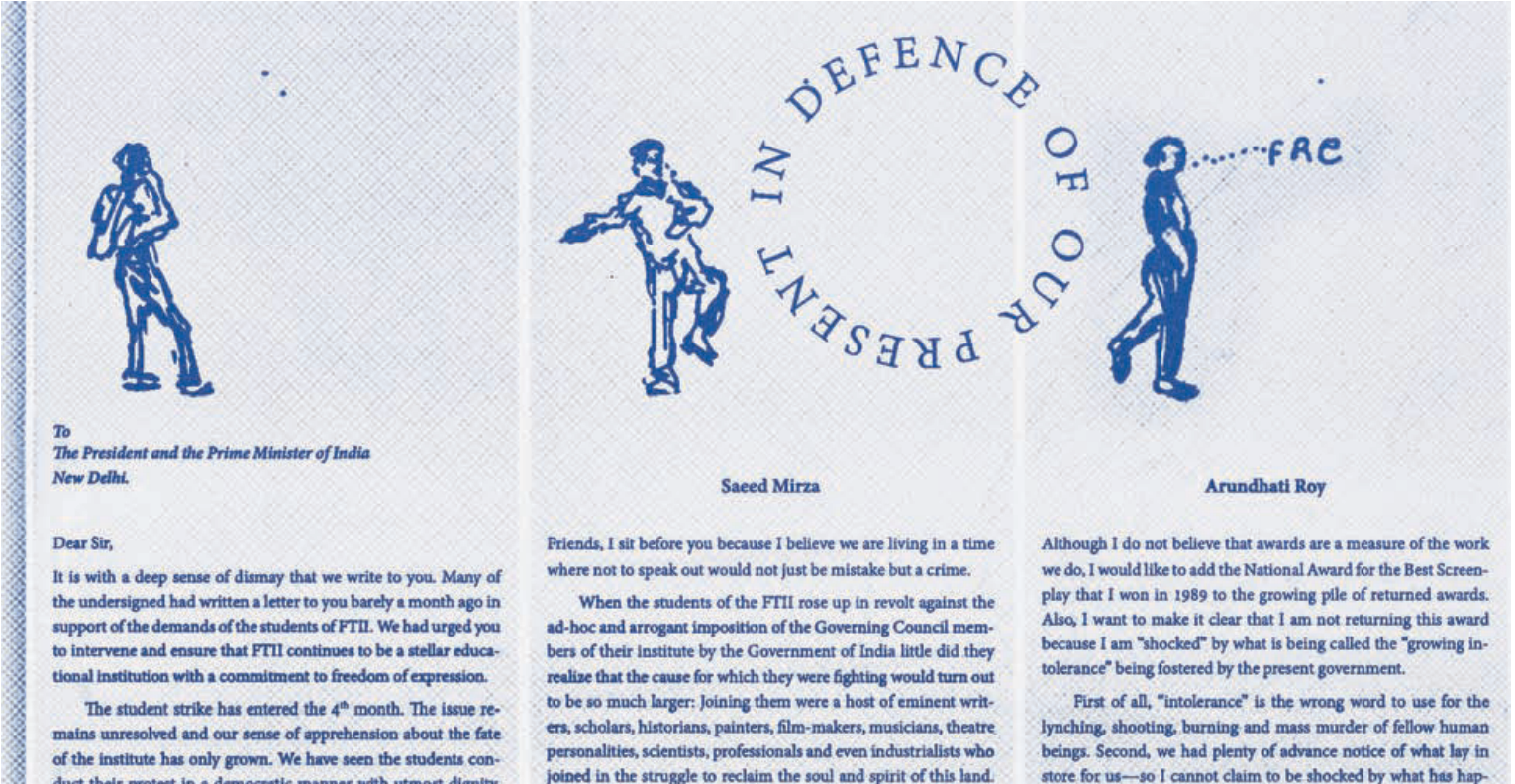 M.M Kalburgi, and to the mob lynching of Akhlaq Khan. The booklet ends with an unexpected political parallel drawn by the writer Aspi Mistry, connecting the present moment with the most magical of cinematic actions – the spring of 1968 in Paris when filmmakers in numbers similar to those gathered here had taken on the French state to defend the Cinémathèque Française, and had also thereby fired 'the first shot … across the bow of the Fifth Republic of France'.
'Are films more important than life?' asks Jean-Pierre Léaud (who plays the immature, spoiled and needy Alphonse) in Day for Night, François Truffaut's loving tribute to filmmaking. For Truffaut the answer was in the affirmative.
There is a larger point, Mistry suggests, to all this. Paresh Kamdar asserts, for example, that he is not returning his award (received for editing Nandan Kudhyadi's Rasayatra, 1994), he is sacrificing it. Most others struggle to put things in words. Some try hard to emphasize that this isn't only to do with the ruling government, or limited to the concerns of the 2015 strike. Saeed Mirza, by now the éminence grise of the movement, produces a small history lesson. He wants everyone to 'go a little further back in our country's history
…to the time when India became a Constitutional Republic'. He speaks of how the Congress party, for all its professed secularism, saw 'communal and caste riots … in state after state under its watch'. He speaks of the Naxalite movement in Chhattisgarh, Orissa, Andhra Pradesh, southern Bihar and Jharkhand 'to which the poor and marginalized had rallied because they had nowhere else to turn', the insurrections in Manipur, Nagaland and Mizoram, the farmers' agitations in western Uttar Pradesh and Rajasthan demanding subsidies and economic relief, Assam, Punjab and Kashmir, before he turns to the Bharatiya Janata Party, a 'bit player with a communal agenda' that rose to national prominence over 'the destruction of a medieval mosque saying that it was built on the ruins of a sacred temple'. To him the need is to uncover, from somewhere deep within Indic history, a lost idea of political freedom that the cinema might have tapped had it been given a chance in modern India.
Others make more personal links with history. Ajay Raina, who had won the Rajat Kamal in 2005 for his documentary Wapsi: The Returning, recalls his own nationalist commitments when he had shot 'undercover, at grave risk and almost life-threatening circumstances', his film about the Partition. To him, the award had been a recognition by the state for precisely this complex nationalism, and so returning it is 'not an easy decision to make'. Sound designer Vivek Sachidanand, returning his audiography citation for his extraordinary soundtrack in Amit Dutta's experimental Ksha Tra Gya (2005), can no longer accept compliments for his abilities from a state that actively promoted the view that 'FTII has not produced any real talent in years', or that students were 'naxals and anti-nationals': it is time to 'make my voice heard and return the awards that the same Indian government has given me as an "FTII product"'.
A part of what was said that day was understood within an established language of dissent, framed within a debate on artistic autonomy, censorship and free speech. Several statements echoed the need expressed by artists since at least the Emergency to stay at arm's length from governmental recognition – such as, among others, by Marathi author Durga Bhagwat who had been jailed during the Emergency and refused, even after the Janata Party came to power, to accept the Jnanpith award.
But then things went further. It became a deeply emotional negotiation with the regisseur–citizen. This is not, Kundan Shah too asserts, 'a protest against BJP only'. Over the years he and others had 'protested through our works': his films and even his television serials had been 'against the Congress government too'. Police Station, he reminds everyone, had been banned in 1985 with the remark 'Incendiary' by Doordarshan.
But this is different – this is personal. This 'appointment of an inappropriate person as the Chairman of FTII' is an affront. He had (with other co-signatories to the President and Prime Minister of India) watched with disappointment 'how the ruling party's leaders and supporters abused these filmmakers and belittled their gesture'. He would no longer tolerate seeing his 'fellow filmmakers mocked'. Respectfully therefore, as a 'concerned citizen of this country whose work has been recognized by the Government of India', recognizing the 'great honour' extended to him by the state, he was saying thank you/no thank you.
Shah spoke emotionally that day. The Indira Gandhi Award for Best Debut Film was still a new award when he had got it for Jaane Bhi Do Yaaron in 1983. His batchmate Ashok Ahuja had received it the previous year for Aadharshila (1982), and Sudhir Mishra would get it a few years later for Yeh Woh Manzil toh Nahin (1987). It is, he says, the 'only National award I have … and I feel very, very sad to part with it'. The problem however is this: 'There would've been no Jaane Bhi Do Yaaron if I had not studied at FTII.' This was a common refrain, but in Shah's case and with this film in particular, it came close to the truth. Many of the speeches suggested (to use a tired phrase) an idealism lost, but none pointed so clearly to what this film meant and just what was lost – the sheer 'anything-is-possible' sense of what it meant to belong, once upon a time, to the nation and then to the cinema, to make that film somehow and to see it up there, on the screen.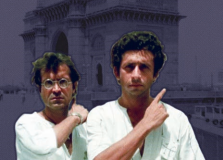 And then Shah ended his speech by performing a gesture of running his finger across his throat. This was how Jaane Bhi Do Yaaron (JBDY) had ended, when Vinod Chopra and Sudhir Mishra, his two bumbling citizen-protagonists now turned criminals, slit their throats and hung their heads marked to the tune of 'Hum honge kaamyaab' ('We shall overcome').
It was a small gesture. It was however as significant as any by an artist in the history of modern India: a tiny hand movement that, more graphically than anything else that afternoon, signalled that he – and the filmmakers gathered there – were effectively declaring that they had emotionally, perhaps intellectually, seceded from the Indian state.
This is an excerpt from Ashish Rajadhyaksha's John-Ghatak-Tarkovsky: Citizens, Filmmakers, Hackers, published by Tulika Books. Republished here with permission from the publisher.