In seventh-century Arabia, Prophet Muhammad's grandson, Imam Hussain, sacrificed his life and his family members and companions in the desert of Karbala, Iraq, to resist the debauched ruler Yazid. In twentieth-century India, when the communal conflict was at its peak, Premchand wrote a play about this pivotal event of Islamic history and transformed it into a nationalist narrative. This first-ever English translation of Premchand's outstanding play Karbala (1924) is an illuminating blend of historical facts and imagination.
The following is an excerpt from the book.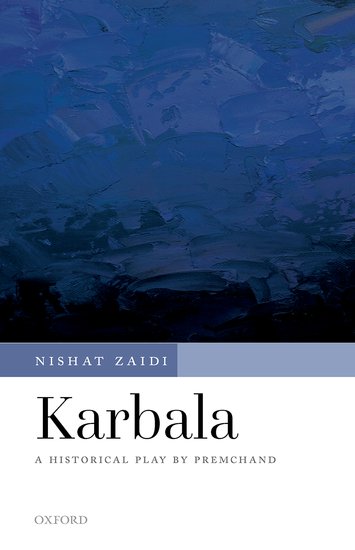 "Foreword" to the Hindi Play
by Premchand
In the history of every community, there are events that have sparked the literary imagination, and the literary community finds myriad ways to rediscover them. They are expressed in words, verses, poems, essays, folklore, and speeches. Yet, there remains scope for new writers to explore them afresh. In the history of the Hindus, the Ramayana and the Mahabharata are such stories. Among the Muslims, Karbala is placed on the same pedestal. Urdu–Persian literature is replete with writings about this crusade to the extent that, like many poets of Hindi literature who spent their lives singing paeans to Ram and Krishna, many Urdu-Persian poets committed their lives to composing only marsiya. But, as far as I can remember, there has been no play written on this subject in any language. I have dared to write a play on the subject in Hindi.
It is a matter of utter shame and regret that, despite living together with the Muslims for centuries, we are largely ignorant about their history. One of the reasons for the Hindu–Muslim discord is that we Hindus don't know about great Muslims and men of good character among them. Whenever Muslim kings are mentioned, it invariably brings Aurangzeb into the picture; but good and bad people have existed in every society and always will. There have been many large-hearted, great souls and judicious kings among the Muslims, too. There is no doubt studying about the great men of a community paves the way for cordial relations with that community.
Drama is performed as well as read. But in my opinion, you cannot draw a line between the two. Performed by good artists, every play can be entertaining and capable of conveying a message. The most important aspect of any play is its intensity; the rest is immaterial. It is inappropriate to call a play good or bad, based on the immediate interest of the audience. People throng to watch Nautanki and Dhanush-Yagya, but this can't be called an ideal attraction. I have not written this play to be staged. But if someone wishes to stage it, it can be achieved with a few edits.
This is a historical and religious play. There is little space for imagination in historical plays. The more popular a story, the lesser is the scope for the imagination. This event [Karbala] is so popular that each of its aspects and every word spoken by its characters have been written thousands of times. You cannot deviate from the narrative even an inch. I have not deviated from the historical facts anywhere. Wherever there was a need for imagination to fulfil the demands of a rasa, I have used unfamiliar and immaterial characters to do so. The reader would be surprised to see the entry of Hindu characters. It is not a product of my imagination, but a historical fact. How and when the Aryans reached there [Arabia] is disputable. Some are of the view that after the [events of the] Mahabharata, the descendants of Ashwatthama went and settled there, while others believe that the Aryans in Arabia were the progeny of the Hindus who were captured and taken there by Alexander. Whatever the case, there is historical evidence to suggest that some Hindus participated in the crusade of Karbala alongside Imam Hussain and attained martyrdom. There are few depictions of women characters in this play. Mr D. L. Rai has used his imagination to compensate for the lack of women characters in his purely historical plays. Karbala is not just historical but religious as well. Hence, it was not possible to create any woman character, as there was an apprehension that it might not go down well with our Muslim brethren.
This play is a tragedy. For a tragedy, the hero must be a brave soul who, upholding faith in the principles of justice, meets a painful end. A hero's heart-rending story, however, does not alone suffice to make a play a tragedy. We do not mourn the catastrophe that befalls him, but rather we feel elated over his moral victory. The apparent defeat of the hero is, in fact, his triumph. In tragic plays, the feelings of sorrow and delight get strangely mixed up. We shed tears watching the hero die, but those tears are not the tears of grief but elation. A tragic play is a story of self-sacrifice, not only a source of grief but also of pride. That being the case, the hero needs to be a brave soul so that we can feel pride and dignity in his unflinching love for principles and his supreme courage.
Music is necessary for a play, but not so much that it seems out of place. We sing and cry, both in times of grave difficulty and immense joy. I have arranged for singing on such occasions. It would have been awkward to see Muslim characters sing dhrupad and vihag, so I have used the ghazals of Urdu poets. In a few places, I have quoted from the marsiyas of Mir Anees. I am indebted to these supreme masters for the same. There is an extract from the great poet Sridhar Pathak, so I thank him, as well.
I would like to say something about the language of this play. It is not the language of Hindi literature. It would not have been suitable for Muslim characters to use the chaste Hindi language. Therefore, I have used the language generally used among the civilized people and is spoken and understood equally by the Hindus and Muslims.
(Translated from the Hindi)
The Karbala paradigm in India's literary imagination
The term "Karbala" refers to a seventh-century event in Islamic history. The younger grandson of Prophet Muhammad was martyred, along with his kinsmen and close friends in the desert of Karbala (Iraq) by the forces of the tyrannical and sinful caliph, Yazid bin Mu'awiya bin Abu Sufiyan. For Shia Muslims, the memorializing of the event through Muharram commemorations has resistive resonances.35 But beyond this, Karbala has appealed to the wider world and has lived on in the popular memory, both through the oral as well as written literature, whereby generations of interlocutors—reciters, poets, and writers—have, time and again, renewed the story of Karbala by recasting it in various discursive forms rooted in their contemporary contexts, lending it a new meaning and
currency.
Premchand's Karbala and the making of the modern intellectual
Premchand wrote Karbala in the backdrop of rising anti-colonial sentiments and communal discord, ostensibly to promote communal harmony. The 1920s were rife with protests against the repressive colonial regime. The Rowlatt Act Satyagraha (February 1919), the Jallianwala Bagh massacre (April 1919), Khilafat—Non-cooperation (1919–1920), Civil Disobedience (1921), Chauri-Chaura violence, and the suspension of the Non-Cooperation movement (1922)—all these had a deep impact on Premchand's mind. After listening to Gandhiji's speech on 8 February 1921, when the latter visited Gorakhpur and addressed a rally in Ghazi Mian Ka Maidan, Premchand was so moved that he resigned from government service on 16 February 1921.
The decade that followed the Khilafat and Non-cooperation movements witnessed an unprecedented surge in communal hostility. Many blasphemous books about Prophet Muhammad were published around this time, which appalled Premchand. When Acharya Chatursen Shastri published his book Islam Ka Vish Vriksha (The Poison Tree of Islam), a shocked Premchand wrote to Jainendra, "What's wrong with Chatursen that he ended up writing Islam Ka Vish Vriksha? . . . We will have to confront this communal propaganda with full force." Premchand never approved of this hate-mongering. He wrote to Nigam, "I have almost stopped writing in Urdu these days. There is no free time. But, I am writing a short piece on Shuddhi. I have strong objections to this movement. I'll send it to you in a few days. Arya Samaj followers will frown. But I'm sure you'll give it a place in Zamana." As expected, all hell broke loose when this essay was published. Shri Ram Sharma's response was published in Zamana. Emotions ran high. Premchand wrote to Nigam, "Riots continue. I had predicted it. It is proving true."
Premchand daringly aired his explosive views in an article titled "Qahtur Rijal," which was published in the February 1924 issue of Zamana. In that article, he openly praised Maulana Muhammad Ali Jauhar and Shaukat Ali Jauhar, leaders of the Khilafat Movement, whom he addressed as the "Ram-Lakhan duo." He wrote, "I insist that had there been even a single Kichlu, Muhammad Ali or Shaukat Ali among the Hindus, there wouldn't have been such a proliferation of Hindu organisations and the warming up of the Shuddhi Movement. Alas! Congress also has not objected to individual participation in these movements, though collectively it has maintained a distance."
Appalled at the escalating tension between the two communities, Premchand felt duty-bound to sensitize the Hindus to the worthy aspects of Islam and Muslims.
This is an excerpt from Karbala: A Historical Play by Premchand, Edited and Translated by Professor Nishat Zaidi published by Oxford University Press. Republished here with permission from the publisher.