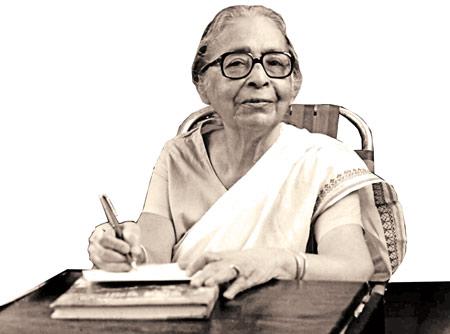 A pocket full of shiny pebbles, fading light and darkness
Of butterflies and charmed feathers, writes Leela Majumdar the authoress
In his musical tribute to the great children's writer from Bengal, Ashutosh Bhattacharjee manages to capture the soul of Leela Majumdar's impressive oeuvre. For someone whose prolific writing career spanned over eight decades, Majumdar is one of the few writers in the world who can claim the slightly pejorative epithet "children's writer" ('Shishu Sahityik' as they say in Bangla) with such grace that it no longer even obliquely hints at a supposed limitation. Rather, it becomes an ode to an almost lost skill and its boundless possibilities. Leela Majumdar wrote primarily for children—that is for the child in all of us and not merely for a specific age group. She is one of the very few writers who took the child-reader and the child-protagonist very seriously. Those of us who grew up reading, and re-reading Leela Majumdar, really considered the possibility of simply refusing to grow up, at some point or the other. We could relate to her fiction with our child-lives and child-selves on our own terms, and it felt that by dint of growing up, we were at the risk of losing privileged access to a favourite author—one whom we could truly call ours and ours alone.
But Majumdar offered succour to the adolescent and the adult as well. If anything, her writings underline the persistent redundancy of these very categories of readership and literary consumption. I distinctly remember the break of dawn after the dreadful cyclone 'Amphan' struck Bengal on May 20, 2020—the country had been under a strict COVID-19 lockdown for two months by then, so very few people were out on the streets which bore vivid sights of destruction. Uprooted trees and debris were all around. I hadn't felt so sad in a long time. There was a power cut—the supply would not be restored until the next evening—and there was a shortage of potable water too.  Nobody had been able to sleep very well anyway. The first thing I did after waking up early in the morning and before going out for a walk to survey the damage, was to read a Leela Majumdar novella: Podipishir Bormibaksho (The Burmese Chest of Aunt Podi). It was one of the Leela Majumdar classics—published with much care by the Signet Press, and that edition was literally encased in a delightful small box. It was a childhood ephemera. Both my sister and I had read and re-read it innumerable times before misplacing the book with its case and forgetting all about it. I don't know why I thought of reading Leela Majumdar that morning, but the book appeared rather mysteriously close at hand (I can't quite remember if the cyclonic gusts had toppled an untouched pile of books or two in our drawing room)—as if beckoning to me and it felt good to read it. It felt as if things were going to be alright again.
There is a hidden power in Leela Majumdar's writings—something seemingly otherworldly yet entirely familiar, and even familial. She had a deeply perceptive grasp over child-psychology, and she refused to sugar-coat the world around us. In short, she did not believe in infantilizing the child further, when writing for and about them. She wrote persistently about the child who was an outlier: the orphan child and the urchin child, the disabled child and the introverted child, the unloved and the unwanted child, and above all, the child who was easily spooked, frequently misunderstood, often truant, but had a curious mind, a kind heart, and an unbeatable smile. Majumdar's protagonists find themselves in fairy tales and ghost stories, in science fiction, and in adventures.  What is common to all of them, however, is that they exemplify an intimately humane and tender way of looking at the world, warts and all. Majumdar did not sanitize the world that she created and evoked for children. She certainly did not proselytize. She knew that the child's world was the same as the adult's world—the only difference lay in the way each viewed it, or was supposed to, at least. The greatest allies children encounter in her stories are elderly people: sometimes themselves alone and childless, ignored and broken. But they understand the children and speak with (never to) them. Sometimes they can be difficult too and have to be won over, and usually they are. The beauty in Majumdar's narratorial plots did not so much lay in their 'realism' per se but in their truthfulness—and that truth was the child's truth: neither pure nor puerile, only brave and beloved.
The other companions that child protagonists frequently find in Leela Majumdar's tales are various kinds of social misfits who sometimes have ideas bordering on the absurd but are always both deserving and capable of infinite kindness. Majumdar centred 'non-humans' in her stories long before it became mainstream, and it was certainly not just ghosts. Her characters ranged from horses who gossiped about humans during their afternoon siesta to a pet gecko-like creature of mythical proportions called 'Dhingipodo'. The 'non-humans' in her stories are hardly anthropomorphic. Rather, it is precisely in their refusal to be like humans that one discovers the imaginative prowess of Majumdar. Her idiosyncratic and unabashed usage of very colloquial but vividly descriptive Bangla as a legitimate literary language also aided her in creating this world that was so relatable yet so full of surprises.
There is something deeply autobiographical about Leela Majumdar's fantastic tales. Not in the simplistic sense of bearing a direct imprint of her own life experiences, but in the sense of being imbued with her profoundly personal approach to life: irreverent and witty, sensitive and sound. Having been academically trained in English literature, she devoted her whole life to telling stories in Bangla—save for two very brief teaching stints—whether as an author, an editor, or as a producer for the All India Radio. In her lifetime she received almost all the awards and accolades that anybody writing in Bangla could ever dream of. However, it was her own humility—a total disregard for vanity and fame—that kept her firmly rooted in the children's world: one she had painstakingly helped shape in Bangla literature for the better part of the twentieth century. There hasn't been another Bengali "children's author" of her stature or skill ever since she passed away in 2007. And perhaps there never will be.