Supreme Court Senior advocate and constitutional law expert Shyam Divan is the author, with Armin Rosencranz, of Environmental Law and Policy in India: Cases and Materials, whose third edition OUP published in August 2022. The book critically evaluates policies and Supreme Court decisions on environmental issues, ranging from coastal regulation to common property resources and urban concerns to international legal developments. The latest edition also includes an analysis of judgements since 2000 and statutory changes over the past few decades. 
Shibani Ghosh, an environmental lawyer, Advocate-on-record at the Supreme Court, and Fellow with the Initiative on Climate, Energy and Environment at the Centre for Policy Research, caught up with Divan on writing the book and what has changed between the previous edition, published a decade ago.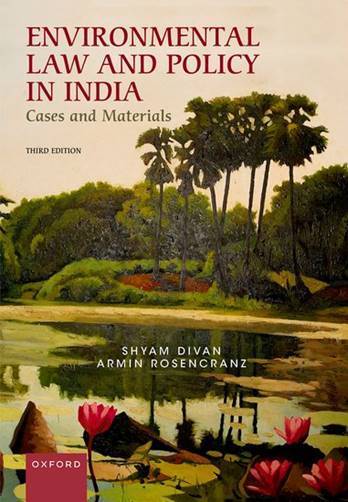 Shibani Ghosh (SG): For more than three decades, Environment Law and Policy in India, a.k.a. ELP, has been one of the foremost textbooks in Indian environmental law. The first edition was published in 1991, and the second in 2001-'02, with subsequent reprints. All of us working in this space have eagerly awaited the third edition. Tell us about the process of updating the book. How did you counter the challenges that a constantly evolving area of law poses for an author documenting the law? 
Shyam Divan (SD): The third edition was meant to come out in 2011. It was a duty we owed students and teachers, the primary users of the book. When I moved base from Mumbai in 2006 to practice before the Supreme Court, I hoped to dive headlong into the project. As it happened, the unlearning required of a practitioner adjusting to a new forum sucked up the time I planned to set apart. Most of the writing was confined to court vacations until the global pause imposed by the pandemic allowed a surge in writing. The cases and materials format of ELP was helpful for this sporadic pursuit. It enabled me to tackle every important case as a separate unit, and when all the case notes were written, I could stitch them into thematic chapters. The grim COVID-19 pandemic had a silver lining for me. 
SG: The Indian judiciary has often been characterised as a green judiciary, and the Supreme Court has been called an activist court. Judgments of the late 1980s and 1990s were definitely influential, and one could argue that the judges then went over and beyond a simple statutory interpretation exercise and into the uncharted territory of international law, foreign law and rights-based environmental claims. Do you think this characterisation is still true? Is there something unique about how Indian environmental jurisprudence has developed?
SD: The Indian judiciary has contributed immensely to protecting the environment through its interventions in public interest litigations. A number of environmental regulations and statutes can be traced to judicial directions. Several policies adopted by the government were preceded by judgments. In this respect, Indian environmental jurisprudence and, more generally, the way we regulate our environment is unique. We over-depend on our courts and, now, the National Green Tribunal. Initially, the effort of the constitutional courts was to show enforcement agencies the wide scope of their powers and to goad them into action. Unfortunately, our enforcement agencies continue to underperform despite several decades of judicial prepping. It is a pity. Moreover, environmental issues have not yet transformed into electoral or political issues. 
Our courts, by and large, allow large projects to proceed and, in such cases, do paper over obvious transgressions. So while the courts are broadly 'pro-environment', consistent with our constitutional mandate, in individual cases, the outcome is far from certain. It is fairly typical of the judicial process, where judges are required to take a call on complex and layered disputes. 
SG: Several environmental cases do raise complex and multi-disciplinary concerns and impact vocal—and silent—constituencies. In the preface to your book, you highlight the inter-disciplinary nature of environmental law. How are the Indian legal fraternity and the judiciary grappling with this inter-disciplinarity? In your opinion, is expertise from other areas (scientific, technical and socio-economic) referred to and considered adequately in court proceedings and judgments? 
SD: This is a real challenge in environmental contests. In theory, the policy-makers, both the executive and the legislature, are much better placed to balance competing claims after weighing the concerns of different constituencies. We must accept the limitations of a structured judicial process where some vital perspectives are lost due to the absence of representation. The court process allows space for hearing some of the disparate voices: 
(i) The government agency before the court is expected to project these concerns and assert that the government be allowed to take a call on matters of policy. 
(ii) The appointment of an amicus curiae may help distil some perspectives. 
(iii) And the court or tribunal may accept expert opinions through interventions by persons who are not formal parties. 
When emerging challenges caused by climate change and complex situations arrive in court, judges are likely to press government agencies to frame policy and lay down implementation measures rather than provide their own prescription. 
The National Green Tribunal comprises technically qualified personnel. They are certainly meant to have the capacity to evaluate scientific and technical material. However, the challenge for a practitioner is to simplify the case for the judge. In this process, technical details and nuance are often lost. 
SG: Public Interest Litigation or PIL—a judiciary-led innovation in Indian legal practice—has contributed significantly to our country's socio-economic and environmental rights jurisprudence. However, critics have suggested that PILs are not inclusive, and the process followed allows certain voices and interests to be privileged at the cost of others. As a practising lawyer with extensive experience in arguing environmental law cases, does such criticism ring true? Do you think there are specific reforms that need to be introduced? Or are these not systemic problems?
SD: As a theoretical construct, I would agree that the PIL platform does privilege certain voices and interests. In my view, this is not a sufficient reason to constrict PILs. Indeed, as you correctly mention, PILs have greatly expanded socio-economic rights through judicial interpretation and intervention. In most genuine environmental PILs, there is a pressing environmental issue which has remained unaddressed by the government. The PIL may be viewed as a vehicle to improve governance. Judgments do amplify the voice of the petitioner, who may otherwise not be heard by policy-makers. In my experience, PILs generally elevate the profile of a neglected issue and compel government officials to discharge their duties as trustees acting for the benefit of the public.
SG: Whenever one talks about environmental governance in India, the conversation most often veers towards the courts and their role. It is an unfortunate commentary on how much—in the public imagination—we seem to rely on non-democratic forums for policy-making, implementation and guidance. In reality, a variety of 'mundane' tasks like granting consent, inspections, citing decisions, etc., which are not the subject matter of judicial oversight, form the bulk of environmental regulation and affect environmental outcomes. What, in your opinion, are the top three reasons that we continue to slide downward on most environmental quality indices?
SD: In a country as vast as ours, reliance on an over-burdened judiciary to protect our environment makes little sense. One, we need to create strong institutions for environmental governance. We have none. Two, the National Green Tribunal requires strengthening and improvement. It has vast potential but lacks personnel in terms of numbers and falls short in the quality of its output. The NGT ought to be made fully operational at many more seats across the country. Three, our pollution-control bureaucracies have failed to deliver for nearly half a century. They are beyond repair. We require a national environmental protection agency at the constitutional level that can respond to the enormous environmental challenges the sub-continent faces.