A Most Noble Life (Orient BlackSwan, 2022) is the extraordinary story of Ashrafunnisa Begum, who was born in an obscure village in Bijnor, Uttar Pradesh, taught herself to read and write, in secret, against the wishes of her elders and prevailing norms, and went on to teach and inspire generations of young girls at the Victoria Girls' School—the first school for girls in Lahore. Her unusual life was written about with great poignancy by Muhammadi Begum—the first woman to edit a journal in Urdu, and a prolific writer of fiction and poetry for adults and children, and instructional books for women during her brief life. She aptly titled the biography Hayat-e Ashraf: it echoes the name of her subject, but also means 'the noblest life'.
The two women, who met by chance at a wedding, instantly developed a strong mutual affinity, which grew into a lifelong bond. In Ashrafunnisa Begum, Muhammadi Begum saw not only the mother she had lost as a child, but also an inspiring role model who had led a principled life of her own making, and shown amazing grace and strength against grave odds.  
This is the first complete English translation of Hayat-e Ashraf (1904). The translator, a longtime scholar of Urdu literature and culture, also provides the first detailed study of the life and works of its author, Muhammadi Begum, and highlights in an 'Afterword' two key social issues of the time, women's literacy and widow remarriage, which remain as relevant today.
An absorbing narrative, observant, witty and poignant, lovingly translated and annotated by C. M. Naim, it affords us precious and candid glimpses of ordinary Muslim women in the nineteenth century who, unknown to themselves, led less than ordinary lives.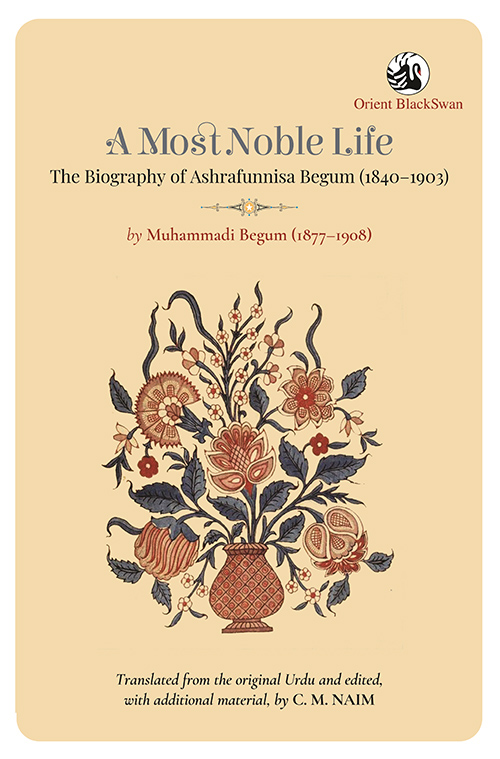 Muslim women—and indeed all South Asian women—have composed poetry for centuries. If nothing else the presence of countless lullabies and ceremonial and occasional songs sung only by women should confirm that conclusion. Urdu-speaking women had been doing the same, and since at least the eighteenth century they had also written more formal verse, particularly ghazals. All of them, of course, composed a great deal more in prose—witness the tales that countless grandmothers told their wonderstruck grandchildren. But Muslim women in South Asia, on the whole, did not take to writing formal prose prior to the twentieth century, perhaps chiefly because the prevailing custom required much use of Arabic and Persian for that purpose. There were also no means available to an average woman to share her prose writings with other women even if she composed something in Urdu that dealt with shared concerns.
The advent of the lithographic press and the subsequent appearance of women's magazines changed the situation dramatically. The new process made it possible for anyone to publish a book at very low cost, and the stimulus of appearing in their own magazines encouraged more women to take up writing with greater zeal, including writing poetry. The pages of Tahzīb-e Niswāñ provided space to many women poets. And its editor, besides all the prose she published in it, herself contributed much poetry. So much so that by 1905 she had in hand a fair number of poems; these she sent to Altaf Husain Hali, the poet closest to her concerns, requesting him to 'correct her errors.' After receiving Hali's blessings, she brought the poems out in a small collection, entitled Sachche Motī ('Genuine Pearls'). Its short preface begins with a declaration of the impulse behind its publication:
Poetry is something so engaging that both children
and adults are naturally fond of it. Our Urdu language
possesses a huge hoard of poetry. But it has one most
distressing shortcoming: it contains very few poems
that are relevant to the lives of our children, particularly
the girls, or are even suitable to be read by them.
The book did not attract many buyers, for it was not until 1925 that a second edition, prepared by her husband, was published. This expanded edition—it included all the previously uncollected poems as well as the poems Muhammadi Begum had published at the death of her brother, Mahbub—gained more popularity, and was reprinted three times in five years. It contains fifty poems, thirty-six of them on miscellaneous subjects and fourteen related to her deceased brother. They are not equally polished; some clearly show they were never revised. But one can feel in most of them her strong urge to encourage, instruct and guide young girls. Some didactic themes—serve your parents, learn the household tasks, do not covet fancy clothes and jewels—get hammered in through several poems, but there are also other interesting ones that contain much more.
One such poem is Charāgh-e Rāh ('The Lamp by the Road'); it tells the story of a kind-hearted girl who saves many lives during a stormy night by keeping a lamp lit in her street. That a young girl is shown doing something heroic is notable enough in Urdu poetry, but more remarkable is that the poem has a distinct villain, a mard-e khudā ('a Godly man') who is jealous of the girl and claims the right to light the lamp, 'since girls can never manage these things.' He then aggressively takes possession of half the oil that neighbours had brought to help the girl, and lights his own lamp. The girl shows better sense, and also humility—she promptly snuffs out the lamp she had lit. The arrogant man is delighted, until some hours later when the oil in his own lamp runs out. Now everyone is scared for their lives again. Just then the girl relights her lamp, and it burns bright through the rest of the night. Muhammadi Begum then celebrates the girl:
Bravo, kind girl, a hundred times Bravo!
You saved the periled from certain death.
A blessing you are to your neighbourhood,
And the pride of your kin and clan.
The poem, however, does not end there. Muhammadi Begum adds:
What the man did, despite being a man,
did not befit him in any manner.
He should have let the woman get due credit,
And not sought to embarrass her.
May God save us from jealousy
And enable us to do what is good.
The line, 'Bravo, kind girl, a hundred times Bravo' (wāh wāh, ai nek laRkī, marhabā sad-marhabā), was perhaps the first ever line of verse in Urdu that outright celebrated a female for something other than her physical beauty. Significantly, its choice of words would have immediately reminded contemporary readers, young and old, of the line, Wāh wāh, shābāsh, larke, wāh wāh ('Bravo, my boy, bravo, bravo') in the poem about an honest boy by Isma'il Merathi that was by then a part of every Urdu-speaking child's early reading.43 Muhammadi Begum, who had spent more time playing cricket and cards with her older brother than with her dolls, clearly wanted to place little girls on par with little boys and fill a gap she may have felt in existing Urdu literature.
---
Also read | "Fostering sisterhood through poetry, fiction and friendship"
---
Another interesting poem is 'Ek Larkī kī Ārzū' ('A Girl's Wish'), which begins with a mother asking her young daughter to tell her what she wanted, promising to buy her any dress or jewellery she longs for. The daughter thanks her, for she has already received from her all the dresses and ornaments she needs, then adds:
But if you really wish to give me something
then I shall tell you most humbly:
Please give me a room [of my own]
that has several glass-faced cabinets
filled with the most excellent books.
Not exactly what another young woman, far away in Cambridge, UK, wished for two decades later, but it is still a remarkable desire held by a girl in times when daughters of even the very rich could not hope to have a private library. The girl then goes on to list some of the books she would like to have on its shelves, beginning with a copy of the Qur'an and some books on the Hadith, along with manuals of religiously correct behaviour in daily life. Next in priority for her are: a complete set of all the issues of Tahzīb-e Niswāñ and all the books for women published by the press run by Mumtaz Ali. Then come some more specifically identified publications: the books for women written by Nazir Ahmad; Zakaullah's life of Queen Victoria, and his three books on ethics; the collected poems of Altaf Husain Hali; and the books for women written by Syed Ahmad Dihlavi. The girl then explains to her mother why she wants such a room: it will be a room where, during the breaks in her household tasks, she could spend her free time, learning about things that greatly matter to her. The latter include questions concerning housekeeping, but there are some surprising other questions too: what is the relation between God and Man; how did the world come to be, and what is happening in it; and what, in fact, are the sun and the moon?
This is an excerpt from A Most Noble Life: The Biography of Ashrafunnisa Begum (1840–1903) by Muhammadi Begum (1877–1908) Translated from the original Urdu, with additional material, by C. M. Naim, published by Orient BlackSwan 2022. Republished here with permission from the publisher.