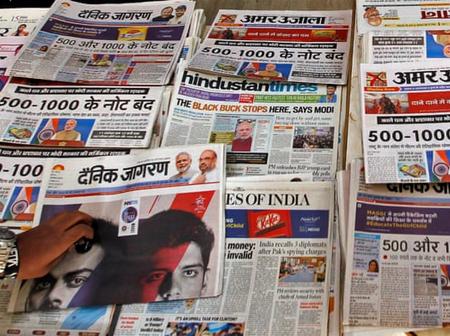 The recent Oxfam report, revealing that around 90 percent leadership positions in print, television and digital media are occupied by employees from the general category, has raised questions by the minority intellectuals. The 'Who tells our stories matters: Representation of Marginalised Caste Groups in Indian Media' report was released by Oxfam India-Newslaundry on October 14.
According to the report the persons from the Scheduled Castes, Scheduled Tribes and Other Backward Classes have been heavily under-represented in media outlets.
The study looked at 190 samples from Hindi and English newspapers and television channels to look at the representation of different communities in leadership roles and found that around 91 percent of the positions were occupied by the general category.
This was followed by 2.65 percent by the Other Backward Classes presence, and 1.59 percent Scheduled Caste presence. None from the Scheduled Tribe category held leadership positions in news channels, newspapers, and magazines.
The researchers presented the figures after analysing over 20,000 magazine and newspaper articles, 2,075 prime-time debates with 76 anchors and 3,318 panellists and 12 months of online news reports between April 2021 and March 2022.
Speaking to The Citizen about the report and the situation in the media, Meena Kotwal, founder of 'The Mooknayak', an online news channel and website focused on social justice for the Dalit minority and marginalised people, raised questions on why the mainstream and alternative media has no representation.
"I consider myself an 'alternative to an alternative media' because we had to come forward. But why did we have to stand? Because we did not get any space. And when you don't get that space or representation then you have to find alternative options," she said.
Saying that reports like Oxfam have been released before but has done nothing to change the situation, Kotwal said she had to find a space for herself.
"I too wanted to have a job and get a good income. I did not choose this stressful life where I have to think about a thousand things from finance to editorial decisions. There is no personal or family time, but because I did not get the space that is why we came here," she added.
The report found that leadership roles in Hindi newspapers had a better representation of persons from the Scheduled Caste, Scheduled Tribe and Other Backward Classes. Out of 31 positions examined, over 80 percent were occupied by those from the general category, followed by 6.45 percent of Other Backward Classes and 3.23 percent of Scheduled Caste.
Kotwal said, "people do not trust the media nowadays. At one time Television news was something people trusted. That has also gone away with time. Those who are educated and aware know that TV news cannot be trusted anymore," she said.
"We are only reading trusted news organisations or resorting to social media to get information. As there are a few trusted organisations left we have reached a difficult stage. And now that we have reached this stage, who are the people responsible for this?" she asked.
Data on 35 leadership positions from eight English newspapers showed that dominant castes have nearly 100 percent presence.
The Oxfam-Newslaundry report said that the biggest change can be seen in the representation of the Scheduled Caste category which has increased by 3.17 percent in 2022, up from zero in 2019.
In digital media, the representation of the members from Scheduled Caste and Scheduled Tribe communities increased by 11 percent and around three percent, respectively from zero, while the Other Backward Classes category has seen little increase. The general category representation in digital media is still around 77 percent, found the report.
However, many feel it is still not what it ought to be. Speaking about the report, a senior multimedia journalist from one of leading news organisations, on the condition of anonymity said, "most of the time people from minorities are hired in the name of tokenism. They would hire one or two people from Dalit community or Muslim community and applaud themselves. But what they voluntarily ignore is that their newsroom has 80 percent UC representation," the senior journalist added.
Meanwhile, the report found that around 72 percent of articles with the author's name on news websites are written by upper castes and only ten of the 972 articles featured on the cover pages of the 12 magazines that were studied are about caste-related issues.
Chief Executive Officer of Oxfam India Amitabh Behar said the report shows that the country's newsrooms are not an inclusive place for marginalised communities.
"The leaders of media organisations across all platforms continue to fail in creating an enabling environment for Dalits, Adivasis and Bahujans. The media in the country needs to uphold the constitutional principle of equality in not just its coverage but also in its hiring practices. It is critical that media organisations immediately conduct a significant overhaul of hiring practices and ensure that newsrooms across the country become more diverse and inclusive. This would be crucial for creating India without discrimination and injustice," he said.
On the other hand, there is a major gender pay disparity as well as minority discrimination in income. Oxfam India's Discrimination Report 2022, blames "societal and employers' prejudices" for women's lower wages.
The report said that other marginalised communities also suffered discrimination in the job market. These included those at the bottom of the caste system, tribespeople and members of the Muslim community.
"Discrimination in the labour market is when people with identical capabilities are treated differently because of their identity or social backgrounds," Behar said, adding "the inequality for women and other social categories is not just due to poor access to education or work experience but because of discrimination."
Researchers from Oxfam looked at government data on jobs, wages, health and access to agricultural credit among various social groups from 2004 to 2020 and used statistical models to quantify discrimination. They found that every month on average, men earned Rs. 4,000 rupees more than women, non-Muslims earned Rs. 7,000 more than Muslims and those at the bottom of the caste system and tribespeople made Rs. 5,000 less compared to others.
Sakshi (name changed on request) had to leave her low-income job at a local newspaper in Delhi when she came to know that her junior was getting paid more than her. "I have been working as a journalist for more than 4 years and I was only getting Rs. 25,000 per month, while my junior male colleague who only joined last year is getting Rs, 30,000. I knew about the gender pay gap but to see it and suffer through it is humiliating. I am now looking for jobs," she said.
Kotwal said that it is high time to include people if we want to see change in the media industry. "Include people from Dalit and Adivasi communities. Till the time you do not include people, how will one get a solution to it?" she asked.
Meanwhile, the report recommends greater sensitisation of media organisations on caste, transparent recruitment practices, implementation of equal and fair wages.