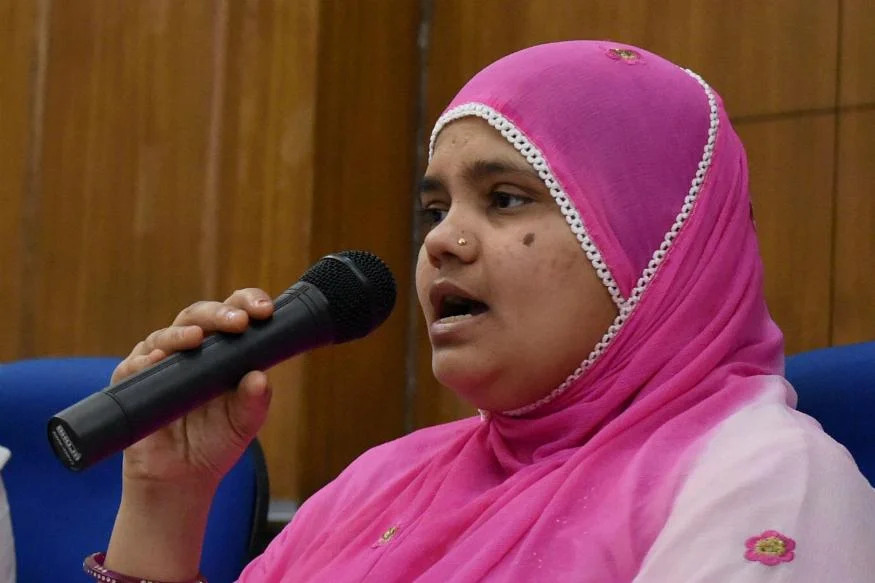 Bilkis Bano's defiant journey in search of justice is a milestone for the Muslim women's movement and Indian feminist movement. In May 2017, the Bombay High Court vindicated her 15-year struggle by upholding the conviction of 11 men charged with her gang rape and murdering her family members. The court also reversed the acquittal of five police officers and two doctors charged with suppressing and tampering with evidence. The judgment not only recognised communalised forms of sexual violence against Muslim women during the 2002 Gujarat pogrom but the complicity of the State in covering up such crimes.
Bilkis's case does not conform with the standard formula required to secure a win within the judicial system. She is from a working-class Muslim family in a small village in Gujarat. She witnessed the murder of her family and three-year-old child while pregnant during one of the worst communal episodes in Indian history. She was forced to gather herself and rebuild her life after being raped and left for dead by a crowd of men. She spent 15 days convincing the police to register her case and record the details of the men, only for a magistrate's court to dismiss it.
The fight for legal and social justice embodied in Bilkis's journey was taken up (and appropriated) in several ways by Muslim women in Gujarat. It took numerous struggles to ensure the 11 men were arrested and convicted. Women from Godhra, where Bilkis's fight began, ensured she and her husband, Yakub Rasul, could get a safe and supportive environment. Therefore, her legal victory had much broader social implications, as women in Gujarat derived strength and inspiration from her case. It was a monumental landmark within the narrative of the Indian feminist movement's long fight against sexual violence and police brutality.
Therefore, like the victory after Bilkis's win, the disappointment and hurt following the Gujarat government's remission of 11 convicts have also been theirs to share. While this remission has been challenged in the Supreme Court, it has recreated the continued exclusion of Muslim women from the "Gujarat model" of development. It has opened the wounds Muslim women have been trying to close gradually. And it has stalled their effort to move on from the trauma of 2002. The politics of communalism, based on the degradation and suppression of Muslim women, has removed their voices from the public imagination and made them invisible. It includes their responses and reactions to the attempts to reverse the few steps towards justice and remedy taken for victims of the 2002 pogrom.
With this history and perspective, recently, we spoke to several Muslim women from Gujarat to understand their relationship with the Bilkis case and the implications of the early remission for their struggles for equality and justice. These were women from Godhra, Halol, Kalol and Vadodara, who had either been victims of the Gujarat pogrom or helped with relief and rehabilitation after the violence.
Bilkis stayed in Godhra at the relief camp set up for victims of the Gujarat genocide. Lamia and her husband, Javed, provided a space in their house to pregnant women who had faced brutal violence in 2002. Bilkis was one of them. Battling ill health, the atmosphere of fear instilled by the pogrom, and increasing communalisation all over India, Lamia had to discontinue her efforts to provide girls with sewing and tuition classes in Godhra. The closure ended the means for Muslim women to come together in the town. The absence of social rights and women's organisations has helped ensure there is no space for Muslim women to congregate and organise. According to Lamia, "2002 ka darr abhi logon se nikla nahi hai—the people of Godhra have not recovered from the events of 2002."
The social geography of Godhra, comprising Godhra Jail and Asia's largest graveyard, evokes silence, a fitting metaphor for how the 2002 pogrom has altered the area. "Dabbe ka maamla," a reference to the burning of the train carrying pilgrims from Ayodhya on 27 February 2002, is an ongoing trauma for Muslims in Godhra. People here experienced different forms of police brutality in their homes. The local masjids still collect money from the community to provide sustenance for the families whose members were wrongly imprisoned for causing the 2002 arson. Locals recounted to us how, since 2014, the police have continued harassing them, entering homes to check fridges for cow meat and arresting people at random.
Amina Shaikh, a local councillor in Godhra, who knew and had visited Bilkis as a friend in 2002, was among the nine women arrested and brutalised by the police in a case of cow slaughter in 2011. Gujarat Police, facing resistance to Rafiq Hussain's arrest for cow slaughter charges, had forced its way into many homes and sexually abused and assaulted several women. The wrongful imprisonment changed Amina, who felt her experience of facing violence had to catalyse change in Godhra. She faced opposition when she decided to stand for elections as a councillor. "Humein bola ki election ladne mat do isse, ye ganda kaam hai—People said I should not stand for elections, it immoral work." But Amina persisted and ultimately won with a considerable margin of votes.
Now, Amina focuses on issues of the community. During the panic of implementing the CAA, NRC and NPR, designed to deprive the marginalised of citizenship, Amina and her husband helped people procure their government-issued documents. She described the difficulties Muslim youth face in accessing education in Godhra and her resolve to rectify the situation. She said girls are discouraged from finishing their schooling, while many boys cannot transition from government to private schools after the eighth grade. Moreover, parents are hesitant to send children to the one diverse community college in Godhra, deepening social and economic divides between communities.
The state repression of activists who worked tirelessly after the Gujarat pogrom has profoundly impacted the Godhra community. Lamia and Amina were disturbed by the arrest of Teesta Setalvad, who had organised a rally against the arrest of nine women in 2011. "Hum toh roye the news sunke—We cried when we heard the news of Teesta Setalvad's arrest", said Amina's husband.
Sumaira Aziz, who lives in a resettlement colony in Kalol, is also a councillor and works closely with Muslim women in her area. Having lost 22 members of her family in the Gujarat pogrom and subjected to sexual assault while working at the relief camp, Sumaira emphasises the need for Muslim women to be educated and economically independent. "Mera toh yahi kehna hai ki kal mere jaise ho gaye, toh kya karoge? Kitna shoshan sahoge?—I ask the girls in my area what they will do if they end up in my situation—how much injustice will they suffer?") Her influence within the neighbourhood, where people come to her with their problems, and her consistent work to ensure Muslim girls continue their education at the local school, are part of her learnings while working for the survivors of Gujarat 2002.
The resettlement colony in Halol we visited had the air of an abandoned and forgotten place. The Muslim women complained about their financial situation, expressed concerns about running their households and the daily struggle for survival, and highlighted the precarity of their lives. Their stories confirm the pattern of resettlement colonies built by Islamic charitable organisations and NGOs without government assistance after the pogrom. They are typically located far from cities or places with economic and educational opportunities. These colonies stand at the periphery of the Gujarat model of development as concrete examples of how the model of 'growth' has left Muslim women behind.
Whenever our conversation turned to Bilkis, we found some women were familiar with her case; others were not. Several were hesitant to revisit their memories of 2002. "Aaj ye Bilkis ke saath hua hai, kal koi aur hoyega—Today this [remission of convicts] has happened with Bilkis. Tomorrow, it can be some other woman," was the sentiment Sana, a local activist, echoed. Other women spoke about the villages they left behind to come to the colony in Halol and how they never returned to their villages. The refrain we heard was '2002 ko phirse yaad nahi karna humein—We don't want to recall 2002 again."
The outrage against State impunity, continued sexual violence against women and oppression of Muslims was acutely felt while talking to survivors in Baroda. Shakeela, who saw her house burned down in 2002, expressed anger towards the remission of the convicts. "Jo aisa apraadh karta hai usko sazaa toh milni chahiye. Humne bhi apna ghar jalte hue dekha tha. Hum itna ghut-ghut ke rehte hai ki ab kuch bhi bardaasht nahi hota—Those who commit such crimes should be punished. We saw our house burnt and have been living in fear and suffocation ever since. Now we can't tolerate such incidents."
The fight against sexual violence that Bilkis took up—which the Gujarat government defeated and undermined—has resonated deeply among Muslim women who were stakeholders and participants in her struggle. The message from the Gujarat model and naari samman—respect for women narrative has excluded Muslim women. Indeed, the narrative is being amplified at their cost. The State's attempt to polarise society is the reason why the voices of Muslim women are suppressed. After the Godhra violence, Muslim women in Gujarat started to think and act collectively in their interests against communal violence and the socio-economic backwardness of their community. The communal agenda and steps of the government have prevented this budding movement from taking root fully and growing.
The backlash against Muslim women and their struggles has been in the form of an Islamophobic ideology that has enabled the popularity of Sulli-Bulli apps (where Muslim women can be auctioned and objectified) and the celebration of the 11 convicts granted remission. Women in Gujarat remember Bilkis and her fight in different ways. Some have chosen to focus on their more immediate concerns, while others have moved on from the pain and do not wish to revisit it. However, the invisibilisation of their diverse voices has been due to the fear instilled within the community. When their voices and perspectives are stopped from reaching the mainstream, it denies Muslim women their constitutional and social rights and prevents them from pushing forward struggles for justice.
First published in
Newsclick
.
Disclaimer: The views expressed in this article are the writer's own, and do not necessarily represent the views of the Indian Writers' Forum.