In V J James' Nireeswaran, translated by Ministhy S, Three atheists, Antony, Sahir, and Bhaskaran, embark on an elaborate prank to establish that God is nothing but a superstition. They install a mutilated idol of Nireeswaran, literally anti-god, to show people how hollow their religion is. Their plan starts turning awry when miracles start being attributed to Nireeswaran-a man waking up from coma after twenty-four years, a jobless man ineligible for government employment getting a contract, a prostitute turning into a saint-leading hordes to turn up to worship the fake deity.
The following is an excerpt from the book.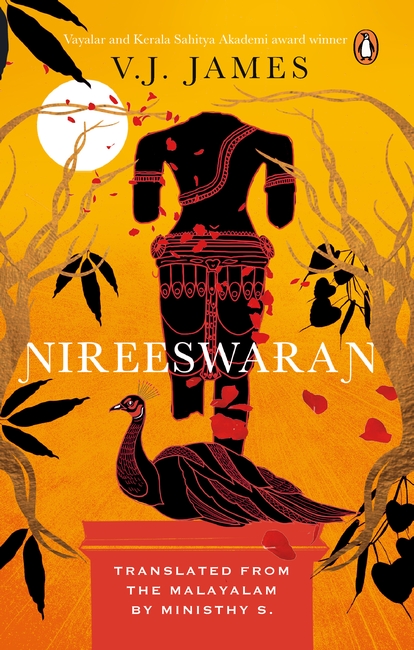 Bhaskaran was now being tasked to create an iconoclastic statue. More than the spirit of selfless effort, the commitment owed to history was the point here. The artistic voice whispered from within that something would evolve from nothingness. Twisting some clay in his hand, Bhaskaran assumed a meditative pose. Nireeswaran was immanent in that bleak obscurity, untouched by time or its passage. If so, what was that shape? How was Nireeswaran going to take shape from the imagination of an ordinary human called Bhaskaran? Nothing occurred to him for some time.
Any alert artist would recognize that the ensuing moments were crucial. No one could predict which particular figure would take shape or which specific word would take life. When bestowed with bountiful grace, the artist assumes the role of a mere chisel, a paintbrush or a pen. Through him, a sculpture, a painting or a manuscript emerges.
When Bhaskaran stood fidgeting with the clay, his fingers, unbeknown to him, started working. Every twisting and swirling turned into a seeking. As the fingers searched for forms in the clay, something stilled them. It was a human shape—as is likely to crop up in any person's fantasy—which came up from the clay.
Sahir voiced his disappointment. 'I have heard that if a man imagines god, it will be in human shape, and if an animal imagines the same, it will be in animal form! But I never thought that if a man imagines an anti-god, it will still turn out to be human!'
'What can I do about it? It turned out this way. If you want, I can try once more.'
But Antony had a different perspective. 'God exists in human beings—that is the way the argument goes, right? If so, the same is true with Nireeswaran. We should make an anti-god from this human shape. The first distinction between man and Nireeswaran should be that he shouldn't have a head. Let us chop it off now. With that, he will lose both his thinking power and intelligence. Isn't that the first quality a Nireeswaran should have?'
Since the words were sharp as a chisel's edge, no one murmured in dissent. Inspired by the cutting acuity of the words, Bhaskaran slashed the head off. It resembled a beheaded corpse.
'Now let us hack away at the arms! The ability to work will vanish. That suits the concept of Nireeswaran too,' said Antony.
Bhaskaran made no delay in severing the arms at the shoulders.
'For someone without head and hands, what's the need for legs? Nireeswaran shouldn't have the ability to move either!'
The legs were hewn at the knees.
Bhaskaran was drenched in perspiration, as if he had mercilessly mutilated and murdered a human being. 'Ouch! I feel as if I have committed some bestial crime,' he gasped.
Whatever the progressive views he espoused, Bhaskaran had within himself an artist's sensitive heart. He was used to sketching a human figure as per proportions, and so the cruelty involved in his nefarious deed was enervating. The artist within him had imagined a human shape in the clay. And when the figure was being dismembered, the sculptor experienced the deathly throes of a flesh-and-blood human inside it.
If the agony of mangling a lifeless statue was so extreme, how soulless must be those who chopped living beings to bits with their deadly machetes? Unheard by his friends, Bhaskaran whispered to himself that a creator held no rights over his creation. What had he set out to do, and where had it ended!
Yet, in a while, Bhaskaran overcame his inhibitions with the fortitude of one out to achieve a high goal even at the cost of shedding blood. Looking at the statue of Nireeswaran that he had crafted after maiming the original, Bhaskaran couldn't help commenting, 'Look, after cutting off the head and limbs, doesn't it resemble a Shivalinga? The statue of Nireeswaran should never look like that.'
'Wait, wait! This might be the appropriate look,' said Antony. 'Let people misunderstand it as a Shivalinga. After all, the foundation of faith is misinterpretation. Besides that, there is a symbolism involved, my dear artist!'
'What symbolism?' Bhaskaran asked.
'First we create a farce as attractive as a human being. By severing its head and limbs, we make it liable to misinterpretation. Then, to denounce such a misconception, we throw it into a canal!'
'What's the use of all that?'
'Manhood is all about indulging in unique activities. Where's the stimulation in leading a quotidian life, huh? Life should stand ramrod erect at all times! See, the psychology behind television advertisements is at work here—a trick which makes us purchase what we don't need in the first place! An advertisement that one sees frequently settles in the subconscious mind. If it lies there for some time, it will make the consumer unwittingly desire the product. He'll buy it the next time he sees it inside a shop. It is a capitalist strategy in a consumerist culture. Nireeswaran is going to work exactly like that. But this naughty guy in clay does not have the dignity of a statue. We should get it sculpted in stone!'
That was how the original figurine in clay was reincarnated in stone.
After moving from the seed of thought to the body divine, the next step was a worthy consecration. They needed to find an inauspicious day and ill-fated mahurat for the purpose. Nireeswaran, after all, was the god of everything inauspicious and ill-fated.
The Abhasa couldn't foretell the far-reaching repercussions of this silly deed that had sprung up from a joke. If they had, they would have contemplated thrice before attempting such a thing. Indeed, on second thought, they would have desisted from their plan.
However, history was waiting, having deposited secret treasures in clandestine places. Sometimes a tiny breeze can transform into a cyclone, capsizing the entire universe.
This is an excerpt from V J James' Nireeswaran, translated by Ministhy S and published by Penguin Random House. Republished here with permission from the publisher.