It has been almost six years since the release of filmmaker-actor-writer-poet Nagraj Manjule's blockbuster sophomore Marathi feature film, Sairat. COVID-19 and the concomitant shutting down of theatres have resulted in a long wait for his third film, the eagerly awaited Bollywood debut, Jhund. 
However, in between, Nagraj produced a film Naal, made the short Pavasacha Nibandh, and acted in a couple of Marathi films. During the pandemic-induced pause, he also directed and act in the Vaikunth segment in the Amazon Prime Video anthology film, Unpaused: Naya Safar. Set in a crematorium teeming with bodies during the pandemic, it portrays death as a great equaliser cutting across class, caste, and religious divides, even as discriminations carry on ceaselessly in the world outside. 
Nagraj won a national award with his very first short film, Pistulya, about a Dalit boy's dream of going to school. His first feature film, Fandry, was about a teenager from an oppressed family of pig-catchers living on the margins of rural Maharashtra who falls in love with an upper-caste girl. It won him the national award for the best debut film. With Sairat, he carried on the theme of young love transcending class and caste, but in a more mainstream format, complete with a resounding soundtrack by Ajay-Atul. It premiered at Berlinale 2016 and is said to be the highest-grossing Marathi film of all time. 
Jhund is also set in Maharashtra, in Nagpur. Like his previous feature films, the protagonists are young adults. It is about a professor's attempt to channelise the energies of a group of street kids to rehabilitate them away from the world of crime. He does so by making them turn to football. Like Sairat, Nagraj uses the familiar tropes of mainstream film-making, including a rousing score, again by Ajay-Atul. 
One of the most significant voices in contemporary Indian cinema, Nagraj's work is deeply informed by his dalit identity. His poetry, writing and cinema; they always deal with caste politics. In a May 2017 interview with this author for The Hindu, he said: "Caste is the foundation of our society. It's a reality that you need to have a special talent to avoid. Bollywood has that talent, I don't". Now, as he brings the image of Dr B.R. Ambedkar to the very core of Bollywood frames with Jhund, it would be interesting to note how much he subverts the typical fantasies of the Hindi film industry and its myth-making machinery. Namrata Joshi caught up with Nagraj Manjule. Excerpts: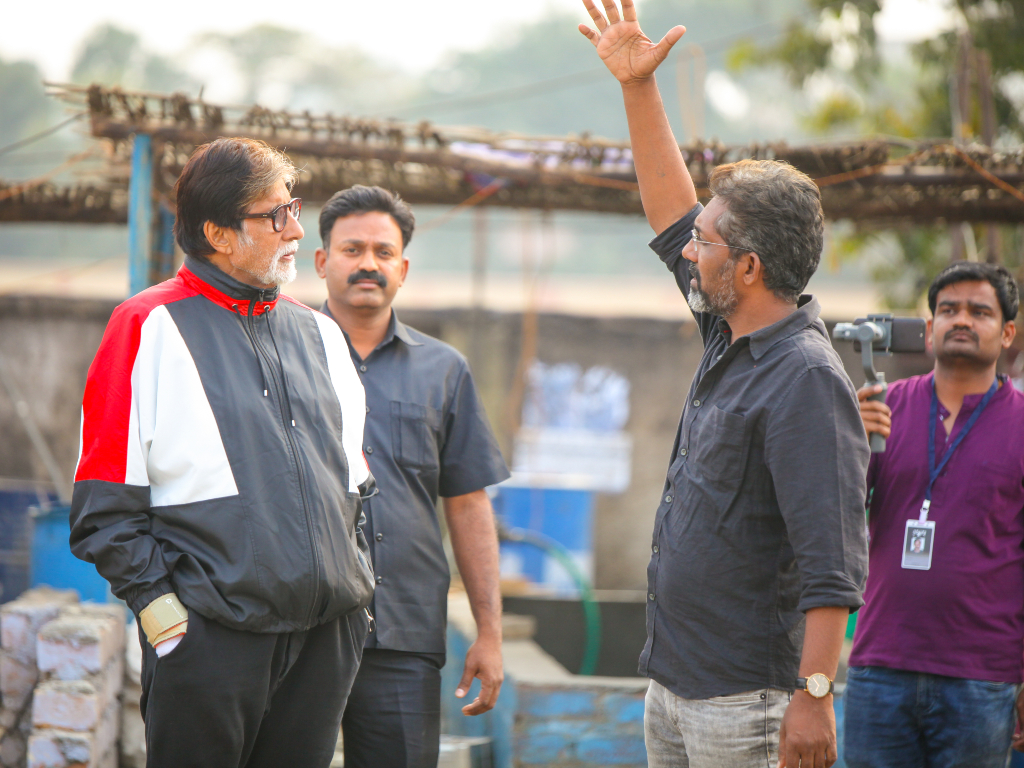 Namrata Joshi (NJ): Though Unpaused: Naya Safar precedes it, technically speaking, Jhund is your Bollywood debut and first feature film in Hindi after working in Marathi for a long time. What difference has it made to your filmmaking?
Nagraj Manjule (NM): A film is a film. It is, in fact, a separate language. It has its own grammar. So, it doesn't matter if it is in Hindi, Marathi, or English. It is when the scale increases—the budget gets bigger, there's say (Amitabh) Bachchan in the film—that a different process comes to play. So, what language the film is in is secondary for me. 
NJ: Jhund is your first feature film to release after Sairat and has been long in the making…
NM: The idea of Jhund came to me after I had done Sairat. It took me a year to write the film and a long while to shoot and make it. We had several difficulties to deal with. The work happened in fits and spurts. When we are into production, the actual, active filmmaking takes a lot less chunk of time. But yes, in all, the film has taken four to five years of my life. 
NJ: Add to it the fact you had to delay the film's release due to COVID…
NM: That was also there, but then it wasn't just my film. The whole world had come to a halt. 
NJ: And have the delays and wait been well worth it?
NM: What I am trying to say in the film, what we are trying to express, is significant. The story I have been able to narrate gives me satisfaction.
NJ: From what one has seen from the teaser/trailer of Jhund, and what I have gathered from your earlier films, you are dealing with marginalised and underprivileged lives, but there is an energy, force and dynamism to the characters and the narrative…
NM: We often call a woman "abala", but she has a strength of her own. Someone might be facing difficulties; we might be ignoring and invisibilising a certain set of people, they might be dalits or women, but it's not as though they are all powerless. They might not be in the mainstream; they might not be getting their rightful chances in life, but it's not as though they lack strength. Everyone has potential; they need opportunities. There might be sorrow and pain in their lives, but it's not as though they are just weeping away. You might be beset with problems, you might be in danger, you might be from a "vanchit" (deprived) group or community, but that doesn't mean you don't have talent or the [right] attitude. You might have been suppressed based on your class, caste, gender or religion, but that doesn't mean you don't have spark or talent. 
NJ: You deployed the elements of mainstream cinema—song and dance in particular—to convey your message effectively in Sairat, and it seems, in Jhund as well.
NM: Arthouse cinema gets associated with only a very small segment of the audience—the cinephiles, film lovers. In the 100-odd years of Indian cinema, we have gotten habituated to seeing films in a certain way [as musicals]. A very big segment of the audience enjoys it like that. It's not as though films can't be without songs, but this is how we enjoy them largely. If you must reach out to the widest possible set of people in the country and society, you must say what you want but in the style the audience enjoys. 
NJ: What then is so special about the music of the film?
NM: The songs composed by Ajay-Atul carry the content and thought of the film along. They are not separated or disjointed from the narrative. Their songs are not breaks.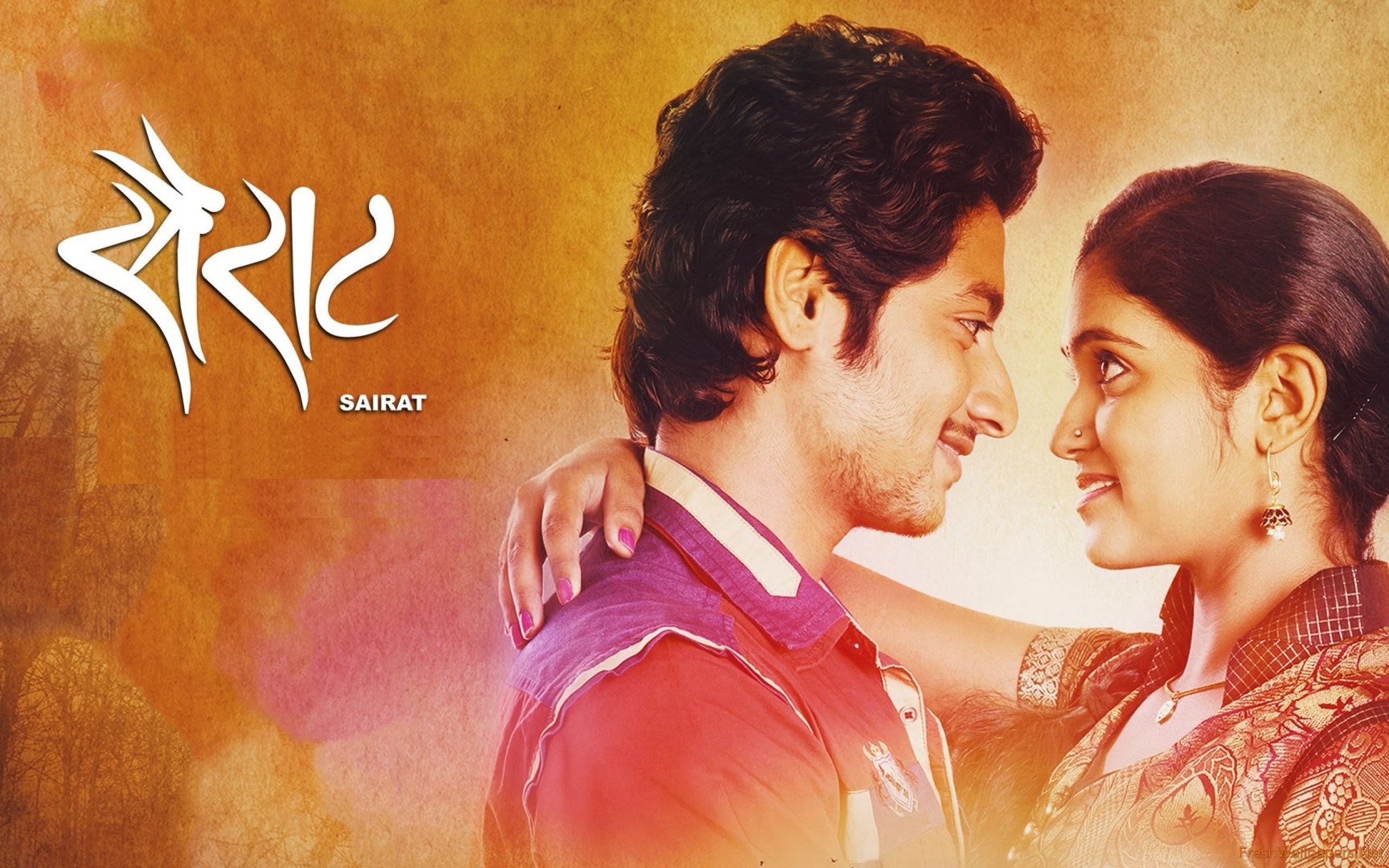 NJ: In all your feature films so far, you focused on the youth—telling stories of the young, for the young. And in Sairat, you had a strong woman at the core. I feel something similar happens in Jhund, too…
NM: I don't want to talk much about the details of Jhund right now, but I am happy you interpret it this way. It is the right direction to be on for me as a filmmaker. 
NJ: How was your equation with Amitabh Bachchan? How did you relate to him as a star?
NM: If you leave aside that I worked with him on Jhund, I have always been aware of him, ever since I became aware of my own self. I have been a fan. It's only a few recent films of his that I may not have seen. Otherwise, I have seen them all. I used to behave like him, tuck my shirt in the typical way he does in Deewar. I have a lot of regard for him as an actor. I respect him. Jhund came to my mind as a Bachchan film; I couldn't have thought of it without him. 
NJ: Did the anti-Establishment angry young man he played appeal to you specifically?
NM: I think that is why people like him so much. Nobody else could have represented that [righteous anger].
NJ: We met last in Pune, just after the release of Sairat. I was struck by how your artistic collaborators, friends and community from the village had all gathered under one roof to celebrate the exceptional success of the film. That sense of camaraderie must have got badly affected by the COVID lockdown and social distancing… 
NM: I have a big family and circle of friends. Because of them, COVID didn't affect me as badly, emotionally. Some 25-30 of us were quarantined together. Despite the lockdown, we managed to spend a great time under the open sky in the village. To be with other people makes you strong emotionally. So personally, COVID didn't affect us badly, but the world had come to a pause. Emotionally, physically, professionally, it affected the whole world. It was hard to imagine things would come to a standstill in this way. I hope everyone comes out of it and normal life starts all over again.
NJ: How did you see the impact in the interiors, in your village? 
NM: The impact of the second wave was very strong. It destroyed families of friends, friends of friends. So many lives were lost. It started in the cities but then affected the villages. People have lost a lot and lived in pain and sorrow. Our health system, like in the rest of the world, almost collapsed under stress. I was reading articles about how we are busy promising to build mandir-masjid, while it is our health system that needs all the attention. 
NJ: What made you pick a crematorium as the setting for your short in Unpaused: Ek Naya Safar? Was it the overwhelming number of deaths we saw during COVID?
NM: It is all about what story is worth telling. I have always wanted to tell stories about people we don't normally see or hear. We saw doctors and health workers and cops during COVID but were unaware of frontline workers of another kind: those who work in crematoriums. After the doctors, they must have been in maximum contact with the COVID-afflicted. I wanted to be their voice.
---
Also read | In Nagraj Manjule's Vaikunth, Life Springs from Death
---
NJ: There are two parallel threads in Vaikunth. The real-life where people are discriminated against and the crematorium where all differences are wiped out, death becoming a great equaliser. COVID-19 deals everyone an even hand…
NM: While writing the story, I was thinking, when we are happy, we fight with each other. Happiness, success don't teach us anything. When we are in a comfortable state in life, we don't learn anything. In pain and sorrow, while facing problems and being troubled is when we grow as human beings, we gain understanding. But, perhaps, we forget it all when better days return.
COVID has brought us to our knees and taught us a lot. In life, we play these roles in all seriousness—Hindu, Muslim, landlord-tenant. From birth to caste to gender to religion to position in society—these differences are central in life, but when you come to the crematorium, they all disappear. You are just a corpse, a dead body. It is not as though differences are not there in death. Under normal circumstances, a dalit would be cremated outside the village, not in the crematorium. Savarna ko aise jalao, stri ko waise jalao; Hindu ko aise, Muslim ko aise. But COVID-19 taught us that ultimately, we all are nothing more than a handful of ash and dust, and ash doesn't have any caste, religion, gender or class. However rich you might be, you still can't buy immortality. 
NJ: In terms of the technique, in the defined space and setting, things seemed to be in a continuum, as though one is on a constant journey within the crematorium…
NM: There have been so many restrictions. Don't come close! Don't meet! Shut down the factories! Work from home! Keep calm and quiet! One of the things fully functional during COVID was the crematorium. We always wish for people's happiness, long life and prosperity and pray crematoriums stay closed. But the opposite was happening. Crematoriums were busy while life had hit a pause.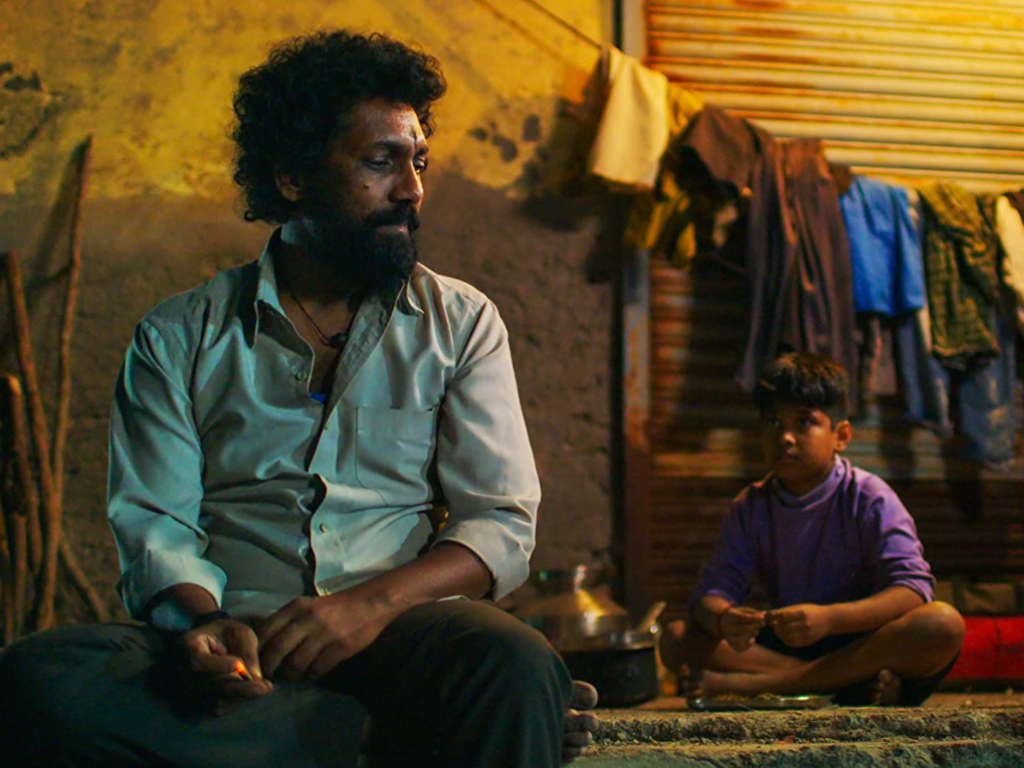 NJ: You portray a child living in the crematorium. It becomes his home. Like it is home to death. It is quite horrifying to imagine.
NM: We keep sorrows and pains and death away from kids so young. That's how it should be. But there's a saying that time makes you witness everything. The whole idea here was that even in the worst circumstances, one has to keep living. One has to live.
NJ: You end on a note of hope despite the extreme suffering…
NM: If you can't be hopeful, then what is left? The lower you force me to fall, the higher I will rise. I will try harder. We have been sad; the morale and will to live have been low. Even while sitting at home, it felt that death was roaming the streets and will catch you any moment. In such an adverse situation, what can one do if not stay hopeful?
And irrespective of whether we stay hopeful or not, the cycle of life will keep moving. We might lose our near and dear ones. We might ourselves not be around, but life will carry on. This world doesn't cease because of the departure of one person. Even if you clutch at the falsities and lies to stay hopeful, I think it's better than getting depressed because of having faced the truth. 
NJ: One side effect of COVID on cinema has been that OTT platforms exposed us to a wide variety of content beyond Hindi cinema, in various languages and from various places and cultures. It brought films like Karnan, Sarpatta Parambarai, Jai Bhim to the Indian living rooms, exposed people to the power of the (anti)caste narratives, forced them to engage with the issues in some way or the other…
NM: I saw Karnan. Pa Ranjith is a friend, but I couldn't find time to watch his Sarpatta. I got busy with the shoot. Also, I like to watch films in peace and quiet, and there have been lots of people at home. But I like that…we are getting diversity in stories and storytelling, that films are being made from a variety of perspectives and points of view and they are accessible to all. That is very important.
NJ: Leena Manimekalai, who made the Tamil film Maadathy, has often spoken about how very few women film-makers are making films about caste despite the rise of the anti-caste narrative. That even the stories are male-centric. That women-centric stories also rooted in caste politics should gain ground in some way…
NM: This is very complicated. When we talk of gender, we break away from caste to talk about it. When we talk of caste, we break away from gender. It is difficult, but we will need to understand these two things are the same. I tried to bring the two together in Sairat. When you talk about dalits, someone oppressed, suppressed, jab aap ye vyakhya karte ho to mahila us mein khud-ba-khud shaamil ho jaati hai (when you elaborate on oppression, the woman automatically comes into the picture). The caste and gender relationship is very complex. One has to go about it with thought and nuance. The more films women get to make, the better it would be. A diverse set of women should be making films. A diverse set of people should be making films! It's a conversation that can't be had in a few minutes in an interview. There has to be a continual dialogue, an attempt to understand various points of view. Us-se jo ubhar ke aayega shayad wo aur unnat hoga (What emerges from it would be more evolved). Casteism, feminism, beyond all isms, is humanism. Insaan bano. A good human being rises above all these differences. A good human being is not a dalit or brahmin, Hindu or Muslim, man or woman. Wo bas achcha insaan hota hai.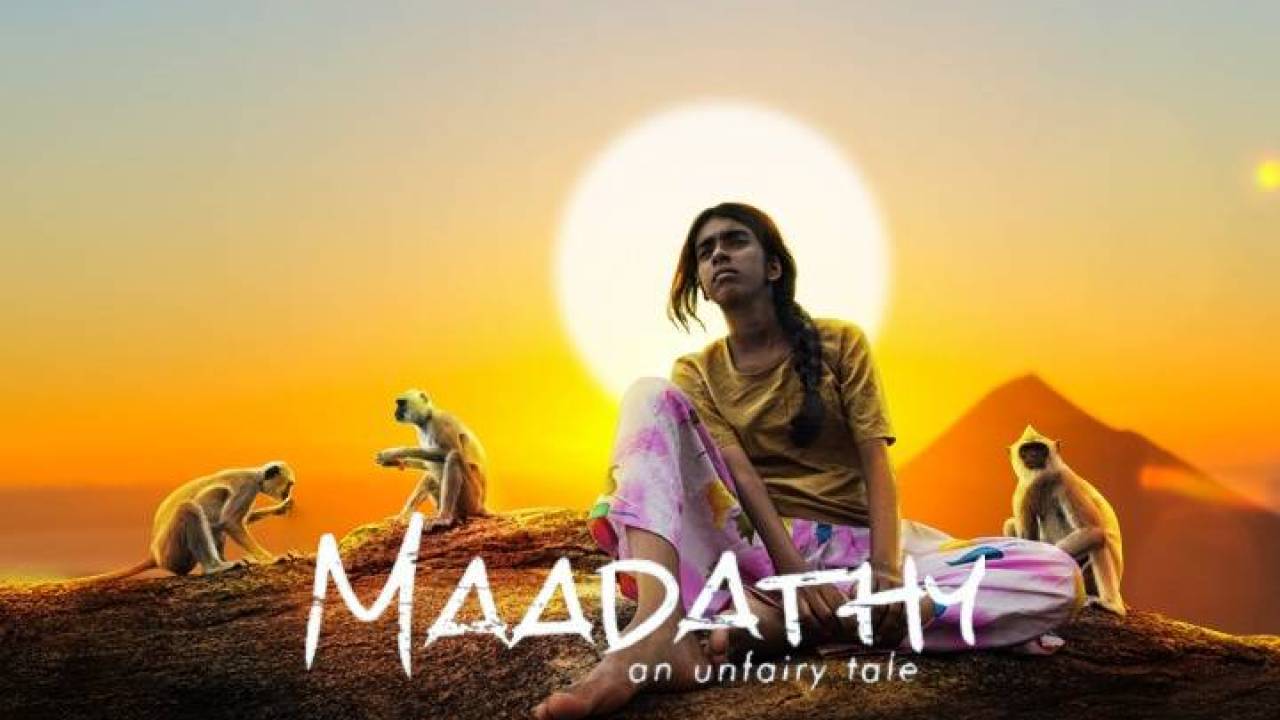 NJ: Unpaused is the first film you directed for an OTT platform. Why did you choose to do this after being focused on Jhund long after Sairat? You didn't quite capitalise on Sairat's success to deliver one film after another.
NM: Amazon was sensitive and sensible in its approach to the theme. I had not said anything in a long while. It's not as though one has to necessarily say something. I do that if there's a trigger. Money has to be made but doing something just to make money is not what I believe. You should work on something you like, and if you get money from it, that would be wonderful. If you have to make money, why make movies? There are other businesses and occupations that can make you more money than film-making. You have to live in between making films, or rather make films while living. 
NJ: Would you do more work for digital platforms, or are you a cinema hall person? Do you distinguish between modes of viewing?
NM: Watching a film in the theatre has its charm and fun. But OTT has its own importance. During COVID, OTT and TV have been the only viewing options. I don't decide that I'd do this or not do that. All I believe in is putting heart and soul into my work. 
NJ: What is it about making shorts that excites you?
NM: The difference is in the scale. It's a matter of duration. What you shoot over two-three months, you end up doing in ten days. It's like some poems are complete in just four sentences. Then sometimes, you are unable to communicate anything in several lines. Each format brings its own rules and specialities. Sairat was three hours; Vaikunth is thirty minutes. It's good to be able to say something in this short a time frame.
NJ: How was it to play the protagonist in your own film?
NM: I like acting, but it also scares me. I direct with more self-confidence and assurance. I can direct in my sleep, but acting makes me all tensed [up]; I am acting yet directing and keeping an eye on so many other little details. I am sorting the background and the foreground and, in the middle, I have to become that character. I don't know how my expressions are. I can only check on the monitor later whether I have done it right or not. Also, you are being your own judge. The process is tough and there's limited time on hand. I had to do Vaikunth speedily, but it felt good. It all fell into place, and when I saw myself during the edit of the film, I thought I had done alright. I could have done better, but I don't think I did badly. 
NJ: Will we see more of you as an actor?
NM: There are two big Marathi films, directed by others, in which you will see me in the lead role. One of them is Hemant Awtade's Ghar Banduk Biryani. The other is still in the process.
NJ: What next from you as a film-maker? I read you are collaborating with Siddharth Roy Kapur…
NM: I am working on a Hindi web series for him. I am writing a film on Shivaji right now. I am in the process of reading, researching, understanding, and gaining insights on how to make it. It will be in Marathi but could also be multi-lingual. Like I always say, whatever language the film might be in, it doesn't bother me. It should just turn out to be a good film.