The question "Who is a Muslim?," was a constant concern within eighteenth century literary and scholarly orientalist texts. Chief among them was the English oriental tale which became a transformative force once it travelled to the North-Indian colony, and later to the newly formed Pakistan. A literary-historical study spanning three centuries, this book argues that the idea of an Urdu canon, far from being secular or progressive, has been shaped as the authority designate around the intertwined questions of piety, national identity, and citizenship.
A multi-faceted project, Maryam Wasif Khan's Who is a Muslim?: Orientalism and Literary Populisms provides a history of how a religio-national identity is constructed through literature, first in the colony, and subsequently in the postcolonial nation-state. It is an attempt to understand the historical processes, institutions, and texts that have led to the religio-populism that has overwhelmed cultural production in a postcolonial state such as Pakistan.
The following is an excerpt from the chapter 'Nation/Qaum' of the book.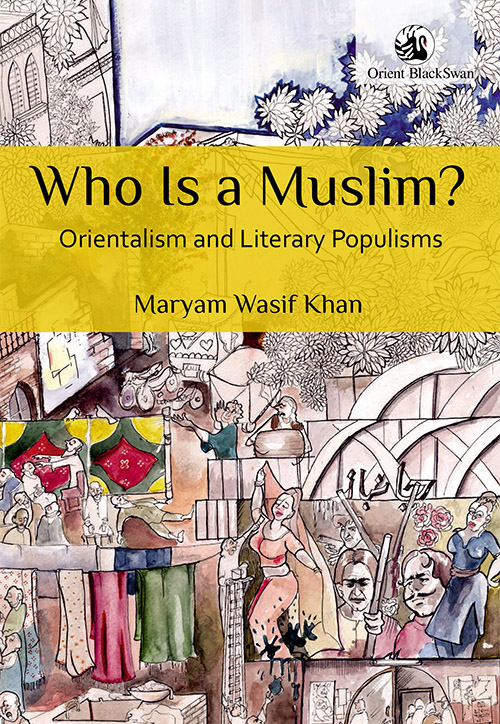 Nation/Qaum: The "Musalmans" of India
The anxieties around native literature, particularly a Mahometan, or Muslim, one that beleaguered Gilchrist and his successors persisted well into the second half of the nineteenth century, exacerbated by the great uprising of 1857, in the wake which Muslims-now graduated to the term Musalmans-were deemed the major perpetrators and enemies of the crown in India. As late as 1884, William Muir, an English orientalist and administrator with a special interest in education, wrote of "the vernacular languages of India" as "singularly wanting in sound literature of a useful and amusing sort. Such works as there are, abound, for the most part, in matter of an objectionable tendency."1 A few years earlier, in an attempt to explain the events of 1857, William W. Hunter, another English civil servant, argued that "the Musalmans of India are, and have been for many years, a source of chronic danger to the British Power in India."2 Unlike "the more flexible Hindus," the Muslims resisted British education and employment, Hunter believed, the consequences of which bred resentment and enmity for the new rulers of India.3
Seen as mired in a religion that took direction from the "Holy City of Arabia," or alternately, in a poetic culture lacking in morally sound "literature," the Muslims became the particular project of the colonial ad ministration in the decades following 1857.4 In part, this was rather ironic, given that for much of the nineteenth century, the colonial ad ministration had attempted to impress new language curricula and distinct ideals of literature and literariness upon both Hindus and Muslims. Fictions such as Bagh-o Bahar and other Fort William publications remained very much a part of the syllabi in schools and elite colleges, yet the imperial administration was convinced of the increasing dangers of the "unaided prosecution of Oriental learning" that they believed had "produce[d] a people who may talk beautifully, but who think and write most inaccurately."5 To further that end, a second wave of literary invention, now facilitated and funded by the Government of India, swept over the subcontinent, its specific object: the suddenly disenfranchised and dislocated North Indian Muslim bourgeoisie.
This reversal in the fortunes of the North Indian Muslim elite, who until 1857 had imagined themselves as the rulers of India while Bahadur Shah Zafar II, the last nominal bastion of Mughal rule sat on the throne of Delhi, was nothing short of cataclysmic. An entire society rooted in courtly culture and its attendant practices was now bereft of the institution that had anchored it and that had provided much of its own historical legitimacy in India. As Mufti describes it-quite differently from deadpan nationalist historiographies-this process of "social trans formation" was a fitful one, a "reluctant embourgeoisement… a dogged and melancholic response to the emergence of a new world."6 The nature of the crisis and the feelings of impotency and rootlessness that it left in its wake are perhaps best expressed by Mirza Hadi Rusva, the poet and writer:
We let go of Delhi, now we must leave Lucknow,
Two cities that were ours, now both lie in ruins
Dilli chuti thi pehle, ab lucknow bhi chorein
Do shehr the yeh apné, ab dönön tabah nikle7
Rusva's verse, one of the many laments of an aesthete immersed in the high culture of Indo-Persian aesthetics, is removed in feeling and impulse from colonial rationalizations of the events, which described a vacuous society obsessed with poetry and sensual pleasures. For poets such as Rusva and Mirza Ghalib, the destruction of Lucknow, the last jewel of Indo-Persian aestheticism in the subcontinent, meant the end of a cultural home and its attendant meanings.
While Rusva and Ghalib mourned the loss of Delhi and Lucknow, a nascent Muslim bourgeoisie, educated in colonial institutions and employed within the colonial economy, undertook the project to socially and politically resituate this bedraggled, embarrassed Muslim elite-the ashraf, as this class had historically been called.8 The task of men such as Syed Ahmad Khan, perhaps the most influential leader to emerge during this moment of broad religious, political, and cultural reform, was a dual one: to appease the English by assuring them of Muslim loyalty to the crown, and to reconcile an unwilling Muslim elite from shattered illusions of aristocracy to the servitude of a bourgeois existence in the days of high empire. Khan's and other, often oppositional, reformist movements of this period are deeply complex, varying in terms of how they envisioned the future of Muslims in India. While Khan's Aligarh movement positioned itself as a modernizing effort, open to Western ideas, including the rational reform of Muslim practices such that Muslims could become participatory members of the colonial economy, major Islam-centric school such as the Deobandi and Barelvi took antagonistic directions. Of the two latter movements, the Deobandi is the longer standing, tracing its roots to Shah Waliullah, a reformist thinker loosely associated with the Mughal emperor Aurungzeb's court. But in the decades following 1857, the Deo bandi reorganized into a mosque movement, its object to reacquaint India's Muslims with their true religious identity, which the founders believed had been corrupted by British and Hindu influences.9
Emerging alongside these Muslim movements were Hindu revivalist, or as some call them, "renaissance" movements, including Ram Mohan Roy's Brahmo Samaj, as well as the Arya Samaj, both of which called for a pure society. Given that colonially sponsored reform at this point had become a religion-specific task-Hindu movements reforming Hindus and Muslim groups Muslims-there is no doubt, as Faisal Devji has intimated, that "the idea of modernity had no secular history in India."10 Despite these differences, however, rising Hindu nationalism, as well as the major branches of Muslim reformist movements, contributed collectively to a single end, a native reiteration of an old English idea: that North India's Muslims were not native to India. This chapter seeks to understand how this idea, referred to in earlier chapters as the Mahometan chronotope-the orientalist chrono-spatial understanding of Muslims as a non-national and itinerant formation-is inscribed within colonially patronized, reformist texts, particularly Urdu fiction during the late nineteenth century.
I focus on the Aligarh movement, named after the city where the first "Anglo-Muslim" university was set up by Khan and his followers. Taking much of its direction from English ideals of progress and social reformation, the Aligarh movement, though controversial at the time, is credited as the major influence behind Muslim nationalist efforts of the twentieth century. As Khan saw it, the solution to the problem of the disgraced and seemingly backward Muslims was in the regeneration of a lost tehzib, a term that roughly translates to civilization.11 In his writings, the idea of tehzib often seems to imply the modern ideal "culture," which for him encompasses literary works, social practices, historical narratives, and the collective ethic of Indian Muslims. Even more so, Khan is interested in the advancement of what he calls "qaumi tehzib," or the national culture of the Muslim nation, which he argued for much of his later life was a distinct entity in colonial India.12 Enamored of the British, perhaps also opportunistic, Khan, despite much criticism from the Muslim community, including the Deobandis, took on the role of a native ambassador, propagating ideologies of language and literary reinvention very much in line with Western notions of modernity.
Styling himself as a political leader, Khan was prolific, turning to print to disseminate his ideas to Muslim audiences. Prominent among his many publications were a treatise "The Causes of the Indian Revolt" (1859), Asar-us Sanadid (1854), a history of Delhi's Muslim architecture, and from 1870 to 1897, monthly journal he called Tehzib-ul Aklāq, translated literally as the "civilization of morals," but titled The Muslim Social Reformer in English. Deeply influenced by Khan's efforts were a number of other young Muslim men, educated in the English schools, employed by the government, or simply disenchanted with what, when compared to the present, appeared to be a wasted past. Three of these men, convinced by Khan's call for change in varying fashions, became central to the post 1857 reinvention of what colonial administrators called "Urdu literature": Nazir Ahmad, a deputy inspector of education in colonial schools; Altaf Hussain Hali, a poet and scholar; and Abdul Halim Sharar, a journalist and novelist, who rose to some prominence toward the close of the nineteenth century.
Consciously undertaking the task of literary reinvention in Urdu, these writers saw themselves as participants in the larger reform movement, or as it was called by Nazir Ahmad, the işlāh, or correction of Muslim tehzib or culture in North India. In its original Quranic contexts, işlāh implied a return or restoration to an earlier moment of moral and religious piety. In the fictions of Ahmad, Hali, and the historical "novel" writer Sharar, the gesture is always toward North Indian Muslims as somehow fallen from an original, right path. The task of these fictions, then, is to enable return to a pristine, unadulterated Islam. Worth stressing at this juncture is the sudden totality and power that the category of literature, specifically, a Muslim literature, acquires for social reformers working within colonial structures.13 Patronized by colonial administrators whose goal was now to rid vernacular literatures of what they deemed fantasy and religious superstition, writers such as Ahmad and Hali offered a rational, colonially compliant Muslim to their readers, whose altered practice was a testament of his işlāh (correction). Situating themselves as reformers of the Muslim community as well as of the cultural and linguistic aspects of Urdu-that register cleft in two after Fort William College-these writers are historical examples of how the Mahometan chronotope of the English and vernacular oriental tale is internalized and revitalized with new religio-political meaning in the high colony.
In doing so, these writers consciously abandon what we can tentatively think of as premodern, Indo-Persian knowledge systems and aesthetic practices, inseparable in terms of genre or discipline. Until at least the late eighteenth century, terms such as 'ilm (knowledge) and adab (refinement, values, and etiquettes) signified more complex and intertwined functions than their bland translations into English allow. Ilm, in the Islamic world, signaled a knowledge of the hadith, for example, but could also be used to signify the spiritual self-knowledge of an individual. Adab, on the other hand, "reflects a high valuation of the employment of the will in proper discrimination of correct order, behavior, and taste."14 As Barbara Metcalf conceptualizes the term, "It implicitly or explicitly distinguishes cultivated behavior from that deemed vulgar, often defined as pre-Islamic custom."15 In the heyday of the colony, however, as education and institutions of learning increasingly came under British control, the "dichotomy between literature (now referred to as adab) and science or fact (now referred to as 'ilm)" was taught to Muslims educated in colonial institutions.16
The imposition of new knowledge systems begins at Fort William College where, as the previous chapter argues, a category called "literature" was introduced to native subjects. The decades following 1857 mark the inception of a properly domestic Muslim fiction in North India that takes the space of the home as its object, locating it within a larger communal formation that Khan referred to as "qaum," or nation.17 In other words, the North Indian Muslim experience, once exempt of the subcontinent's religious and cultural cosmopolitanism, is gradually forced to see itself in terms of an alien concept: nationhood. Whereas the structural and narrative concerns of the oriental tales produced at Fort William College may seem far removed from what was now a domestically inclined, religiously reformative set of fictions, these works collectively and continuously come to constitute the literary canon of modern Urdu. The earlier replications of the English oriental tale in the vernacular are thus succeeded by bestselling fictions that engage with the Mahometan chronotope by rewriting its terms to produce a modern, Western-styled literary canon for Muslims. For the second time in one century, then, a new iteration of "Mahometan" literature is produced in the North Indian colony, this time in order to act as an antidote to the poor influences of predecessor works.
Didactic fictions such as Ahmad's Mirat al-'Arús, or the Bride's mirror (1868), and Taubat al-Naşûh, the Repentance of Nasuh (1872), Hali's Majalis un-Nisa, Gatherings of women (1875), or Abdul Halim Sharar's sensational novel, Flōrā Flōrindā (1899), attempt to rehabilitate the imagined figure of the Mahometan-opulent, despotic, itinerant, foreigner in India-into a modern Muslim, a bourgeois subject whose historical origins lie in Islam's glorious past. The narrative reconstruction of this subject organizes within the colonially learned terms of nation and nationalism, ubiquitous in literature and history curricula of native schools. But in place of an ancient civilization, the North Indian ashraf trace their origins to the founding moment of Islam, thus imagining a modern nation in entirely religious terms.18 Over this period of late nineteenth-century literary and cultural reform, the Mahometan chrono tope is reaffirmed in increasingly nationalist terms. The origins of North India's Muslims lie in Islam's various glorious pasts. India is recast from a home to the geographic site where Islam is corrupted, and subsequently, the Muslim home must become the space where a chaste Islam can be cultivated.
The great shift visible in reformist fictions, beginning with Ahmad's conduct book-like works, is that of subject. If the vernacular oriental tale took the male Mahometan as its protagonist, reformist revisions focused on Muslim women. This had much to do with colonial demands, as I will elaborate on later in the chapter, but also with what Partha Chatterjee describes as the "new politics of nationalism."19 In the case of the Muslim community, particularly as it appeared to the Aligarh group (itself made up of varying opinions), the need for women educated in a more Western style sprang, in from colonial demands for transparency regarding the nature of instruction available to Muslim women. Quite plainly, the colonial government believed that "an ignorant Mahomedan mother transmits the fanatical bigotry characteristic of her people," and thus sought to incentivize and encourage a suitable education agenda for Muslim women modeled on equivalent modes in England.20 But class anxieties amongst this young bourgeois class also had much to do with more traditional images of women associated with the nawab and older elite Muslim culture, embodied largely in the figure of the courtesan, or tava'if.
Trained in the poetics of Persian and high Urdu, classical dance, and music, well-read and well-spoken courtesans had long been a part of Muslim life in North India. With the decline of the nawab (princely classes) and the subsequent rise of a small but influential Muslim bourgeoisie, the cultural practice of visiting brothels and keeping long term courtesans as companions was no longer social practice. Respectability, as it were, came to belong to the wife, the an accepted or necessary keeper of the home, rather than women outside of the new family. Finally, as Devji has so succinctly elaborated, the reformed ashrāf "created themselves in and through the colonial order as a distinct 'Islamist' or revivalist' polity," whether Aligarh, Deoband, or other school of thought.21 Given reliance on shariah thought, "every one of the reformers viewed the woman, for example, as the agent of a sinister, debilitating corruption that attacked vulnerable Muslim men from the inside, paganizing them and rendering them unable to defend the faith."22 The solution to this, at least in the case of the Aligarh school, was to "hegemonically incorporate" the Muslim youth and women "into the new sharíf polity by education or Islamization."23 Once incorporated, Devji argues, the woman could become the protector of masculine virtue from the home, rather than herself be a source of disruption.
Given the diversity of reformist movements that had taken root in the nineteenth century, the major fictions of this period were hardly ho mogenous. Nazir Ahmad's Mirât and Taubat, for example, echoed many of Syed Ahmad Khan's political beliefs, stressing the need for the ashraf to align themselves with the English, while disassociating from practices that were somehow "Indic," or corrupting influences on Islam. Hali's Majális, like his major poem Mad-o Jazar-e Islam (the rise and fall of Islam), locate a Muslim future outside of India, unequivocally declaring India as a space of decline and darkness for Islam. Finally, in Flōrā Flōrindā, Sharar, a prolific writer of historical novels, revives older Islamic empires as a device through which to move India's Muslims to a passion for Islam and its future. Nazir Ahmad and Hali, in particular, deride the elite practice of courtly Urdu, choosing to develop the colloquial Fort William register that was taught in colonial schools and colleges, thus populating the literary canon of modern, colonial Urdu with new fiction and poetry.
Notes:
1. William Muir, preface to The Repentance of Nussooh by Nazir Ahmad, trans, Matthew Kempson (London: W. H. Allen, 1884), viii.
2. William Wilson Hunter, The Indian Musalmans: Are they bound in Conscience to Rebel against the Queen? (London: Trübner and Company, 1876), 11.
3. Ibid.
4. Ibid.
5. Matthew Kempson, Report on the Progress of Education in the North West Provinces 1869-70 (Allahabad: Government Press, 1870), 112.
6. Aamir Mufti, Enlightenment in the Colony: The Jewish Question and the Crisis of Postcolonial Culture (Princeton: Princeton University Press, 2007), 112.
7. Abdus Shakur Shaida, Bayaz-e Sukhan (Hyderabad: Zinda Tilismat-e Mishan Press, 1936), 116.
8. The ashraf, at times also called the shurufa, was a class whose cultural and social makeup can be traced to the Mughal ruler, Akbar's court, which David Lelyveld describes as an "increasingly distinct variant of the international Islamic culture. In fact, the culture could hardly be called "Islamic"… Centered on the Persian language and taking inspiration from courtly styles of Saffavid Iran, it was a culture that had no religious prerequisites for membership… The class of people who moved in this cultural milieu were sometimes called sharif, a word of unmistakable religious connotation in the rest of the Islamic world, but in Mughal India indicating respectability in terms of cosmopolitan Mughal criteria… One usually acquired sharafat by birth, however; if acquired in some other way, one's identity was quickly redefined in the vocabulary of honorable descent, which implied new bonds of kinship. Sharafat also defined character: a sharif man was one of dignified temperament, self-confident but not overly aggressive, appreciative of good literature, music, and art, but not flamboyant, familiar with mystical experience, but hardly immersed in it. Sharif social relations involved a post of deference, but were, above all, a matter of virtuosity within highly restricted bounds of etiquette." See Lelyveld, Aligarh's First Generation: Muslim Solidarity in British India (Princeton: Princeton University Press, 1978), 30.
9. The meteoric rise of these religious schools in the high colony is contrary to eighteenth-century trends in the Muslim world. The latter period, Ahmad S. Dallal argues in his recent book Islam Without Europe: Traditions of Reform in Eighteenth-Century Islamic Thought (Durham: University of North Carolina Press, 2018), is a period of grand innovation and expansion in the theological and participatory aspects of Islam, marked by leaders such as Shah Waliullah from India. Muhammad Ibn Ali Shawkani from Yemen, and Umar al-Fulani of the Nigerian Sokoto Caliphate, among others. The eighteenth century, Dallal argues, is the last time Islam is able to see itself "without Europe." From the nineteenth century onward, Islamic thinkers from the colonial world see themselves always against. with, or in relation to Europe.
10. Faisal Devji, "The Equivocal History of a Muslim Reformation," in Islamic Reform in South Asia, ed. Caroline Osella and Fillippo Osella (Cambridge: Cambridge University Press, 2013), 3-25.
11. The word tehzib simultaneously also means işläh, or correction, to make something pure again. In its noun form, it thus implies an original civilization. As mentioned previously, in Khan's usage it expands to accommodate the idea of a culture, a Muslim culture that must advance (and correct itself) given the decayed state it is in.
12. See, for example, Khan's essay "The Reasons for Tehzib-Ul Akhlaq," where he argues for the need for a monthly journal in Urdu as instrumental for Muslim progress. Mazamin-e Sir Syed: Muntakhibát Tehrib ul-Akhlaq, ed. Ghulam Hussain Zulfiqar (Lahore: Sang-e Meel 1993), 5.
13. A somewhat different version of events is put forth by Jennifer Dubrow in her recent work, Cosmopolitan Dreams: The Making of Modern Urdu Literary Culture in South Asia (Honolulu: University of Hawaii Press, 2018). Dubrow argues, not incorrectly, that the last few decades of the nineteenth century also marked a moment of cosmopolitanism for Urdu and allowed for a community bound by language rather than religion. Using the example of the Hindu journalist-cum novelist Rathan Nath Sarshar, Dubrow suggests that at this point Urdu was not actually marked by communal lines. But going forward, she also acknowledges that within just a few more years, this was no longer the case. My argument in this chapter focuses on the increasingly influential, colonially patronized set of writers and thinkers to show why figures such as Sarshar and his print experiments no longer command cultural relevance in the contemporary Urdu imagination.
14. Barbara Metcalf, Introduction to Moral Conduct and Authority: The Place of Adab in South Asian Islam, ed. Barbara Metcalf (Berkeley: University of California Press, 1984), 2.
15. Ibid., 3.
16. C. M. Naim, "Prize-Winning Adab: A Study of Five Books Written in Response to the Allahabad Government Gazette Notification," in Moral Conduct and Authority, 292.
17. As David Lelyveld elaborates in his still unmatched work on the Aligarh Movement, "Sayyid Ahmad redefined the meaning of 'qaum.' The word has been a loose one for any group defined by a concept of common ancestry-tribe, 'caste. lineage,' 'family. Now it referred to the Muslims of British India, not just north India but places as far flung as eastern Bengal and the town of Trichinopoly in Tamil Nad." Syed Ahmad's usage of the term obviously was not consistent, going hot cons between regionalism and geographies at will. But the most cited and celebrated of of his speeches remains one in which he refers to Hindus and Muslims a constituting two distinct qaums. See Lelyveld, Aligarh's First Generation, 143.
18. Enlightenment ideals that linked the nation to language and ancient civilization did not remain restricted to Europe but, in fact, traveled to the colony as early as the late eighteenth century, and took hold in the nineteenth, by way of the educational system where vernacular, curricula in history and literature, both English and emphasized the importance o e of nation. An excellent example is a staple tam question on the literature curriculum at Delhi College, where students were (1827) into Hindustani and Hindi. A frequent excerpt is the sentence, "A country asked to which has no National Literature, or a Literature too insignificant to force its way transla e parts of Thomas Carlyle's essay, "The State of German Literature" abroad, must always be to its neighbors, at least in every important spiritual respect. Translation in Annual Report from Delhi College, 1854-55. National Archives, New an unknown and misestimated country." See "Scholarship Questions: Vernacular Delhi India, xxv.
19. Chatterjee, "The Nationalist Resolution of the Women's Question" in Recasting Women: Essays in Colonial History, ed. Kumkum Sangari and Sudesh Vaid (Delhi: Kali for Women, 1989), 233-53.
20. "Short Notices," in The Calcutta Review 47 (Calcutta: Barham, Hill and Co., 1868), 209.
21. Faisal Devji, "Gender and the Politics of Space: The Movement for Women's Reform in Muslim India, 1857-1900," South Asia: Journal of South Asian Studies 1, no. 14 (May 2007), 141-53.
22. Ibid.
23. Ibid.