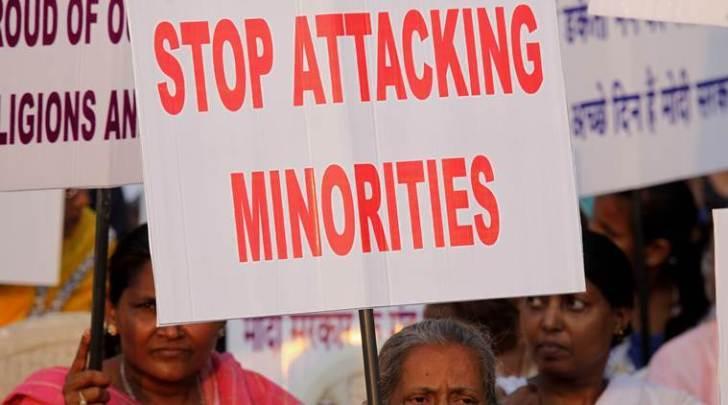 Madhya Pradesh has reported half a dozen cases of atrocities against minorities in the last week — two in Indore, one each in Datia, Khandwa, Neemuch and Jhabua.
On Sunday night, four Muslim youths were arrested and sent to jail allegedly for attending their college's Garba night (Navaratri dance) in Indore. While on Saturday night, a Muslim family was reportedly attacked after they refused to leave their village, which is primarily inhabited by the Hindu community in Indore's Kample, leaving five injured.
In Daita, police booked 10 people allegedly associated with the Christian community for distributing religious books on Sunday. In Jhabua, Right-wing outfits threatened to demolish a church, prompting the minority community to seek protection from the administration.  
In Khandwa, a Muslim youth was thrashed inside a college campus allegedly because of his religious identity on October 4. In Neemuch, a shrine (dargah) was attacked by two dozen unidentified men on the nights of October 2 and 3.
However, in all the cases, 19 members of the minority community have been booked so far under various charges, and 12 have been arrested.
Four Muslim students have been jailed for attending Garba event in Indore.
On Sunday night, members of the Bajrang Dal and Vishwa Hindu Parishad (VHP) allegedly attacked four Muslim youths at a Garba event organised by the Oxford College inside the campus, alleging "Love-Jihad". They objected to their entry into the event. After being publicly humiliated, they were taken to Gandhi Nagar police station, where the police arrested them on charges of creating "public nuisance" and violation of COVID-19 norms.
This isn't apartheid?

Indore Police booked 4 Muslims for attending #Garbha_Nights on Sunday on opposition of R/W groups.

They've gone to attend the Night organised by a private College after buying tickets with female friends. @DGP_MP @vinodkapri @abhisar_sharma @rohini_sgh pic.twitter.com/P0eHwrVl5A

— काश/if Kakvi (@KashifKakvi) October 11, 2021
The following day, all four men were sent to Indore Central Jail after Sub Divisional Magistrate (SDM) Parag Jain issued an arrest warrant. However, the owner-cum-organiser of the event, Akshay Tiwari, was only charged for violating COVID-19 norms.
Two of the four men arrested, Adnan Shah and Qadir Mansoori, are second-year college students, while Umar Khalid and Sayyad Sakib are their friends who had attended the event.
A video of the Garba event has surfaced, which shows alleged members of the Right-wing outfit dragging all four of them by their collars and taking them outside college premises in the presence of Akshay Tiwari.
However, speaking to Newsclick, Tiwari said, "Just like every year, the event was organised with permission, and all the 800 college students were asked to attend. But, unfortunately, they (members of the Right-wing) captured four Muslim youths from outside college premises opposing their entry in the event."
When contacted, Superintendent of Police (SP), Indore West, Maheshchand Jain, said the action against the four was "unfair" and that he had recommended against their detention. However, SDM Parag Jain said that the four were booked for creating "public nuisance" based on the police report. While he also added that they were sent to jail as the families failed to present bail bonds. An uncle of one of them alleged that they had neither received any copy of the FIR nor had they been informed where they were.
A third-year B.Com student, Habib Noor, who was manning the entry at the college event, alleged that members of the Bajrang Dal had picked out Mansoori from the parking lot. "Qadir was trying to tell them that he is a student of the college, but they just dragged him out," Noor said, adding that "when Mansoori called out to Adnan Shah to testify that he studied with him, the Bajrang Dal caught Adnan as well. And four of them were taken away."
In a video, Adnan's uncle Sajid Shah said they learnt of their detention at 11.30 pm Sunday. "My nephew, who had gone to attend the college Garba event, was arrested and sent to jail. What are they being punished for?" he asked.
Imagine this, R/W groups barged in, identified Muslims, misbehaved humiliated & thrashed them in full public view before taking them to cops.

Mob of 250 R/W ppl picketed PS. Police booked book 4 Muslims under section 188 & 151 while organiser Akshay Tiwari booked in 188 of IPC.

— काश/if Kakvi (@KashifKakvi) October 11, 2021
Meanwhile, there have been reports from the Ratlam district that the VHP put up posters that call for prohibiting entry of Muslims in 56 pandals with Garba on to avoid "controversial events".
MUSLIM FAMILY ALLEGEDLY ATTACKED FOR NOT VACATING VILLAGE
Almost 45-km from Gandhi Nagar in Indore district on Saturday night, a lone Muslim family of eight was reportedly attacked by armed men chanting religious slogans. The family was attacked for not vacating the village despite being threatened to do so earlier. The attackers left five people of the family gravely injured. They were referred to Indore's MY Hospital for treatment.
A lone muslim family was allegedly attacked by a mob in Indore's Kampa Pewda village at 8 pm leaving 5 injured behind.

Fouzia alleged, folks of majority community have threatened them asking to vacate village by Oct 9. When they refused, they were attacked. @DGP_MP @vinodkapri pic.twitter.com/Fzo3pVxXxU

— काश/if Kakvi (@KashifKakvi) October 9, 2021
According to the Indore police, the incident took place almost 22-km away from the Indore district headquarters in Pewday village, which falls under the Khudel police station, on Saturday at around 8 pm.
On the complaint of Shaharuk Lohar (25), police booked nine people under Sections 323, 294, 506, 427, 147 and 148 of the Indian Penal Code( IPC) late at night after lawyers and social activists were pressured. "Nine people have been booked under various Sections of the IPC based on the complaint of the Muslim family," said sub-inspector Vishwajeet Tomar, who is also the investigating officer of the case. "No arrests have been made yet."
Victim Shahrukh claimed, they are blacksmith by profession & runs a workshop.

"Around 8 pm, members of nearest village attacked & abused us saying 'You were told to vacate village by Oct 9 but you chose otherwise'."

They reported the matter to nearest Kampa PS. @SP_Indore_west pic.twitter.com/gPxhYUocRd

— काश/if Kakvi (@KashifKakvi) October 9, 2021
Interestingly, the Indore police lodged a counter FIR on a complaint of one of the accused Vikash Singh, alleging a money dispute. In his police report, Vikash claimed that an amount Rs 75,000 was given to the Muslim family to build a tractor-trolley, two months ago, which they failed to pay back. Dispute over money led to the violence, he alleged.
"A counter FIR has been registered against five people of the Muslim family for assaulting, rioting under Sections 323, 294, 506, 147 and 148 of the IPC. But no arrest has been made," said investigating officer Tomar.
When asked about the family's allegation that the attackers were associated with the Rashtriya Swayamsevak Sangh (RSS) and threatened them for months, Tomar denied having received any such information.
10 BOOKED IN DATIA FOR DISTRIBUTING RELIGIOUS BOOKS
Police said on Monday eight persons were taken into custody in Datia town in Madhya Pradesh after some Hindu outfits accused them of distributing what they claimed were controversial books about religious conversion.
This time Hindu outfits targeted Christians in MP.

MP Police booked 10 ppl including 5 women who were allegedly Christians & selling religious books to commuters near Holi Cross School in Datia after Hindu Outfits opposed it on Sunday. 8 arrested. 1/2 @DGP_MP @DatiaPolice pic.twitter.com/qZXExjgUap

— काश/if Kakvi (@KashifKakvi) October 11, 2021
Ten people, including five women, were distributing religious books on Sunday near Holy Cross School when people from a Hindu outfit objected to it and alerted the police, an official said.
 "We have taken a case under Section 505(2) of Indian Penal Code (statements creating or promoting enmity, hatred, or ill-will between classes) against 10 persons, two of whom are unidentified," Kotwali police station in-charge Ravindra Sharma said.
"Acting on a tip-off, Bajrang Dal and Vishwa Hindu Parishad (VHP) activists brought the group from nearby after alleging that the books the latter were giving out were about religious conversion. We are probing the matter," he said.
YOUTH THRASHED IN KHANDWA FOR MUSLIM IDENTITY
Nawaz Khan (22), who hails from Khandwa district had gone to take admission in college. He was brutally thrashed by a group of unidentified men inside college premises for his Muslim identity.
नवाज़ ख़ान नाम बताने पर 4 छात्रों ने #धर्म_विशेष की गालियां देते हुए बर्बरता पूर्ण हाथ में पहने कड़े से पीटा। MP के #खंडवा के SN कॉलेज में एडमिशन लेने गया था छात्र।@khandwapolice SP से शिकायत के बाद अज्ञात पर FIR दर्ज की गई, कैंपस में लगे करीब 110 CCTV कैमरे बंद मिले। @DGP_MP pic.twitter.com/eMQPCMOsRl

— काश/if Kakvi (@KashifKakvi) October 5, 2021
He said, "I was leaving the College after checking my name in the merit list when a group of unidentified youths asked my name and began attacking after hearing my name."
नवाज़ ख़ान नाम बताने पर 4 छात्रों ने #धर्म_विशेष की गालियां देते हुए बर्बरता पूर्ण हाथ में पहने कड़े से पीटा। MP के #खंडवा के SN कॉलेज में एडमिशन लेने गया था छात्र।@khandwapolice SP से शिकायत के बाद अज्ञात पर FIR दर्ज की गई, कैंपस में लगे करीब 110 CCTV कैमरे बंद मिले। @DGP_MP pic.twitter.com/eMQPCMOsRl

— काश/if Kakvi (@KashifKakvi) October 5, 2021
Nawaz's suffering did not end there. When he went to lodge a police complaint, the cops turned him down, saying "iska koi case nahi banta, chota mota maar peet ka mamla hai"(There is no case here, this is just a minor skirmish), claimed Nawaz. Police only registered the FIR after Nawaz approached the Khandwa SP. "But, even after days, neither police identified any accused nor arrested anyone," Nawaz said over the phone.
Last month, the state reported a series of similar cases of atrocities against Muslims after a bangle seller Tasleem Ali was thrashed for selling bangles in a Hindu-dominated area of Indore's New Govind Nagar.