In the past decade, or more, the consolidation of right wing forces globally has also led to isolation of struggles. Challenging this isolation was at the root of a global rally organized by the Global South Response network to commemorate the NGO Forum Durban Declaration of 2001. 
The NGO Forum was held in parallel to the UN organized World Conference Against Racism. It brought together movements and struggles against racism and multiple forms of discrimination from all continents, in particular the global south, in an unprecedented manner. Truly global and intersectional in scope, the NGO Declaration called, among others, for reparations for slavery, colonialism and crimes against humanity based on race, colour, caste, descent, ethnicity or indigenous or national origin; recognition of the collective rights of Indigenous peoples, as well as for mechanisms for the protection of migrant workers, refugees and asylum seekers, and for combating gendered violence especially in conflict situations.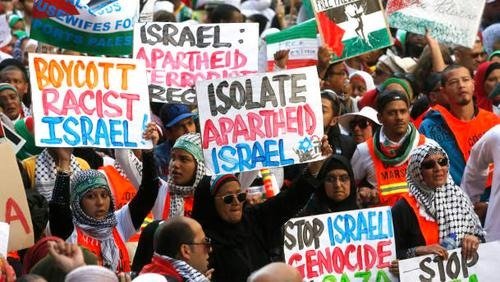 The NGO Forum and Declaration also centered Israel's system of racial discrimination and oppression against the Palestinian people and  condemned Israel's system of apartheid against the Palestinian people, calling for UN mechanisms, sanctions and an international anti-apartheid movement similar to the ones that helped isolate and eventually end apartheid in South Africa.
In the twenty years since, ruthless neoliberal policies, systemic Islamophobia, rapid unfolding of the climate crisis, the rise of far-right and supremacist politics, and now a global pandemic have deepened and rendered pervasive all forms of discrimination, inequality and injustice. 
Within this context, Israel and its supporters have tried to vilify and discredit both the UN and the NGO Forum Durban efforts.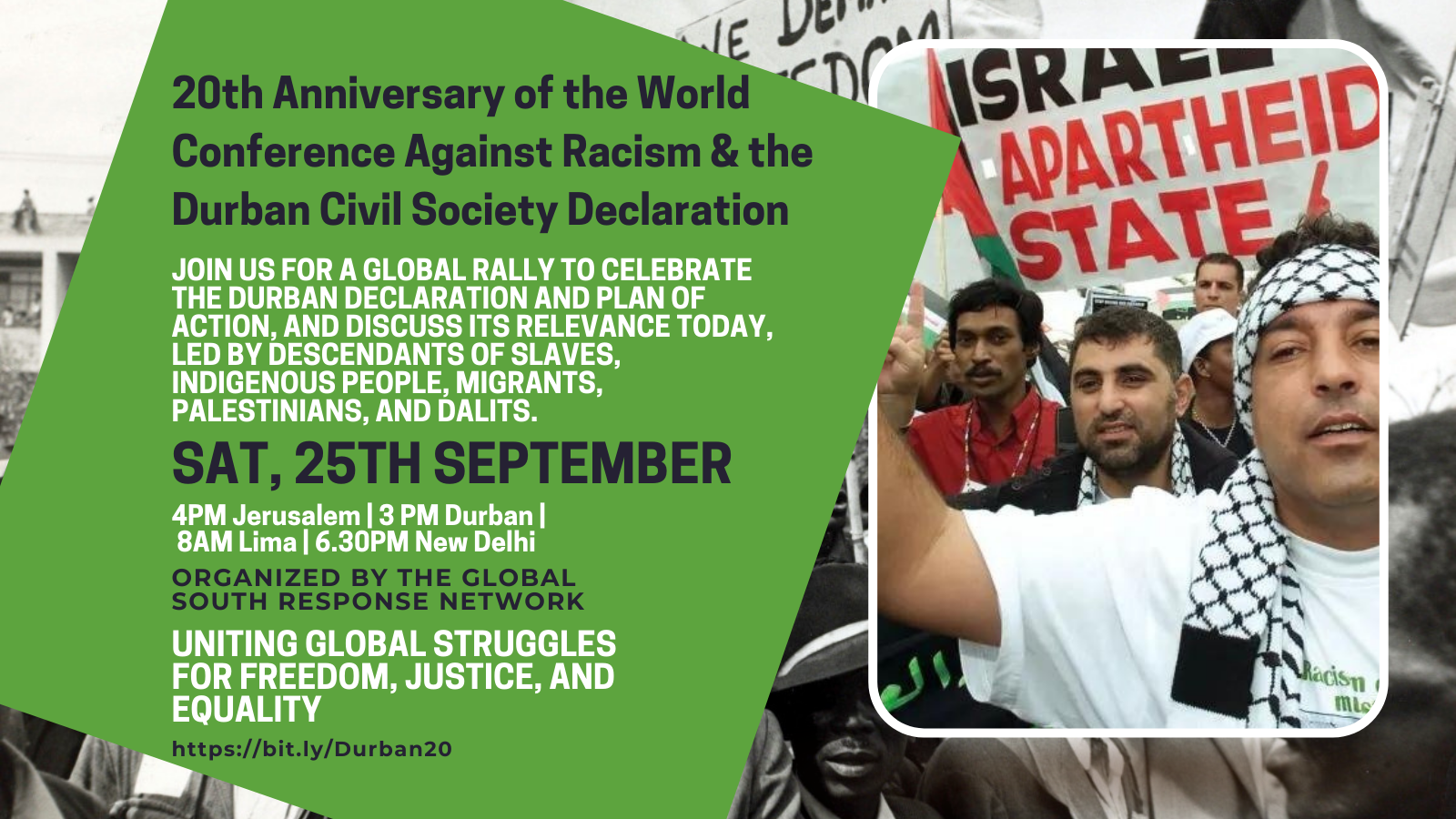 On the 25th of September, the Global South Response network- a collective effort of Global South organizations challenging Israel's apartheid and annexation- organized a commemoration of the NGO Forum Durban conference. The speakers included representatives that participated in the 2001 conference- Shawqi Issa, a Palestinian human rights lawyer and Paul Divakar, from Indian National Campaign on Dalit Human Rights and Global Forum of Communities Discriminated on Work and Descent. The event tried to connect efforts of Durban 2001 with other ongoing and urgent contemporary struggles. Ketty Marcelo from National Organization of Andean and Amazonian Indigenous Women of Peru (ONAMIAP) spoke of indigenous struggles against climate change; Sungu Oyoo from ReRight History campaign of Africans Rising movement addressed the question of reparations for slavery and colonialism and Parwana Amiri, a 17 years old refugee rights activist and herself a refugee from Afghanistan reflected on her struggles. In attendance were key South African as well as Indian, Palestinian and many other activists that organized the efforts in 2001.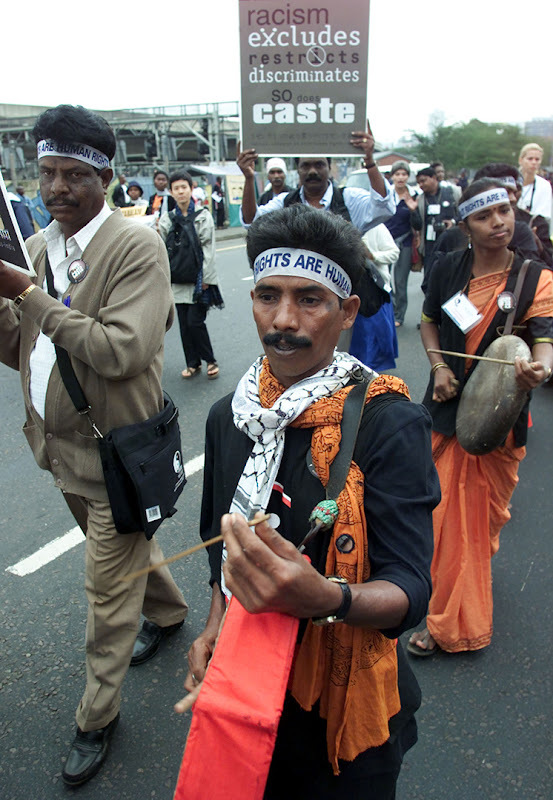 The rally recollected the power of this gathering, where Palestinian rights, reparations, ending caste discrimination, refugee and migrant rights, and more were all chanted in the same breath. It also emphasized the urgency of rebuilding this effort — to strengthen all our struggles for justice, equality and human rights. The message of solidarity and intersectionality as foundational to our collective struggles resonated with the chants of Jai Bhim and Amandla Awethu. 
Watch the rally here: https://fb.watch/8hLNHVT1CW/